I say that if it were not for Valentino Rossi, the majority of American Sportbike enthusiasts would barely know that AGV existed. But AGV is an old Italian company that has been around since the late 1940's founded in Valenza, Italy by the motorcycle visionary Gino Amisano (AGV, Amisano Gino Valenza) beginning its existence by building leather seats transitioning to building motorcycle helmets in its second year of existence, eventually being acquired by Dainese in 2007 making AGV the fourth largest producer of motorcycle helmets world-wide.
Some may remember, in the late '80s to the early '90s, AGV formed a partnership with Honda Motorcycles and AGV helmets were color matched to that year's line-up of motorcycles and were featured in every Honda dealership in America. AGV was also one of the first to adapt racing endorsements, and those who've been around motorcycles for a while will remember that the other great racer Giacomo Agostini who, like Valentino Rossi, dominated motorcycle racing and wore AGV helmets throughout his career. Barry Sheene also wore AGV helmets.
So, it stands to reason that many people will gravitate towards and choose to wear AGV helmets because of their desire to emulate their favorite racer. Kris has only ever worn Valentino Rossi replica helmets since she left dirt-bikes and began riding street bikes in the mid '90s. But is this flashy helmet, most commonly seen in flashy Valentino Rossi replica paint schemes a worthwhile helmet?
At First Glance
Picking up the Ti-Tech helmet for the first time, it's hard not to be impressed. The helmet features all the traditional attention to detail and aesthetic quality one can expect from any product made by Italian hands. The paint is spectacular with a deep, rich clear coat.
The Titanium vents (they are actual pieces of titanium) stand out and look exceptionally good (particularly compared to the clear plastic alternatives found on Arai helmets). Vent switches are firm and do not move unintentionally. Another nice aesthetic feature is the metal mesh vents on the chin of the helmet. Cool stuff!
Construction
AGV says the Ti-Tech model was designed with the help of Rossi and a wind tunnel specifically for use in MotoGP. They use an "internal counter-shell" of EPS to improve the impact protective qualities of the helmet and the liner incorporates what AGV calls "Double Vented EPS" system that enhances ventilation. It is basically two layers of EPS inside the helmet with different densities incorporating channels for air-flow. The shell works in cooperation with the titanium vent covers as they are built into the shell of the helmet (not just glued on). Two adjustable forehead vents allow cool air in, and four large exhaust vents at the rear of the helmet help draw hot, stale air out, allowing more cool air through the front of the helmet. A groovy new nose guard is supposed to work with the metal mesh screens on the nose of the helmet to keep warm and moist breath away from the visor in order to prevent fogging.

The shell is pretty unique too. AGV calls it "SSL" for Super Light Shell. It uses the traditional Aramid Fibers (Aramid fibers are a class of heat-resistant and strong synthetic fibers used in aerospace and military applications for ballistic rated body armor fabric and as an asbestos substitute) combined with fiberglass, but in a unique herringbone weave that AGV claims gives the shell the desired strength and flexibility with less weight. The pattern by itself is so pretty that you can actually purchase a naked helmet with no paint that exploits the unique construction, but why would you when you can have a Rossi Replica?
Inside the helmet, you get a standard cool-max liner, that like many helmets these days are fully removable and the visor is the same visor AGV has been using for years, a side-pod-less system that allows for tool-less removal of the visor with minimal effort. Nothing groundbreaking here.
Putting it to Use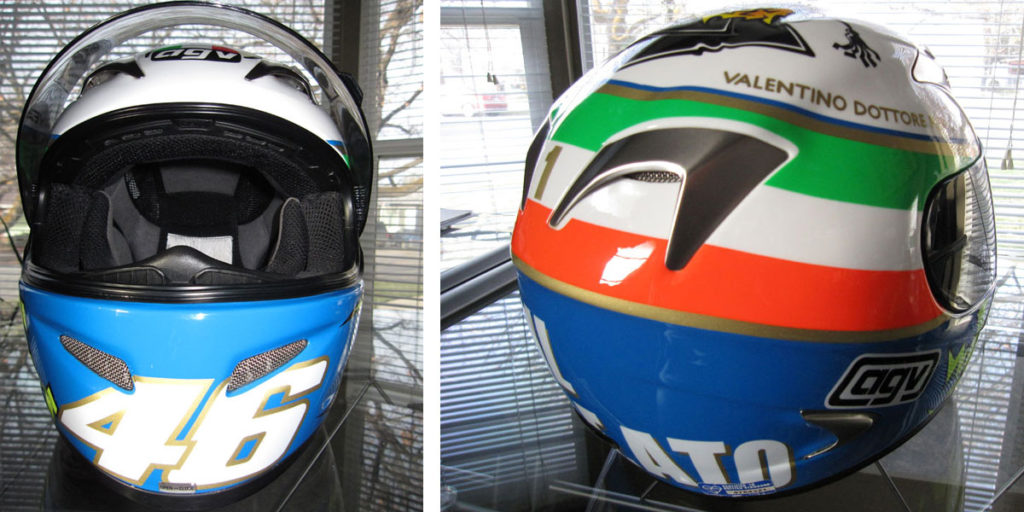 Comfort and Noise
The most important part of any helmet purchase is finding one that fits your noggin. Assuming that AGV fits your head shape, you can celebrate that you probably have the same head shape as Vale. So, if your head shape is the same as Rossi's the fit of the helmet is quite good. The Cool-Max liner certainly helps add to the comfort factor. Because it's a race designed helmet, the helmet has a very stable fit, staying on the head extremely well. This is great for race-track triple-digit speeds and during windy conditions on the street. Fit on this helmet is almost as good as the Arai RX-7, which is saying something as we view the top tier Arai as The – capital 'T' – premium helmet.
The Ti-Tech helmet is one of the quietest we've ever sampled, probably because the pockets for the ears are a bit smaller than most helmets (Older Ti-Tech's had no ear pockets) resulting in soft liner material creating an extra seal from outside noise. The helmet is so quiet in fact, that one will be tempted to forego earplugs for shorter runs (although we really don't recommend it).
Visor
The visor does swap out quite quickly not as quickly as the Arai system, but one does not have to endure the creaking, destructive sounds the Arai emits when changing visors. However, the visor seems to be the weak link of the helmet. The ratchet system loosens quickly with age and the visor will soon not seal as well as it did when new popping open when exposed to crosswinds. Fortunately, we found that the problem comes from wear to the visor itself and not necessarily the parts on the helmet. A new visor solved the problem but meant we replaced the visor while it was still in good shape.
Venting
We really can't say with any real certainty that any helmet vents are a whole lot better than another when you are at this price point. They all seem to vent, yet the venting is really only noticeable at cooler temperatures. Our experience is that most higher end helmets vent much better than cheaper alternatives; it's just one of those things for which you pay extra. However, we can speak to the fact that AGV did a good job of keeping the visor from fogging. Only in the most extreme cases were we able to get the visor to fog up and we really didn't want to be riding anyway.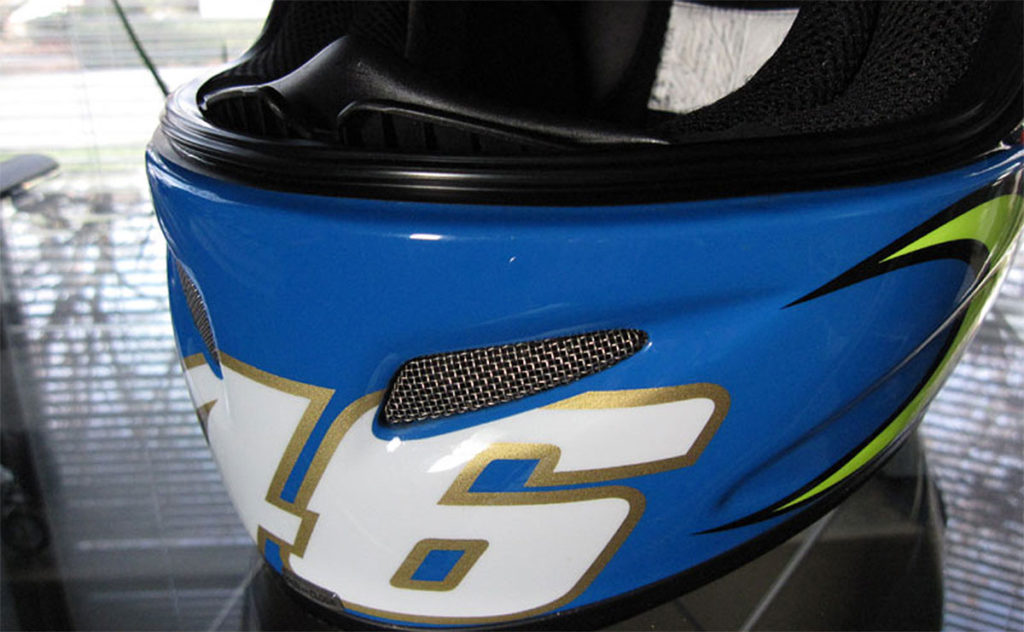 Safety
Unfortunately, we did crash test this item. It was a slow speed fall, and while most the other gear I was riding failed to perform to my satisfaction, the helmet did an exemplary job. Just like all the statistical data suggests, I landed on my face, but walked away without any kind of headache.
In the case of the AGV there is no Snell rating. In its place is the BSI safety sticker. Without going into too much detail, we believe the BSI standard to be the most desirable, so without banging our head against concrete we feel this is probably one of the safest helmets that you could choose from.
Wear and Tear
The Ti-Tech has been in use for almost two full seasons of riding (roughly 18k miles) and it has held up remarkably well. There is virtually no evidence of the liner ragging out, the luster of the paint is still remarkably pretty and there are virtually no nicks in the paint. When we first started using the helmet we feared the metal mesh grates on the nose of the helmet would be impossible to keep clean.
However, they are actually easier to keep looking nice. Additionally, as we mentioned earlier, the titanium air scoops look much better after dealing with massive amounts of bug gunk than any of the plastic vents more common on other helmets. In fact, in most cases the paint on plastic vents tend to fade at different rates than paint on the actual helmet, the titanium doesn't appear to have faded and looks just as good as it did the first day using this helmet. We give the helmet very high marks in this area.
Conclusion

I mean, really. It's a helmet. There's not a lot of moving parts, it's a very simple thing, right? Yet it is easily the most important piece of riding gear you own and the one piece of gear that should be taken most seriously. Our Rossi Replica retails for a staggering $649, but its lack of popularity in America means that it's rare to find them marked at MSRP. Almost every AGV we've come across has been sizably discounted. Adding to the value factor, AGV recently created a new model that supersedes the Ti-Tech as their flagship, this means that Ti-Techs may be discounted more readily than their top-tier GP-Tech line; when you take that into consideration, the AGV Ti-Tech because an extremely good value for the money. We definitely recommend this product and recommend it highly.
For more information visit AGV's website at www.agv.com. You can also learn more about Valentino Rossi from his website at www.valentinorossi.com.
---