Two Wheels Through Terror by Glen Heggstad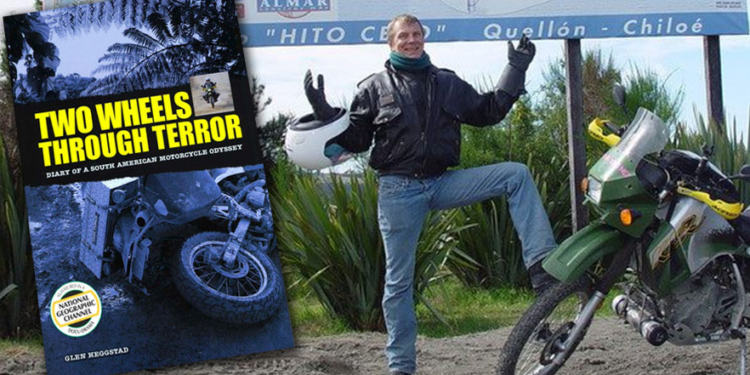 While the thought of riding through South America sounds like great fun, I can't imagine wanting to do it solo. And while I've heard Columbia is a strikingly beautiful country, I can't imagine wanting to ride a motorcycle through the tumultuous nation. However, riding solo through South America and even Columbia is exactly what moto nut Glen Heggstad set out to do.
As you can imagine, things didn't exactly turn out as he'd expected. Heggstad's first day into Columbia he's kidnapped by rebels and held captive for several weeks before being released. If that sounds like an interesting read, it really is!
The first part of the book appears to have been written from a collection of daily postings on his website Striking Viking website and reveals nothing of what is to come. It is this writing that is rather clunky and a little hard to read. By the time he gets kidnapped, the writing changes dramatically, as I assume he's retelling the events at a much later date. As the book progresses the writing continues to get better and more eloquent.
Heggstad is brutally honest during the book, even to the point where he opens himself up to criticism when telling of his trepidation and unease just before he gets captured. He also tends to be a bit of a hothead and reacts in ways that may have made his situation worse. Additionally, I didn't really need to know about his brazilian love affairs which came across a bit too much like locker room bravado.
Overall, the book is worth every effort to read. I managed to read mine, cover to cover, in less than a week, but by the end I was as ready to be back home as I imagine the author was. Few motorcycle books exist, and even fewer of them are worth much attention. Two Wheels Through Terror is easily, one of the better motorcycle books available.