We fully understand the need for protective gear, but the best gear in the world does you little good if you never wear it. Finding good motorcycle riding pants is pretty gosh darn hard. We know; we've tried lots and lots of 'em. Seems like they are all too specialized. Most are bulky, cumbersome and just a hassle to deal with. Either we felt like we were wearing a snowmobile suit because they were so bulky, or we felt like we were wearing a snowmobile suit as we walked through town with sweat dripping down our legs while nylon rustled while we walked. So, we always felt like we were wearing a snowmobile suit (did we say that already?). Plus the $100 price point for an entry level pant made it hard to have multiple pairs. On multi-day trips, our riding pants would start to wreak like a dead animal and it got really hard to pull them on day-after-day.
In any case, all the riding pants we've owned ended up spending most of their lives hanging in the closet while we'd just ride off in a traditional pair of blue-jeans.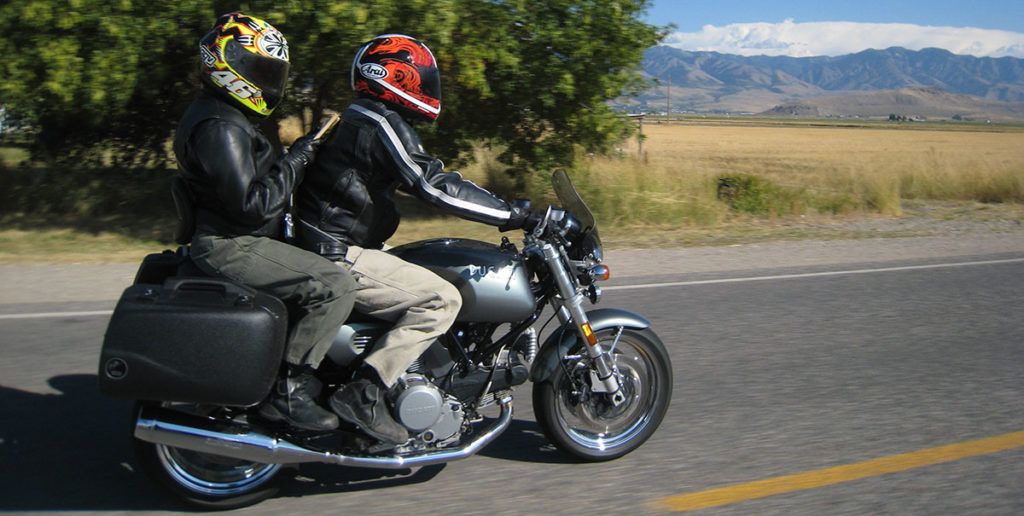 Danny started it all when he suggested trying a pair of Carhartt Double-Front Dungarees. We were very familiar with these robust brown duck canvass garments worn by construction workers the world over, but how could they possibly be for riding? Well, the short answer is they may be the best riding pants the world has ever known. Here's why:
First, the Carhartt double-front pant (as the name suggests) has two layers of tough, 12-ounce 100% top quality cotton duck covering the fronts of one's legs, chap-style. The double fronts have "cleanout" bottoms, designed to allow dirt and grit to escape, but that also allows for the insertion of knee pads. Plus wide, 18″ leg openings slip over even the most robust of riding boots without issue.
Because Carhartts are made for the masses, they are very affordable, starting online in the low $30 range. They are available in most every size based on width and length, plus real-live ladies sizes! There are dozens of versions but the two basic ones (that we prefer) are unwashed and pre-washed double-front dungarees. The unwashed versions are really really stiff when new and only come in brown duck and black. If you choose the unwashed we'd suggest getting the length a bit longer for riding.
The other option, prewashed, comes in several different colors like olive, khaki and brown and the like. They are a bit softer and a bit more comfortable, and they seem to be a bit longer. Be careful though, some of the prewashed version are only 7.5 oz canvass instead of the more robust 12 oz. weight.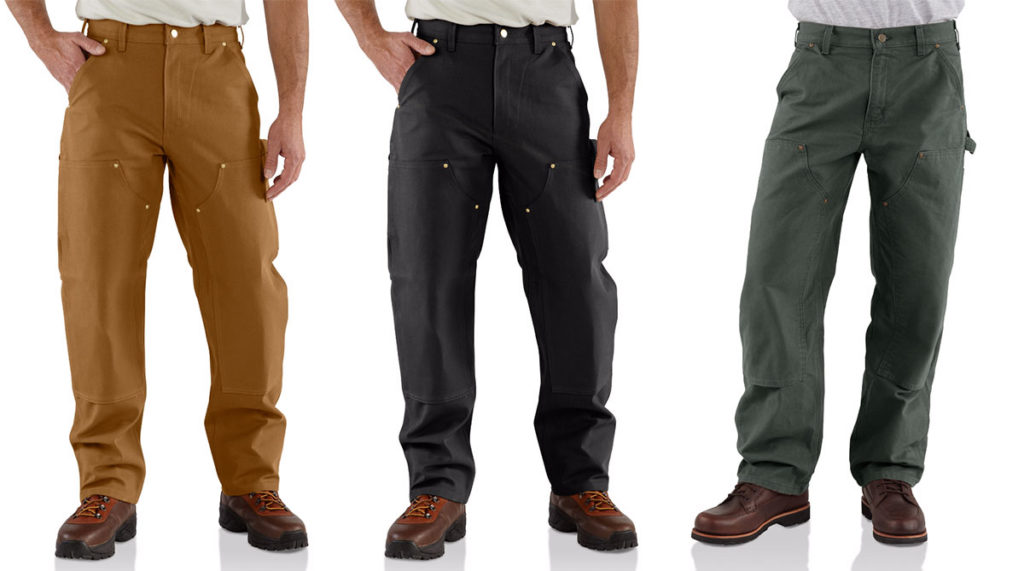 So how does this work for riding? Well, first the fit seems to work pert-near perfectly! The full-seat, full thigh strait-leg cut is generous enough for plenty of movement and no binding while in the saddle, but they are not so generous that they flap in the wind. The double front does a great job at keeping your knees warm when it's cold. No more need for long-underwear, even in the coldest conditions our knees have stayed quite warm. If it starts to sprinkle and things get a little bit wet the knees and front of the legs stay dry because it takes much longer for the moisture to penetrate both layers of dense canvass. Even when the occasional stone bounces up into your knee its hardly felt because of the extra material between your kneecap and the stone. While they keep you warmer in cold weather, they don't seem to be any hotter than traditional blue-jeans when temperatures start to soar towards triple-digits, and they are way less hot than dedicated riding pants, even the vented overpants we've sampled.
They do lack armor but there are a myriad of options for insertable knee pads, such as the ShockGuard inserts from Alta. These inserts use the same shock obsorption technology that comes in super-high end motorcycle kit. The armor took some effort to get into the pants, but it stays in place quite well, adding a level of armor at least on the knees (your results may vary based on size/dimensions).
One thing we noticed and really liked about the Carhartt was how they held their shape during longer trips. Blue jeans tend to get saggy and droopy if you wear them for long or for more than one day. The Carhartts hold their shape, the butt doesn't get saggy even during really hot weather. And the best part is when laundry day comes around just throw them into the washing machine then the dryer and you get to start fresh with no fuss or worry.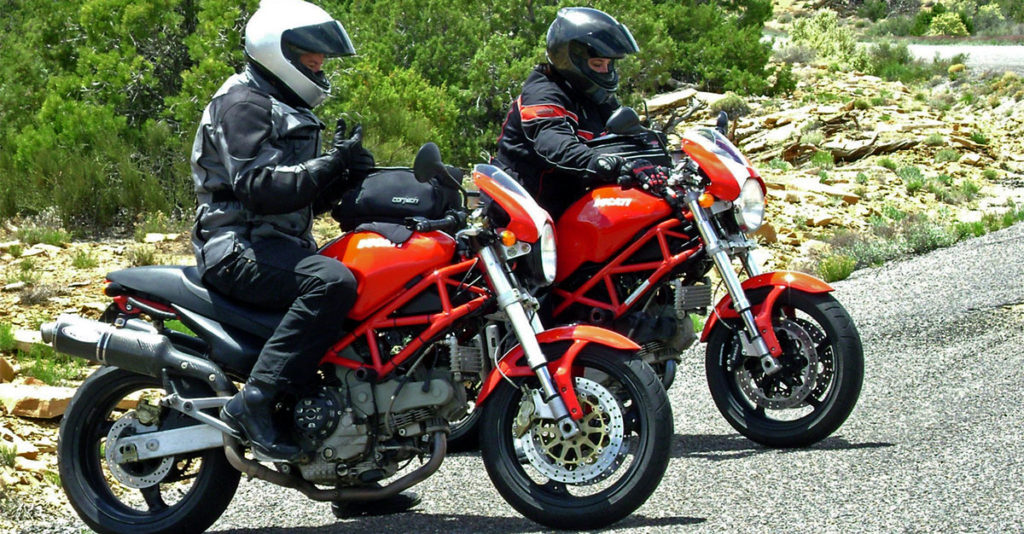 In fact the only thing that we really didn't like about the "double-fronts" is that the rivits on the corners of the double layer can contact the gas tank on some bikes. But a few moments with a pair of needle-nose pliers and the rivits were popped off. However, the rivits only contacted the tank on our t595 triple and Ducati GT1000. All other bikes we've ridden seem to be safe, but check your bike to be sure.
Crash protection? It's the hitting the ground that we worry about a lot more than sliding down the road. Carhartts are without armor, but so are the majority of riding pants (read closely) including the highly touted kevlar pants. We've seen two crashes in Carhartt's and they performed about as well as the pair of Kevlar jeans we saw hit the deck. This bit of information is very circumstantial and in no way scientific. But we think its no surprise that the dense, dual-layered canvass performed so well and on par with the triple-the-price-per-pair kevlar pants.
But to be brutally honest, we don't think these are the "perfect" riding pant. The only double-layer of protection for ones derriere is the rear pockets – granted they are pretty big rear pockets. Plus, there is no armor in the hips (as with most kevlar riding pants). They are a compromise. But we feel they are a reasonable compromise, because for most of us the alternative is plain old jeans which is why we think if them as the "Best" option.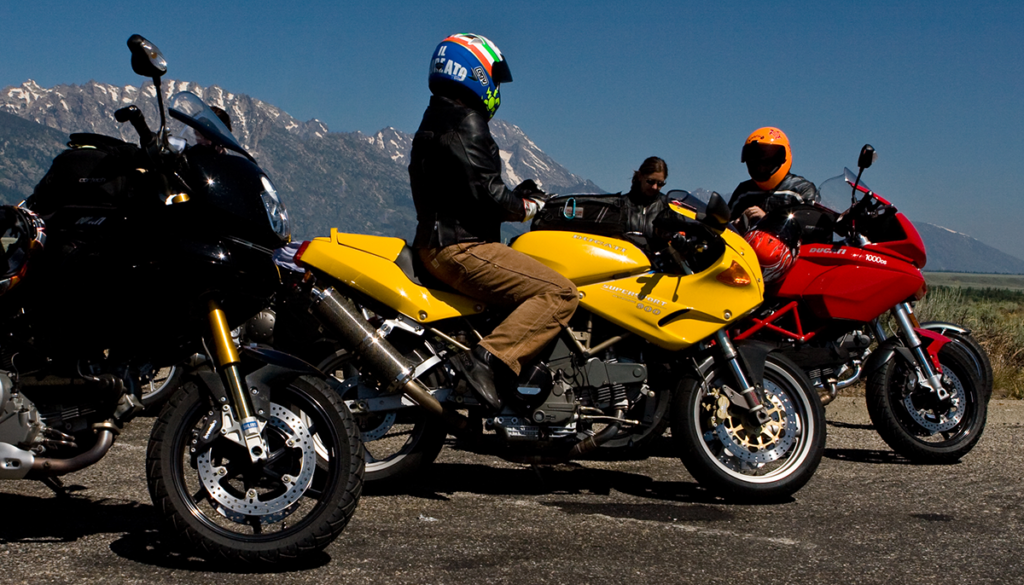 For the price, (around $30) the sizing to fit pretty much anybody (from 28 to 58 in men's and women's sizes 2 to 20 ) the availability (online, army-navy stores, outdoor retailers), plus the overall quality we really do believe Carhartt Double-Front Dungarees offer the absolute best, dollar-for-dollar value for motorcycle riding pants; which is why so many of us have adopted them, touting them as our most beloved and favorite riding kit hanging in the closet. In fact, we could almost call Carhartt double-front dungarees the official riding pant of CanyonChasers.
To learn more and find other versions of these pants, visit Carhartt.com.
---