Our love of Carhartt's 14oz Double Front dungarees as riding pants has never really faded. The dense canvass is far more abrasion resistant than denim. They are very affordable. Come in a wide array of sizes (and now four colors!) and are relatively warm when it's cool and plenty breathable when it's hot. They are a snap to launder and they even seem to offer reasonable weather resistance; it takes about fifteen minutes for rain to soak through the canvass which, more often than not, you have ridden through the drizzle.
They are not perfect, however. Our experience has been that it's not the sliding down the road we worry about so much as the impact from hitting the road. And this is where Carhartt's have always fallen short. No armor. Sure, you can pick up a set of Bohn Bodyguard Adventure Armored Pants ($160), but added to the cost of the trousers themselves, now you are up to about the same price point as dedicated riding pants.
However, you can add some D3O (Dee, Three, Oh) armor to the knees in about ten minutes of time, which greatly enhances the effectiveness of these humble trousers. But what is this D30 stuff?
D3O is a polyurethane energy-absorbing material containing several crazy additives and something called Polyborodimethylsiloxane. Polyborodimethylsiloxane is a liquid substance, that in its raw state flows freely when moved slowly, but on shock, locks together to absorb and disperse energy, before returning to its flexible state. The commercial material known as D3O is in essence polyurethane foam with traces of polyborodimethylsiloxane which makes the product rate sensitive thus dissipating more energy than plain polyurethane at specific energy levels. D3O's technology was first launched for downhill skiiers in the 2006 Olympic Winter Games, but has become the go-to material for MotoGP and has worked it's way into lots of high-end motorcycle kit.
The Alta D3O knee inserts are about $25 – Carhartt's can typically be obtained for about $35, which meas, that for about $65 you get a darn good pair of riding pants. Other manufacturers make similar riding pants, but they typically range from about $160 to well over $300.
What You'll Need
We found it's easiest to lay the Carhartts across our lap. Then roll the knee armor into a tube, you'll probably laugh and giggle a little bit because once rolled up, the armor looks… like something that will make you laugh and giggle.
Take the armor and slide it up into the "cleanout bottoms" at the bottom of the doubled front. Even Carhartt says these cleanout holes are designed to accept knee inserts.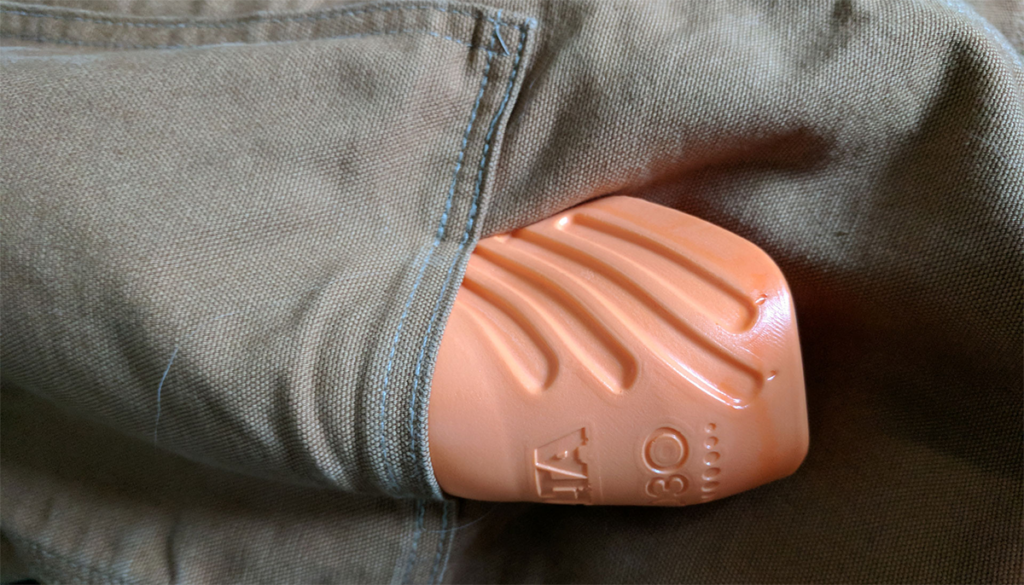 The first inch or so takes the most patience, but once started the rest of the inserts will move into place and lay flat on their own.
Removal takes a little more patience as the hardest part is getting the armor to curl back into a cigar shape so you can get them out. It's not that big of a deal, but we've found that we just leave the armor in place and simply wash the trousers in cold and then let them hang dry instead of going through the dryer. The dryer heat can potentially compromise the D3O, but we've discovered that by not running the Carhartt's through the dryer they last quite a bit longer.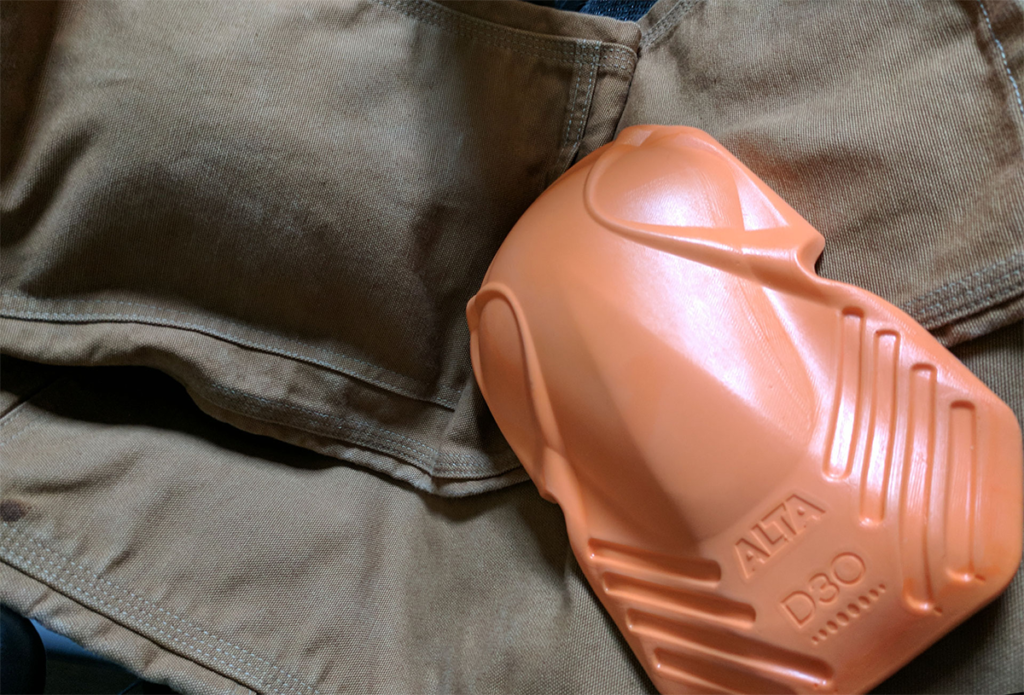 On the bike, the Alta D3O armor is transparent, but rest assured that for about $60 you have an incredibly robust, comfortable and protective pair of riding kit that looks totally normal when you are not on the bike.
Learn more about D3O
---