The Continental TKC-80 "Twinduro" was designed and developed as a competition off-road tire for heavy off-road/enduro bikes. It was developed in collaboration with Richard Schalber. In case you aren't aware of Richard Shalber, he holds multiple world championships in Enduro and Motocross, finished fifth in the Paris-Dakar, has raced virtually every brand of motorcycle and has spent the last several years as a consultant for all the major motorcycle manufacturers. With Schalbers input, the TKC-80 was designed to offer good self-cleaning, high levels of grip and good directional control on soft terrain.
The TKC-80 has been the OEM tire for the BMW GS1200-Adventure and has proven itself in many world events, including the Paris-Dakar rally itself. These features have made it Contis second best selling tire in North America.
But the TKC-80 was only available in dirt-bike sizes. 18″ and 21″ size fronts and narrow-width rears, meaning if you were on any of the non-traditional off-road bikes, you were limited to road-going tires only.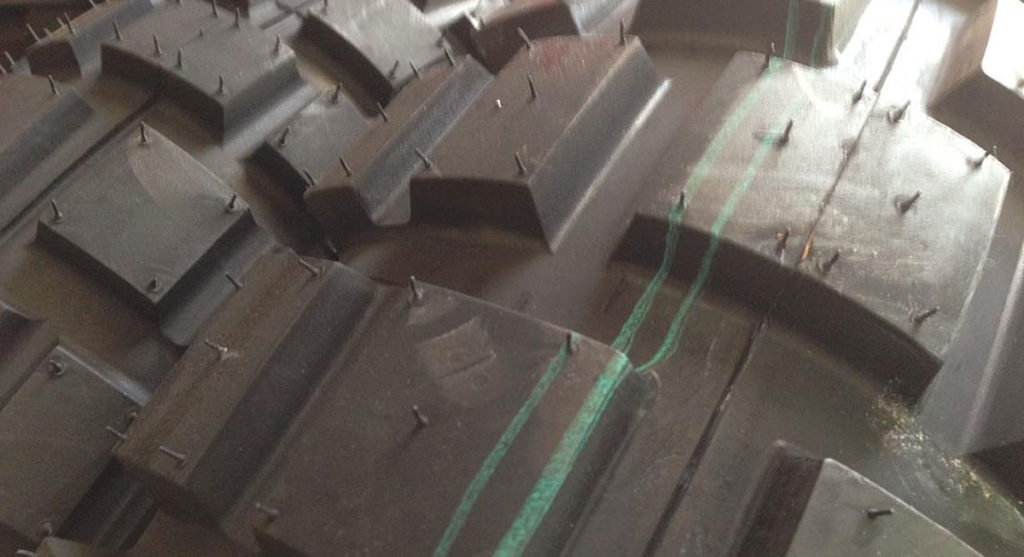 Continental said they were overwhelmed with requests to make the tire in sizes to fit these non-traditional off-road bikes; namely Ducati Multistradas and Hypermotards, Triumph Tigers, Buell Ulysses and the like. In response Conti did what nobody ever thought they'd do and added two new sizes of the TKC-80. A 120/70-17 and a 180/55-17. That means that virtually any superbike or sportbike can now run one of the most aggressive and burly dual-sport tires ever made.
While we do not proclaim to be the most talented and certainly not the most adventurous dirt riders, we were excited to throw a set of these onto our Multistrada 1200. However, by not being the most awesomest of dirt riders, we must confess that our dirt impressions and feedback may be somewhat limited compared to other reviews that may be out there. For this, we apologize in advance.
Initial Impressions
First, the one thing that we could not have anticipated, is simply just how amazing this tires look. I mean, put these on just about any motorcycle and transform it from a mild-mannered motorcycle into an instant Mad-Max, post apocalyptic nightmare. These things look nothing short of epic!
And we were not the only ones to think so. Nary a gas stop or stop light went by without excited comments from the peanut gallery. People would literally cross busy streets to come up and delight about the tires. If you are the type of rider that wants to draw lots of attention to yourself, forget the fancy paint job and mountains of carbon fiber; a set of TKC-80s is all that's needed.
The most common question asked was if we had to make any modifications to the bike to get them to fit. The answer was a simple "no". Despite the giant blocks, the tire fit the bike without needing to make any changes at all. And yes, they even cleared the front fender without any rubbing.
On Road
We know that we are primarily street riders, so we were skeptical as to how well these tire would behave on a 150bhp road-going motorcycle. As we pulled out of the driveway for the first time, images of rear tires spinning up and high sides danced in our heads but as soon as the bike was going fast enough to provide its own stability, these images of carnage quickly faded.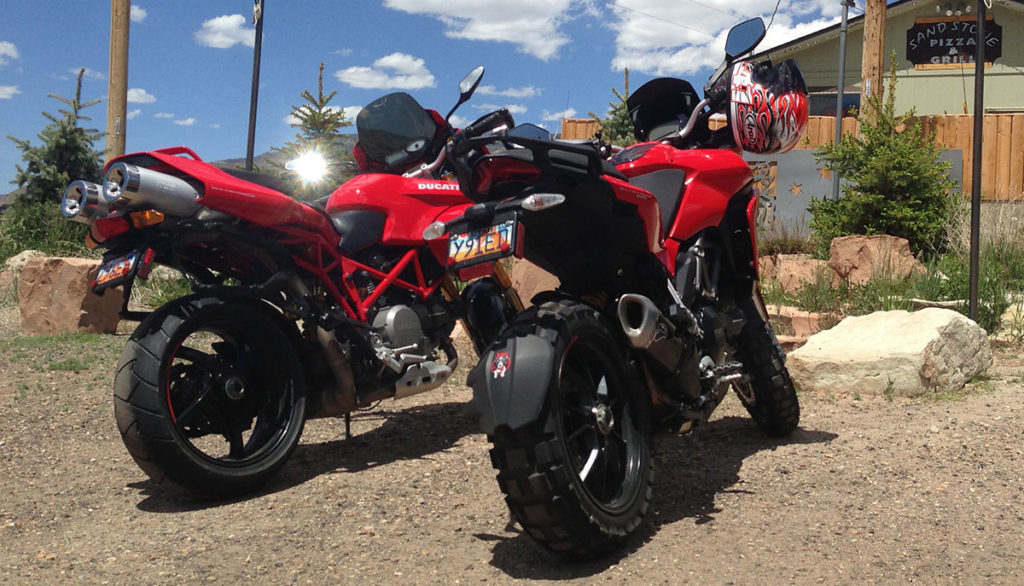 I'm not quite sure how Conti did it, but the big-block knobblies were rock stable. Sure, we were still on surface streets, but we were immediately impressed. As our confidence grew, so did our speeds and soon we found ourselves racing up on-ramps and through freeway interchanges at speeds nearing triple-digits. The tires were so stable and planted we had to regularly remind ourselves that we were on big-block, Paris-Dakar knobbly tires.
Astonishingly, the tires profile felt almost identical to Continental street tires, such as the Road Attack and Sport attack. The tire tip-in is initially very light and quick, but slows down and requires more effort as the bike leans. In the ten years we've been running Conti's this is still our all-time favorite tire profile and we were flabbergasted that the geniuses at Conti were able to achieve the same thing with a big-block knobbly.
Now time for the true asphalt test. How would these tires behave on a fast mountain road? As we made our way up Big Cottonwood Canyon we were immediately delighted by the stability and confidence offered by these tires. And as we reached Wolf Creek Pass, we were running just a few mph's slower than we would otherwise travel. Ascending, the tires were transparent. You truely could not feel the knobs hindering forward progress much at all. In fact, the only place the knobs made themselves known was on the descents when we traditionally do a fair-bit of trail braking into downhill corners.
As soon as we started leaning while still on the front brake you could feel the knobs. The front tire felt vague; we swore we could feel each block surrender to the side forces. We changed our riding style back to the traditional MSF technique where we did all of our braking before initiating the turn and the knobs disappeared. So the only real flaw we found with these tires on the asphalt was they do not much like trail-braking.
Off Road
Now, we've already informed you that we are not the most advanced dirt-riders out there, nor do we claim to be. However, living in the Rocky Mountain West there are multitudes of dirt roads that can take you virtually anywhere that isn't prohibited by the rare "private property" fence line or Congressionally designated Wilderness Area boundaries. In other words, there are lots of dirt riding opportunities that do not require traversing gnarly, rock-strewn single-track. Which, to be fair, is probably the extent of how much dirt riding any bike with 17" cast wheels will most likely endure.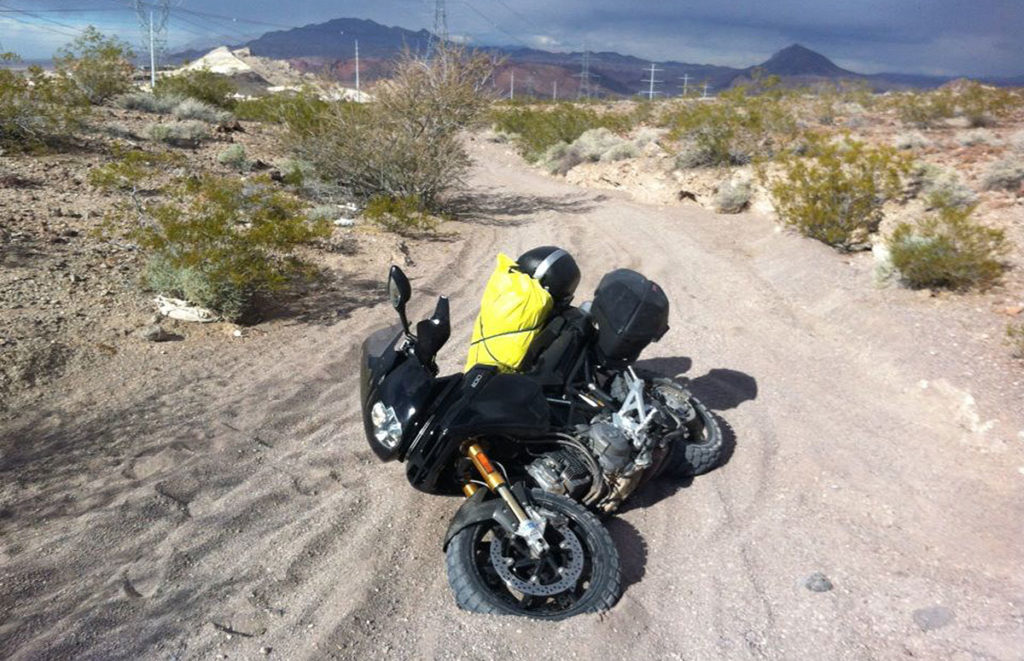 That said, the TKC 80s performed just as expected. Lots of grip, lots of stability and changing direction off asphalt has never been easier. I mean, it's hard to say anything else about this tire's capabilities in the dirt when it has such a long-standing reputation for its dirt capabilities. When we've had to traverse dirt roads on normal street tires, extra caution needed to be given to forward velocities. As speed increases, the confidence provided by Z-rated street tires quickly dissolves. With the TKC 80s, without even realizing it, we found ourselves running speeds between 60 and 80mph down dirt roads and even two-track with utmost confidence. Making mediocre dirt riders, such as ourselves, feel like superheroes.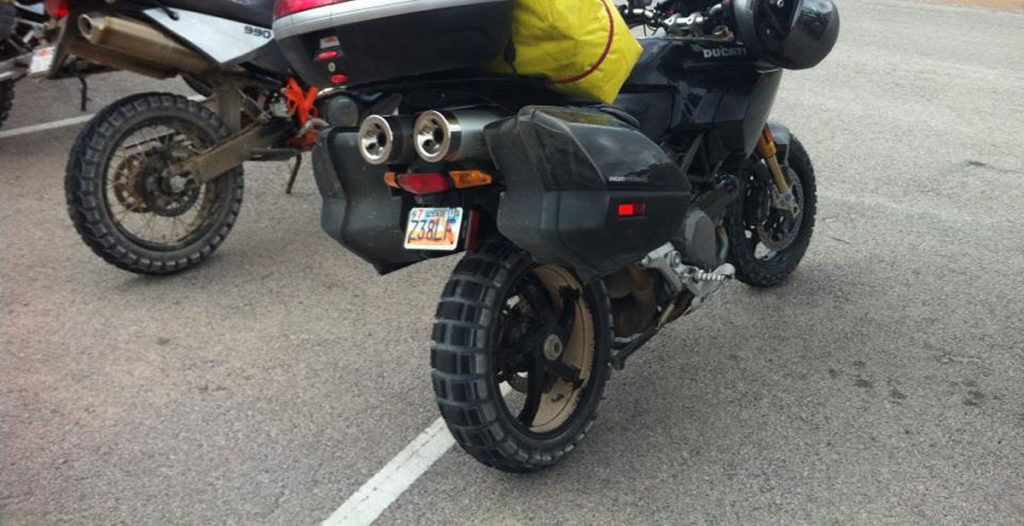 However, when it came to our modest skill-sets, the confidence afforded by the massive knobs could not overcome our lack of ability in all conditions, particularly after we combined some high speed and some super soft dirt. Fortunately, nobody was injured.
Durability
The only downside of the performance of the tire was the overall life. While some internet sources claim upwards of 4,000 miles, ours were at the end of their service just shy of 3,000 miles. I think it's fair to remember that these sticky-buns spent a good portion of their life putting 100 ft. lbs of torque to the ground. That, and it should be remembered that the tires were designed as a performance item; not a long-distance tire.
Final Thoughts
The street-ability of this tire exceeded expectations while the dirt ability was as good as we thought it would be. The aesthetics of these tires are nothing less than striking. We must confess, that despite how well the tire worked, it was the aesthetics of these tires that became our second favorite feature. It was hard not to like how much attention and excitement came from most everyone we came into contact with.

Which brings us to our favorite feature. Just by having these tires on the bike, we started planning routes that we never would have imagined on traditional street-only tires. We plotted courses that took us to 10,000 feet mountain passes, through fast sweeping canyons and even across small rivers. The tires made us feel unstoppable and as a result we found ourselves going places, taking adventures, that without the tires we never would have before. This was our favorite thing about the Continental TKC 80's.
For more information visit the Continenatl TKC 80 Twinduro webpage.
---