Icon Accelerant Leather Jacket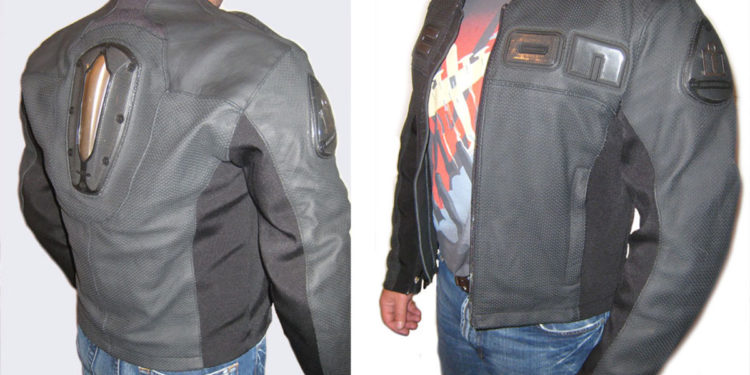 Icon is relatively new to the motorcycle gear world, arriving on the scene in about 2002 but touting gear "made for the street". There is no question that their gear looks really good, and it doesn't hurt their image that modeling their gear they use size 1 hotties with perfectly round rear-ends, and muscle bound hunks with broad shoulders and thick necks. If I wear Icon gear, I'd look that good.
So we were very curious to give one of their coats a go and when an Accelerant Perforated Leather Jacket ($390) landed in our office we were initially very impressed, and when you visit your local Icon retailer and look one over, you will be too. The leather is supple, looks and feels great oozing a sense of quality. Icon claims that the millions of tiny perorated holes are stamped by hand, and I think those Chinese workers (where the jacket is made) deserve a raise because it looks just like they were stamped by a machine.
Stretchy, ballistic nylon along the inside of the arms and down the sides of the torso looks robust and the stretchy nature means it should compensate for any non-muscular bulging you may have around your waistline. You'll really like the cool, rubberized carbon-fiber patterned external shoulder and back armor, complete with some very sharp looking titanium badging. The external armor even has some embossed, fake rivets that make it look like the armor is just bolted to the leather; very mad-max. Even the rubberized carbon-fiber ICON text across the chest is cool and subtle at the same time. There are two closable shoulder vents that don't really make sense on a perforated jacket, but since Icon claims, this is identical to the non-perforated Accelerant, and since the shoulder vents look cool, you won't be too distracted by the uselessness of them on a fully perforated jacket. In the end, there is no question this jacket looks great.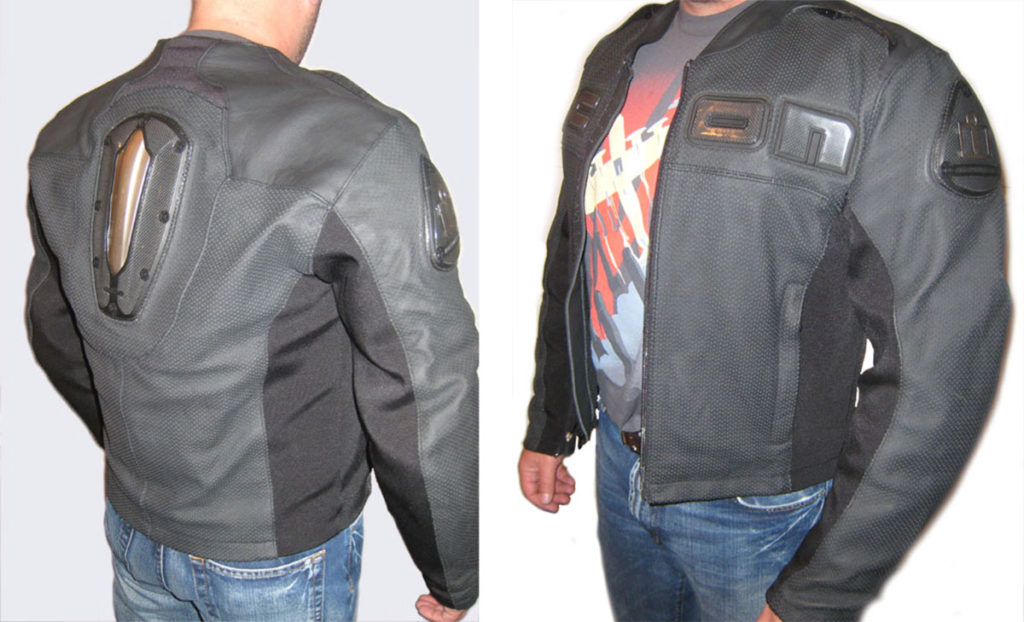 When you pull the jacket on you'll immediately think that you could probably use a smaller size as Icon's are sized generously. You'll also discover a very attractive, satiny red, luxurious full-sleeve, removable liner that can be inserted on colder days. It's a very nice touch making this perforated jacket more usable in more temperatures. The liner zips and snaps in at several points, which stabilizes the liner so it doesn't bunch up.
You'll probably notice that the jacket has a very short waist, but hangs nicely and when you look at yourself in the mirror, you will probably like how tough it makes you look. This is a very attractive jacket, no question! The shape and cut will make your shoulders look a bit broader and the icon text on the chest is also flattering to the masculine shape. You'll zip it up and find that the stretchy ballistic nylon makes the jacket fit very nicely and patches of soft cloth at the back of the neck reassures you that this jacket was made with the sport-bike in mind. If you are like most, you'll try on the jacket without the liner and discover that the arms seem a bit loose unless you spend a good 8-hours a day lifting weights, but it's not that bad. Finally, you'll probably take a moment to examine the CE rated armor, and that'll most likely be all it'll take. You'll walk up the counter and throw down some of your hard earned moola, excited to go for a ride in your new, very good looking, Icon Accelerant jacket.
But then you'll get on your shiny sport bike and a small pit will form in your stomach. Something is not quite right. Maybe it just needs to break in you'll think to yourself, but as your ride away, you're not going to be so sure. The first problem you'll notice almost immediately is that really cool titanium covered external armor located on your back is so thick and in just the wrong place that it is hitting the back of your helmet and forcing you to look down at your handlebars. You'll try to bring your head up to see where you are going, but there's nowhere for your helmet to go, and you'll continue riding around peering out of the top of your visor, straining your neck. Strike one.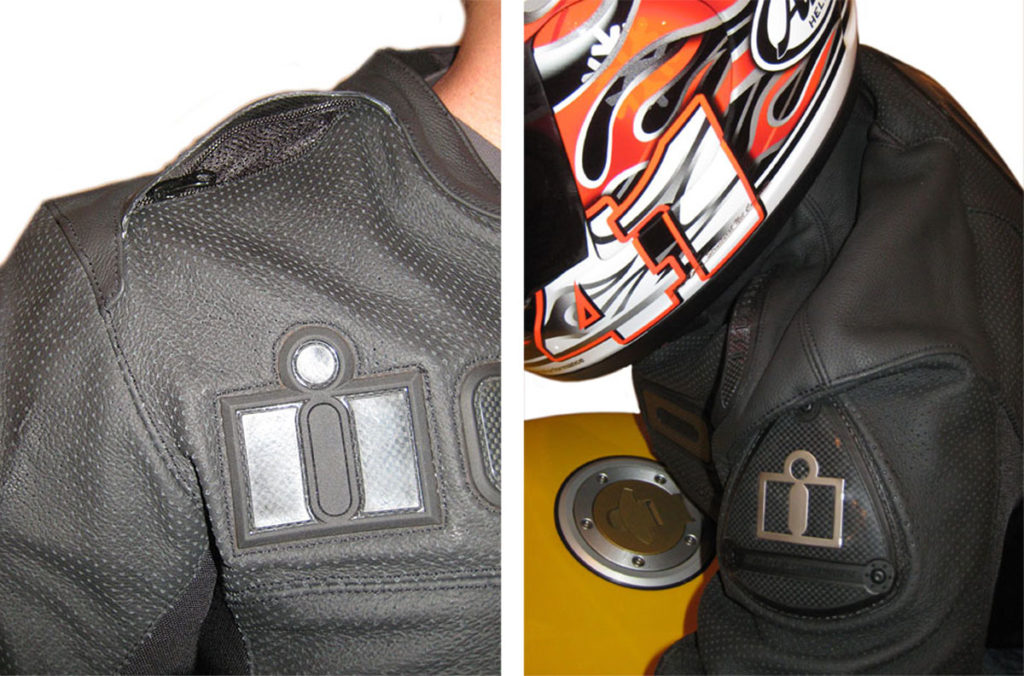 If you were like us, you'll reach back to pull the jacket down and discover that the short waist that looked so cool in the showroom mirror now has your lower back exposed, giving the world a view that, let's be honest, nobody really wants to see, unless you are that size-1 hottie (but you most likely are not) and hopefully you have never worn (or at least never wanted to wear) a G-string, and even if you were wearing a thong you probably don't want to be advertising your unusual taste in undergarments to all you ride past. Despite all the tugging, the jacket will maintain its high-rise, exposing your lower back to the elements. Strike two.
But all that reaching around trying to tug the jacket down has exposed the third and greatest flaw of the jacket. The shoulders are cut all wrong, and that movement on the bike has skewed the jacket so that the shoulders, and that cool external shoulder armor, is now up around your ears, so now, not only are you forced to look down you can barely turn your head to check your blind spot. The fact that the arms are a bit loose certainly does not help the jacket stay put and the otherwise, well fitting, snug jacket feels twisted around and all out of sorts – and if nothing else, suddenly very uncomfortable and at its worst very distracting. Strike three; you're outta here!

Now if you ride a more standard seating position bike, like say a Yamaha V-Max, or perhaps a big burly cruiser, the flaws of this jacket will be easy to overlook, but since sport-bikes are strewn all over the www.rideicon.com website, we think sport-bike riders are the buyers most likely to buy this coat and sadly this garment is ill equipped to handle sport-bike riding positions.
So while the jacket may be made for the streets, it's not made for the rider. If your goal of a motorcycle jacket is to look good at bike-night or at the Chevron on hot summer evenings, then this may be the one for you, but if you ride your motorcycle and go through at least one set of tires a season this very nice, very attractive, very poorly fitting, very pricey jacket ($390MSRP) will most likely spend its life hanging in the closet only to become a constant reminder of a poor purchase decision and a waste of $400 bones.
For more information visit the RideIcon, Accelerant Perforated Leather Jacket webpage.
---