Distant Suns by Sam Manicom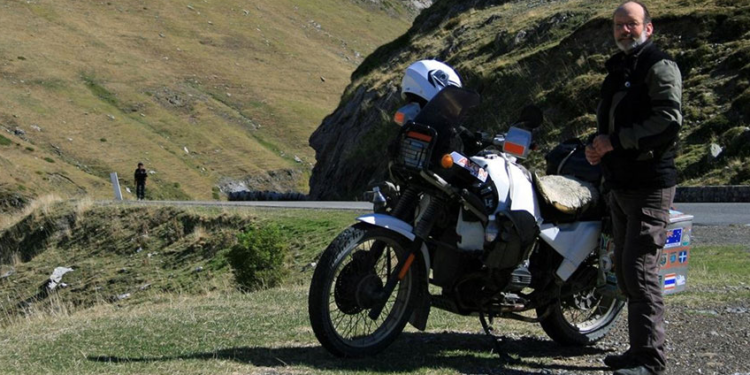 This could easily be Manicom's best book yet! I was riveted right from the very beginning and enjoyed every minute of the 3-year adventure the book details; containing a little bit of everything, from Africa to South America, a few short break downs and a handful of hospital stays in between.
The adventures start with Africa but for only about a third of the way, the remaining two-thirds deal with riding through South America. Understandable as he has another whole book on Africa but I was still sad to leave this fascinating country! One of my favorite features of Distant Suns is Sam's historical tidbits which are scattered throughout the travels. Sam frequently dolls out historical information on the country and cultural notes about the people and places he visits.
As with the previous two books, the photos were brilliant and I found myself wishing there were more. This book does have ample graphics that helped satisfy my desire for more detail. The graphics and photos also personalized the book, giving it the feel of reading Sam's personal journal as he traveled and doodled his way through the various countries.
Unlike his previous books, Sam travels with a companion, Birgit, who we met during the course of his previous books Into Africa and Under Asian Skies. Birgit caught my attention right away with her incredible initiative and capability with her bike. Before the trip began she completely disassembled and rebuilt her motorcycle twice to fully understand the inner workings. I'd say she's a keeper Sam!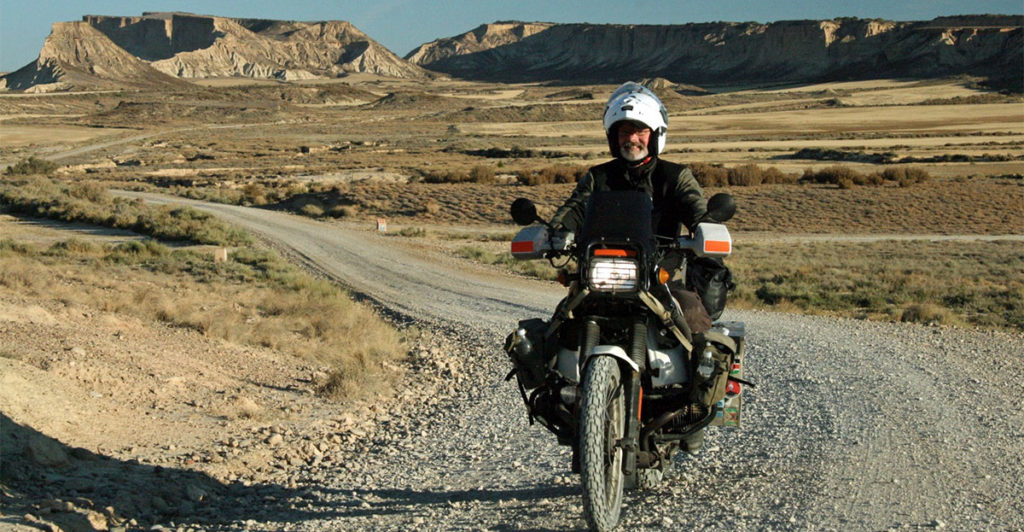 As with any motorcycle trip, Sam and Birgit had to find their system for traveling together. I've always been of the mindset that a new rider will learn a lot more from following and the more experienced rider can simply adjust speed and style to compensate for how the new rider is doing in the rear-view mirrors. This book brought up a case for doing just the opposite, and again kudos to Birgit, who did amazingly on a dirt road in the dark keeping up.
Distant Suns highlights the joys of traveling with others and how, when you are with others, you often do and see things you otherwise may not have done; but also touches on the added stress that comes with traveling in groups – even small groups. I've noticed that people don't think of these things when planning their adventures, but Sam did a good job of balancing the advantages and stresses of group travel.
Sam's adventures are never without peril but the attitude he has is what makes him a terrific world traveler. He comes to the conclusion that no matter the problem, there is always someone worse off. Over the course of three years a lot of things can and do go wrong from bike problems to back problems, but Sam doesn't let any of them stop him from completing his journey.
As with his previous two books, Sam can sometimes be a little too honest. It's much easier to romanticize the journey without reading all the disgusting details about their "worst hotel room yet." Although it did serve as reason to always bring your camping equipment!
Sams Travel Tips
Always keep your knife sharp
Trust your instincts on people and situations
Cheaper hostels may not have off road parking for the bikes
Travelers insurance is a must!
Tents by rushing water can lead to a cold nights sleep
Some of the best adventures start with a disaster
Remember that most people in the world are honorable and decent
Heated grips [he found them too late for this journey but as we know they are valuable even when you think your destination should be warm – Kris].
Overall this book kept me wanting for more and dreaming of taking off for my own such adventures and as such, makes a wonderful compliment to his previous two adventures. Sam's writing (and riding) has improved over the course of the three novels but when all three are combined (as we believe they should be) they become a glorious documentary of motorcycle world travel; making these a must for anyone who dreams of leaving everything behind to go wherever, as in Steinbeck's immortal words, "a trip takes us".
More information can be found on Manicom's website at www.sam-manicom.com
---