Under Asian Skies by Sam Manicom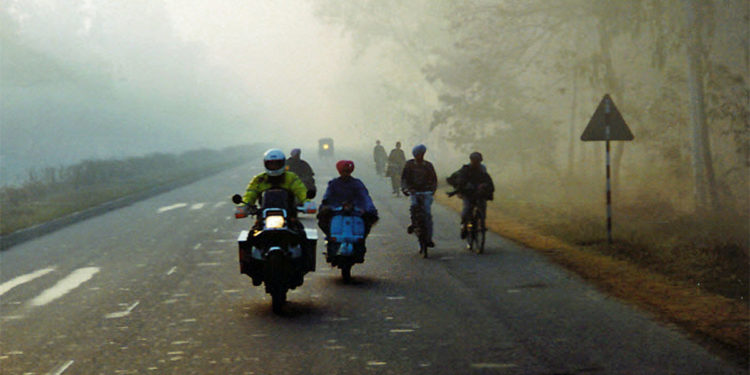 Under Asian Skies picks up right where the Into Africa left off; with Manicom's journey on a container ship with only five other passengers, somewhere in between Africa and Australia.
After a stint in Australia and short medical stay in Germany, Manicom returned to re-start his Asian adventure in Bali with his bike ready to roll, a passenger/cost-sharing partner and a very bad back still mending. A back so badly injured that a motorcycle riding doctor in Germany said it would take six months to heal and that Manicom shouldn't, probably ever, be on a motorcycle again.
Despite the medical advice, Manicom continued although his passenger and cost sharing partner decided to stay in Thailand with her newly found true love, leaving Manicom once again on his own.
India proved that Manicom's patience could endure. He was unable to get through the red tape to receive his bike from the shipping company even though he could see the container that held his bike from behind the impenetrable Indian security gate. He wasn't allowed to actually pick it up for weeks. Between this, the language barrier and the restrictive liquor laws, I'm quite sure that we would have lost one or more CanyonChasers into a frenzied outburst. The response from locals was "this was India" as though that was enough of an explanation for the delay.
Once his motorcycle was liberated, Manicom had a hard time getting out of India mostly due to the fact that he was trying to get into Iran. However, while waiting around in India, Manicom met up with his former friend and German nurse-maid, Birgit, who had tended to him while he was in Germany; only this time it was a much more romantic encounter. Their friendship was now in full swing and they were planning for another trip together that had the lovely Birgit on her own motorcycle. At this point, the trip turned towards home (or at least Birgit's home).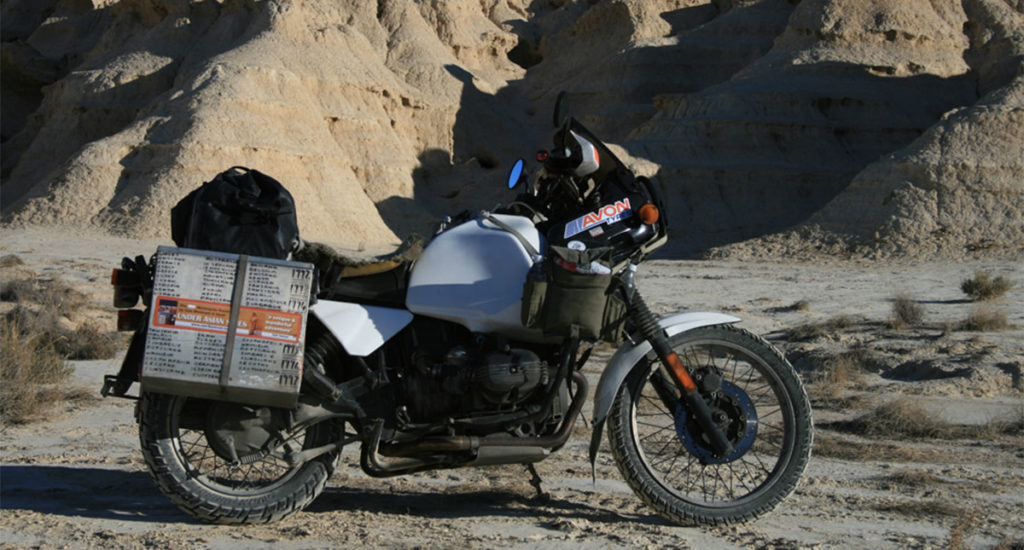 Lessons learned from Manicom's adventures include: Get your shots before you go and take loads of medicine with you; avoid shipping anything to India; trust those weird feelings you sometimes get; and you best travelling companion should always be cherished. While Into Africa and Under Asian Skies are two books, they really should be treated as one – as they both detail parts of the same 8 year, 200,000 mile adventure. They can be read indivdually, but we feel they are best read as a compliation. As soon as I finished the Into Africa, I was excited to start Under Asian Skies. And while the books do have sections that are a bit harder to get through because of Manicom's honesty, the overall experience still makes the two books well worth reading and a must read for any motorhead who dreams of leaving the rat race behind in favor of the freedom of the open road and a beloved motorcycle. In short, this is one helluvan adventure!
Under Asian Skies is available Amazon
Signed copies are available at www.sam-manicom.com/orderform.htm
Manicom is currently working in the third book of the series. It'll be covering Africa with Birgit this time. Then the plan is to cross to South and Central America. If all goes to plan then the new book will be released in the late autumn 2008. More information can be found on his website at www.sam-manicom.com.
---