When it comes to sport bikes, the subject of tires is a common topic of discussion and few topics evoke as much passion or controversy. What is the best tire? How old of a tire should you run? When is a tire worn out? How many heat cycles will a tire last? Where is the best place to purchase replacements? What is the best tire pressure? Etc., etc., etc.
The answer to every one of these questions is the same; it depends. Depends on your riding style, where, when, and how frequently you ride as well as your expectations. However, there are some guiding basics that will help you make the best decision. One thing to remember is that tire technology is moving extremely fast. The greatest performance tire of all time from a few years ago can't even compare to today's long-mileage sport-touring tires.
The Compromise
What is the best tire? First, we need to realize that all tires are a compromise; primarily, a compromise between mileage, wear, slow-speed handling and high-speed handling. The answer to this question is also extremely suggestive and depends a lot on you. While the Dunlop or Michelins race-bred tire may be the most popular, that doesn't necessarily make it the best tire for you and your riding style. Different tires and tire brands have different characteristics. For example, Dunlop's and Bridgetones tend to have stiff sidewalls and pointy profiles, while Metzelers and Pirellis lean towards very soft sidewalls and very round profiles. And this can change from one tire make to another and from tire models.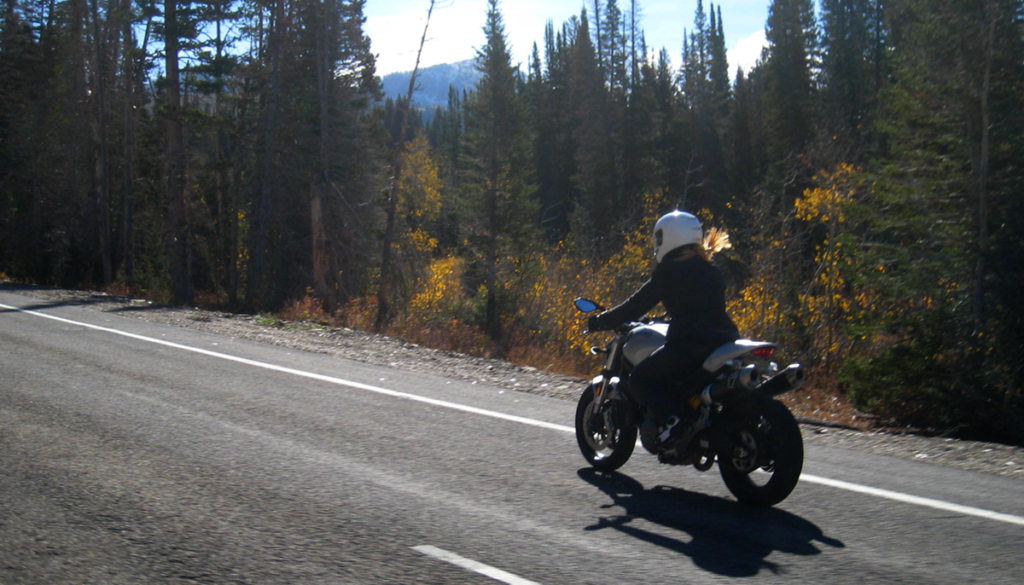 So, which is better? Again, that depends on you. Many prefer soft sidewalls because they feel they give more confidence in bumpy corners and a more compliant ride. Others may really like the firm feel of a stiff sidewall. Personally, I've found my preferences have changed over the years. I used to really like soft-carcass tires, but have grown to really like the communicative stiff-carcass tire now.
Additionally, some tires are designed to slide earlier to warn the rider they are approaching the tires' limits. Many riders really like this feel while for others the sensation of sliding the bike around is terrifying and will instantly destroy any confidence. So the best tire for you is the tire that works with your individual riding style. Also, different tires can dramatically affect the way the bike handles.
Profiles
Tire profiles are a huge part of how the tire feels to the rider. As I mentioned before, some tires will have a very pointy profile. This makes the bike feel very willing to lean and gives the rider the sensation of a very quick turn-in . Pointy profiles give the largest contact patch while leaned over. However, pointy profiles make the bike feel skittish and unstable when going straight. Some riders don't like the sensation of a bike that falls into corners.
Other tires have a very round profile. This helps the bike feel much more stable while going straight but doesn't give the bike that flickable feel that pointy profiles have. A round profile, however, allows the rider to set a line in a corner and have that line stay consistent. Once your line is set in, the bike will track predictably along that line (until the rider decides to change it). They provide a very neutral feel. Some riders complain that round tires make the bike feel sluggish and reluctant to turn. Finding what is best for you depends on your riding style, riding ability, and personal preference. Remember, that as a tire wears, specifically in the center, your profile is altered and the design of the tire is compromised.
Tire Compounds – Road, Sport, Race
What is the best tire compound? Once again, it depends on how you ride. Many people believe that a race compound tire is stickier and allows them to ride faster and with more confidence. This might be true for those of you who ride on the track, but not everything that works on the track works on the street. Before we get into the hows and whys, understand how a tire works. When a tire is heated, the rubber becomes more pliable, allowing the tire to ooze into all the nooks and crannies of the surface you are riding on. However, as the tire heats and cools, it goes through a process called outgassing. Literally, parts of the tire are turned into gases and escape, resulting in the changing of the chemical makeup of the tire. Ever see a tire used on the race track turn blue?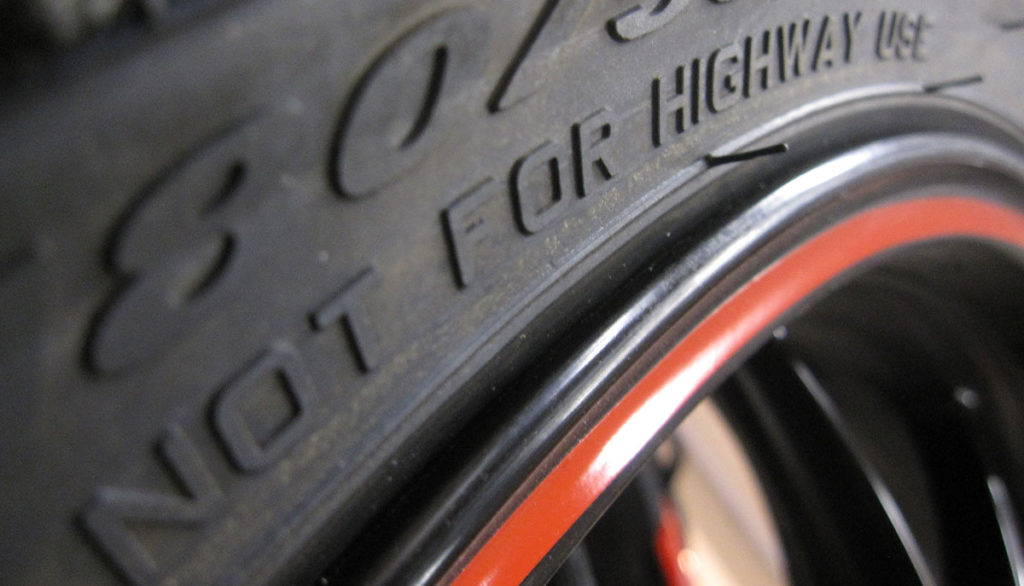 The results of outgassing cause the tire to become brittle or less pliable, hindering the tire's ability to conform to the road surface. Back in the day of flat-track racing, it was a common practice to take tires and throw them up onto a flat, southern California roof for a few weeks to bake in the sun, periodically flipping them from side to side like a pancake. The tires would heat and cool and consequently outgas until they were rock hard. Perfect for flat-track racing.
So, now back to our race compound tire. The race tire is designed for the racetrack, hence the name and usually the red sticker or other marking on the sidewall of the tire. They are designed to be used two or three times before they are discarded. Even "DOT Race" tires are typically only good for two or three days of use. That equates to two or three heat cycles and two or three periods of outgassing before the chemical balance of the tire has changed so much that it is no longer the same tire. Also, race tires are designed to be able to carry more heat before the tire melts. This is to handle the extreme speeds, cornering velocities and higher abrasion characteristics of a race track. This means it also takes more time and more aggressive riding to get the tire to its optimum operating temperature. Race tires are awesome for the track rider. They allow the racer to get the most out of the tire, but at the cost of not lasting very long.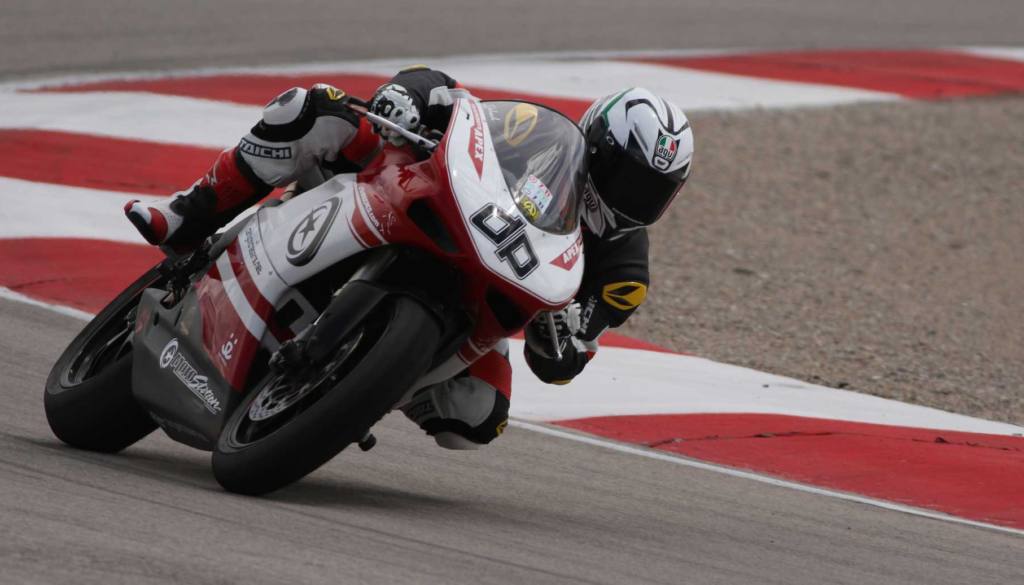 The street rider who uses race compound tires is simply wasting their money and actually taking unnecessary risks. Even the fastest street rider is probably not (and should not) be able to get a race-compound tire up to its optimum temperature to reap the benefits of the added traction. Street riders are forced to stop for stoplights, police officers and traffic in general. They are also a full-on idiot if they ride at 100-percent of their ability, as fast as they can, in a street environment. However, the race tire is still outgassing at the same rate it would if it were being used on the racetrack even though the tire will never reach operating temperature, and never achieve optimum levels of cohesion.
Street riders will actually get greater levels of traction and more life out of a street tire that is designed to withstand hundreds of heat cycles and operate at a lower temperature. And in fact, most modern "sport-touring" tires will provide a better level of grip for 90% of all street riders than sportier counterparts. Only an elite few, and they are probably not reading this anyway, can use the full potential of a modern hyper-sport tire. In fact, its quite amazing what skilled riders can do on modern sport-touring tires. Skilled riders can still drag knees around corners with these supposedly "hard" tires.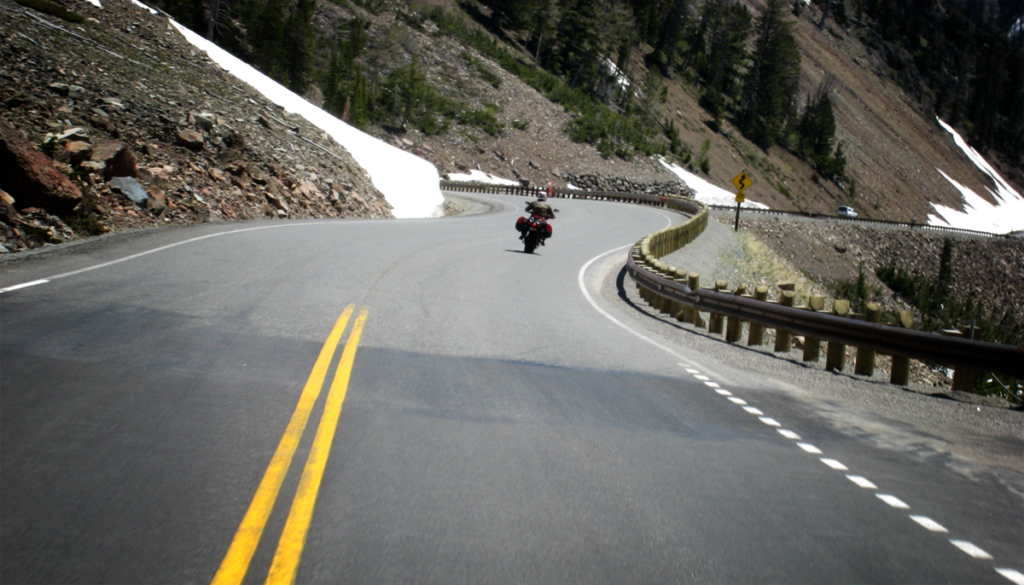 Some street riders feel that it is an advantage to buy "take-offs" from racers. Take-offs are the race compound tires (sometimes race slicks) a racer has used up. Rather than discard the tire, they sell them to street riders. Take-offs do a great job of impressing your friends by allowing them to assume you were able to thrash the outside edges of your tire with your amazing riding ability. But the reality is you may be riding on a tire that has plenty or tread left but is actually worn out or has very little grip left in it.
The point is not to be so afraid of riding on tires designed to last a bit longer. Honestly evaluate the type of riding you do and make your decision based on that information. If you mostly drone up and down the interstate on your way to work with an occasional weekend jaunt up the canyon, you probably don't need as much tire as the rider does lots of high-speed track days, and has never worn out the center of a tire. Most of us will never be able to over-ride a modern "sport-touring" tire during very spirited street riding unless we are using incorrect riding form and style. We have seen and sampled most every touring-based tires on racetracks and on colder track days, the touring tires came up to temperature quicker and provided MORE grip than the race tires. So much so, that after a track session, the race tires were, literally, cold to the touch, while the touring tires were nice and warm. Plus, you get the huge benefit of not having to change tires more frequently than you change your oil.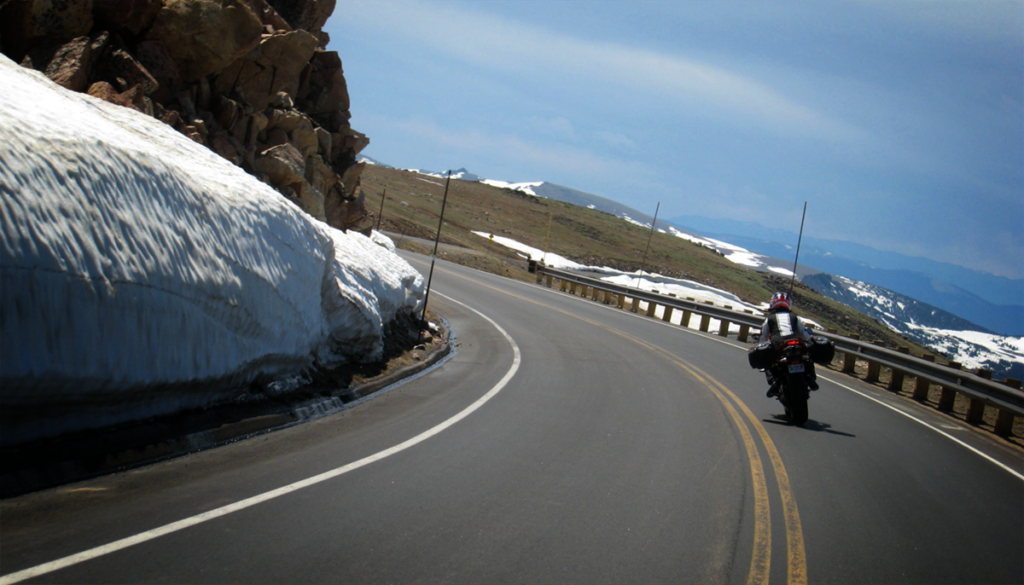 But whatever you do, do not mix and match tires, particularly tires of different construction (radial vs. bias) and even tires of the same construction from two different manufacturers. You never know what handling result you will end up. We realize that sometimes you have to do what you have to do, and when out on the road getting a flat tire means you run whatever tire you can find. So at the very least, avoid at all costs putting on a stickier/grippier rear tire than the front tire. To do otherwise and you could easily find yourself in a situation where the traction of the rear tire overwhelms the traction of the front tire.
Tire Age
So how old of a tire should you use? The answer for this is easy. It depends! If you need to get the most out of your tires, then the fresher the better. If you like a tire to last longer, then the age of the tire is less critical. But you should never buy or use a tire that is more than six to seven years old. But how do you know how old your tire is? Carbon dating? Serial number cross-reference with manufacturers? Actually, your tire has the date of manufacture or the "born on" date. How nice! If you look closely you will find a four-digit number stamped into the sidewall of your tire. It will read something like 4408 or 2101. What do these numbers mean? Well, a 1411 means the tire was manufactured during the 14th week of 2011. 2101 means the tire was manufactured the 21st week of 2001. If you find a tire with a three-digit date code, that tells you the tire was manufactured prior to 2000.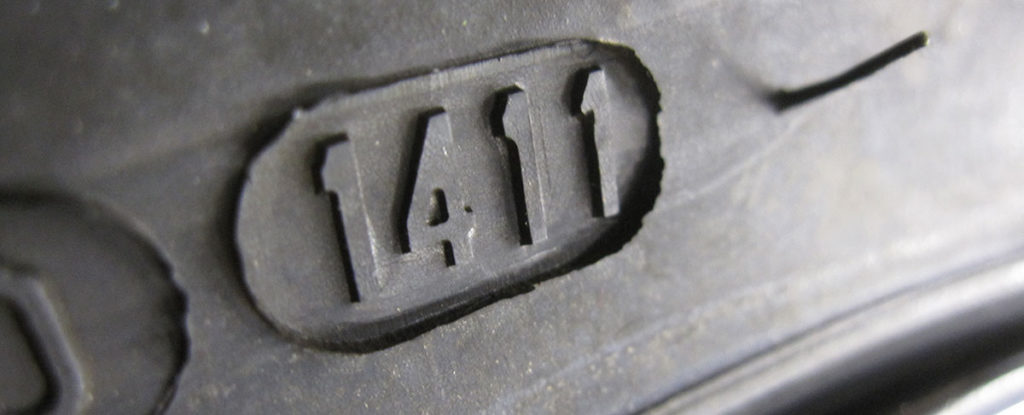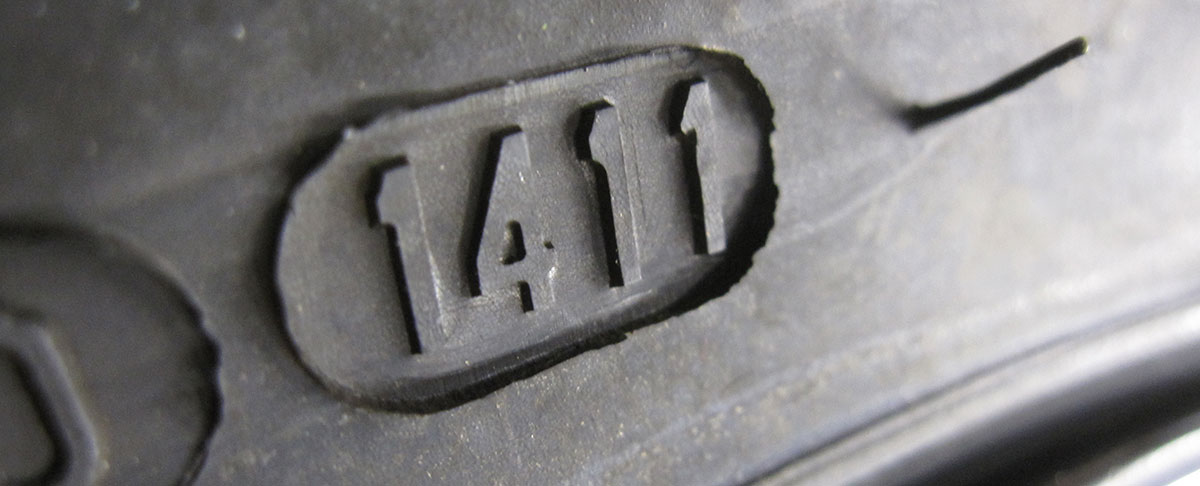 But why is a fresher tire better? Well, first, rubber is organic and it decomposes. Second, after your tire is manufactured, it may sit on the top shelf of a scalding hot warehouse for four years, outgassing all the while. Then it goes to the local shop, where it sits in a south-facing window (outgassing every time the sun sets for another year before you finally buy it). So, you end up with a five-year-old tire that may already be worn out before you've ridden home. Then you'll complain every time the tire slides around underneath you. Not because it is a bad tire, but because it has gotten so old and outgassed so much it has become brittle. If your primary concern is a tire that lasts lots of miles, an older tire will do fine because it has gotten hard with age. But again, rubber is an organic material and a tire that is seven years old is not as capable as the exact tire that is newer.
When is a tire worn out or in need of replacement? You guessed it . . . it depends! A front tire may be shot while there is still plenty of rubber on the tire. This is why you should always replace your tires in sets. If the rear is down to the wear bars, yet the front tire still has plenty of life, both tires have gone through the same number of heat cycles. The front tire may "look" great, but it is just as worn out as the rear tire. Keep in mind that your front tire is more critical to not falling down than your rear.
You may have a race tire that looks awesome but has gone through so many short heat cycles that it will feel and grip like wood. Front tires can also cup or scallop where the front tire wears uneven and causes poor handling. Replacing a cupped front tire will really make the bike handle and feel more stable.
Well, what if you get a flat tire? Can you just plug it like a car tire? You can, but I wouldn't and most motorcycle dealerships insurance won't allow them to anyway. Motorcycle tires do way more than a car tire can. It has to grip while leaned over and it flexes from more directions. And if it fails, you only have one other tire to catch you, unlike a car that has three other tires to prevent you from falling. My advice would be to avoid plugged tires. Plugging will get you home, but it's best to replace the tire.
Tire Pressure
What about tire pressure and size? This one does not depend. For almost all cases go with the manufacturer's recommendations taking into consideration how much weight you have on the bike (such as luggage or a passenger or both). Believe it or not, those designers and engineers in Japan, Italy, and Germany know a lot more about motorcycle design than we think we do. Your best and safest bet for motorcycle performance and handling is to run the recommended pressure. You can deviate slightly depending on what you want from your tire or for a track day, but the closer you stay to manufacturer's guidelines the happier you will be. Dropping pressure causes the tire to flex more which does a lot more than just give you a bigger contact patch. Depending on the conditions, lower pressure could prevent your tire from coming up to proper pressure to causing it to overheat.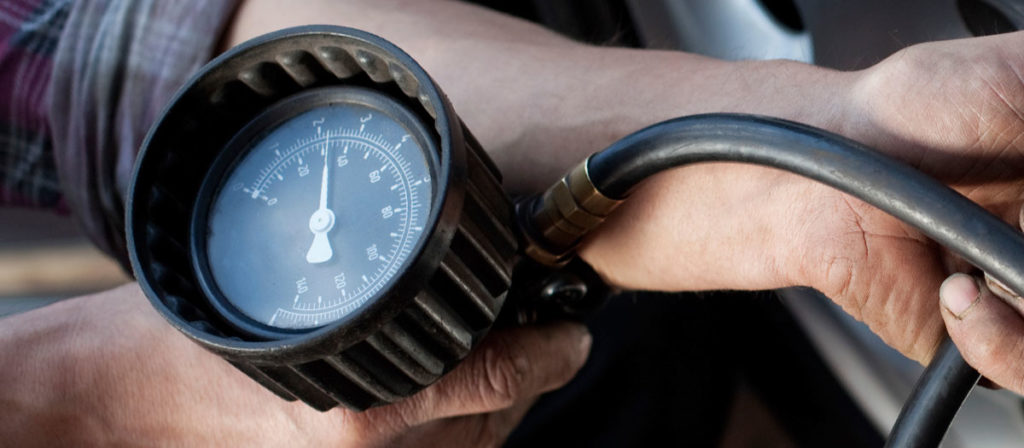 Many riders still believe that running the max psi number listed on the sidewall will ensure you'll get the maximum life out of your tire. But as tire's have evolved this is no longer the case. Running max-pressure, or too high pressures can actually cause the tire to wear out faster. Yes, you read right; keeping pressure higher will actually make the tire wear out quicker. When a tire is over-inflated (and by over-inflated we mean, higher than the manufacturers recommendation) you make the contact patch smaller because the tire is unable to flex as much, this focuses the wear onto a smaller surface, increasing heat and wear.
While testing one particular sport-touring tire we ran the tire-manufactures recommended pressure, which happened to be the max psi. The "touring" tire was destroyed in just over 2,000 miles. We obtained a second set, ran the psi at the bike's recommended pressure and literally doubled the life of the tire (riding the same way on the same roads as the first set). So, the morale of this story is to stick to the bike manufacturers pressure recommendations for best results.
Since we are on the subject, we cannot stress enough the importance of buying a high-quality tire tire gauge and monitoring your tire pressure. Motorcycles are so sensitive to tire pressure we strongly recommend that riders check their tire pressure before every ride, or at the very least every three to four days. Proper pressure helps you get the most out of this very expensive component.
Our favorite tire pressure gauge is the Intercomp 2.5″ 0-60psi Liquid Filled Tire Pressure Gauge. It lasts longer than many other gauges we've used, and maintains it's accuracy better, for longer. Plus, we feel the price is very affordable.
Tire Size
First lets explain those crazy numbers on the sidewall. Lets use the most common 180/55-17 as the example. 180 is the width of the tire. A 180 from Michelin may look wider than a 180 from Pirelli because they all measure their tires a little bit differently. But thats okay – we are talking the difference of a few millimeters from one to another. The second number "55" is the height of the tire as a percentage of the first number. So in this case, the tire would be 55% as tall as it is wide. Make sense? The last number is the rim size.
Because the second number is a percentage and not a hard number, it can get a little confusing. What is the height difference between a 190/50-17 and a 180/55-17? Probably just a fraction of an inch. However, the difference between a 120/70-17 and a 120/60-17 is more significant.
Many riders like to try to squeeze in a larger tire on the rear of the bike because it looks cool. But this will alter (probably adversely) the handling characteristics of your bike. Changing the tire size to a width that cannot be supported by the rim width will result in a pinched or flattened tire profile, adversely affecting the tire's abilities. Again, your safest bet is to stay with the manufacturer's recommendations by using the stock tire sizes.
If your bike came with a 190/50 rear, a popular change has been to drop to a 180/55. The argument is that 180s are pointier than the rounder, flatter 190's as well as a little taller to help the bike steer quicker. I've done this, and in my experience, the bike lost a fair amount of stability and felt skittish in the corners. However, many of the tire companies have gone to great lengths advertising their 190's now have similar profiles to the 180's and most now offer a 190/55 for more sporty handling. And if you think wide tires are bad, most world-class racers run really wide tires – 200+ widths.
Sticking with the original size becomes even more important when you factor in traction control, offered on many motorcycles. Some of the simpler systems measure the rotation of the front tire as compared to the rear tire. When you alter the tire size, you also alter the ultimate circumference of the tire. Simple traction control systems can become confused and throw error/fault codes or intervene at inappropriate times. So, unless you have a very good source saying otherwise, stick the manufacturer's recommendation.
In Conclusion
So there you have it. You now have a lot more questions to ask yourself when you're shopping for a new set of tires. Hopefully, you will be able to make a much more informed decision. Be careful when asking advice from other riders because tire choice is a very subjective decision. They may want something different from their tire than you do. Be willing to do some research. I have even gone as far as calling tire manufacturers and asking them for more specific information and asking them to compare their tire to another tire I am familiar with. Also, be willing to make your own decisions away from what "everyone else" seems to be saying. There is one tire manufacturer that everyone seems to love, but every time we try one of their tires we have a negative experience. Popular does not always mean better.
Are you really only interested in how long a tire will last? Check out our Tire Mileage Chart to see how long our tires last.
---