Power Trip Blackhawk Leather Motorcycle Jacket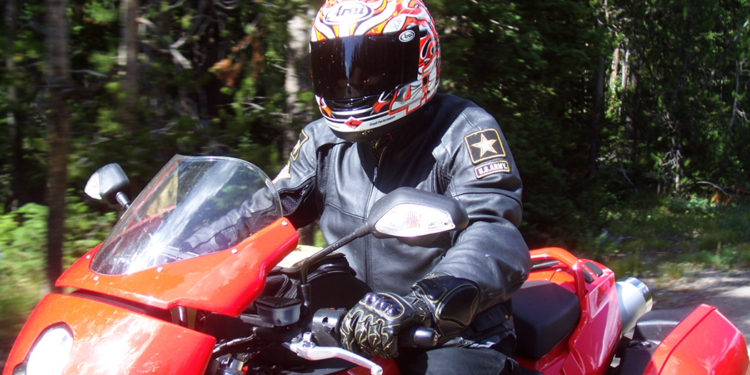 Regardless of what you may have heard, Power-Trip motorcycle gear is merely Joe Rocket gear branded for Cruisers, and while we've not had the best of luck with lower price point JR gear, we have been happy with higher-end JR kit. A ladies, Joe Rocket Luna jacket started coming apart at the seams, not from a crash, or from harsh use, but from regular use – after only four months!
So when we had the opportunity to test the Power-Trip BlackHawk Army Branded leather motorcycle jacket, our expectations weren't very high. For reference, the Army BlackHawk jacket is identical (aside from branding and a "media" pocket) to the JR Honda SuperHawk Jacket. So think of this as two reviews in one.
First, the jacket immediately exceeded our expectations. The quality of leather was excellent. Thick 1.2 to 1.4mm leather, tumbled so it wears extremely well right off the hanger. The leather has the same feel and finish as many Alpinestars leathers we've used and been very happy with.
We really liked the U.S. Army branding on the BlackHawk jacket (probably named after the Blackhawk Helicopter). Many of the other Army jackets feature a single digi-flage sleeve or an enormous white star patch on the back – bit much for our tastes. The BlackHawk is a bit more understated, and we think will probably have more appeal to a broader scope of people.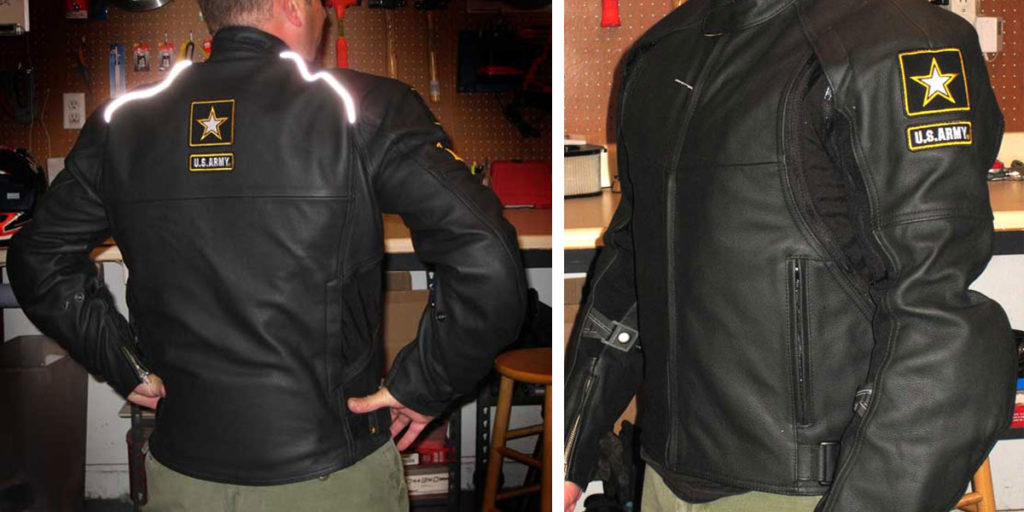 There are also U.S. Army star patches on the shoulders, but our favorite detail is the properly facing combat flag on the right sleeve. The blue field is facing forward, as though it were being carried into battle. Just as anybody who has served in the armed forces will tell you, is how the flag should be displayed.
The liner features the Army creed; Honor, Integrity, Courage etc… and has softer yellow material on the back of the neck and inside of the sleeves. It looks great new, but don't know how it will look after a bit of sweat and grime. Ours is holding up quite well however.
The jacket is adorned with the standard Joe Rocket fair of CE approved armor in the shoulders, elbows and a substantial back pad. It has the sleeveless liner for added warmth and the sleeve straps to adjust the arms. However, I'm not a bulky guy and have the straps set to their looser position, so the straps should only be a selling point if you are exceptionally skinny or wiry. There are also two bicep vents tucked up into the edge of the nylon on the inside of the arm.
The coolest feature is what Power-Trip/Joe Rocket is calling the "Free Air Mesh Torso Panel". Essentially, these are strips of mesh that run under the arms, hidden by a removable nylon cover. This makes for a very flexible leather jacket; the protection of leather with some very good venting properties. However, while the zipper panels come off easily, they are very difficult to put back on. We had to resort to using needle-nose pliers to line things up behind some robust leather flaps. This makes the panels more of a seasonal feature rather than something you'd take on and off frequently. We did discover that the panels can be zipped off halfway then tucked back underneath itself with very good results. In cooler weather, the panels do a pretty decent job keeping cold air out, and once opened or removed there is quite a bit of air-flow. When its hot, you are going to be hot – but the added venting sure makes things a bit more comfortable. Particularly, if you are like us and just don't feel safe in mesh riding jackets.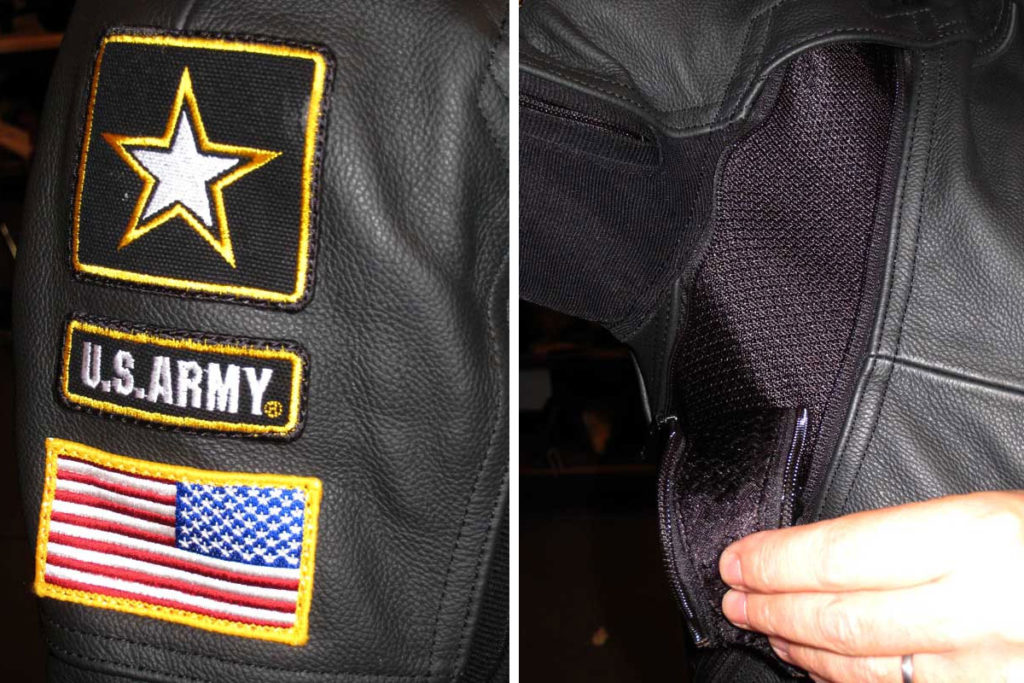 Overall, we found the jacket fit very nicely, but is sized a bit large, so you may want to measure and order on the conservatively small size. For reference, I normally wear a size 42, but the size 40 fits me perfectly.
The cut is typical motorcycle, with longer sleeves, however this jacket features the same single nagging feature that every JR jacket we've ever has – the back protector snags on the waist-band or belt of my pants and pushes the back of the jacket up around my ears. This may just be unique to my specific dimensions, but so aggravating is this flaw that I may be forced to modify the armor to work. We find it surprising that no other jacket we've used does this, yet JR does this consistently.
While U.S. Army may not be your cup of tea, we think it's awfully cool its been offered. It's a great way for those who've served to show pride, and if you haven't served nothing says "I support our troops" more than wearing Army kit. Power-Trip is supposedly coming out with U.S. Air Force branded gear sometime in 2008. We think the military aspect of this jacket is what makes it stand out from all the racer-boy jackets currently available en masse at any moto retailer.
For more information visit Power-Trip.com or JoeRocket.com.
---