Minor Details | Blood, Sweat, and Tires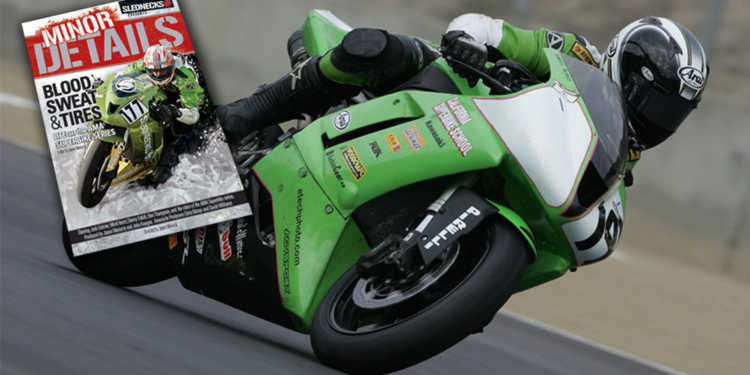 First, SLEDNECKS (all caps) is primarily a video production and apparel and outer-wear company focusing mostly on snowmobile kit. A few years ago they started getting more involved in motorcycles. (The name makes more sense now, ehy?) They sponsor a snowmobile race team, and more recently a motorcycle race team, which brings us to our review.
Minor Details (MSRP $29.95, 80 minutes) is SLEDNECKS first attempt at a film about motorcycle road racing. It follows the 2008 season of AMA rookies Josh Galster and Misti Hurst, two young privateers competing in America's top National series with what would be considered a club level budget.
First, it needs to be mentioned that SLEDNECKS is aware of who their target audience is for this film. They're not trying to make another version of Mark Neals' Faster. They understand that this film is not targeted at the hardcore road race fan. It is intended for the more casual race fan or the SLEDNECKS fan that is unfamiliar with road racing. The film is presented with the perspective that the viewer has no knowledge of road racing and in an attempt to garner the attention of the non two-wheeled enthusiast; it sensationalizes the danger and speed aspect of road racing. This tactic doesn't really do it for me, but the first two questions out of everyone's mouth when I tell them I race is; "How fast do you go?" and "Aren't you scared you're going to get hurt?" so I guess it makes sense if that's who your audience is. Also, the narration gets to be a bit much at times. With lines like "Riding a motorcycle is like riding the wind. Racing a motorcycle is like riding the winds of a tornado." you get the feeling that this film isn't aimed at the actual motorcycle community.
Sadly, this over-dramatization of road racing really takes away from what turns out to be a very compelling story of the two likable underdogs, Josh and Misti. Had the film focused more on the individual hardships facing the riders and how they were overcoming them rather than filling almost half the film with AMA stock footage of racing and crashes it would probably appeal more to motorcyclist, but at the same time, probably appeal less to the majority of potential viewers in America. Catch 22.
There were some bright points in the film. The characters are very interesting and when given the opportunity, are truly capable of tugging at that part of you that always wants the underdog to win. Also the films interviews with Danny Eslick and Ben Thompson add a lot by giving another perspective of road racing from two guys who've made their way onto some bigger teams.
The biggest hurdle in the esoteric niche market that is motorcycle road racing documentaries is making a profit. SLEDNECKS has been at the film production game long enough that I have no doubts they know how to make this a worthwhile endeavour. Overall no, this wasn't the best road racing film ever. But it was a really good first effort from a very experienced film producer and hopefully a sign of more to come.
---