Fox Creek Leathers Women's All Season Jacket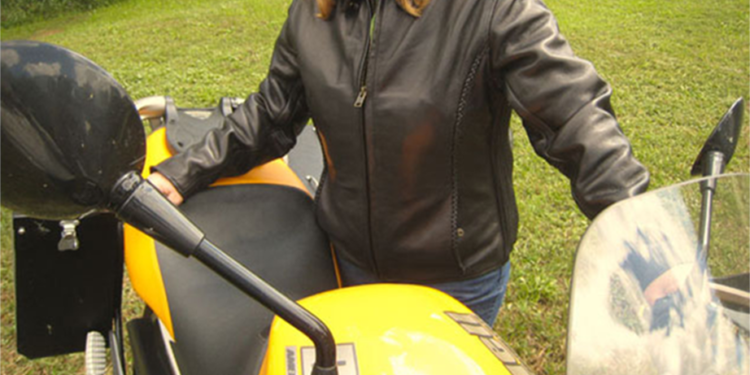 Fox Creek Leather is a small family owned and operated business located in rural Virginia. In his youth, founder, Paul Trachy lived the biker lifestyle and from that experience, he learned the need for durable, reliable, functional and attractive leather riding gear. His answer to that need was and is, Fox Creek Leathers. With few employees and low overhead, commitment to quality is a driving force in this grassroots company.

Naked Leather
So starting with a crash course in leather; not all leather is the same. Most companies use lower grades of leather that's sanded down and then stamped with a leather pattern. This is done to hide scars and "imperfections" from cow hide where the bovine was branded, leaned against barbed-wire fences or even bug bites (resulting in scars). This type of leather is typically known as "Corrected Grain" leather.
Full-grain, sometimes called "top-grain," refers to hide that has not been sanded, buffed or corrected to remove natural marks in the leather. Because "imperfections" cannot be hidden only the highest quality leather is selected and as a result, full-grain has the best fiber strength and greater durability than corrected grain. Full-grain leather has natural breathability making it more comfortable for clothing and rather than wearing out, it develops a natural patina, changing its appearance over time.
Fox Creek says they use full-grain "Naked" leather that has only been dyed and has had nothing else applied to it that would mask its natural state. This type of leather is the softest and most supple leather available. It gives the unique natural grain of leather a distinct, warm, rich glow. Their site says that "with age, well-conditioned naked leather increases in beauty, growing softer and richer in appearance." The fact that this type of leather has natural breathability and greater strength makes it even more appealing for motorcyclists. The only down-side to this quality of the leather is the cost, but you get what you pay for.
Construction
The first thing we noticed about Fox Creek Leather's Women's All Season Motorcycle jacket was the weight. With a leather weight of 2.5-3.0 oz; this is no fashion jacket. (2.5 to 3.0 oz is the same as competition weight 1.2-1.4mm). This jacket slides on and settles comfortably on your shoulders. The second thing we noticed was the feel of the leather, which is so luxuriously smooth and pliable it drapes and shapes rather than encasing the wearer. It is heavy; you won't forget you are wearing this garment but the weight only adds to the sense of wellbeing. Strong, sturdy, yet soft and comfortable; this is a nice coat.
The forethought in design and the quality of workmanship are evident in every detail. This is not a factory made, production line, mass-marketed product. Fox Creek leathers are handmade with particular attention to detail. It's a small business. Shoddy work by any one individual would be hard to hide and we got the sense that quality control is not just a job description; it seems like it's more of a matter of personal integrity and ownership of one's craft. Plus, we'll not hide the fact that we prefer and favor items that are made by human hands.
Fit and Finish
We found the sizing was off on what the rider customarily would wear. We're glad we used their measurement chart or the jacket that would have been too small. Using their sizing method and ignoring the size designation, the coat that was a perfect fit. Providing so many of my measurements, (including height) assured a fit so accurate, it felt like it was a custom product.

The antique brass YKK hardware is attractive and sturdy, keeping with this company's dedication to a product made in the USA. These heavy weight zippers belie their heft to glide effortlessly in place. The snaps close securely and open with enough tug to ensure security, but not so hard that you fear tearing the fabric or popping the zippers apart. The sleeve zippers have a leather flap cover and the vent zippers are easy to reach, zip, and unzip even while riding. Fox Creek Leathers Lifetime guarantee states they will even cover problems with zippers, snaps and grommets under normal use.
Another well thought out feature on this jacket is the pockets. You have two "so-called" hand warmer packets. But these are more than hand warmer pockets! They are deep and you can easily slide your hands in and out of the generous openings even with non-motorcycle specific gloves on. Both pockets snap closed so I felt secure keeping my cell phone in there while riding. There are also two inside chest pockets, one zippers closed, one snaps. The zippered pocket is excellent for items you wish to keep secure from loss or possible theft such as a wallet and house keys. The snap pocket works great for an iPod, cell phone, small camera, lip balm, and other need-to reach-it-quick items. Both are far deeper than you expect and would hold all of the above easily, which makes this jacket that much more functional for the rider.
Function
In accord with its all season claim, there is a removable Thinsulate quilted full-sleeve liner (no little vest here) with button down anchors in the sleeves. This is another instance where attention to detail adds to the long term value of this jacket. Instead of a thin elastic or cloth loop used to hold the liner in place, the closures are button holes sewn into wide stiff tabs. And the buttons are attached, not with thread but with a loop of quarter inch wide nylon. Even the ends of the sleeves and hems are double-stitched which prevents the liner from eventually creeping out the ends of the sleeves or the bottom of the jacket.
The accordion elastic sides on the leather shell keep the jacket comfortably snug through the torso, preventing the jacket from riding up and twisting and also maintaining that feminine line so easily lost in jackets with a more boxy "male" cut. Even getting on and off the bike, the jacket stays in place
During the first ride with this jacket, the snapped down collar was heavy and constricting. Knowing full well how most collars will beat you mercilessly if they are not snapped down but the loose collar was more comfortable during the summer heat but mostly there is enough weight to the collar that it didn't so much as flutter in the freeway speed induced winds. When the temperatures drop while crossing a mountain pass or during colder riding seasons, the snapped-down collar does a magnificent job of staving off the cold wind, making the jacket more usable in a wider range of temperatures.
Another nice cold-weather extra is the fleece lined neck warmer that comes attached behind the back of the jackets full-sleeve liner. When its cold, this removable neck gaiter attaches to the liner and wraps around the neck and chin using fleece on one side and a satin-like fabric on the other. Two strategically placed button holes in the full-sleeve liner keep it part of the jacket although it was an uncomfortable lump between your shoulder blades when not deployed. Its purpose would be better served as a way to keep the liner with the gaiter when neither cold-weather components are in use. It also would be no problem to keep the neck warmer in a pocket.

Fox Creek Leather's Women's All Season riding jacket is snug and warm in the chilly morning but also offers convenient air vents and mesh liner as the day warmed up. The airflow is sufficient to keep cool while in motion but like any black leather jacket, heated up quickly when stopped. By the same token, when things cooled off a few zips and it's warm again. The front, rear and sleeve vents are so inconspicuous; you wouldn't even know they are there. The zippers for the vents are reasonably easy to reach to open and close as needed.
Final Thoughts
Our absolute favorite feature of this jacket is its simple, timelessly classic style. No, this jacket won't turn heads with flashy, look-at-me features like fringe, gothic lettering, bright pink accents, Conchos or red suede rose cut-outs. Its classic, clean lines and timeless styling ensure this jacket will never go out of style or look any more dated than Amelia Earhart's leather flight jacket. This is the little black dress of motorcycle jackets. We chose the braided style but think I would have been just as happy with the simpler non-braided version. The style is in its classic lines, flattering fit and quality workmanship. Its looks and quality are just as well suited for a casual evening out with friends as it is in the saddle of your motorcycle of choice.
Which leads us to the one and only thing we think this jacket lacks. The look, style, comfort and warmth and the quality of this jacket are beyond reproach. Fashion rates high and we certainly don't want a coat to make you look like a Cleveland Browns linebacker, But having had the misfortune of taking flight from a motorcycle, protection is very high on our list of important features. We wish this coat, at the very least, had pockets/envelopes to add optional armor like many of the Men's Fox Creek leather jackets (a feature that we find quite frustrating among many motorcycle gear companies, armor available for the boys, but not the girls). Adding this single, almost minimal, safety option would be consistent with the overall quality and value of an otherwise outstanding product.
Summary
This really is a spectacular product. The quality of construction is impeccable, the materials used are top-tier, the cut and fit is exceptional and the features are well thought out by someone who clearly rides motorcycles. Sadly, it falls short only because it lacks the aspect of modern impact protection. We fully understand that not everyone thinks they need or even wants CE rated armor in the shoulders, back and elbows, but if this coat had those features, or at the very least the option to add armor we would have a hard time finding anything to criticize this coat on.
For more information visit Fox Creek Leather
---