Lois on the Loose by Lois Pryce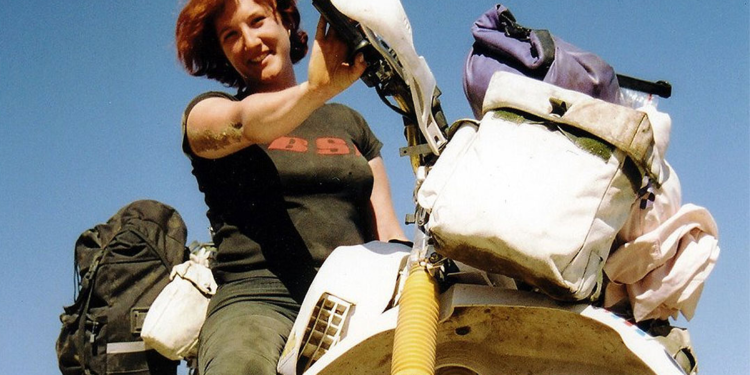 We must confess that had we seen this book sitting on the shelves, we probably wouldn't have given it a second look. It's cheesy, cartoon cactus back-dropping a photo-chopped outline of a gal wearing a BSA t-shirt astride a 225cc Serow does not scream "pick me up and read me". (Not that we have any kind of aversion to attractive females riding motorcycles in BSA T-shirts) But can say without any hesitation that we are sure glad we didn't judge this book by the cover.
Lois on the Loose is the account of Lois Pryce who ditches her job at the BBC and embarks on a North American jaunt from Alaska to Ushuaia – we've read this story before, but not from the perspective of a female rider taking on the trip on her own. That's cool, but not what makes this book special. Pryce is a delightful writer!
Even if you aren't that interested in riding a motorcycle through the third-world of Central and South America, Pryce will have you laughing out loud with her witty analogies and clever verb placements (She compares the significance of Harley-Davidson's 100th Anniversary to a 100 year celebration of McDonalds). Her descriptions of not only what she sees, but also what she smells, bring the characters to life in a gritty and lighthearted way.
She is best at writing what she knows, so the prologue chapters describing her job and her moronic boss and so funny and well written that I found myself going back to read those portions again. Her descriptions of the cities and sights she sees would be improved with a few more photos placed throughout the book. At least in the age of the internet we were able to log into her website and peruse the photo gallery; but more photos actually in the book would make us happy.
Pryce also makes fun of herself in such a way that I found her very human, very charming and very endearing. From swatting away the unwanted attention from machismo males to discovering love of the flapjack
I giggled and grinned my way from Alaska to Argentina, grew anxious over the state of disrepair or her bike and took comfort in the fact that she surely must have survived because who else would have written her book. In fact, I spoke about the book so much while reading it, that it was greedily snatched up by other CanyonChasers who quickly devoured it as rapidly as I did – no other motorcycle book that has passed through the hallowed CanyonChaser halls has evoked such a response.
In the end of the book I think I may have figured out why we found such pleasure in reading Lois on the Loose; she experiences the world with all the good, the bad, the challenges, the vitories and the struggles in the same way we do: With a sense of humor, a good dose of perspective and a general appreciation for experiencing the world proactively, understanding and reveling in simple joy of traveling by motorcycle.
Pryce is currently working on her second book where she rides through Africa; you can learn more and see photos at the website at loisontheloose.com.
---