The Simplest and Cheapest way to install a GPS/Smart Phone RAM Mount for just about any and every motorcycle.
In this digital age, almost all of us want some way to enhance our riding experience with the myriad of devices available for us. Most common is a GPS device, but having your modern smart-phone right at your fingertips may also be important to many a rider or maybe you like to run a Radar Detector.
What's more, you can also use RAM Mounts for your POV Camera/GoPro.
We were not super happy with the simple handlebar mount that came with our (now ancient) Zumo. It was way off the side and, well, just kinda gangly and awkward.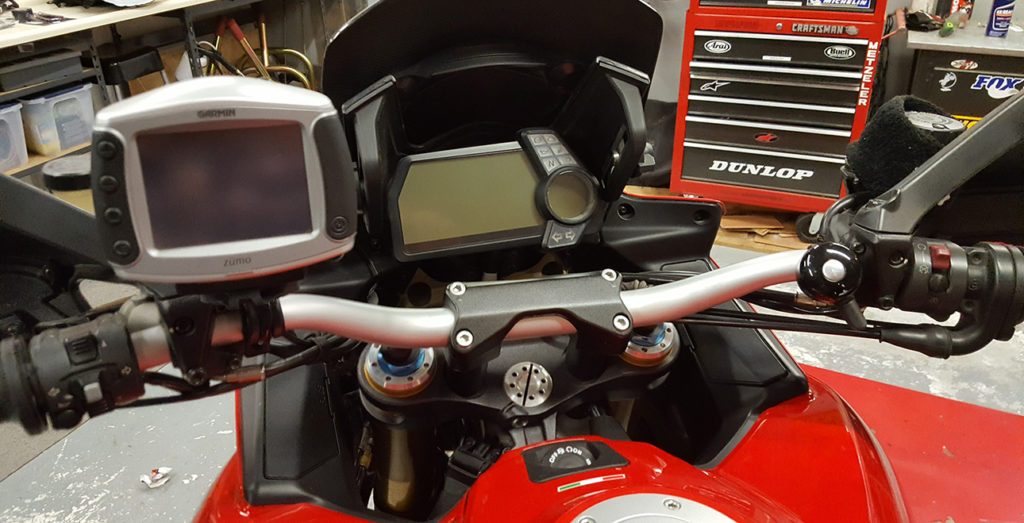 Lots of companies offer all sorts of very specialized and elegant solutions that allow you to affix your digital device to your motorcycle, but many of them, despite how elegant, can also be pretty spendy, while some home-brew solutions can be, well, less elegant.
In the case of our donor bike, a Multistrada 1200, for example. There is a replacement top triple clamp, several versions of bars that can be affixed, all with prices ranging around $75 on up.

Surely, there has to be a better way. One that places the GPS (or other digital device) into a more intuitive location, you know, like in the middle – yet one that doesn't cost so gosh darn much.
Well, RAM Mount has been busy coming up with several brilliant options that allow you to put a RAM Mount ball pretty much anywhere, on pretty much any motorcycle.
RAM Motorcycle Mounts

Of course any of these can be combined with the myriad of arm lengths of Double Socket Arm
They even have Adapters for virtually every device you can imagine
Since we were looking for the simplest/easiest solution, we opted for the Handlebar Clamp Base. It simply replaces one of the handlebar clamp bolts with a longer bolt to accommodate the standard 1″ RAM ball. The kit comes with three 8mm bolts of various sizes and the 1″ ball. We shelled out a solid $10 for the kit.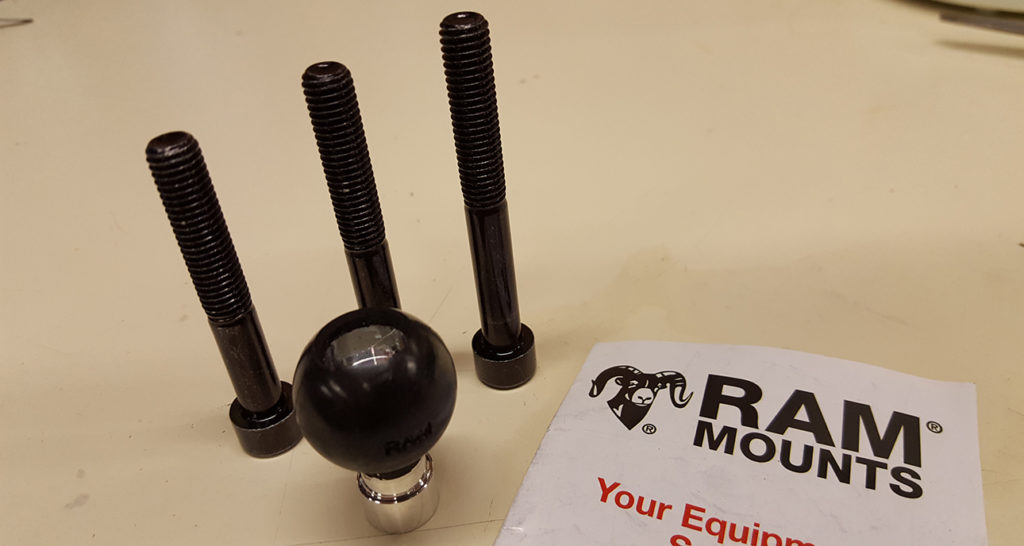 The ball simply slides over the head of the bolt. I couldn't be any easier.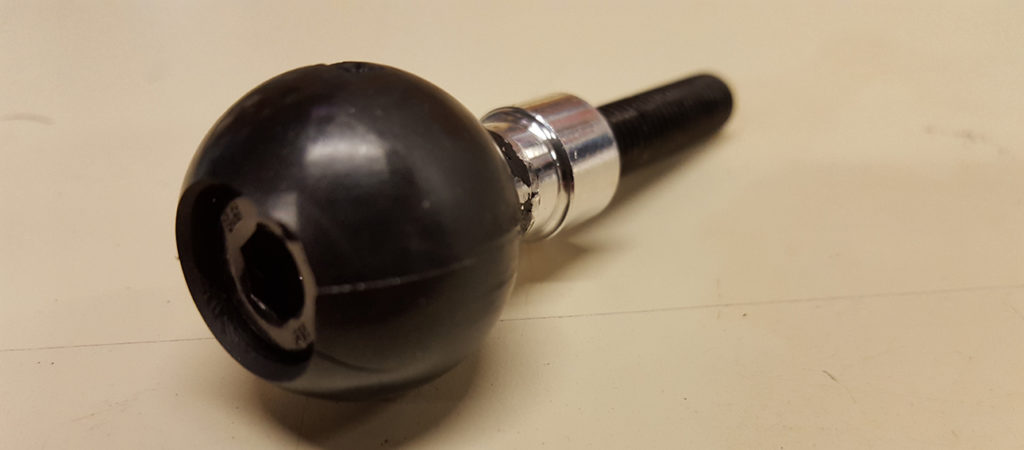 To ensure that we didn't put in a replacement bolt that was too long or too short, we removed one of the existing handlebar clamp bolts and compared it to the bolts and ball included in the kit until we ended up with a result that was the same length.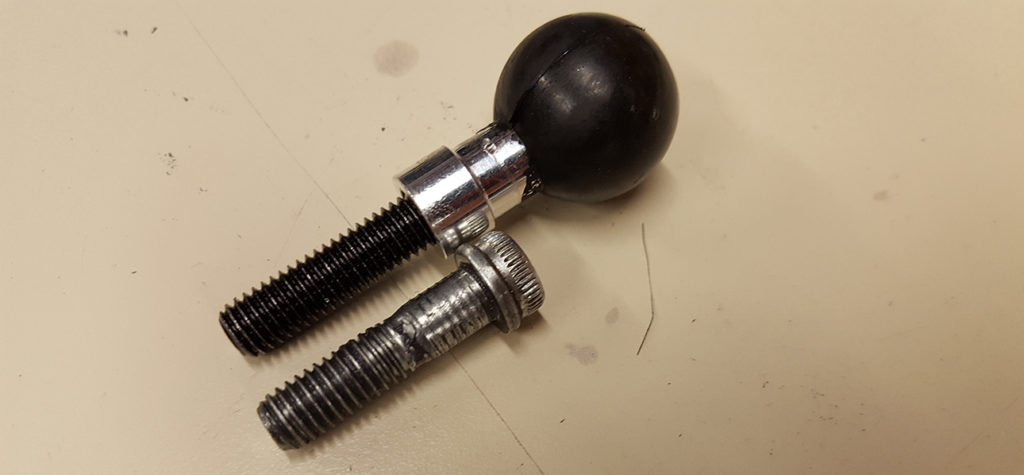 Simply tighten the bolt as appropriate. To prevent any kind of flex or twisting in our single-piece triple clamp, we loosened all the bolts, then torqued them down to manufactures specs according to the service manual. However, the ball head seemed to affect the torque reading on the torque wrench, so use caution to not over-torque the new Ram-Mount bolt.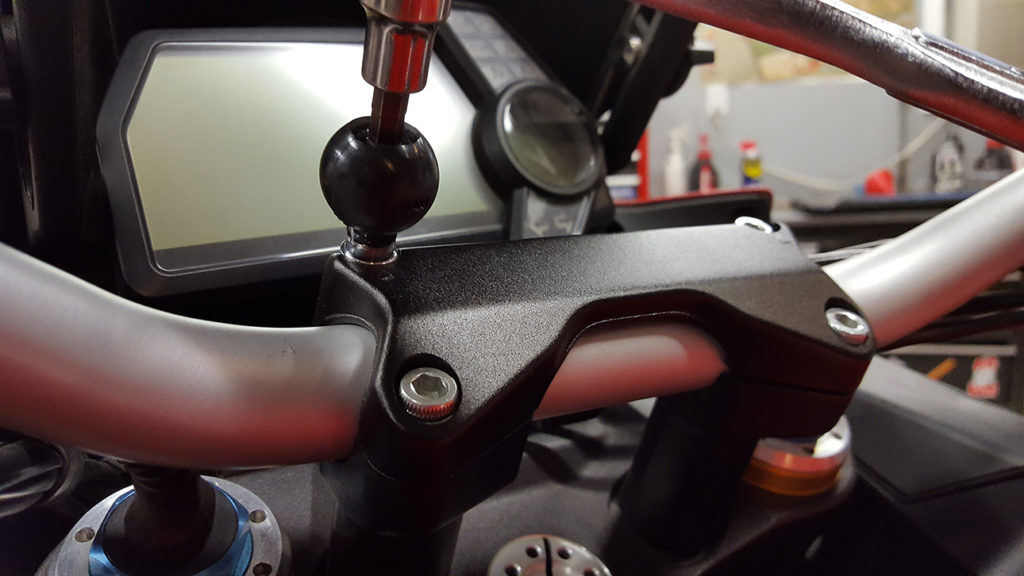 At this point, it is just a matter of using the correct arm length for whatever device you are using. In our situation, and since we are using such an old GPS, the Short Double Socket Arm was perfect for us. Many of the other device mounts are thinner so a Standard or even an Articulating Double Socket Swivel Arm may work best for you. The important thing is this method is super flexible, allowing you to find the best setup for your specific needs.
We were careful to ensure the Double Socket Arm didn't come into contact with the top triple clamp so as to prevent scratches.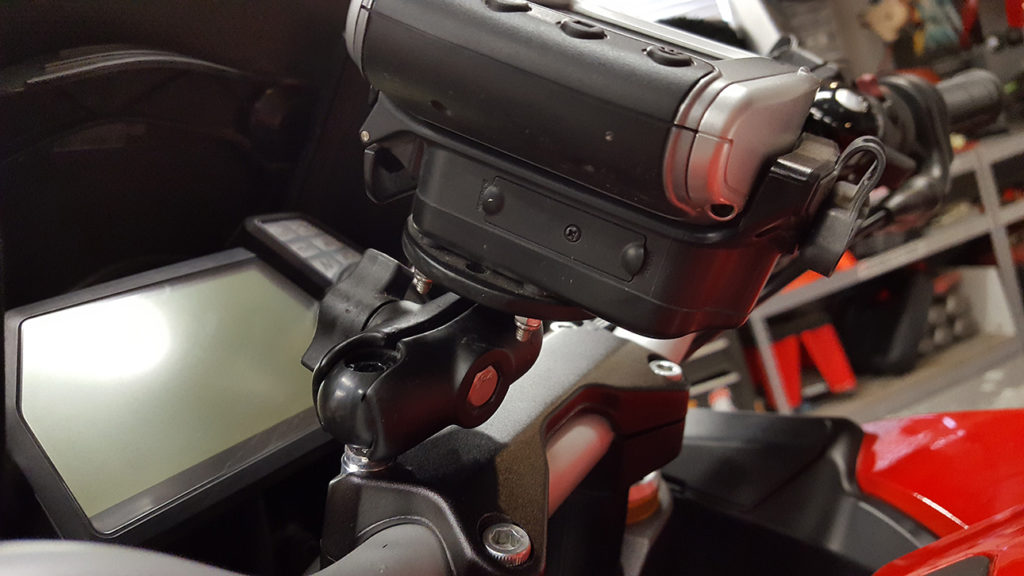 And the final result. Moving the GPS to a central location was much more intuitive and natural, keeping the GPS closer to the normal eye-line instead of having to look off to the left all the time. Additionally, we now have the option of removing the old ball, or we can repurpose it to run another device such as a GoPro camera or radar detector.
Because the Double Socket Arm is so easy to move and adjust, we can relocate the GPS as needed, such as in the situation that we would be running a tank-bag, or heck, even if we prefer the GPS off to the side instead of in the center.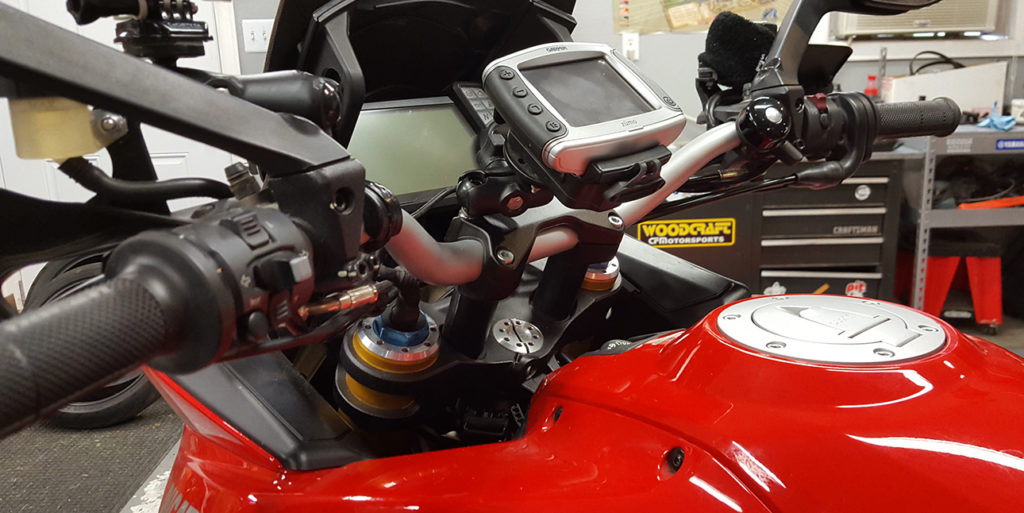 And, finally, this system allows for the removal of the entire system in a matter of minutes if one would rather only have the GPS mounted for long trips.
Learn more about all the Motorcycle Specific RAM Mount Options.
---