We've been asked so many times, "what should I pack?" that we finally decided to put something on the website. This list is intended to cover a rider for about three to five days on the road. Longer rides require appropriate adjustments in clothing etc (or plans to stop and do laundry). This list has also been created with over 70 years of combined road-trip experience.
While watching Ewan McGregor and Charlie Boorman circumnavigate the globe in Long Way Round we were shocked to learn that they broke the sub-frame on Ewan's GS1150 Adventure as a result of packing several cast-iron frying pans, among other unnecessary things. If only they had read the CanyonChaser packing list…
Keep in mind, you will most likely have challenges dealing with cold, even in the middle of summer, so be prepared. Most of us have variations on the stuff we find important and, of course, you may need to make tweaks based on your individual needs. The key is to try to narrow down/expand what is most important to you and how much space you have. But, less is more!
Your Papers appear to be out of order
On Your Person
Drivers License
Proof of insurance
On the Motorcycle
Registration
Proof of Insurance
Hidden on the motorcycle
Photo-copy of Drivers License
Photo-copy of registration
Photo-copy of insurance
While this much repetition in paperwork may seem silly, we've run into problems, more than once, where having adequate paperwork kept us out of trouble. Because of all the added complexity caused by Homeland Security ensuring that you have all your paperwork can make a huge difference. We've been caught without a current proof of insurance and without any proof of registration which almost resulted in an $800 fine (on Federal Land) and resulted in a 200 mile detour after we were forbidden to cross aforementioned federal lands. In other words, it pays to have multiple copies of your paperwork.
International Travel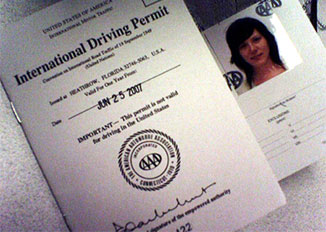 We've been advised to even carry copies of our motorcycle titles when crossing borders. We didn't, but always bring along our Passports, which makes the border crossing into and particularly out of Canada surprisingly easy. Once the border guard saw the passport, they sighed relief, smiled and quickly waved us through. Your Passport is your best friend.
If you find yourself in a situation where you do not want to hand out your passport, it pays to have an "International Driving Permit". Available from AAA for a nominal fee (even if you are not a memeber), it looks very official, has your photograph and stamps to really look impressive, but is really kind of useless. Hand it over instead of the Passport and if you never see it again, you're only out $15 and can still get home.
Clothing
Not having the right kit can turn a weekend that was supposed to be fun into hours upon hours of suffering. As motorcyclists we really have to weigh the value of everything we bring. We don't always have the luxery of "I'd rather have it and not need it than need it and not have it." We really need to distill our list down to whats really needed.
Pants. Days with lots of stops we'll prefer jeans, days with lots of riding we prefer armored riding pants. We figure two days per pair of jeans.
Shorts. Three days per pair.
One to two pair padded cycling shorts – fantastic on high-mileage days! (no, you do not wear underwear underneath them)
Always, always, always bring swim trunks.
T-Shirts. Bring at least half as many T-shirts as days in your planned trip. 10-day trip, bring five T-shirts.
One to two long sleeve shirts
Socks and underwear, same rule as T-shirts, so you only have to do laundry once during the trip.
Long underwear any additional warmth that will fit under your motorcycle gear and on the bike in case you end up taking it off at some point.
Motorcycle gear! (Helmet, gloves, jacket, boots)
Extra pair of motorcycle gloves and an extra pair of Sunglasses. You never know when you may loose a pair.
Clear or yellow lens sunglasses.
Clear helmet visor (usually packed in the tankbag).
Rain jacket/pants/suit (Even if you ride in water-resistant nylon kit, a thin rain-suit can really save the day if things get really soggy).
Laundry bag, pillow case or shopping bags (You can pack all your clothes in plastic shopping bags then put dirty clothes into their own plastic bag).
Sneakers or other shoes/sandals
Light, non-motorcycle jacket – great for walking around town or hanging out around the campfire. Try to find one you can layer under your motorcycle coat in the event it gets really cold.
Necessities
For your Person
Cash (you never know when someone will not take magic-plastic).
Credit Cards.
A tiny bottle of lotion and a spf 15 lip moisturizer;or even spf lotion.
Flashlight or Headlamp.
Camera, memory card(s)/film, digital batteries.
Cell phone.
We usually have a couple of motorcycle magazines or books – particularly for passengers.
Other fun stuff like GPS, MP3 player.
Toiletries; toothbrush, toothpaste, etc.
Any other cosmetic items you generally use (such as floss, nail clippers, and a brush or comb).
Tylenol (or your preferred pain reliever) Really nice during and after a really long day of riding.
For your Bike
If you are Camping
Even if you are planning on hoteling it the entire time, bringing some basic camping gear can save your bacon if you find yourself in a town where all the rooms are booked or someplace remote enough that your only option is camping.
Tent or tarp and tent stakes (a small mallet generally comes in handy too).
Sleeping bag (most of us also have a Queen-sized air mattress).
Camp pillow.
If traveling in pairs one person carries the tent and one sleeping bag – the other carries the air mattress and the other sleeping bag – evenly sharing the load.
Just in Case
We'll continually add stuff to this list as we think of stuff so you may want to check it out again sometime, just in case.
---