A Trip Twenty Years in the Making
TThe last time my father and I spent any real time together was twenty years ago. I had just returned from my deployment to the former Yugoslavia. Like so many Veterans before me, the only thing I really wanted to do upon my return was take off on my bike. It just so happened I had just met my soon-to-be wife a week before my father and I took this trip, so the entire time, I was thinking more about getting back to the great girl I'd just met and we ended up heading home early.
For the last ten years, we said we'd take a trip again, but life kept getting in the way, like life does, and it never came together. This year, however, would be different. We made plans and reservations in February, thus committing us to reconnect.

The last time we rode together, my father was the age I am now. A lot has changed since then, but our love of motorcycles had not. Fortunately, my dad had since realized the value of safety gear.

---
Skip Ahead
To Cross a Desert
Dad is a Harley man. Me, less so. But years ago, he took a spin on my Gen-I Multistrada and decided he had to have one. However, being the Harley man that he is, he could not make himself purchase outside of the American brand, and instead picked up a Buell Ulysses.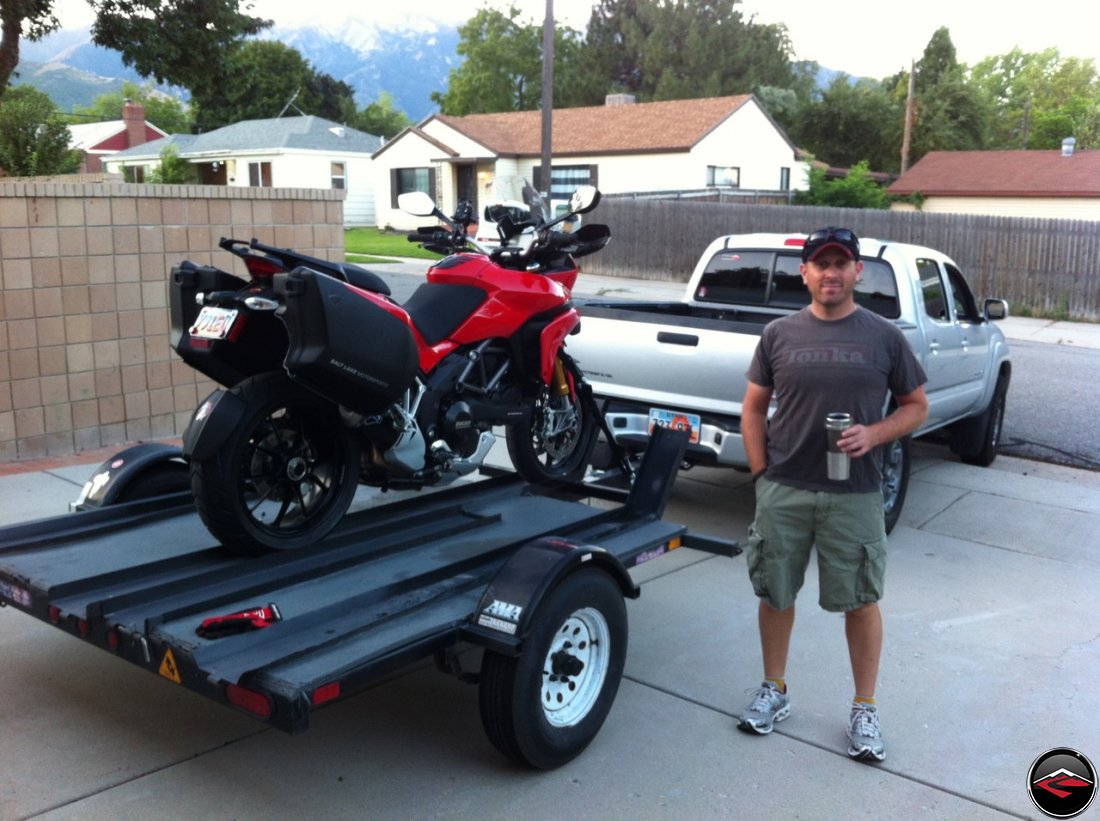 This would be the bike he would use for this trip while I would be on my brand new (600 miles on the clocks) Multistrada 1200. To save tires and misery, we would be trailering the bikes across the desert from Salt Lake to Reno, where we'd be leaving the truck and trailer at a good friend's warehouse while we rode around California for a week.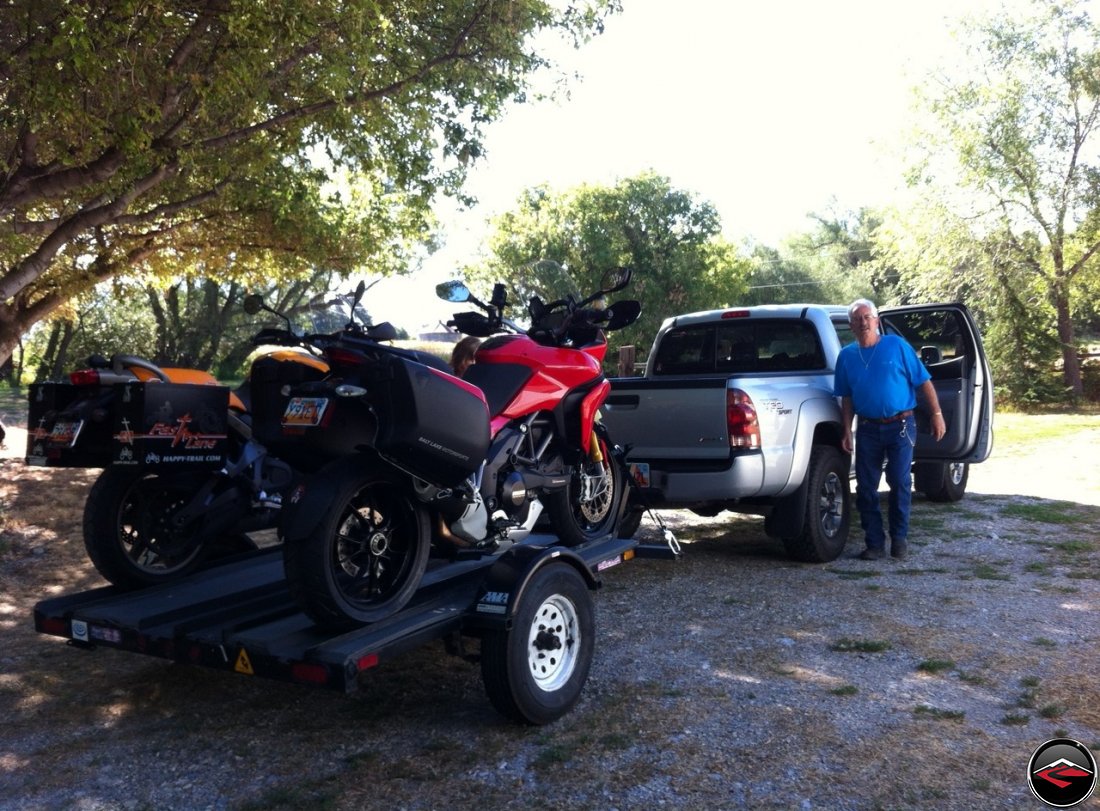 Dad lives about two hours away, so the plan was I'd head up and load his bike onto the trailer before heading out into the summer heat.
While we have been criticized many times for "wimping" out and not riding across Nevada – we don't care. I've ridden across the desert enough times to have proved my mettle. Now, I'll sit in air conditioning, drinking soda-pop and eating Pringles.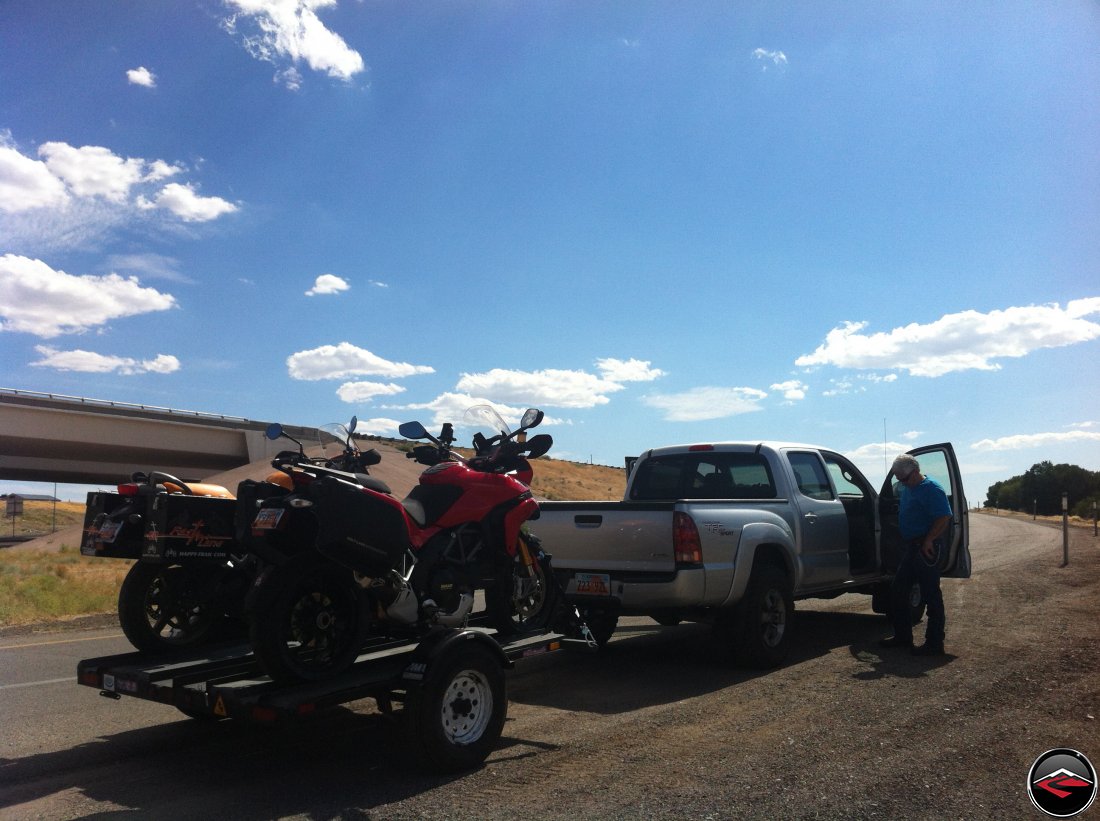 What these photos do not convey is that it was about 120-degrees outside. This was just a quick stop to check tires and tie-downs.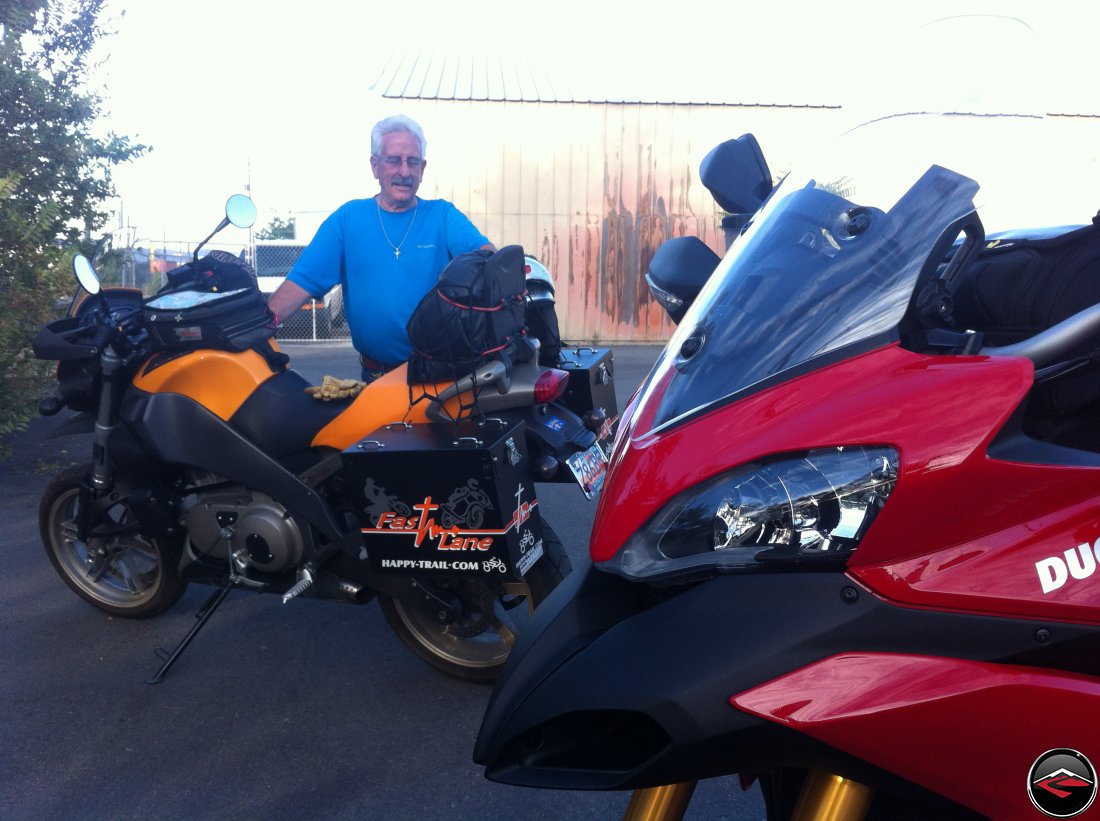 Even driving, it was a long day on the road. It felt great to unload the bikes and head to the hotel. The real trip would start in the morning.
Sonora Pass and Yosemite
---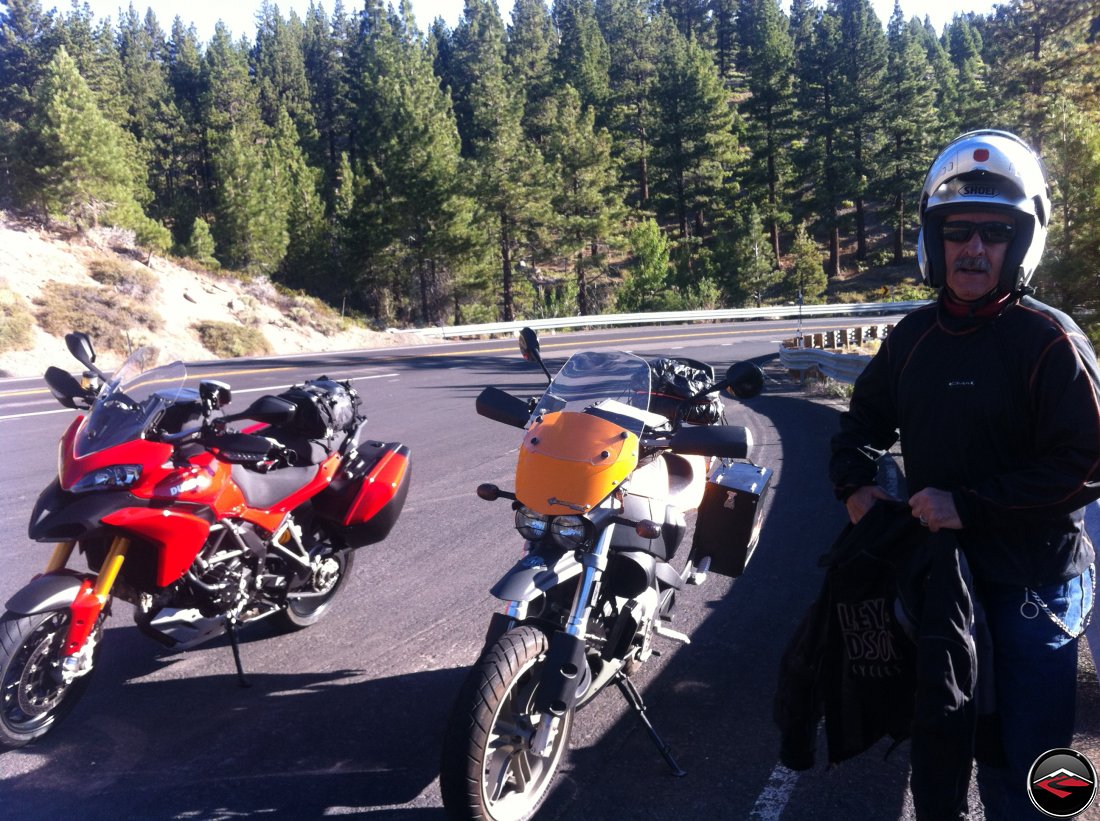 We started off bright and early and we're ready to escape the urban environment for the rural, however, I eventually gave up and stopped because every fifth car was highway patrol.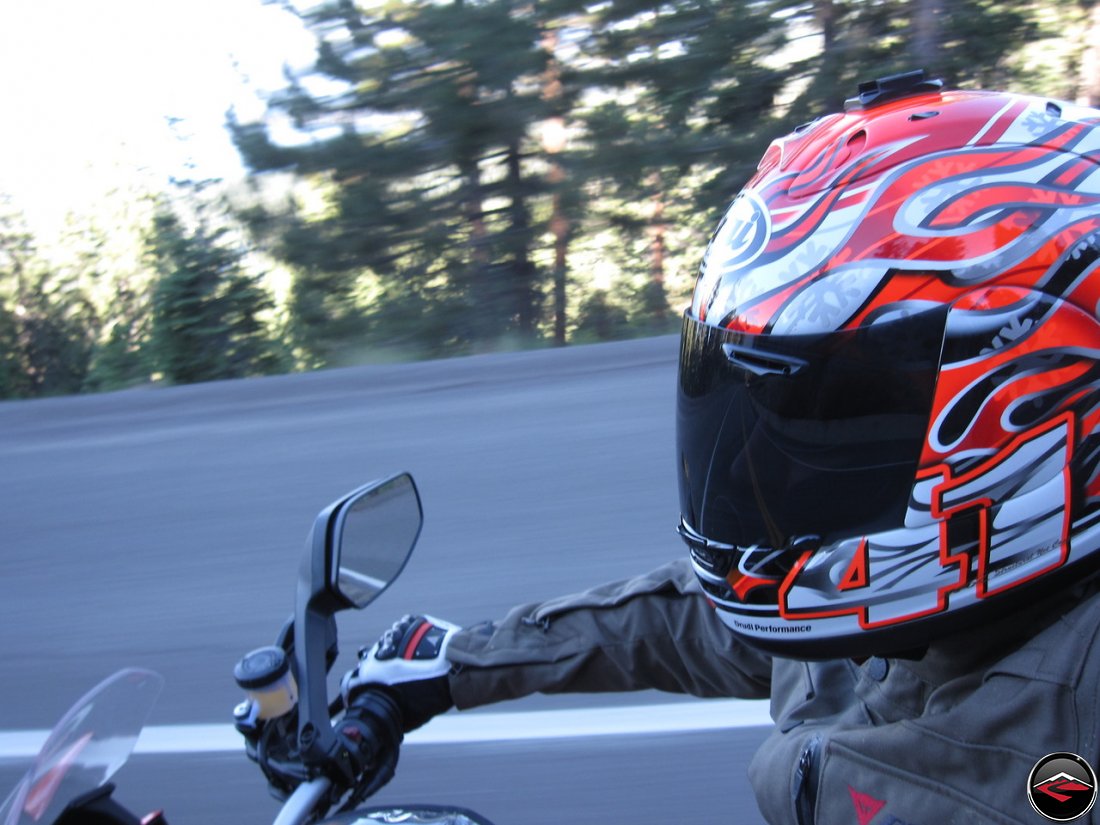 After a short waiting period, morning commuter traffic subsided and the roads were mostly empty again. The epic Mount Rose Highway (NV-431) did not disappoint and carried us up off the desert floor and into the Sierra Nevada Mountains.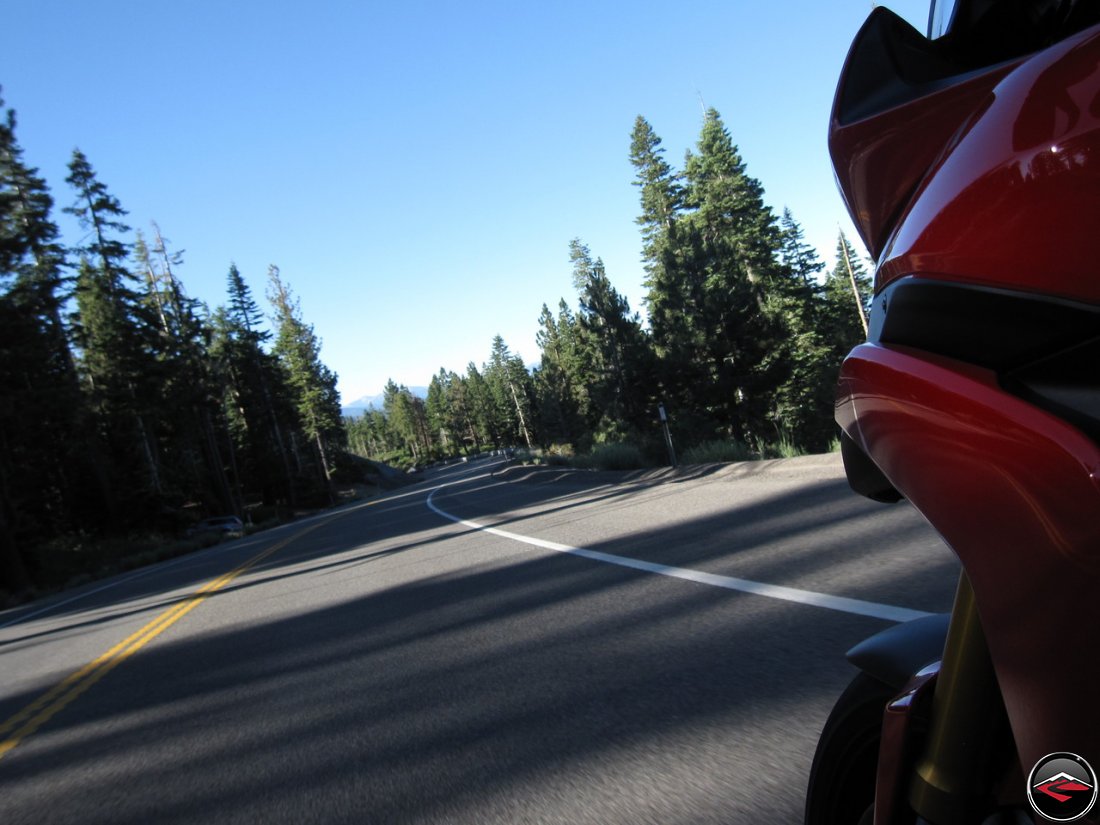 This is what CanyonChasing is supposed to look like.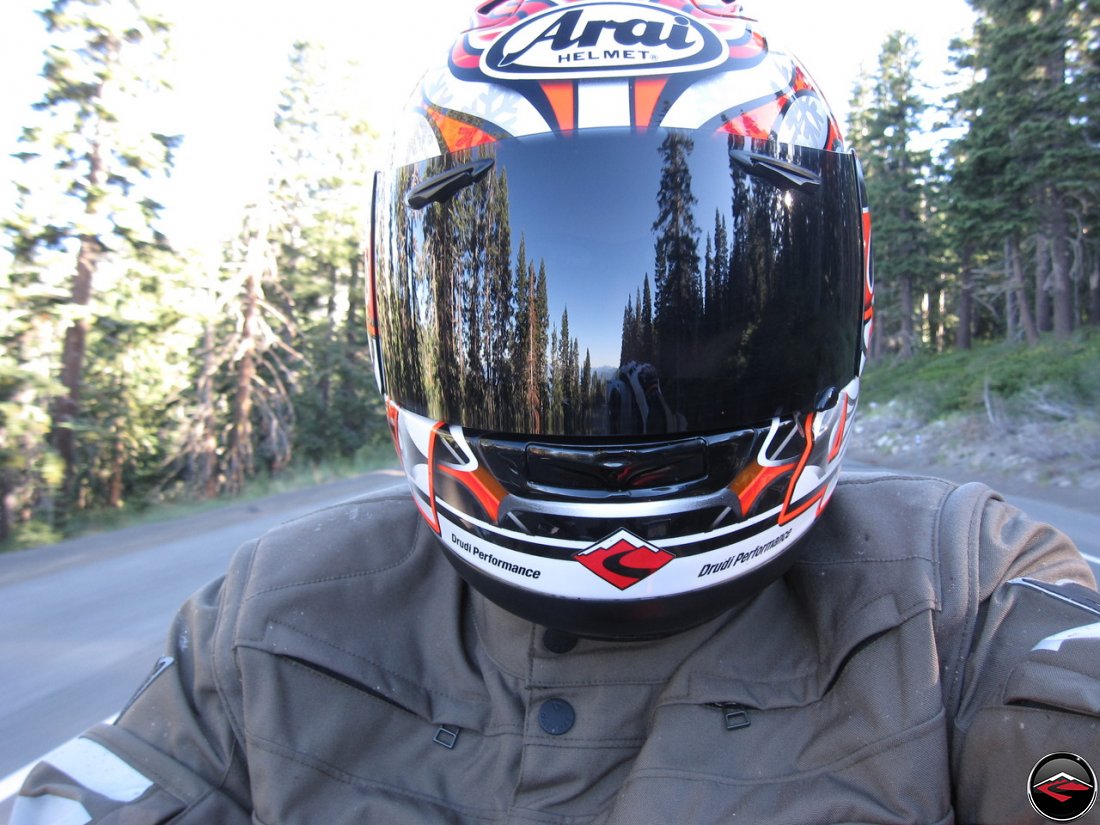 This is how you identify a happy CanyonChaser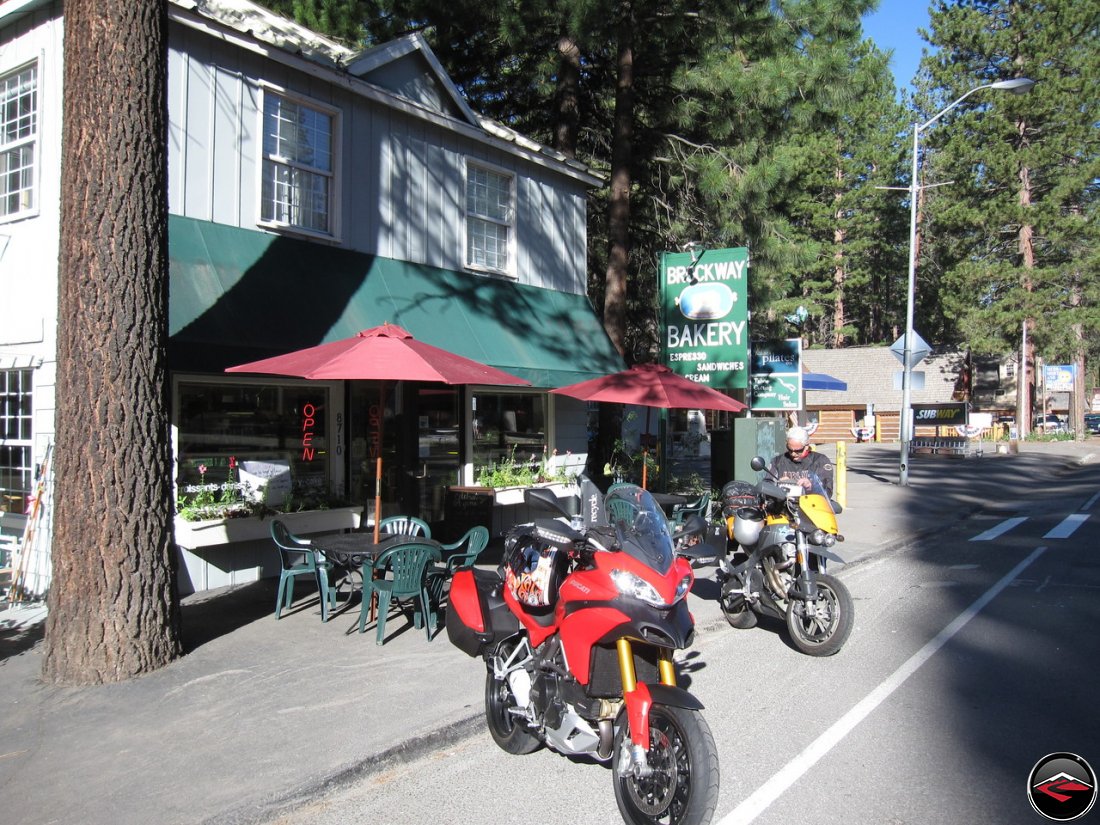 We were so excited to start riding that we'd skipped the most important meal of the day. So I decided now was a good time to stop and grab a bite to eat and a coffee.
The view wasn't bad either.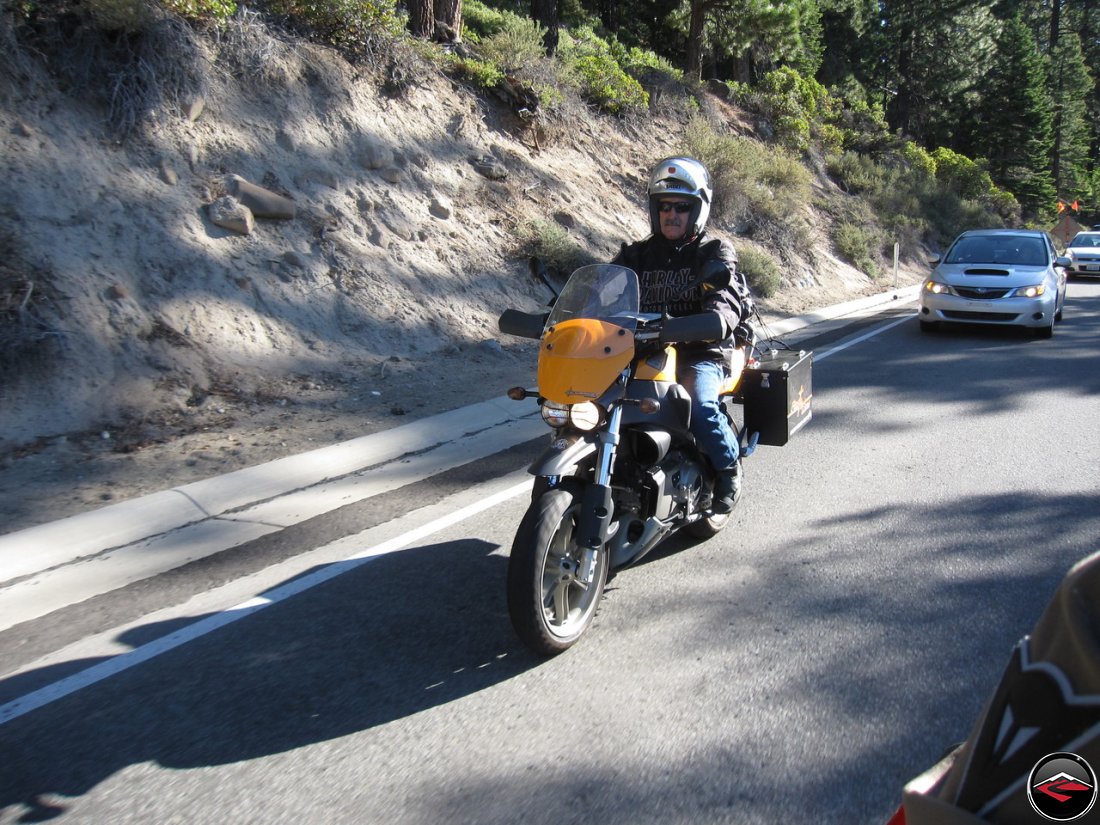 Dad normally takes the major routes, so he's never been most the places we gravitate towards. So this time, rather than just blast our way across California, dad would get to experience CanyonChasing – and the first leg was simply taking the back-side of Lake Tahoe.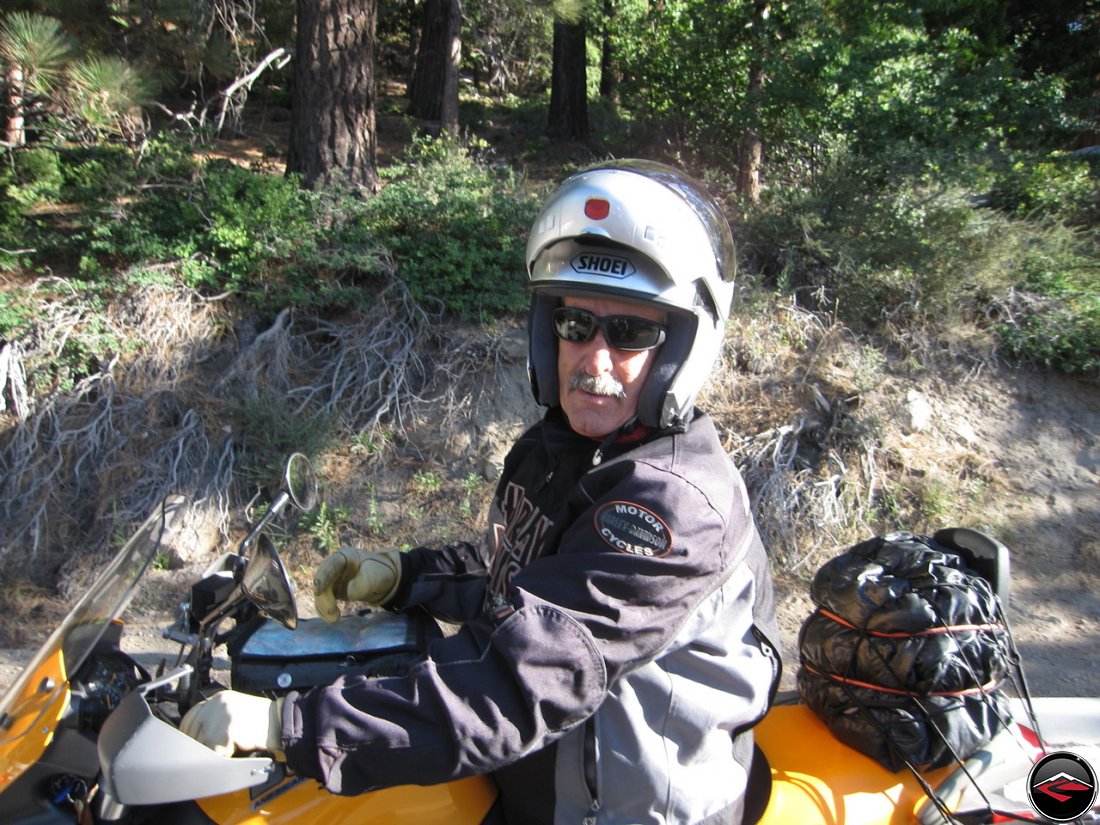 This started one of the most common questions dad would ask throughout the trip; "How do you find these roads?"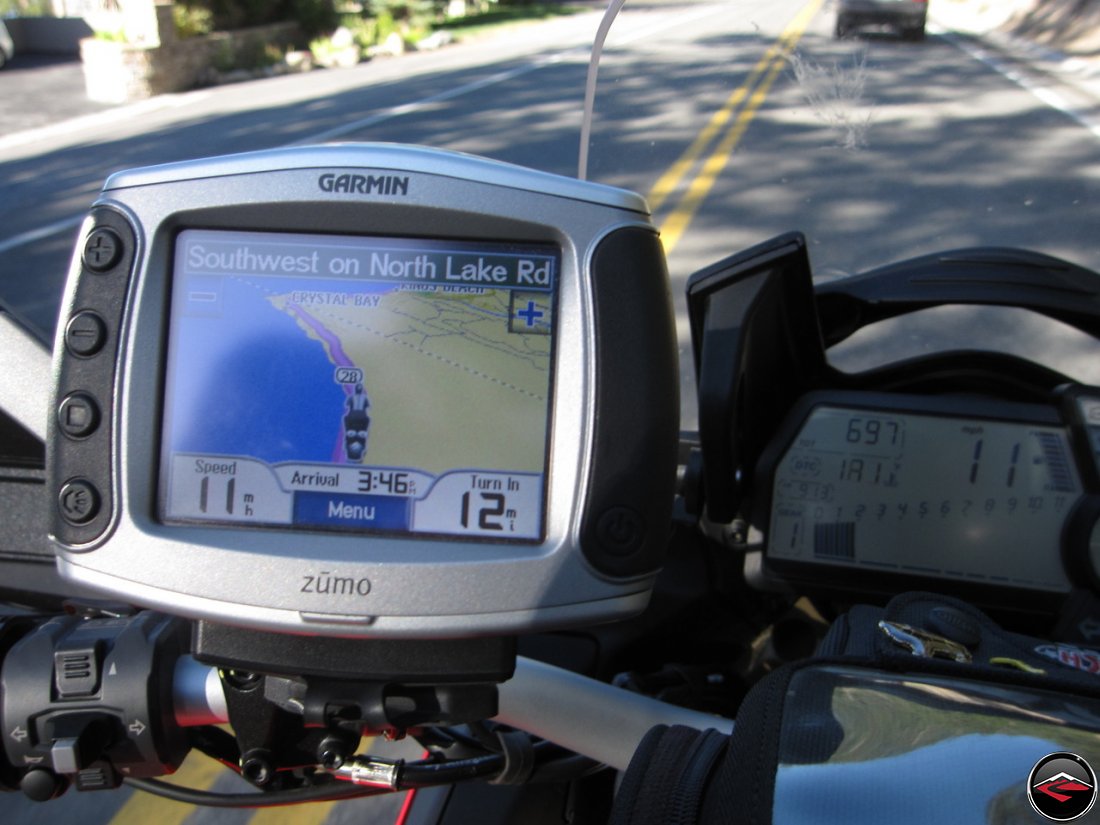 I'll never tell.
Actually, GPS has proven to enhance my personal enjoyment of these trips. Back in the day, I had to dedicate a lot of attention to simple navigation. Constantly looking for road signs, stopping at intersections to study a crumpled map crammed into the top of my tank-bag. By spending time before the trip researching the roads and building the routes, I am now free to enjoy the scenery and the corners with less distraction. Thanks to my trusty Zumo, navigation now consists of simply following the bouncing ball.
Of course we had to stop and take a gander of Emerald Bay and Fannette Island. The island still contains what is left of the "Tea House". The "Tea House" was built at the same time as the infamous 38-room Vikingsholm mansion was constructed.
Fannette Island is the only island on Lake Tahoe. You can hike down to the shore line for a tour of Vikingsholm, but swimming to the island is strictly forbidden.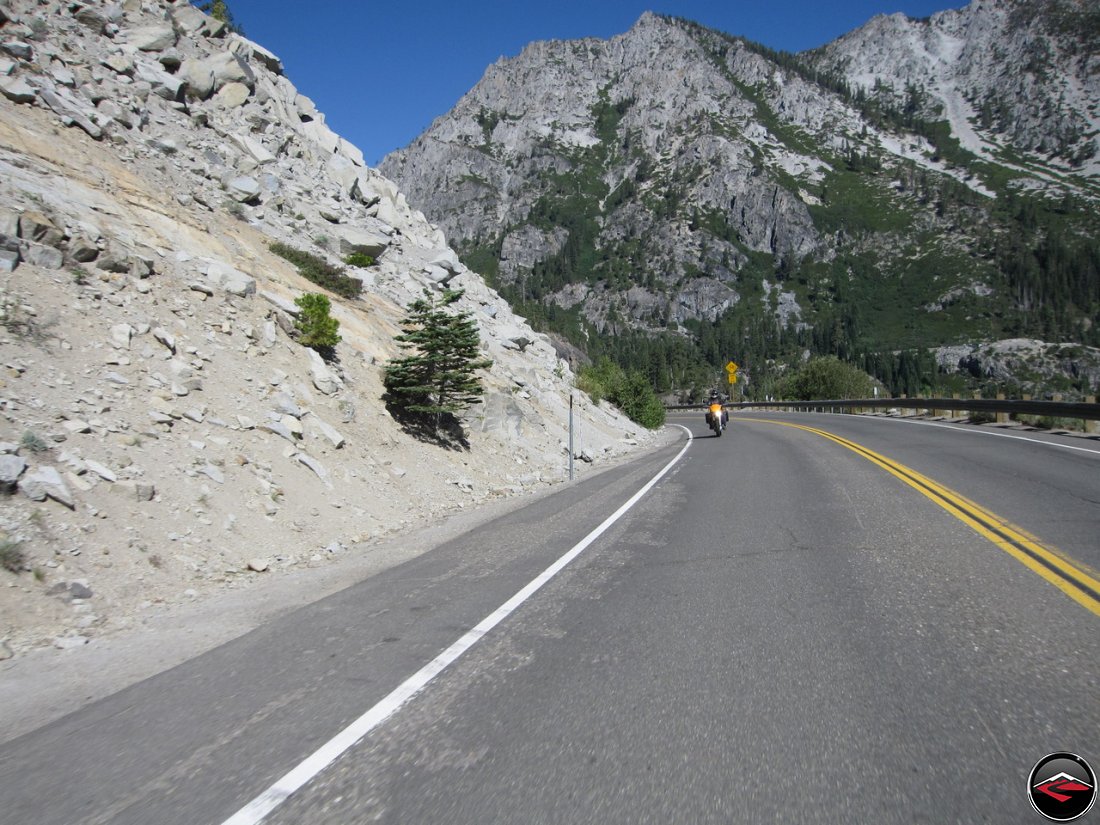 Back on the road we circled our way around the southern edge of the lake.
Even though much of this route is slow-going because of all the traffic in the area, the scenery mostly makes up for the encumbered pace.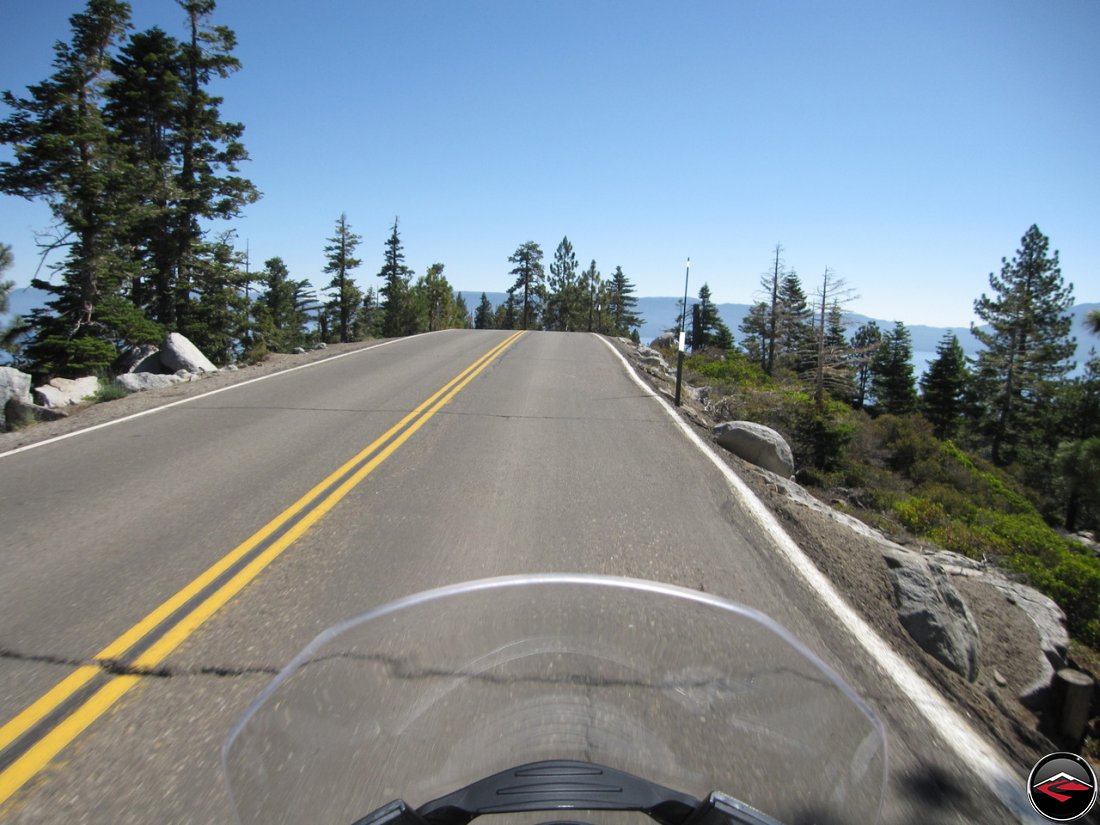 My favorite section of the road follows a narrow ridge line before snaking down some very steep switchbacks. Dad still talks about how scary he thought this bit was.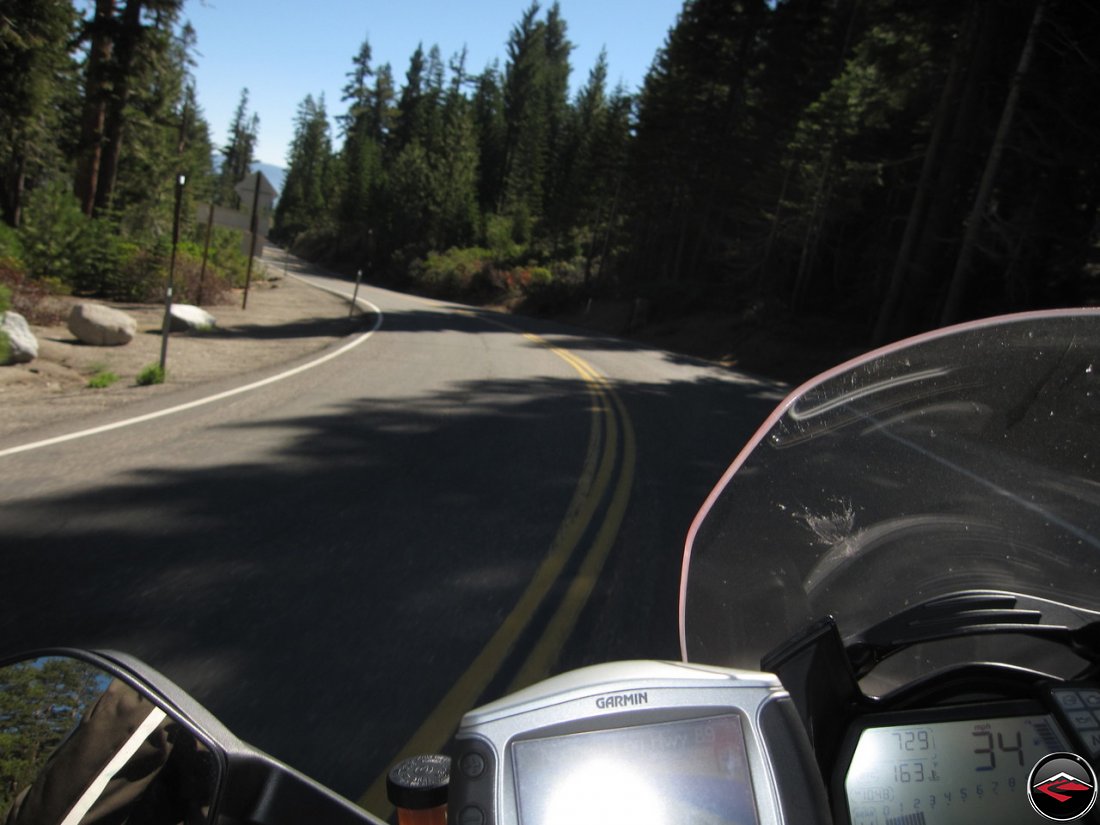 We gassed up the bikes then headed south-east along Luther Pass Road, then made our way south over Monitor Pass (NV-89).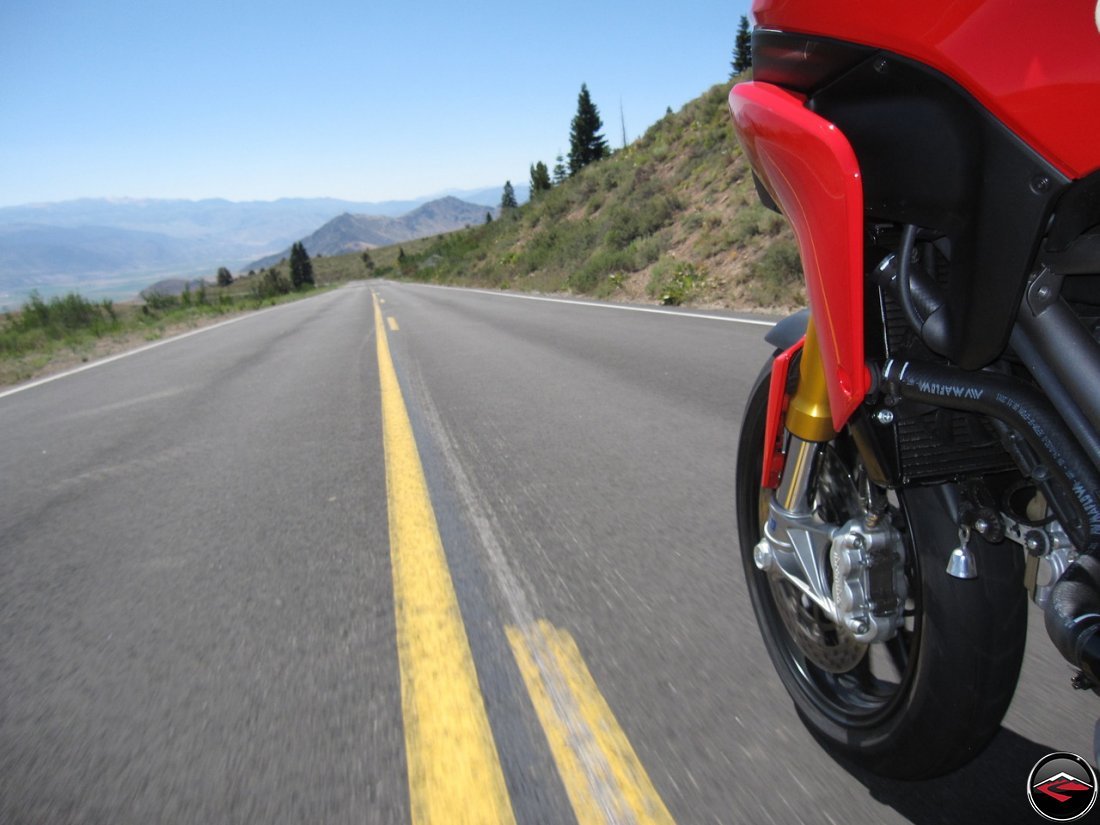 Monitor Pass provides one of my favorite views in motorcycling…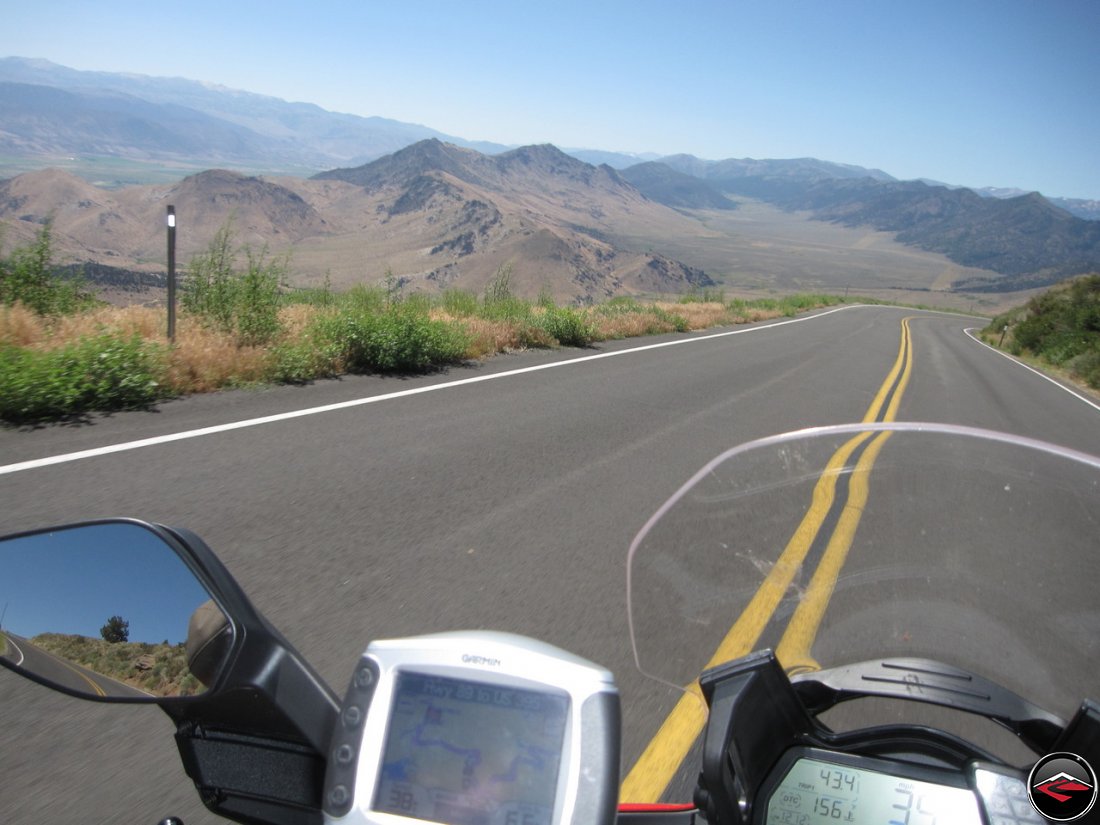 This view just inspires me!
Dad also said this was one of his favorite roads of the entire trip. It's a shame it is so short.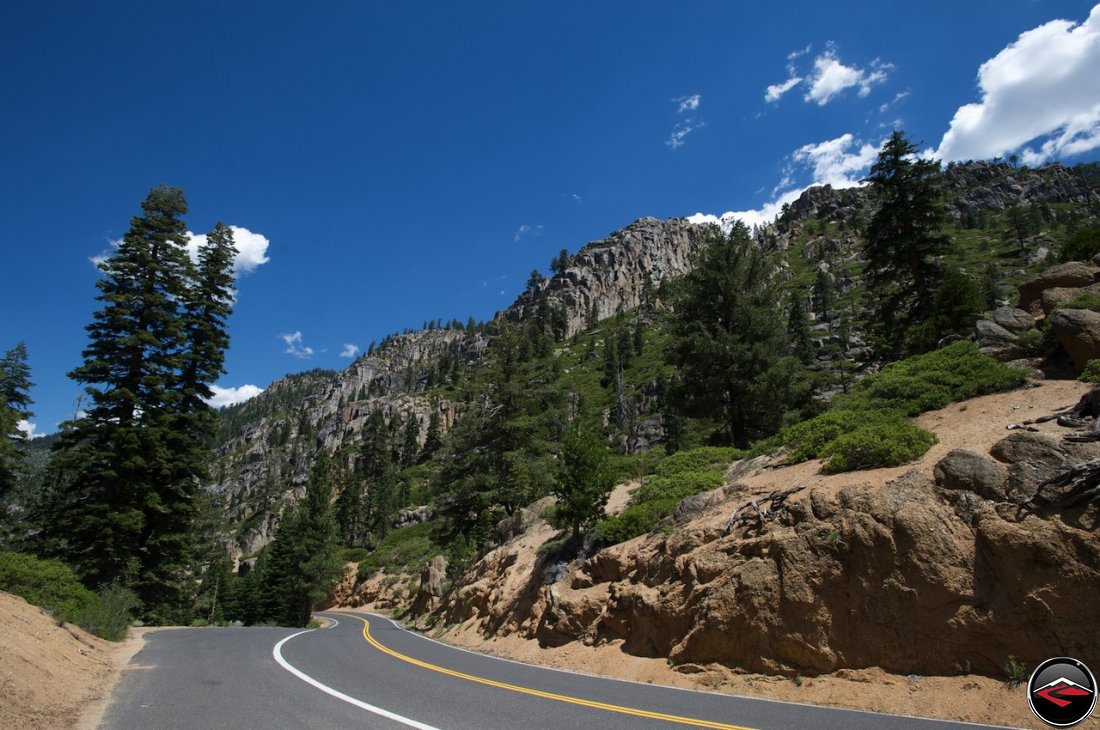 Then it was time for one of my all-time favorite roads. A road that many say all other roads should be judged; Sonora Pass.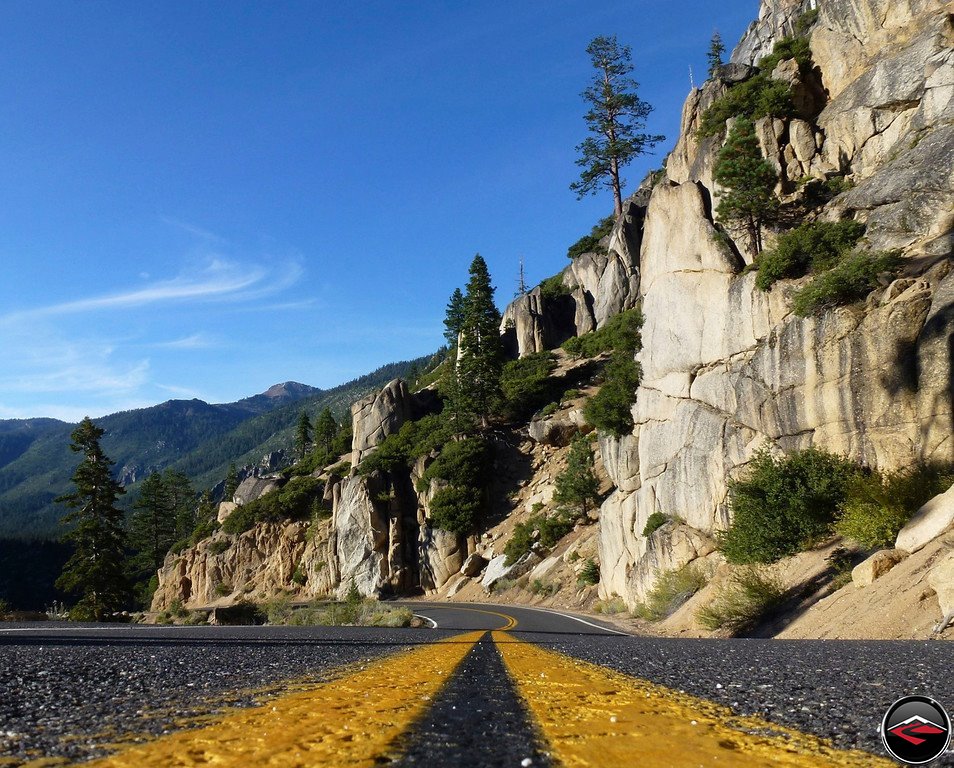 Sonora Pass offers some of the most technical and challenging corners, mixed in with fast sweepers, all surrounded by epic scenery. If you have never ridden Sonora Pass (CA-108) put it onto your bucket list.
---
See It In Action!
The pictures not good enough? Well, check out our simple video of Sonora Pass (CA-108) (Click on the four-arrows icon in the bottom-right corner for full-screen viewing)
I had plans to spend a lot of time capturing video of many of the epic roads we would be riding, but to be honest, I was so caught up in the experience, that I didn't want to stop and monkey with video cameras. Please accept our apologies.
---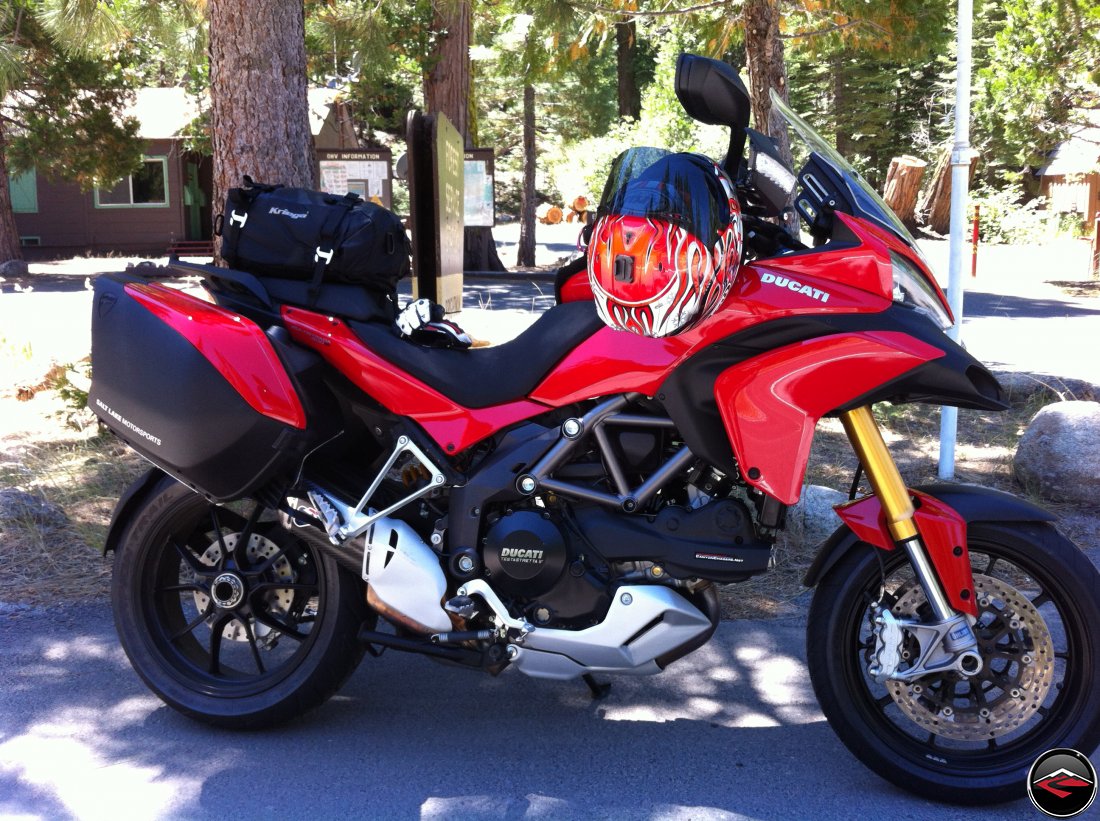 The view wasn't bad either.
We stopped in Sonora for a quick, light lunch, then back onto the bikes. We ran south along CA-49 for a few miles then turned East on CA-120 to head into Yosemite. I took a short detour onto Ferretti Road, a typical California crumbly one-lane bypass that seems to serve no purpose, but offers giggly-fun riding. Again dad asked "How do you find these roads?"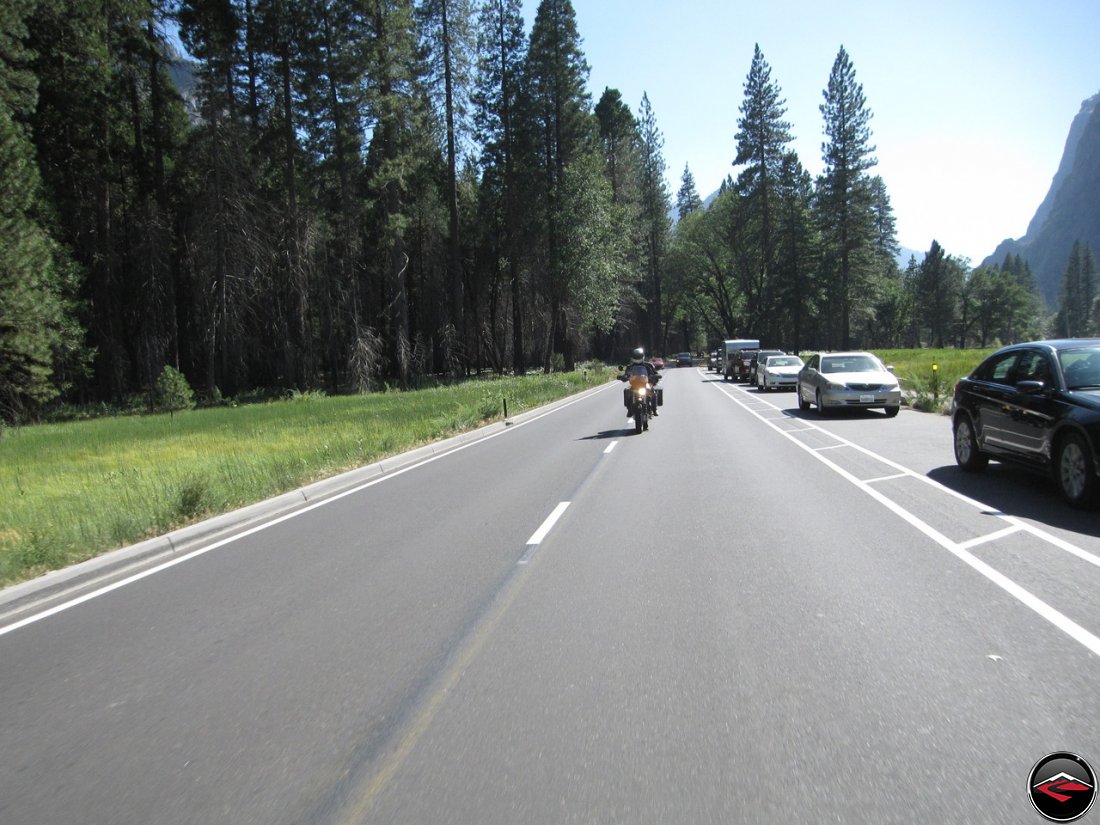 Into Yosemite, we were pleasantly surprised that traffic was relatively light.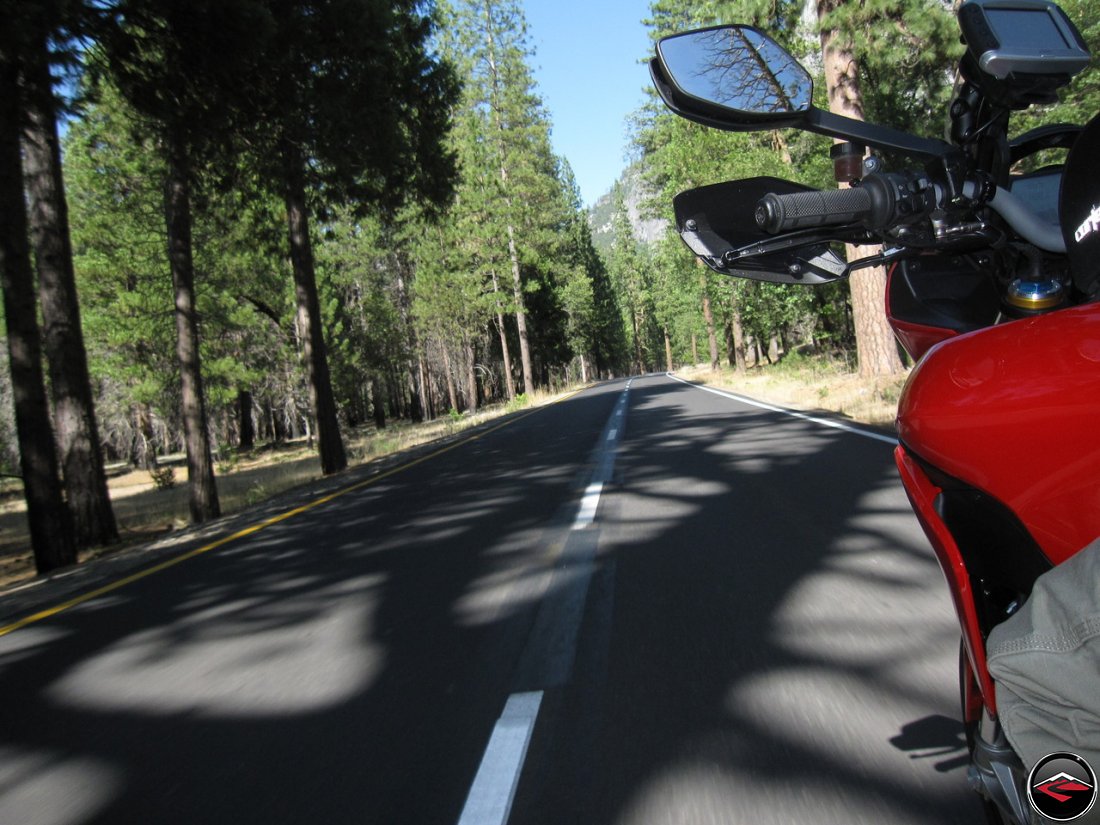 We had no plans to spend much time here, but wanted to wander through the most scenic part of the park.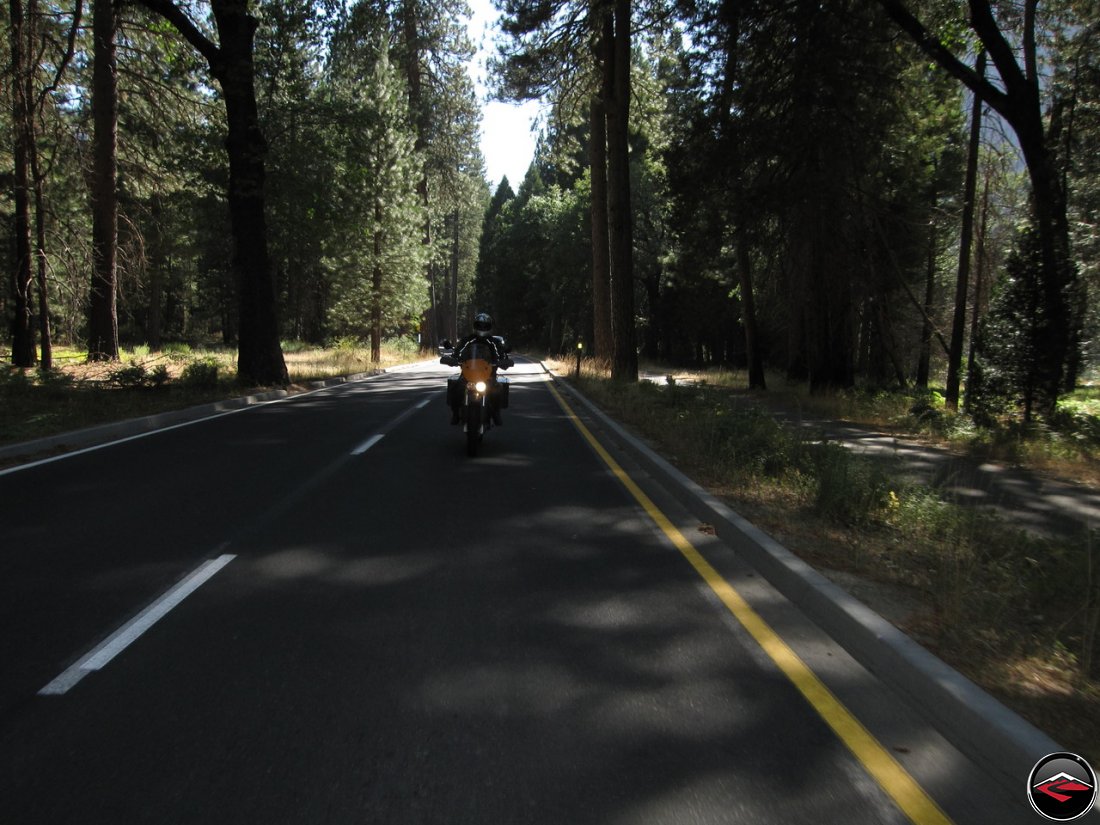 Dad had never been to Yosemite and was quite impressed with the towering faces that look like an Albert Bierstadt painting.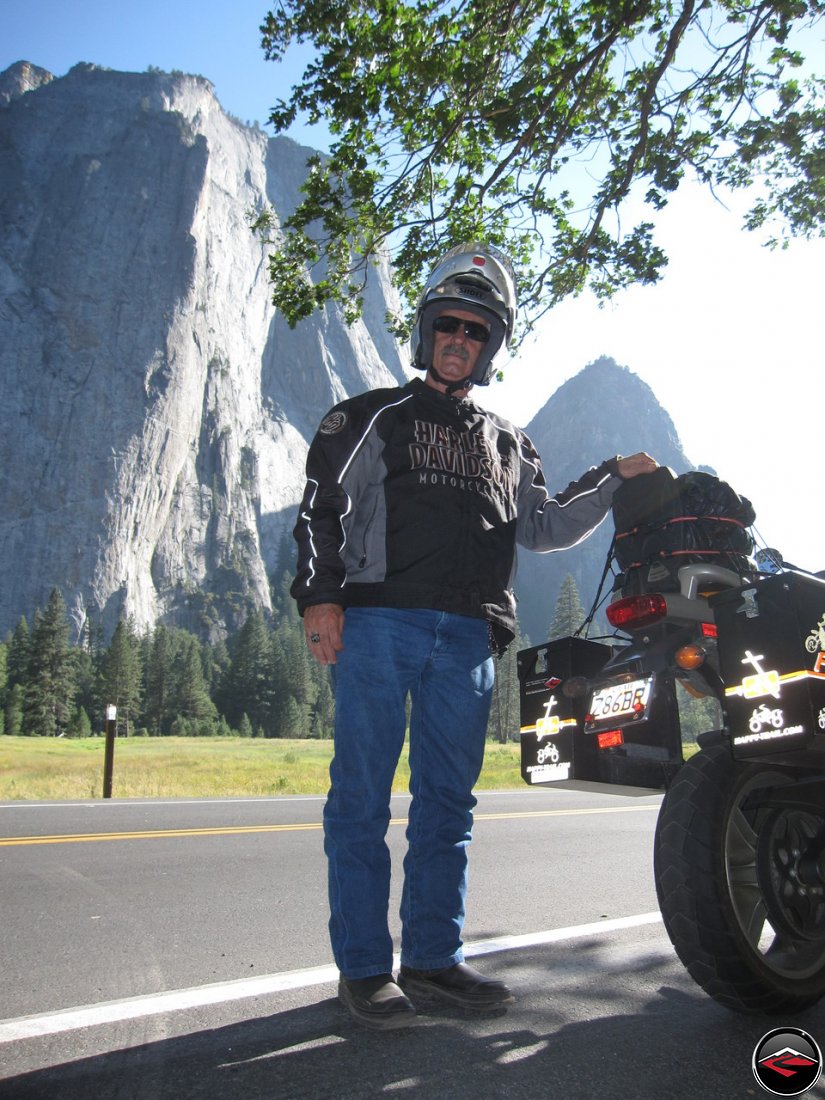 Of course, we had to stop for an obligatory "El Capitan" photo.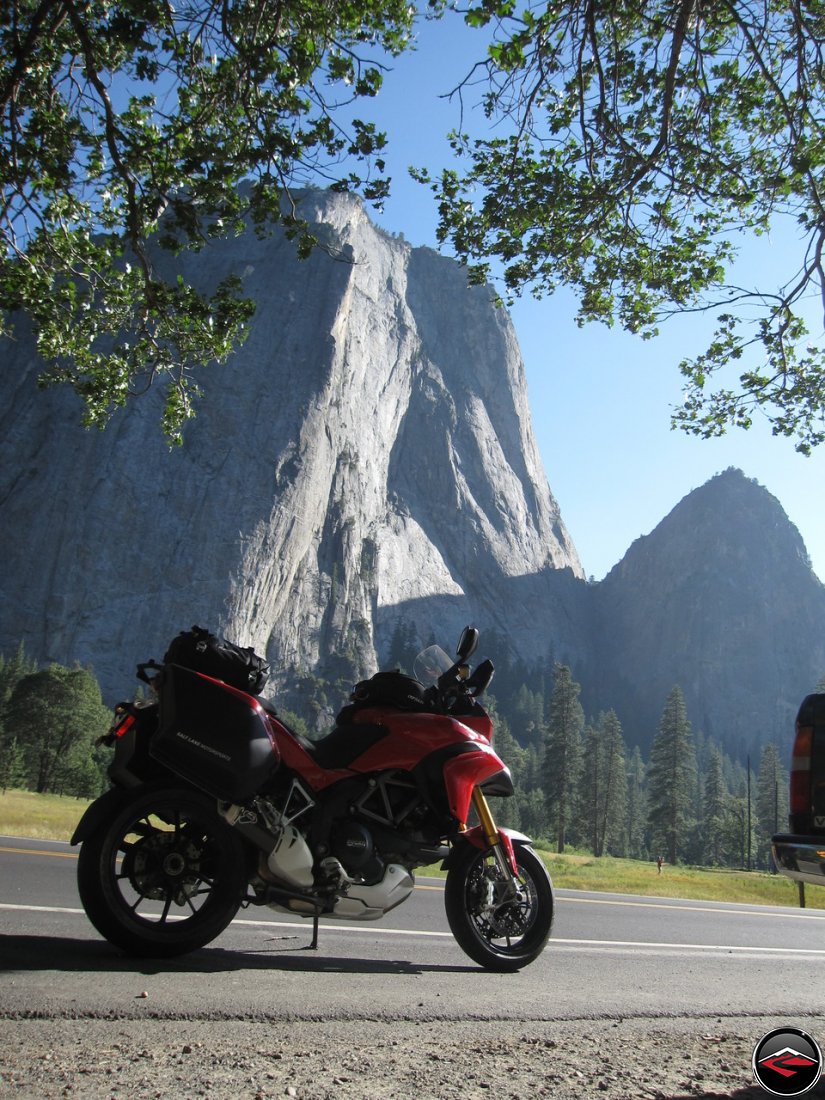 The view wasn't bad either.
Mount Hamilton Mountain
We spent the night in Mariposa but the plan was to start out early and cross the Sacramento Valley before the heat of the day.
---
We skirted around Modesto and through Turlock instead then stopped briefly in Patterson for gas and a drink before hitting another CanyonChasers favorite, Del Puerto Canyon Road (CA-130).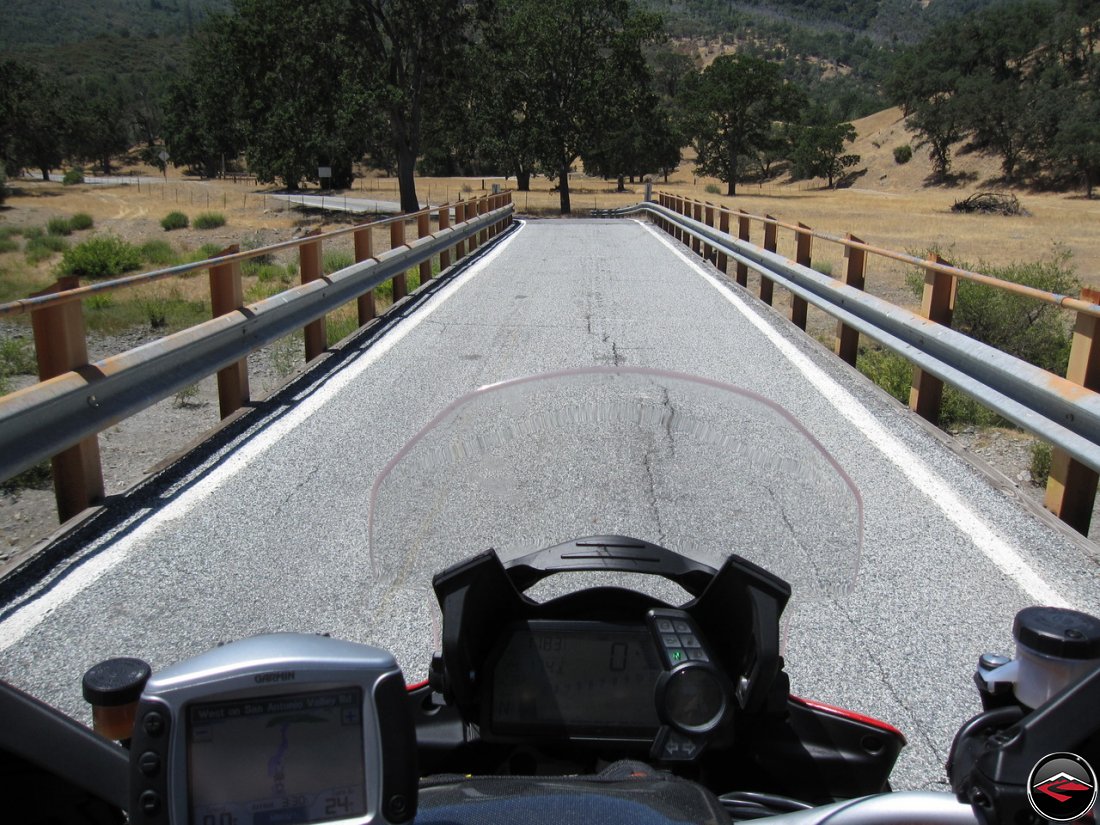 Del Puerto turns into San Antonio Valley Road (but keeps the 130 number) as it climbs up and over Mount Hamilton, the tallest mountain overlooking Silicon Valley, but more famous for the Lick Observatory.
CA-130 was built before the observatory, but in anticipation of it. So the grades has to be kept fairly mellow, this means there are thousands of switchbacks and the road is very popular with cyclists because it never gets very steep.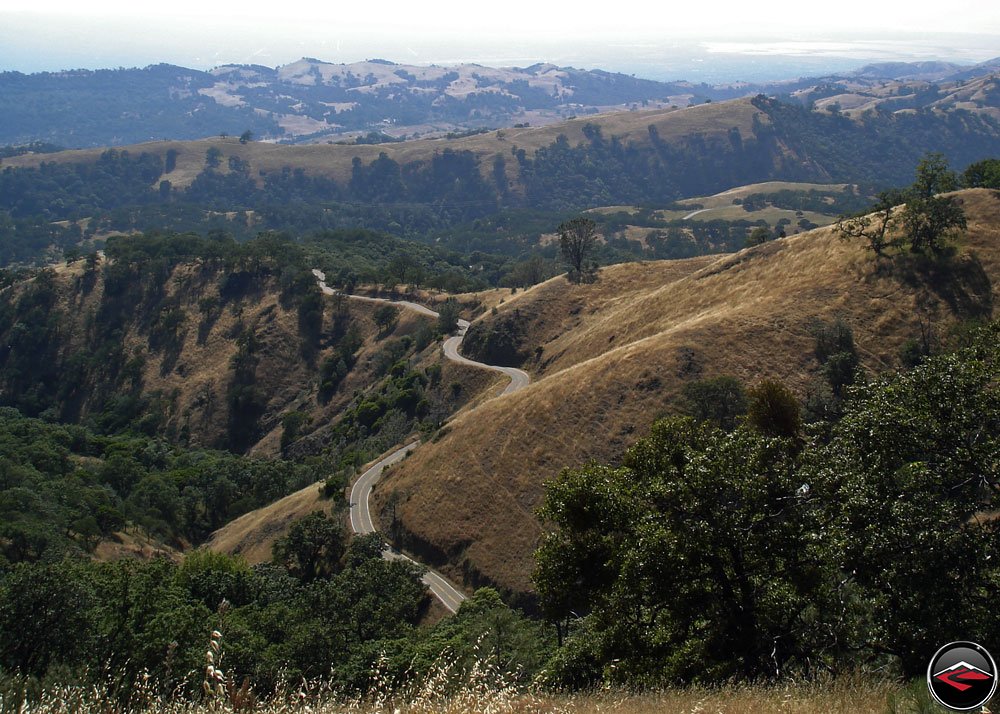 This road always feels so desolate and remote, despite its close proximity to some serious population centers.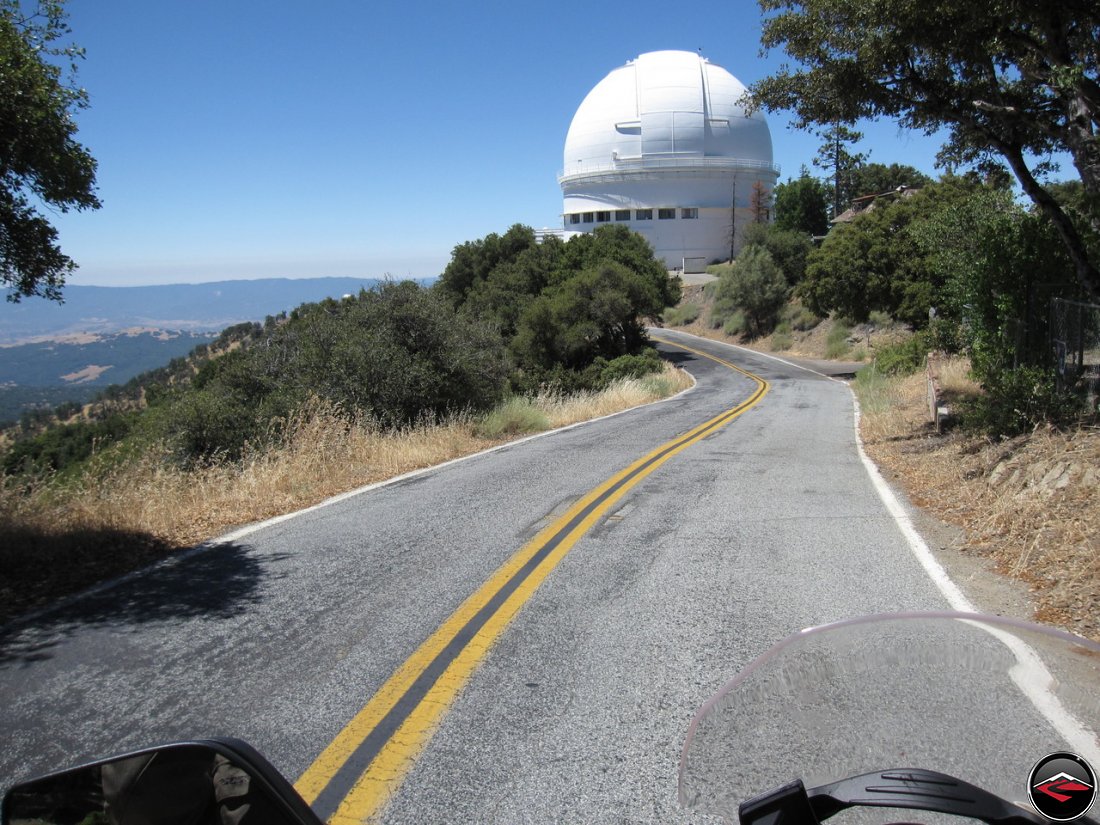 I find it so impressive to come over the rise and find Lick Observatory, the world's first permanently occupied mountain-top observatory.
It was constructed between 1876 and 1887. Yes, over 100 years ago when all the materials had to be brought up by house and wagon, which is why it was so important the road couldn't be too steep.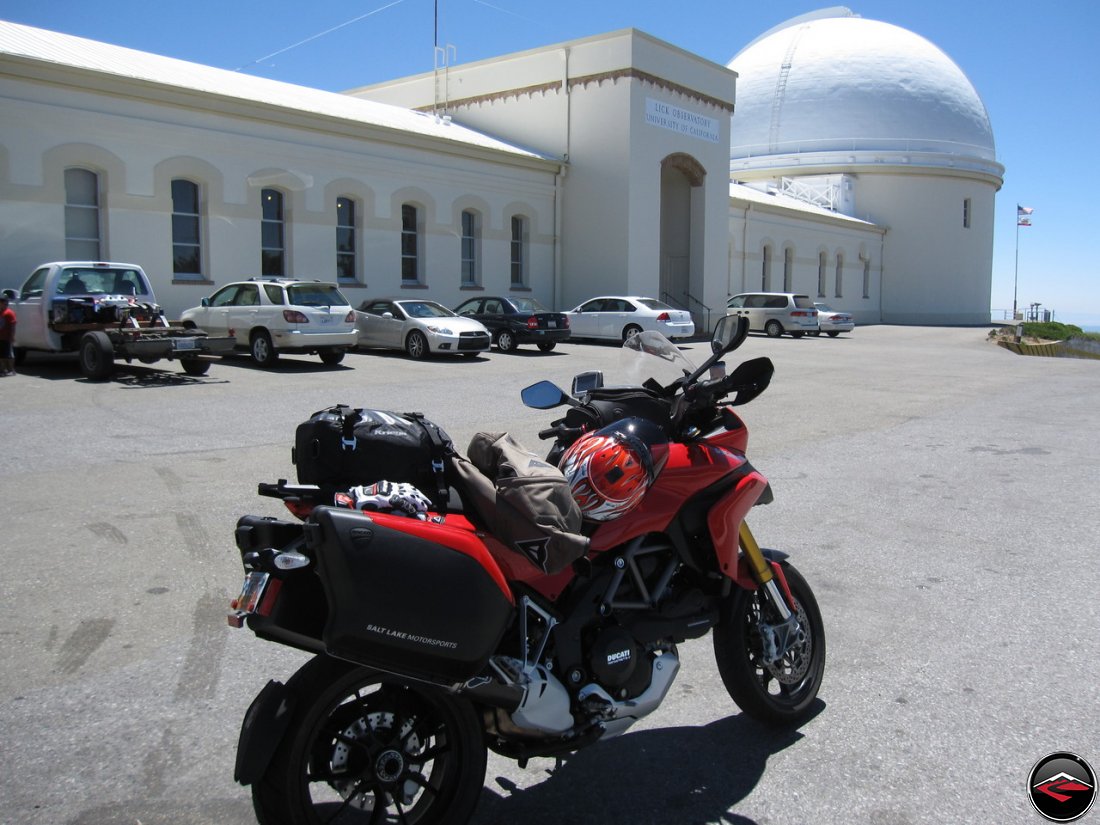 We hung out at the top, enjoying the view of Silicon Valley and had the great opportunity to talk with some locals who ride up here on their lunch break. We also discussed the route and got some great suggestions on roads not to miss. It's always important to talk to the locals about which roads are not to be missed.

Looking west down at the road we'd soon be taking. Look at all that wiggly! It just makes me all giddy. Dad was really impressed and had to ask; "How do you find these roads?".
After we made it of Mount Hamilton, we made our way across San Jose and into one of the neatest places I've ever ridden.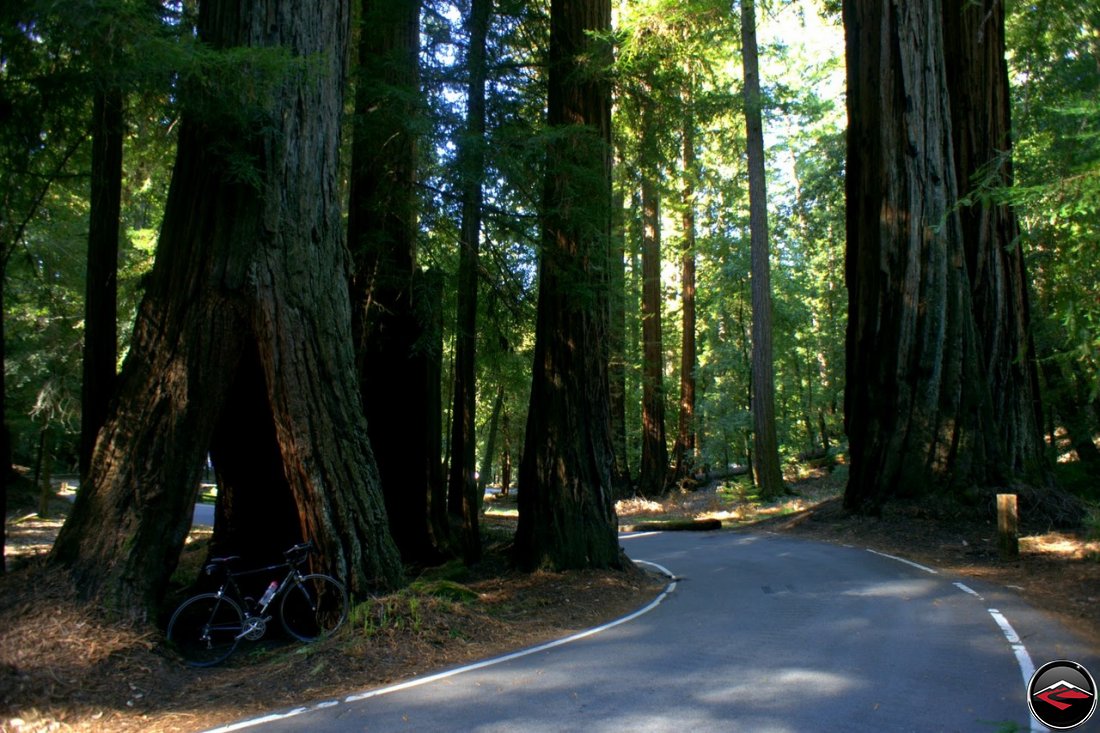 I don't know what to call the next section of roads we savored, so I'll just call it the "Skyline Blvd Complex". The myriad of roads that branch off of Skyline Blvd (CA-35) is impressive. CA-9, Big Bend Highway, CA-236, Empire Grade, Graham Hill Road, Laurel Glen Road, Soquel San Jose Road… The list goes on and on. But each of these roads is purely wondrous. One can get happily lost simply following their nose through what may be one of the most staggeringly beautiful pieces of real-estate in the nation.
If it was at all fiscally reasonable, this is one of the places in the world I would most like to live.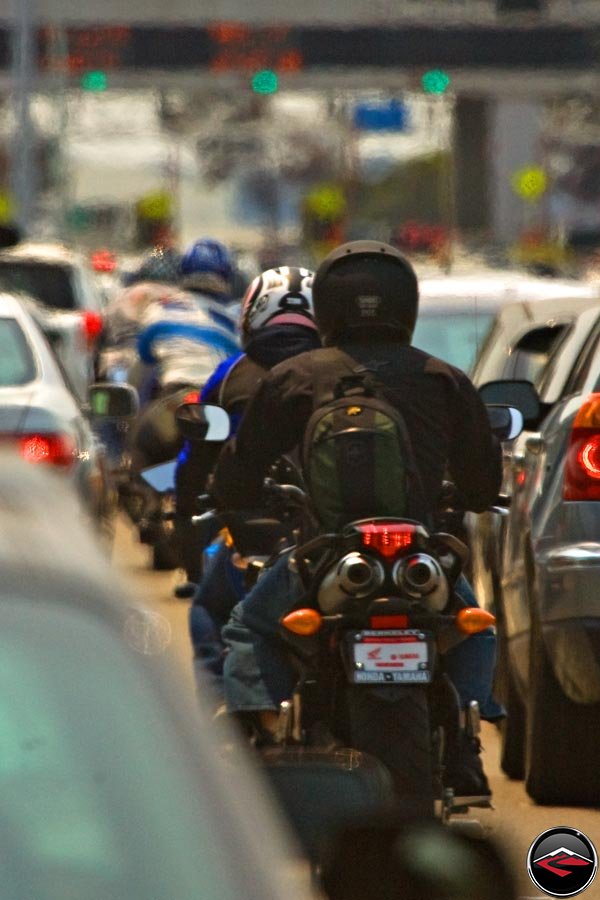 When we came out into Santa Cruz, we'd timed it perfectly to coincide with the Friday afternoon commute. I'm no stranger to Lane Splitting and firmly support all states implementing its practice. It's tragic that only California (and most every other industrialized and developing nation on the planet) see's it's value.
Dad, however, had never lane split, so I was afraid his law-abiding ways would have him sitting in traffic while I disappeared over the horizon. I was quite proud when he followed suit. Later on, dad would say that lane-splitting was his mostest favoritest part of the entire trip. "It's like breaking the law, without getting into any trouble" he said. He talked about it many times.
Officially, CanyonChasers fully endorse and support lane-splitting.
Mazda Laguna Seca Raceway
Like a pilgrimage to mecca, we had finally arrived at Mazda Laguna Seca Raceway under a thick cloud of coastal fog, all which added to the magic of the experience.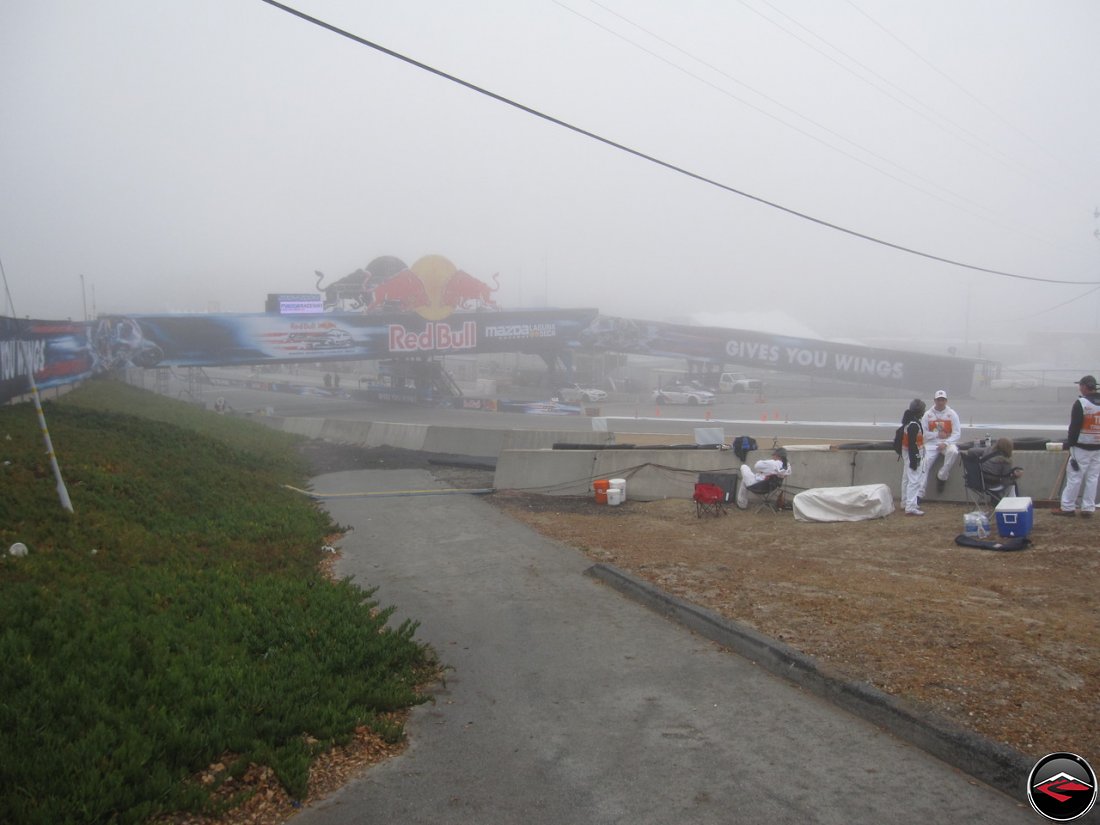 The fog really did make it feel that much more magical. I was so geeked out that I was taking photos of everything!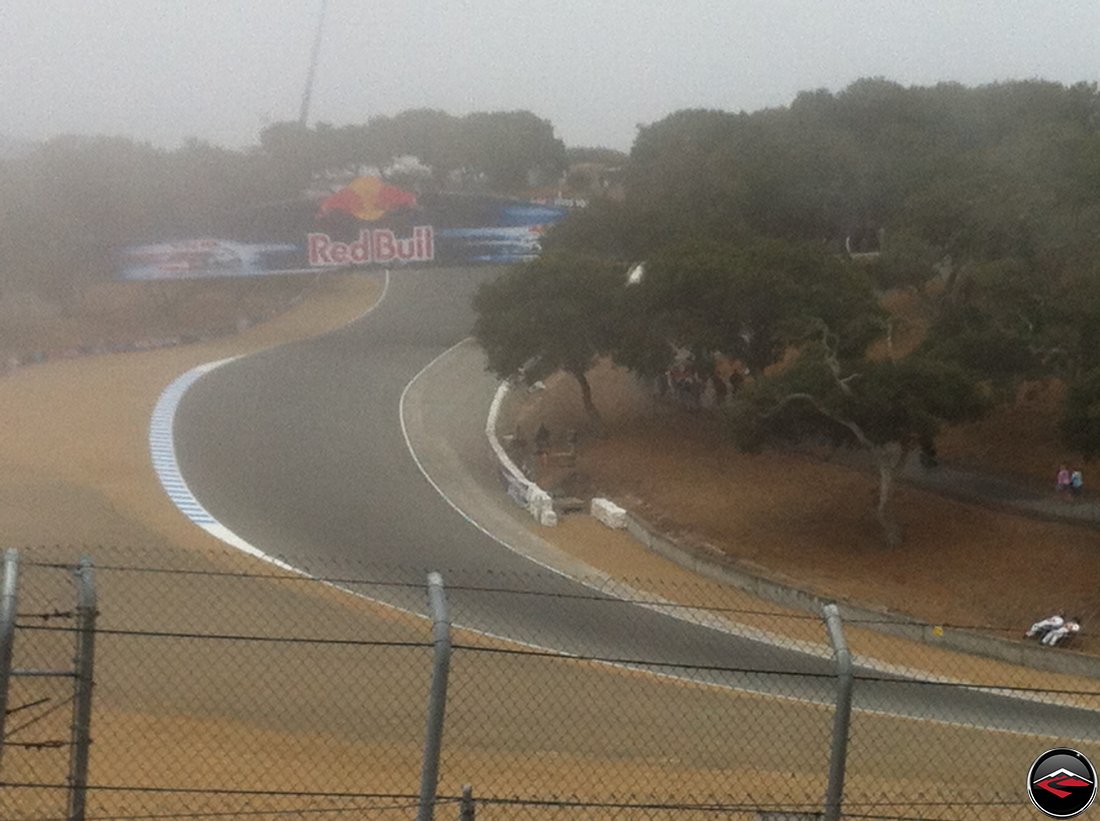 FP3 was about to start so I hoofed my way over the infamous "Corkscrew". It's really not my favorite place to watch, mostly because everyone else wants to be there too, but it's kinda part of the Laguna Seca Experience.
The unfortunate thing was because of the fog, most of the riders sat tight until about the last fifteen minutes.
---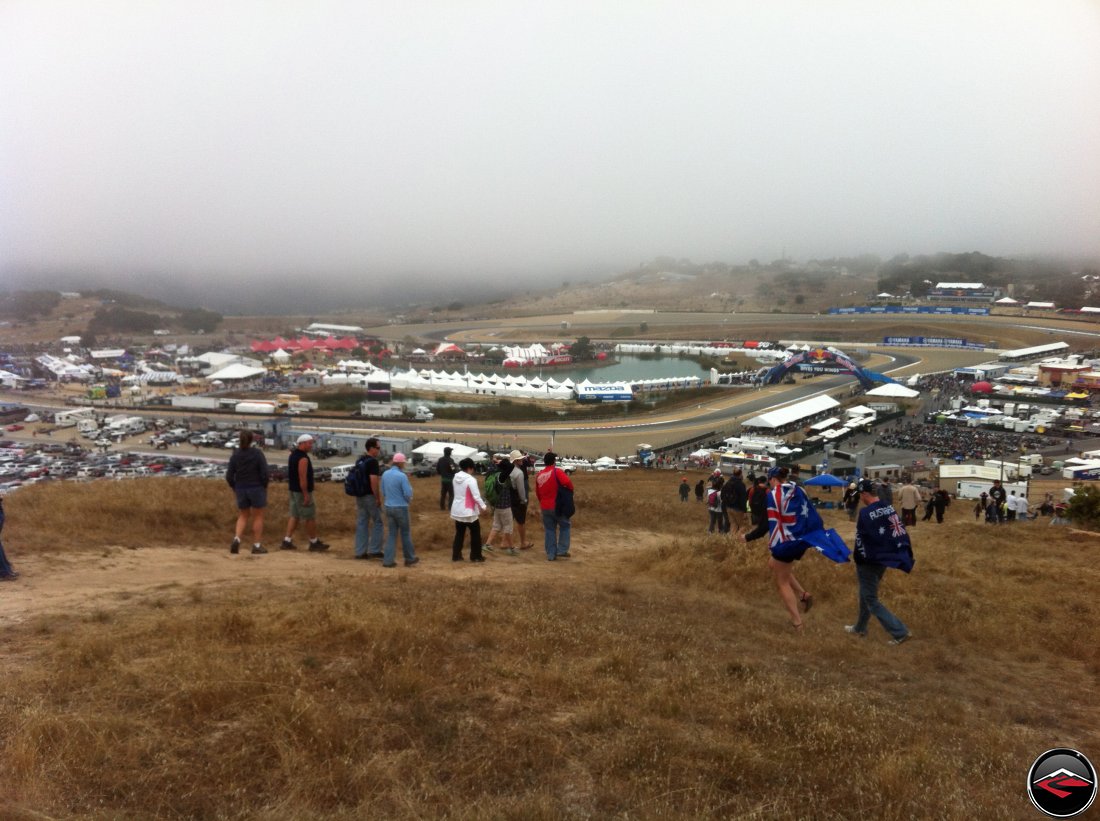 FP3 being over, it was time to experience another Laguna Seca tradition. Time to check out the vendors, particularly Ducati Island.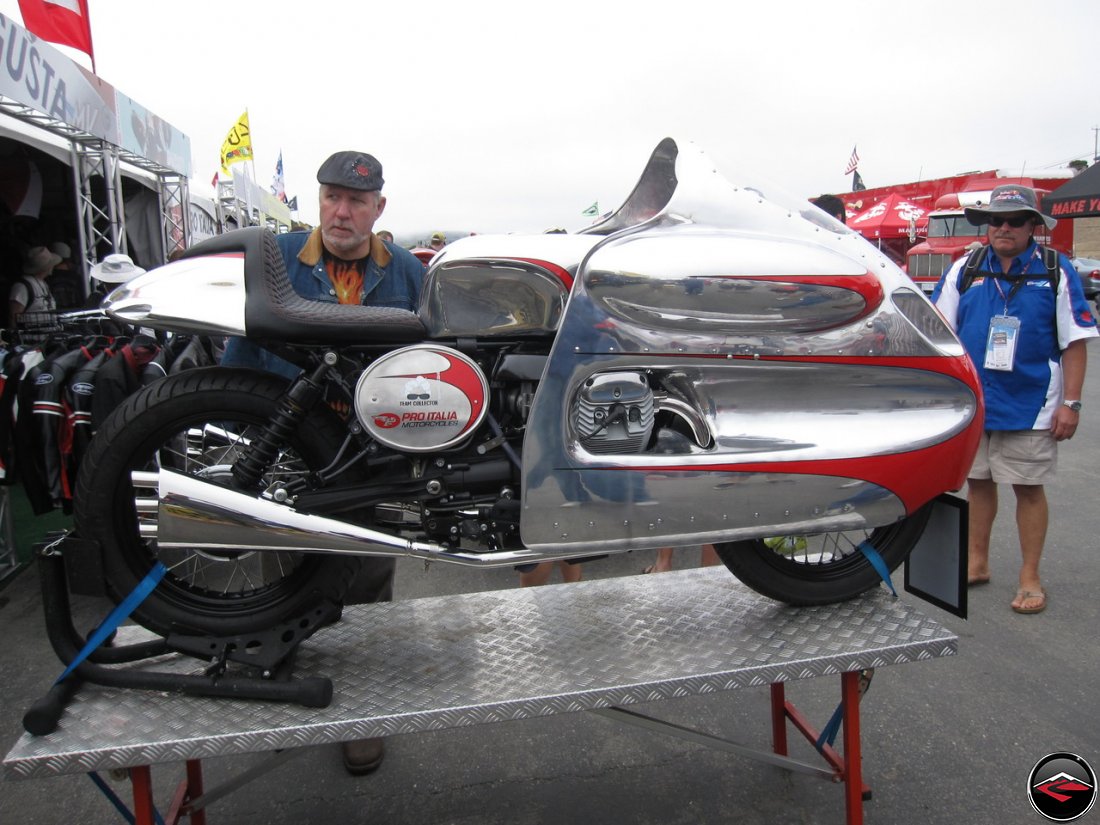 Of all the times I've been to Laguna Seca, the vendors seemed to be the most lacking this trip. But there was still quite a few really cool bikes, such as this brilliant Moto Guzzi.
At the end of the day, Qualifying Practice behind us, it was time to head to Monterey to walk along Cannery Row. Again, they seemed to have messed things up. Police roadblocks made it impossible for any motorcycles to get onto Cannery Row to park, as a result, there were hardly any bikes to gander at, which, in the past, have always been the best part.
Race Day
After Warm-Up in the morning, not a lot is really going on until the main event. This is largely due to Moto2 not coming to Laguna Seca. Oh well. More time to wander about.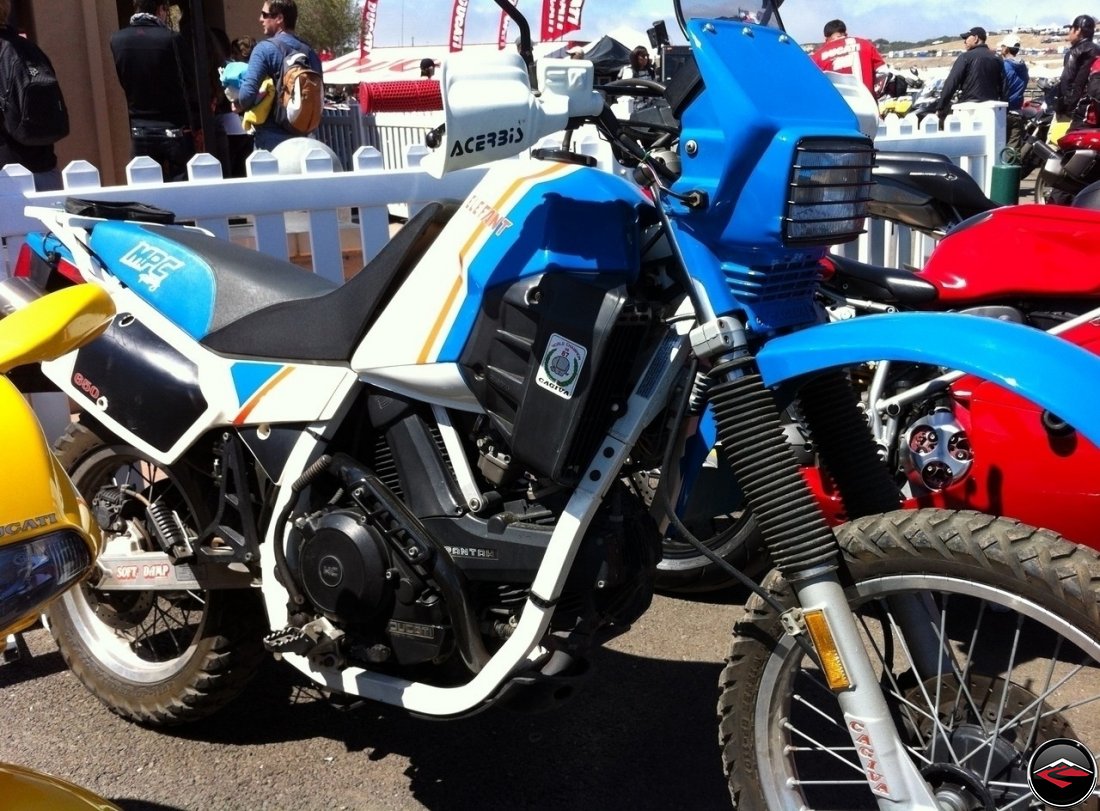 The elusive and magnificent Ducati/Cagiva Elefant (with and F). Winner of multiple Paris-Dakar races after Cagiva and Ducati merged and Cagiva started using Ducati's Pantah Desmodue motors.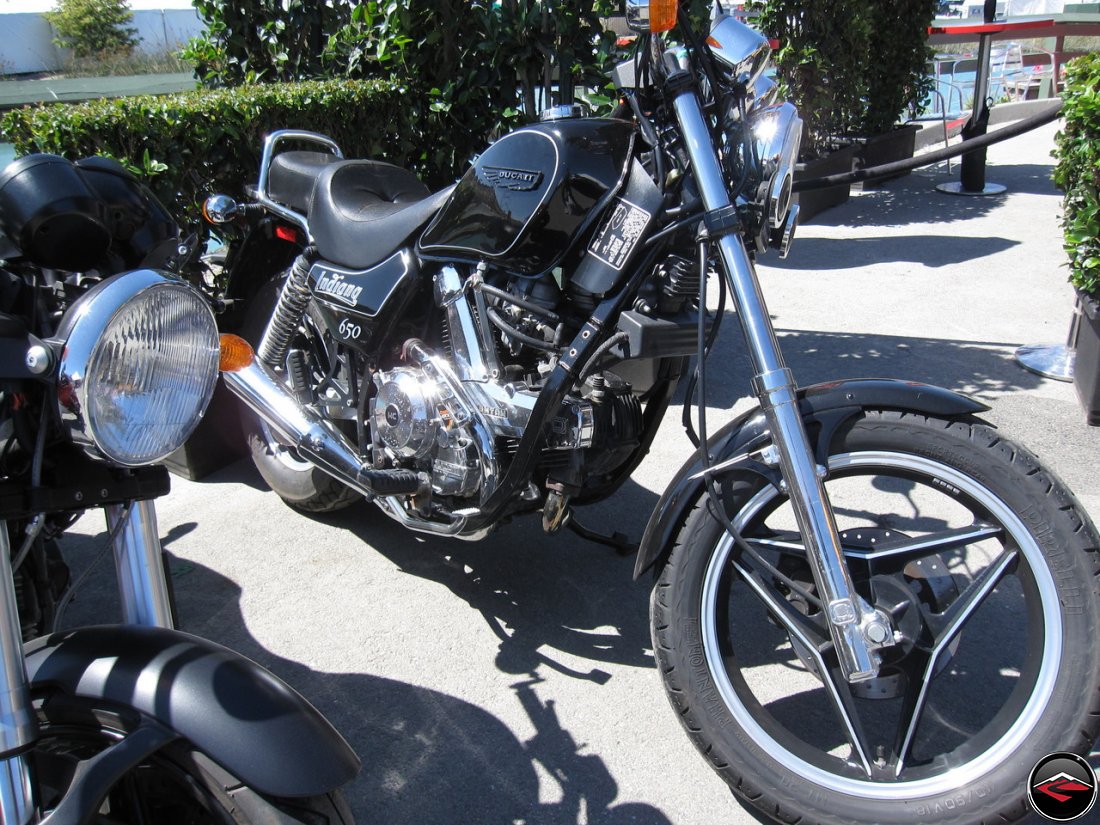 The elusive and repellent Ducati Indiana. This was Ducati's first attempt at a cruiser. Isn't it awful?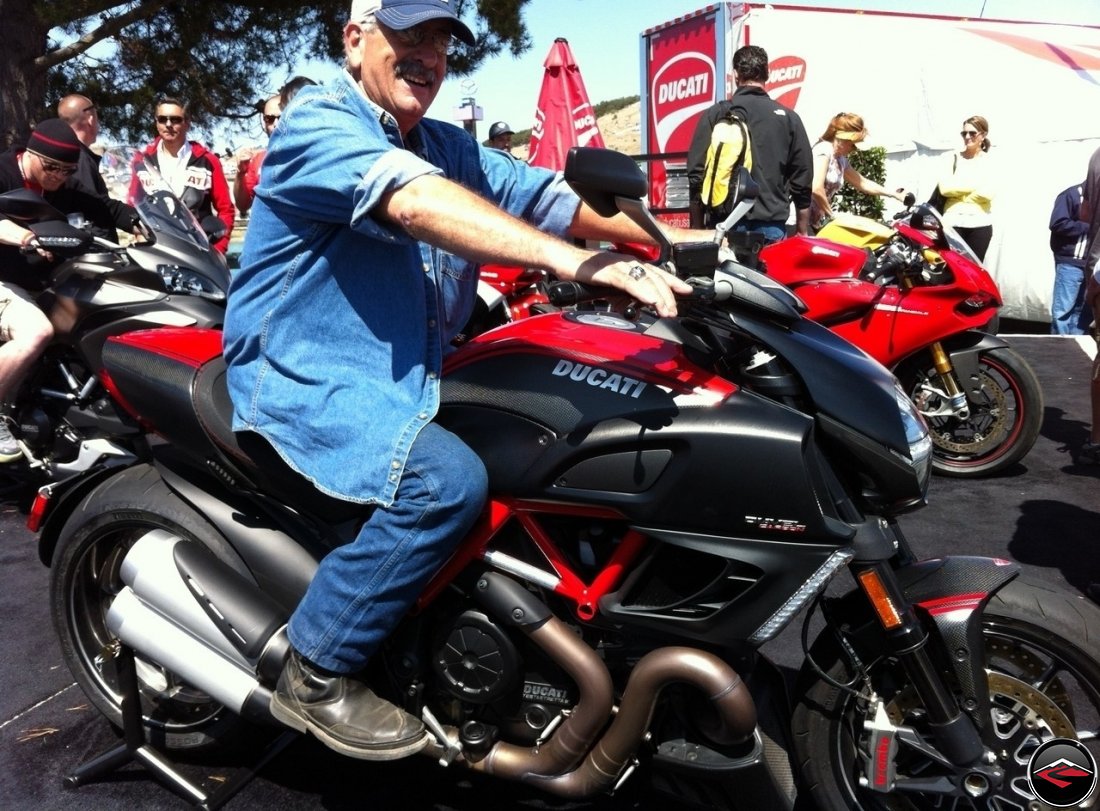 Since dad is a Harley man to the core, I thought maybe he'd get a kick out of Ducati's second attempt at a Cruiser. The pavement rippling Diavel. Sadly, dad didn't much care for it and instead was much more impressed with the Moto Guzzi Stelvio. Can't argue with that.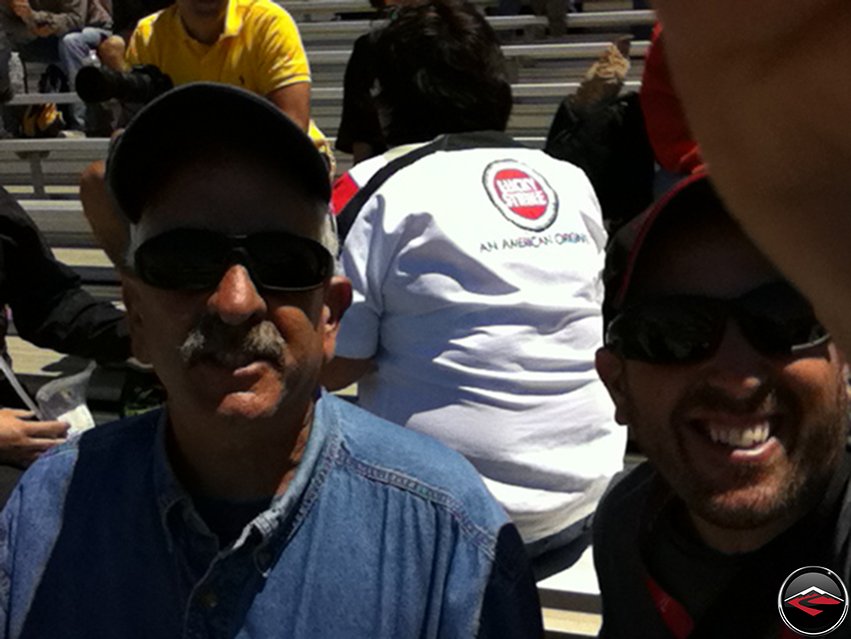 As time for the main event drew near, dad and I found our way to our grandstand seats. I've never had grandstand seats before, but it was a lot more fun than I thought it would be, but not for the reasons you would expect. I had a great time discussing the in's and out's of MotoGP with those sitting around me. A couple, rabid Casey Stoner fans obviously, who ride all the way from Perth to Melbourne (1700 miles away) every year for the Australia round… Another couple from Barbados who fly to at least three or four rounds every year (what would that be like?).
---
Once the race is over, its my favorite time to go looking for the superstars of MotoGP. The race is over, the pressure is off and you have a better chance of more candid interaction.
Now, I'm really not a fan-boy, but do enjoy being a fly on the wall to see how racers interact with the fans. I feel that racers should recognize fans as the biggest reason why they have such desirable employment options, so I like when riders behave accordingly.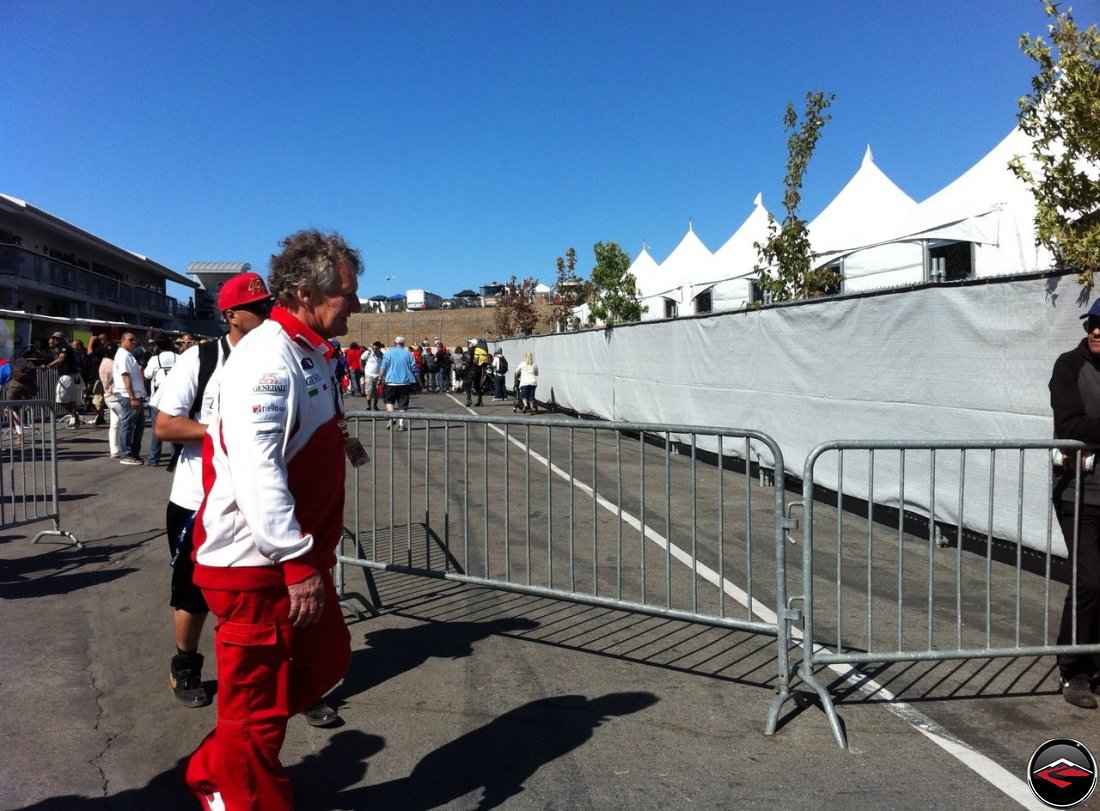 Jeremy Burgess, the super-genius crew chief. Just being this close in proximity I understood the nuances of suspension tuning a little bit better.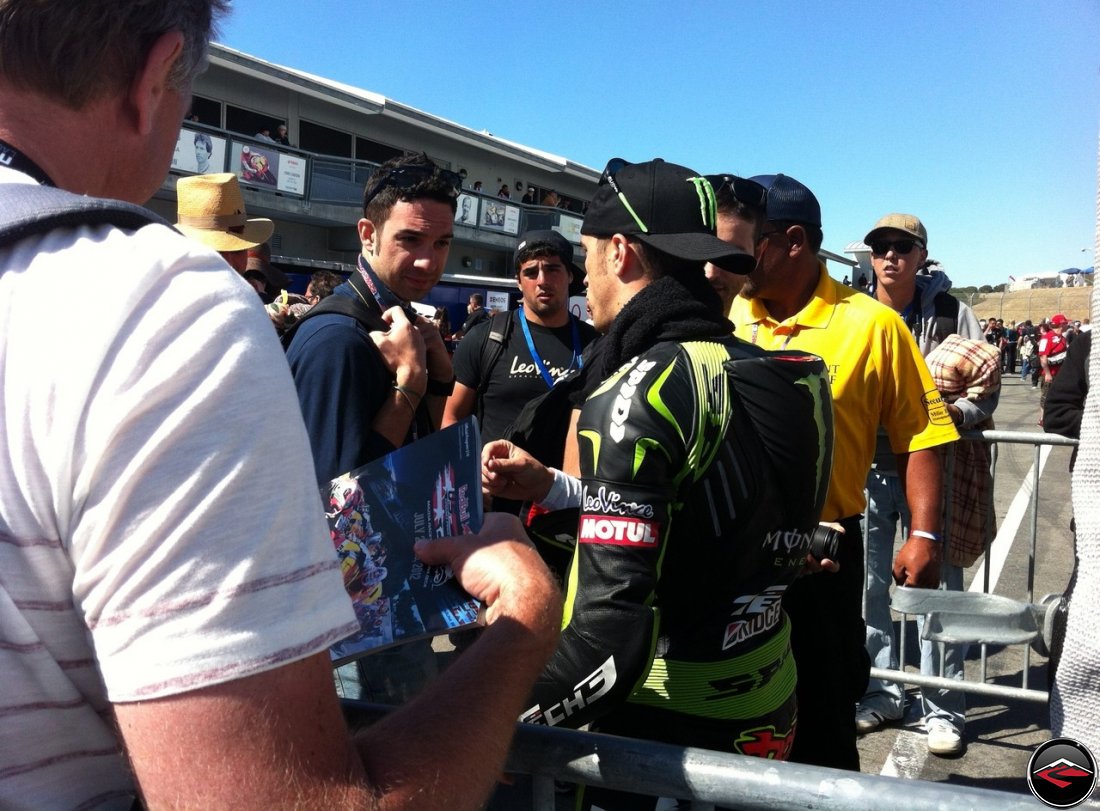 Andrea "Dovi" Dovizioso, at this time, his contract with Ducati to take Rossi's place was only rumor.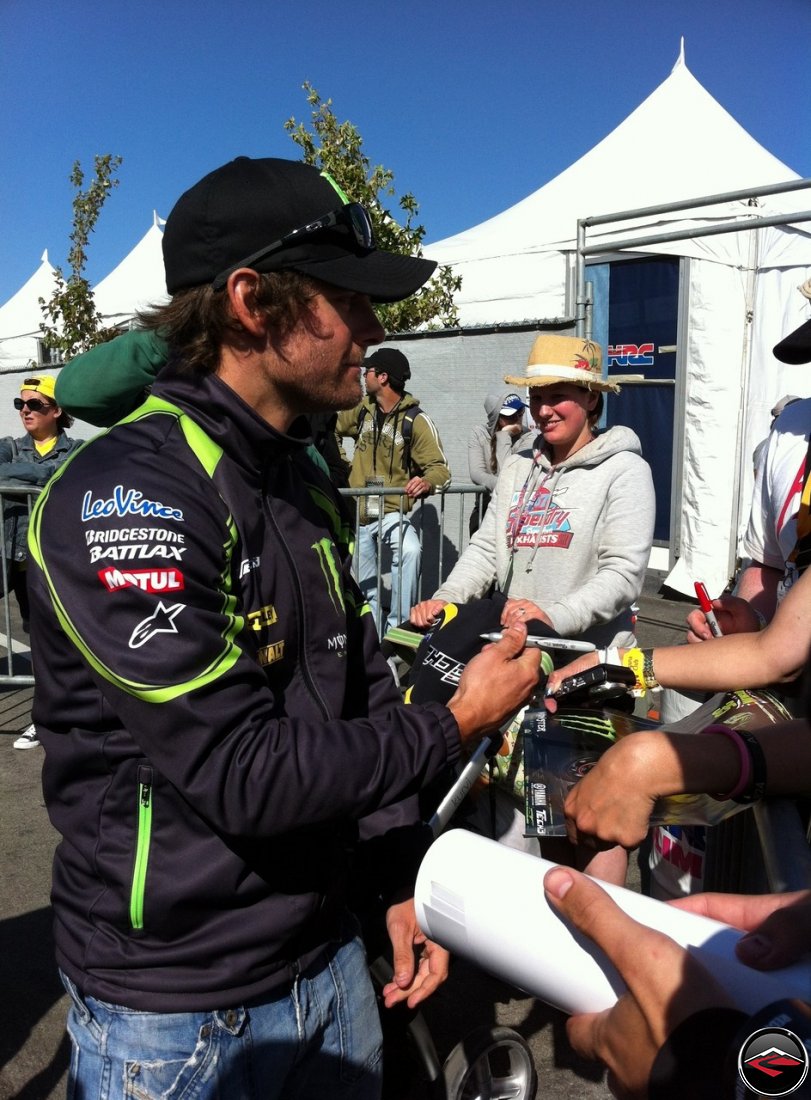 The rider I was most impressed with, Cal Crutchlow. His demeanor and interaction with the fans was very similar to Nicky Hayden. Cal appeared to be very generous, friendly and gracious.
Randy de Puniet with super hottie (and super smart) Playboy Playmate of the year, girlfriend, Lauren Vickers. I must mention, in real life, she looks like she maybe weighs 100lbs.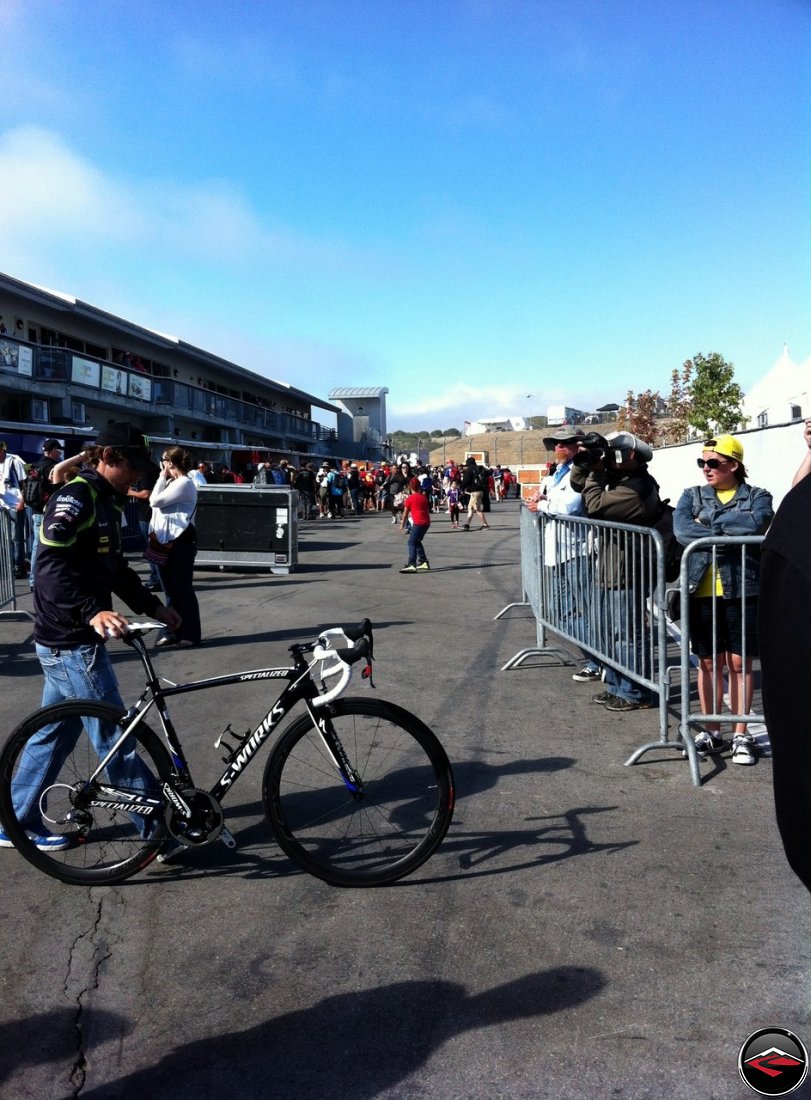 As an avid cyclist myself, I really got a kick out of Cal's bicycle. It probably costs more than most peoples motorcycles. S-Works Dura-Ace Di2… Nice!
Coastal Climates
---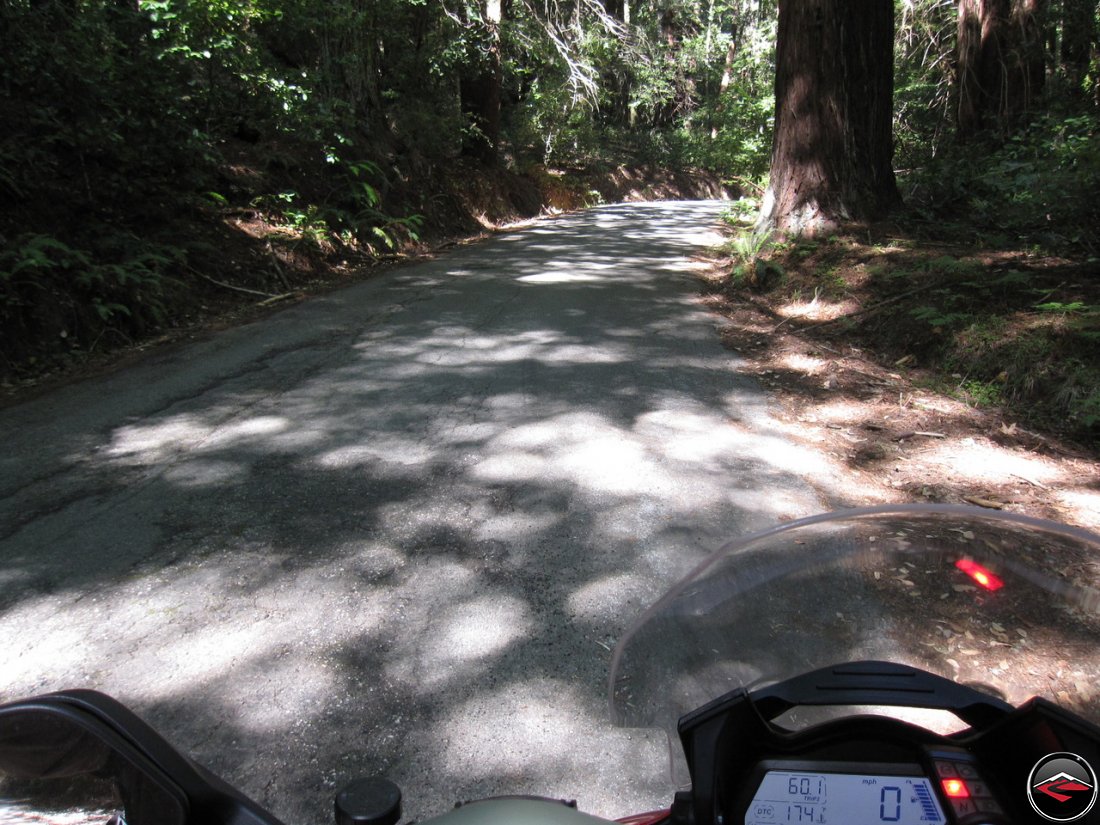 With the race behind us, now was when the riding began. The plan was north, so we headed directly back to the Skyline Blvd Complex where we happily meandered our way around.
Dad was really impressed and said it was like riding on dirt roads, but without any dust. Then he asked "How do you find these roads?".
---
See It In Action!
The pictures not good enough? Well, check out our video of a few miles of China Grade Road. (Click on the four-arrows icon in the bottom-right corner for full-screen viewing)
---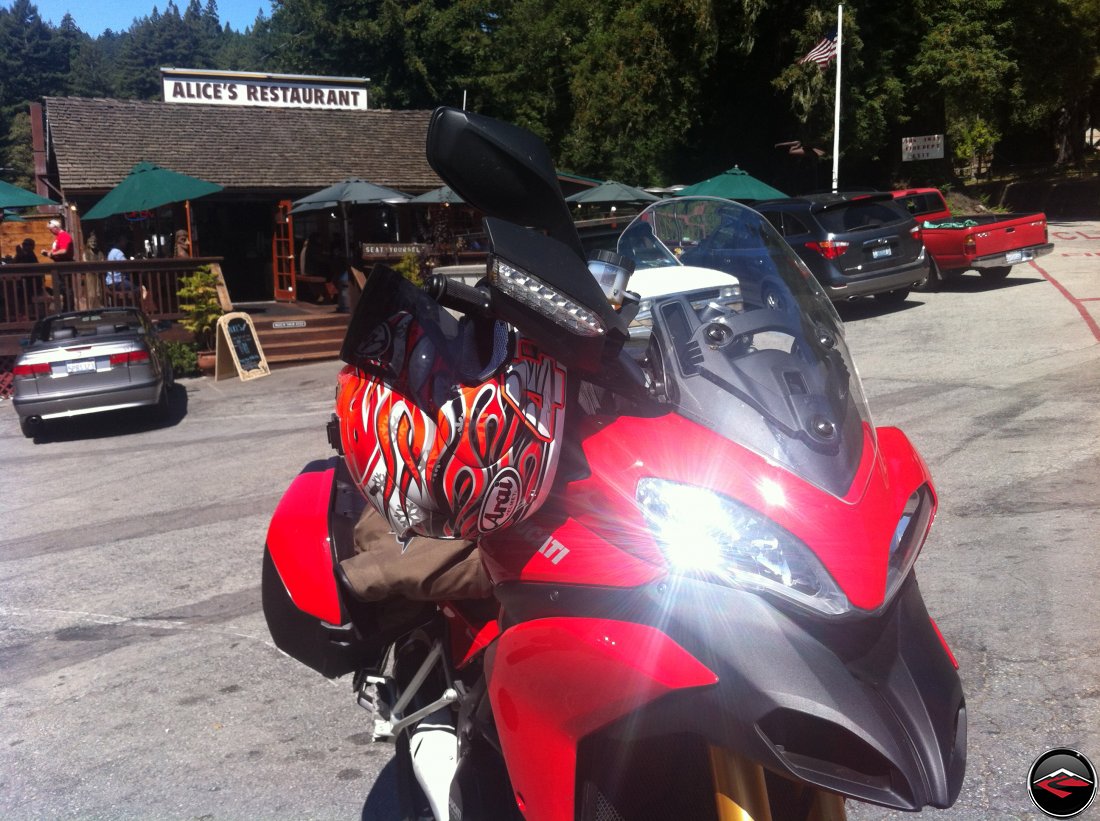 I was starting to get hungry, and what better place to stop for a bit than Alice's Restaurant. You can get anything you want here. Or so they say.
Now this place has a special meaning for me, but maybe not for reasons you would expect. In 1986, when I was a very impressionable aspiring motorcyclist, watching Top Gun for the Kawasaki GPZ 900R.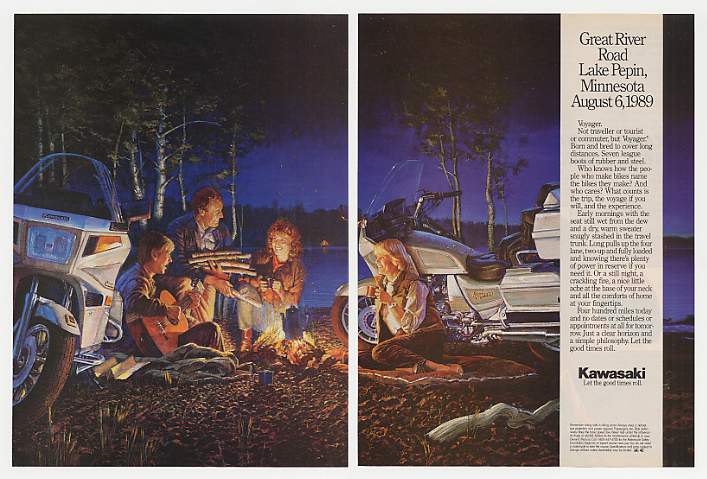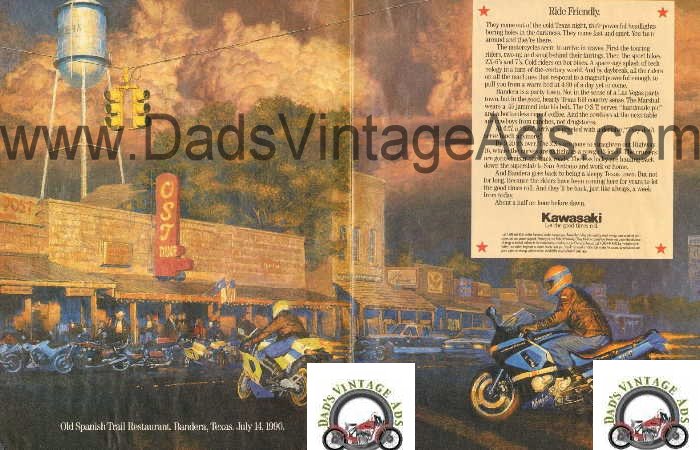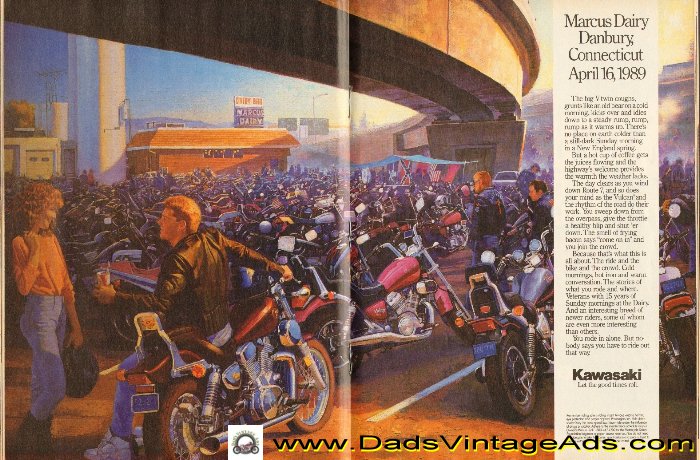 In 1989 and 1990, Kawasaki had a series of magazine ads that featured paintings of people on their motorcycles visiting local motorcycle haunts. Lake Pepin in Minnesota, the Old Spanish Trail in Texas and the Marcus Dairy in Connecticut (as well as several others that I couldn't find).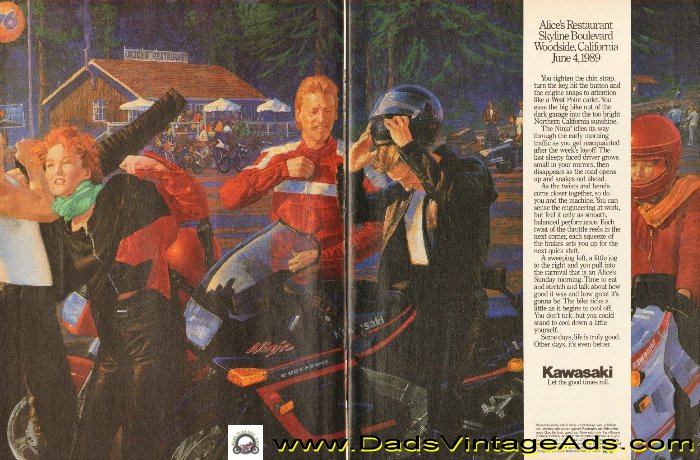 The image that totally captivated me was Alice's Restaurant. Mind you it was 1989 and I was a very impressionable 16 years old, the idea of riding to Alice's Restaurant was indescribably cool. I mean, just read the copy…
You tighten the chin strap, turn the key, hit the button and the engine snaps to attention like a West Point cadet. You ease the big bike out of the dark garage into the too bright Northern California sunshine. The Ninja idles its way through the early morning traffic as you get reacquainted after the week's layoff. The last sleepy faced driver grows small in your mirrors, then disappears as the road opens up and snakes out ahead… a sweeping left, a little jog to the right and you pull into the carnival that is an Alice's Sunday morning. Time to eat and stretch and talk about how good it was and how great it's gonna be… Some days, life is truly good. Other days, it's even better. Kawasaki. Let the Good Times Roll.

Alice's Restaurant, Skyline Boulevard. Woodside, California
Does that not just inspire you? "snap to attention like a West Point cadet". I mean, wow!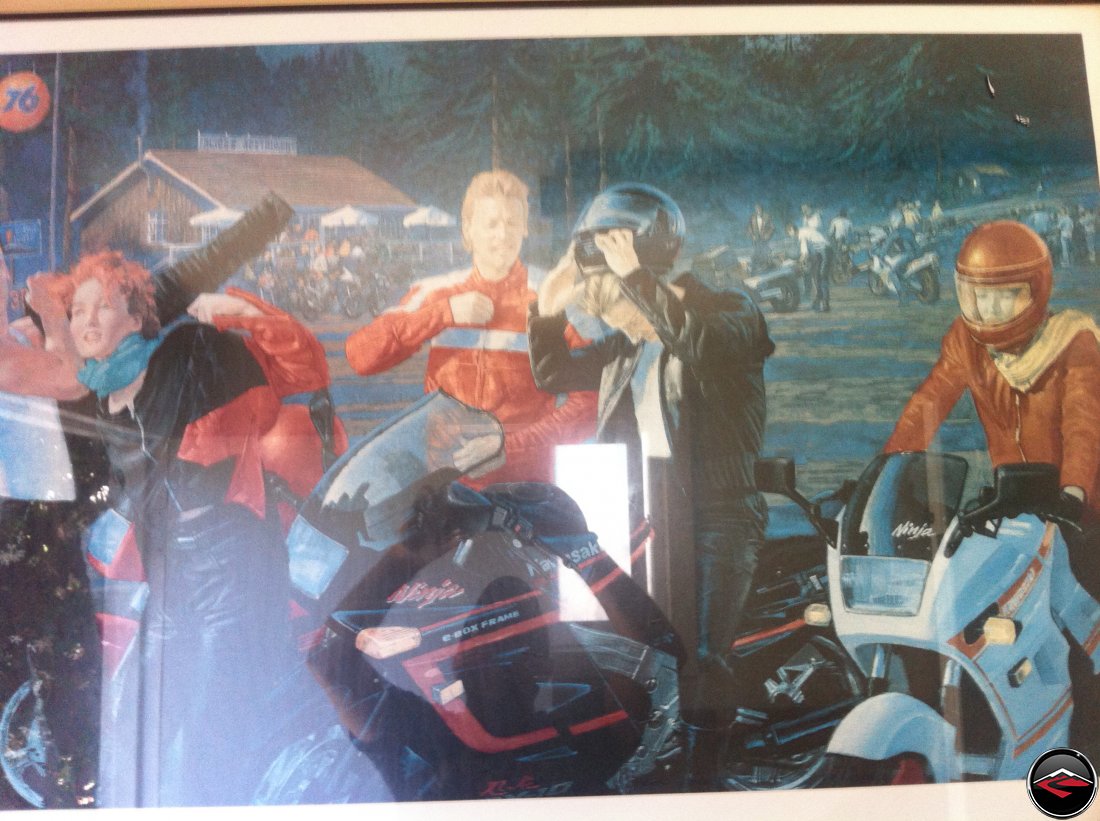 So, I walk into the men's room, just before leaving, and look what now sits framed above the urinals… Funny how things go sometimes.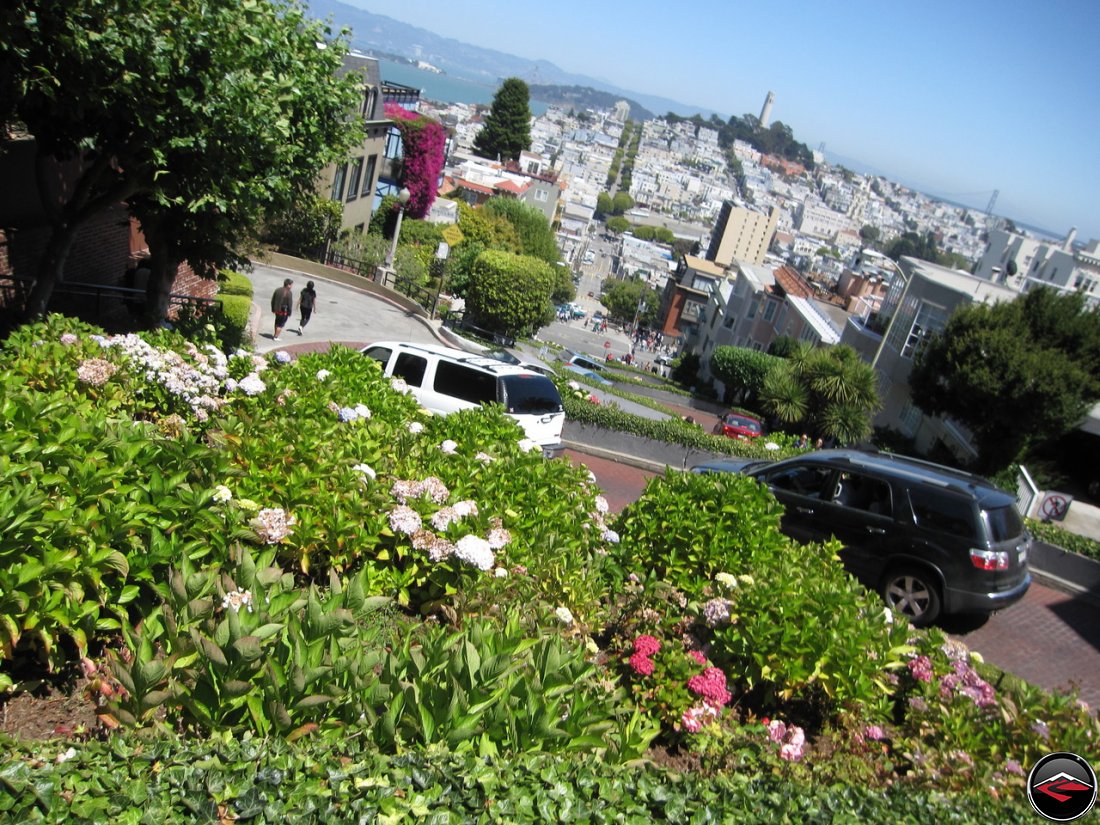 We wound our way into San Francisco. Again Dad has always skipped the sights so we followed some of the more famous route of the "Bullet" car chase before we did a quick run down Lombard Street.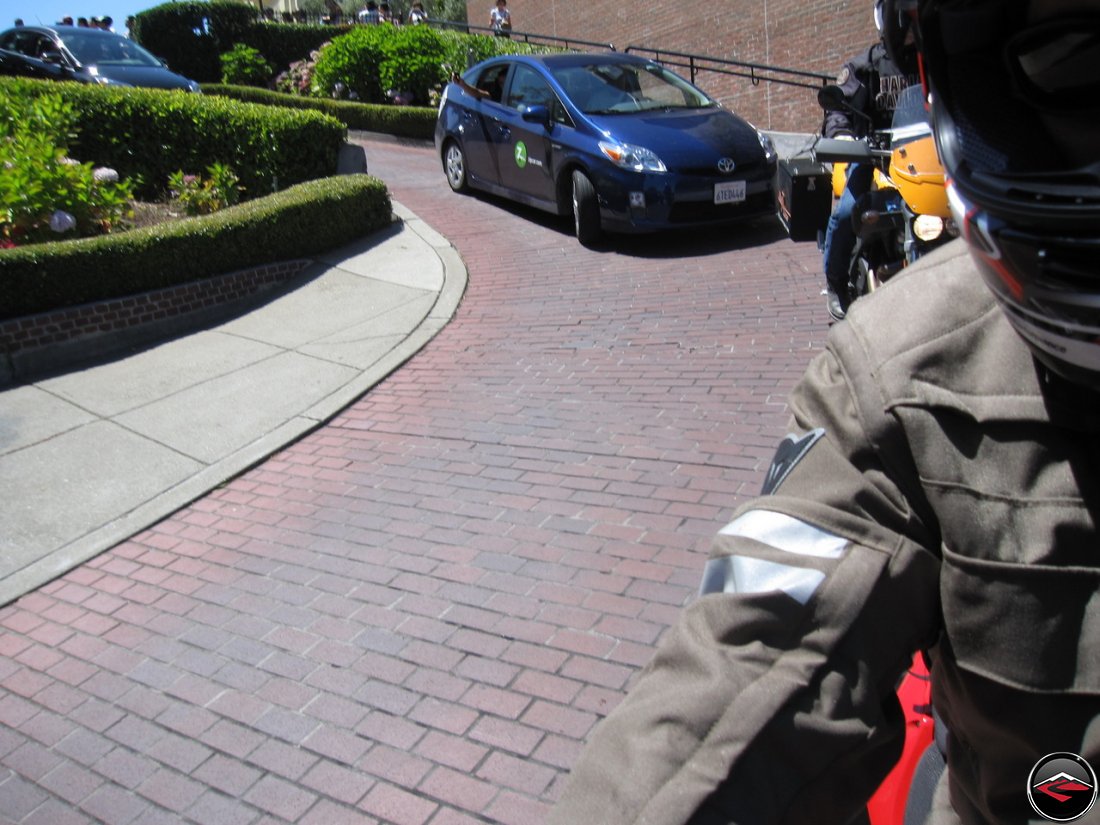 Lots of cars had the same idea about Lombard Street, and it was a lot steeper than I remembered. With all the cars, the steep and somewhat slippery grade, I had a helluva time getting a photo – this was the best one of the lot. Sorry about that.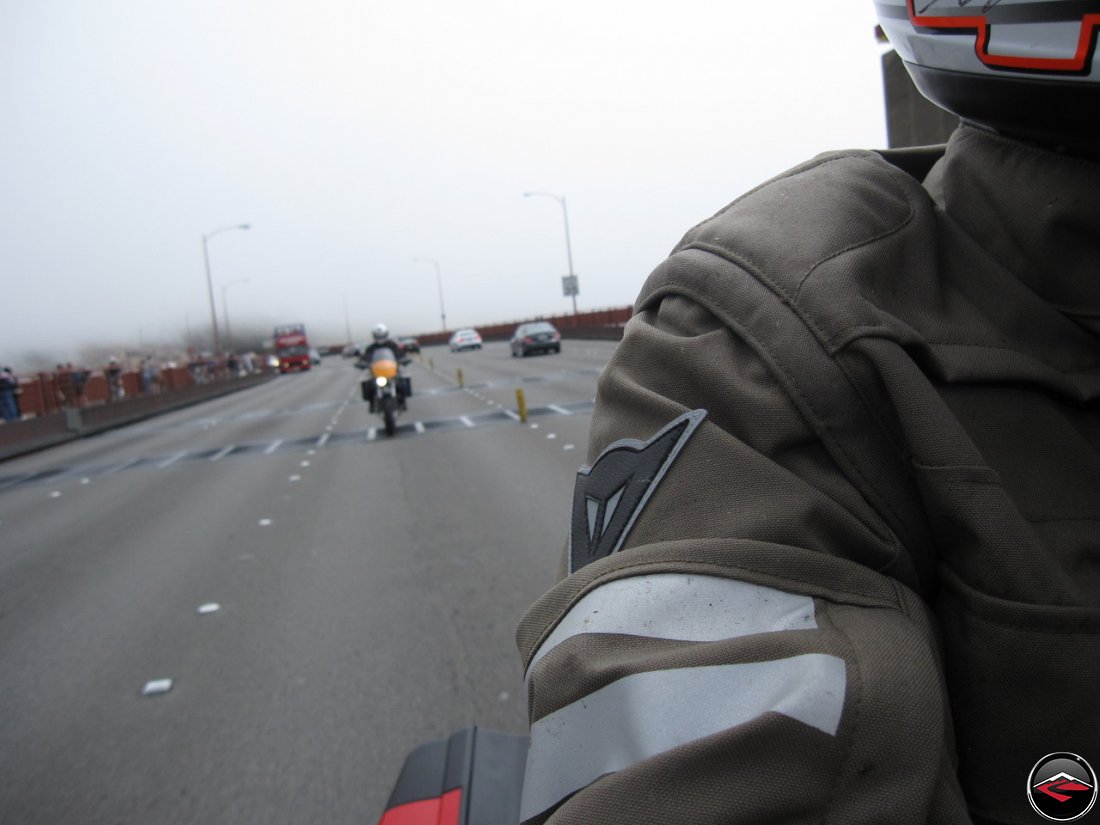 Northward we continued. A single bank of fog was covering the Golden Gate Bridge.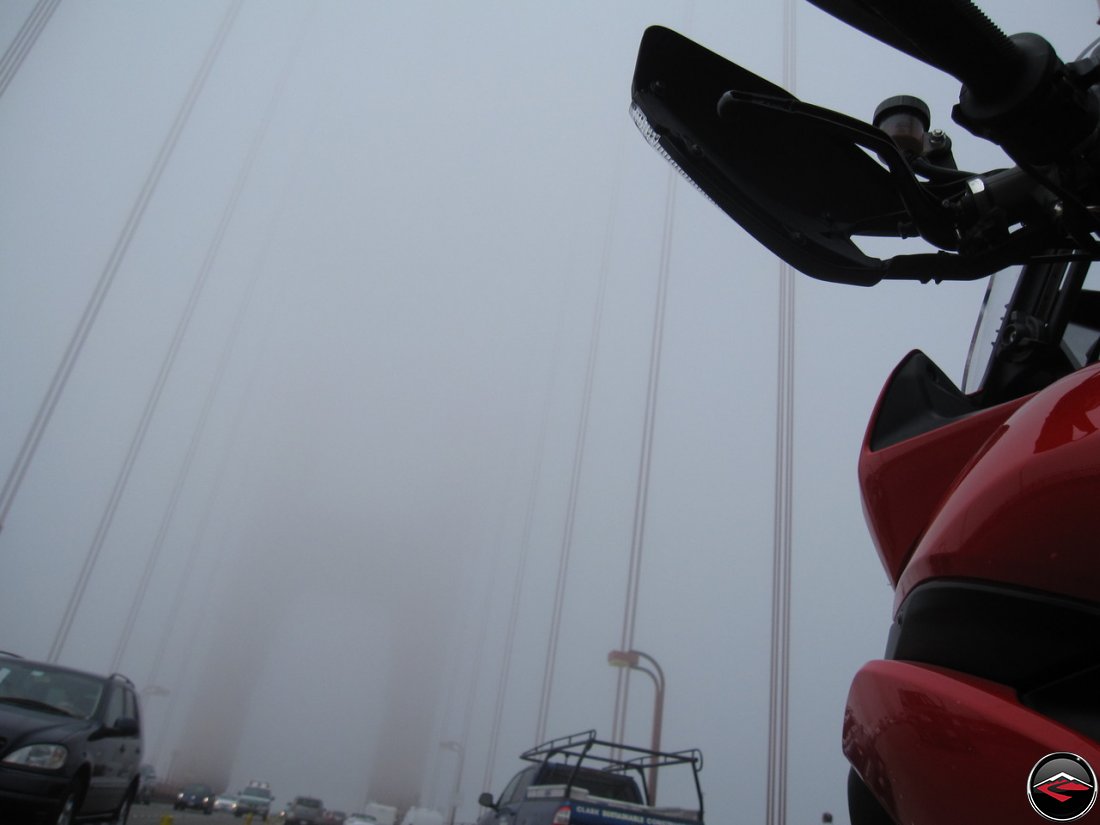 …and it was thick enough that you couldn't even see the top.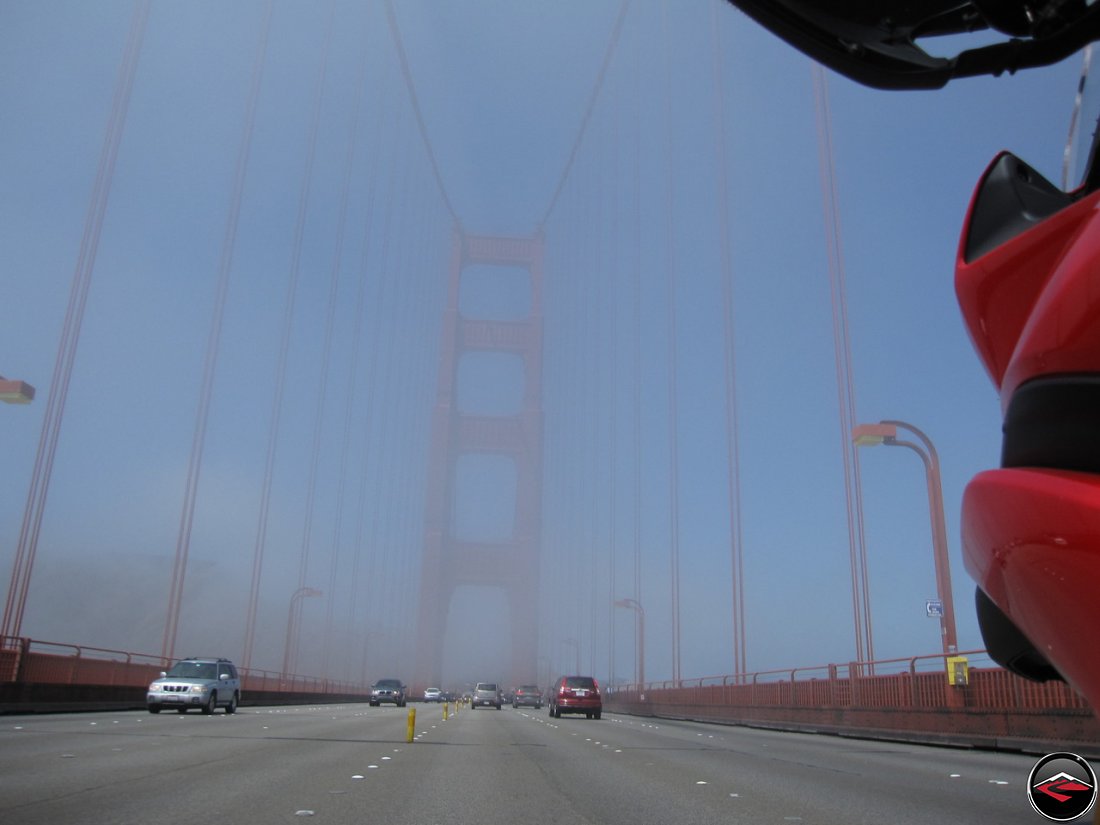 By the north end of the bridge, the fog was much thinner and allowed us to actually see the iconic orange structure.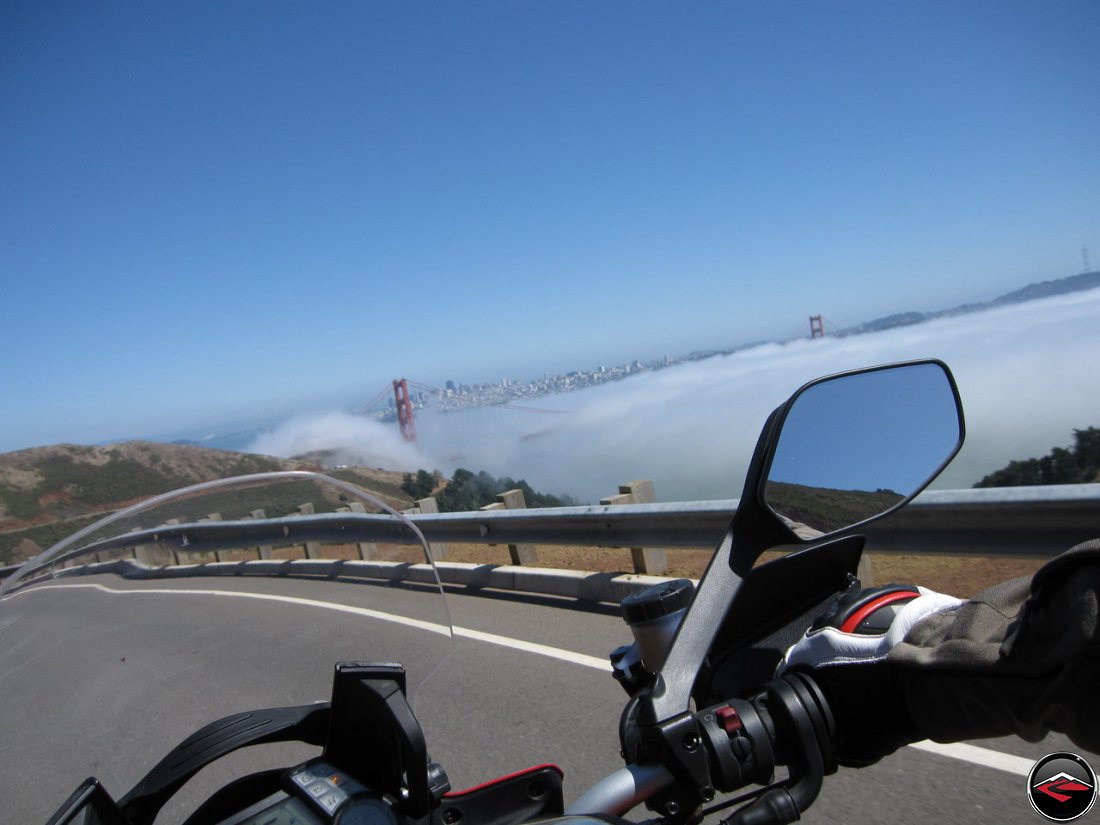 We veered off the freeway and I took dad up to the top of Conzelman Road. The fog and the clear sky was quite pretty if not somewhat stereotypical.

It looked exactly as it should. How nice is that?
---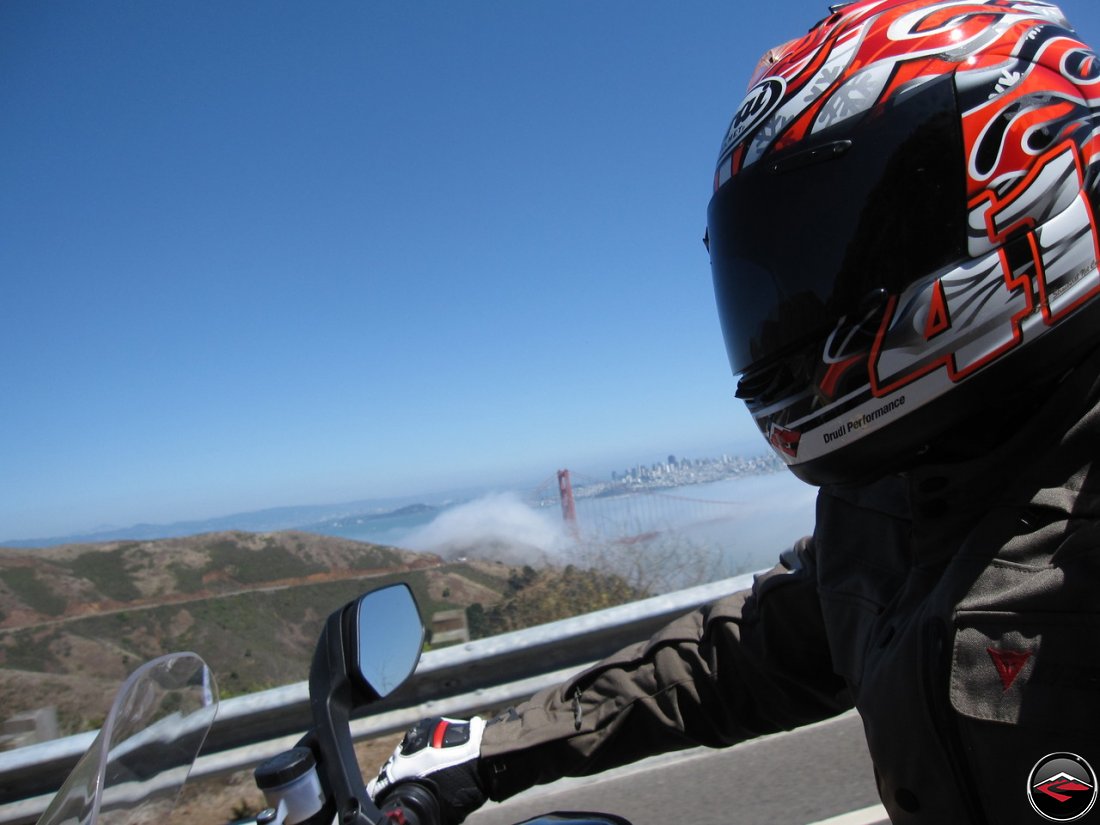 We ran back down Conzelman Road, and the view was every bit as neat on the way back down as it was on the way up.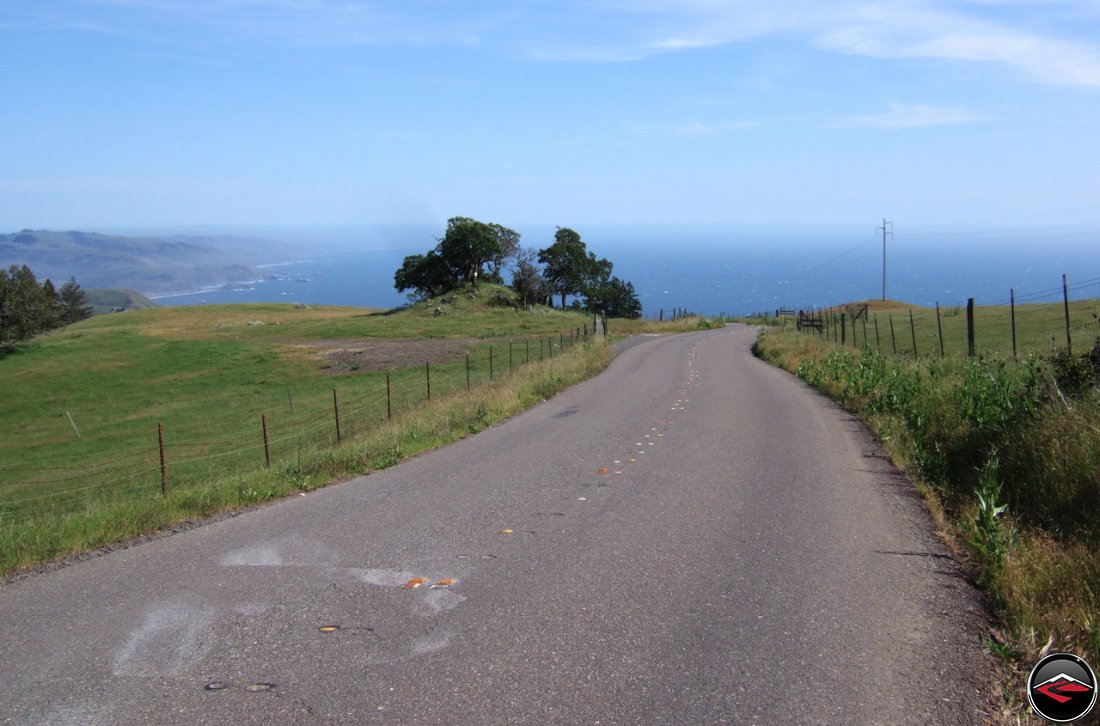 We stopped for fuel, then began our way up the Pacific Coast Highway. I'm always amazed by how quickly you go from dense population to stark emptiness in so short of time.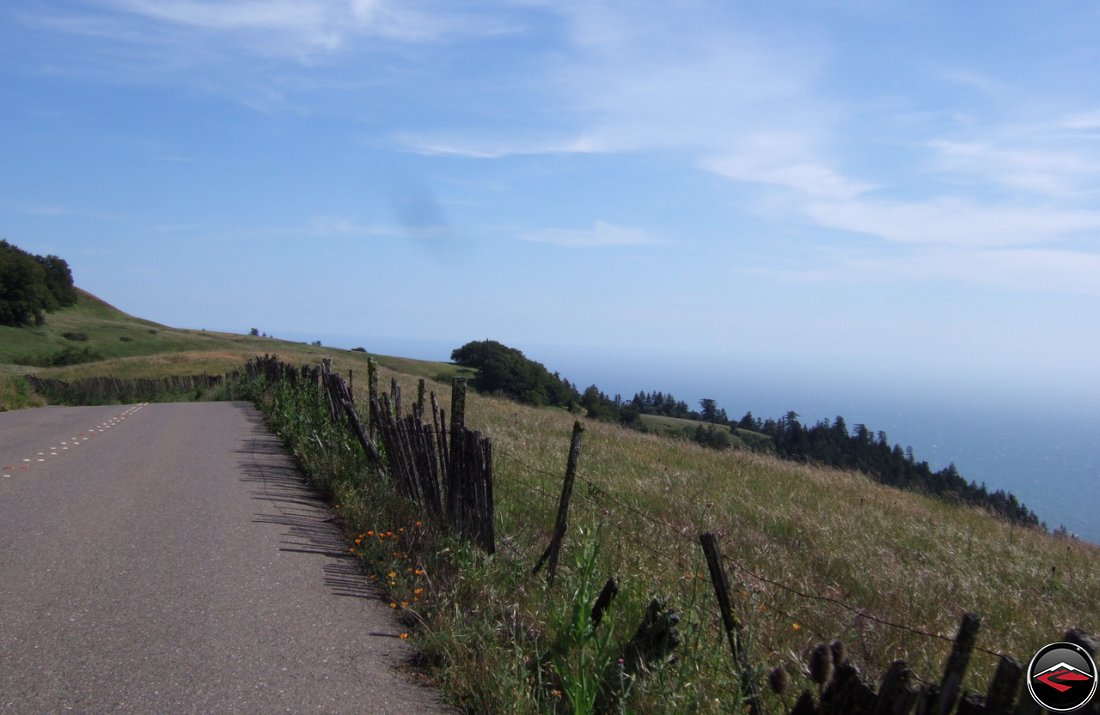 This has to be one of the most epic stretches of road. Magnificant coastal views, undulating tarmac with enough corners and bends to ensure the center of your tires rarely get used.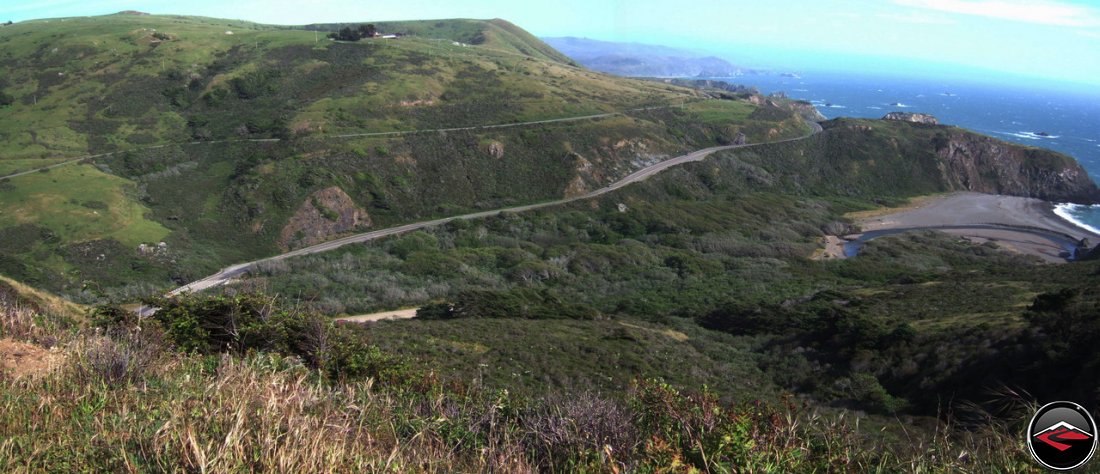 One of my favorite elements of the north Pacific Coast Highway is the repetitive gulches. This road pattern feels like it repeats itself over and over again, all with what feels like the exact same sequence of corners. It's an absolute giggle!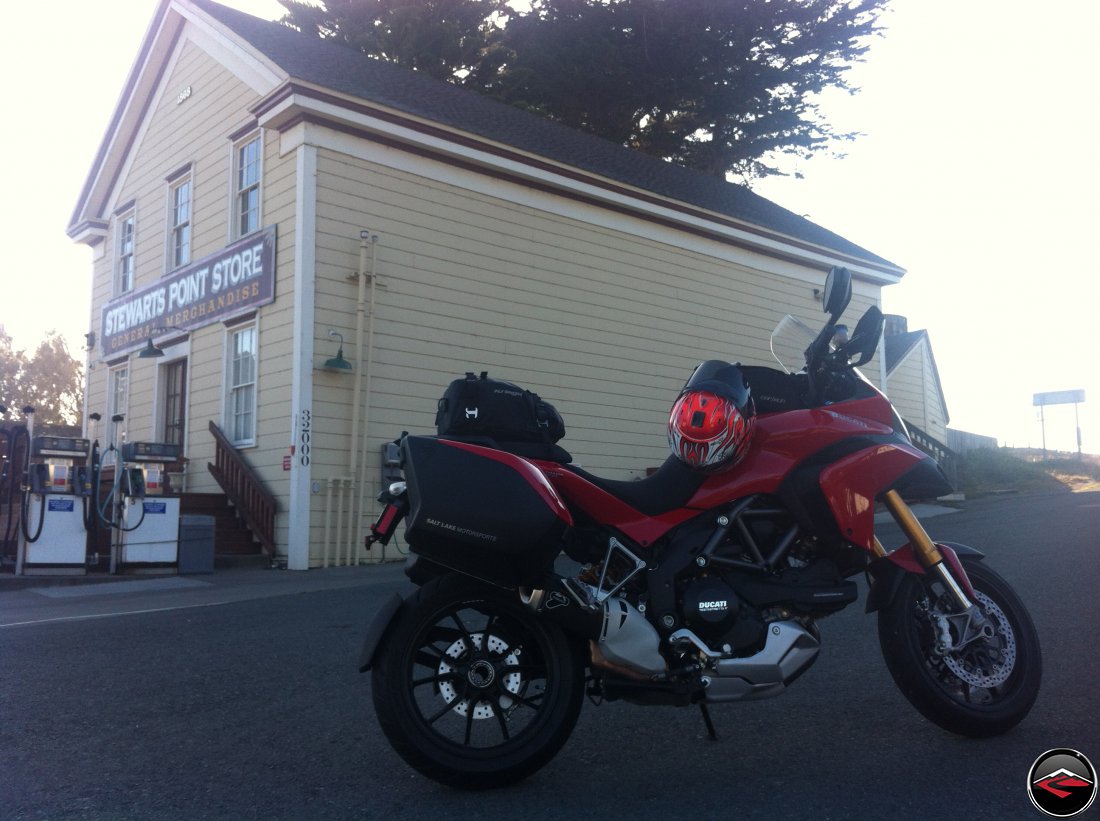 Time to head inland onto Skaggs Springs Road. A famous coastal mountain road that meets the Pacific Coast highway right at the infamous Stewards Point Store.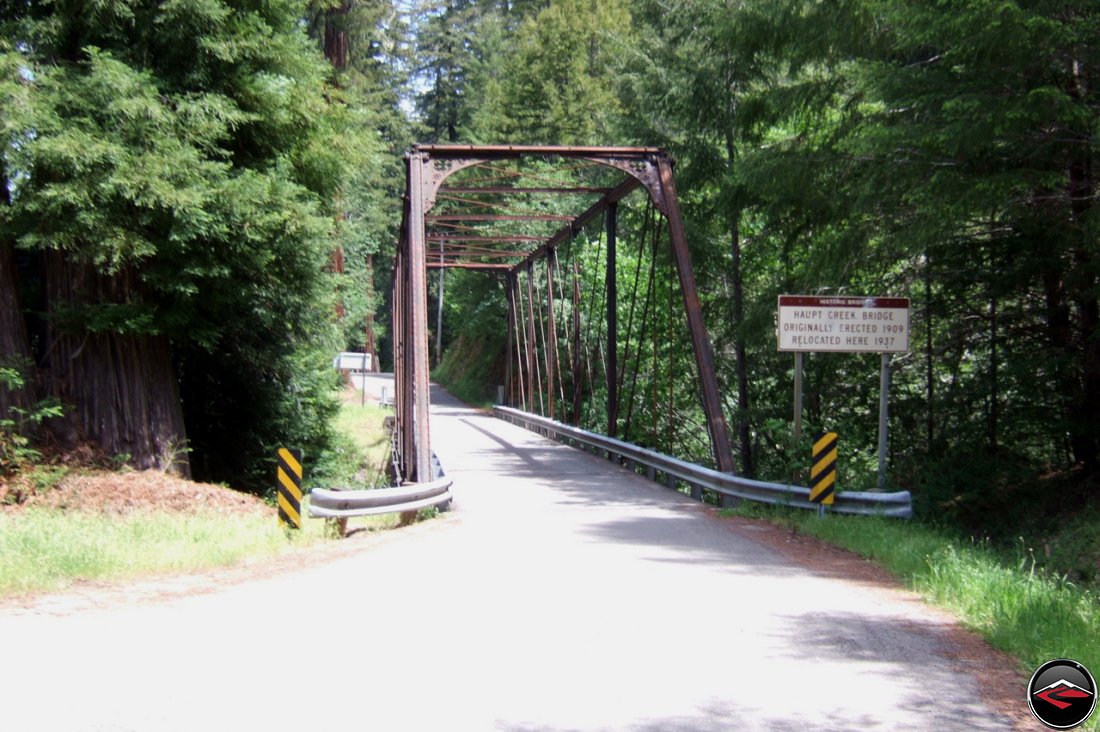 Many say Skaggs Springs Road is best run from East to West. I disagree. When run from West to East, it starts out as a super tight, technical, tree lined route that gets progressively faster and faster as corners evolve into wicked-fast sweepers.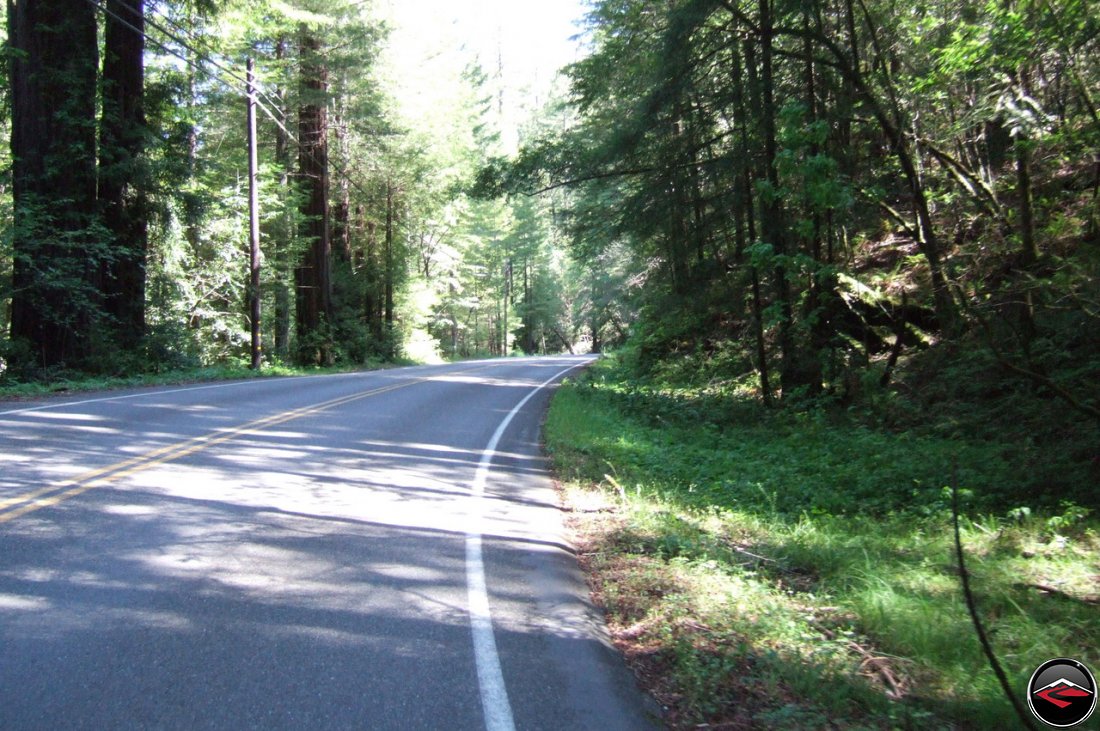 It's easier for my brain to deal with tight corners become fast corners than the other way around. When it goes from fast to slow, I tend to find myself entering corners faster than I really planned. West to East is a little more forgiving.
In an ironic turn, twenty years ago I wanted to head home early. But now it was dad who was ready to be back home; home in time for his anniversary. So we ended up modifying the original plan to get him home two days sooner.
Hot and Cold – at the Same Time
---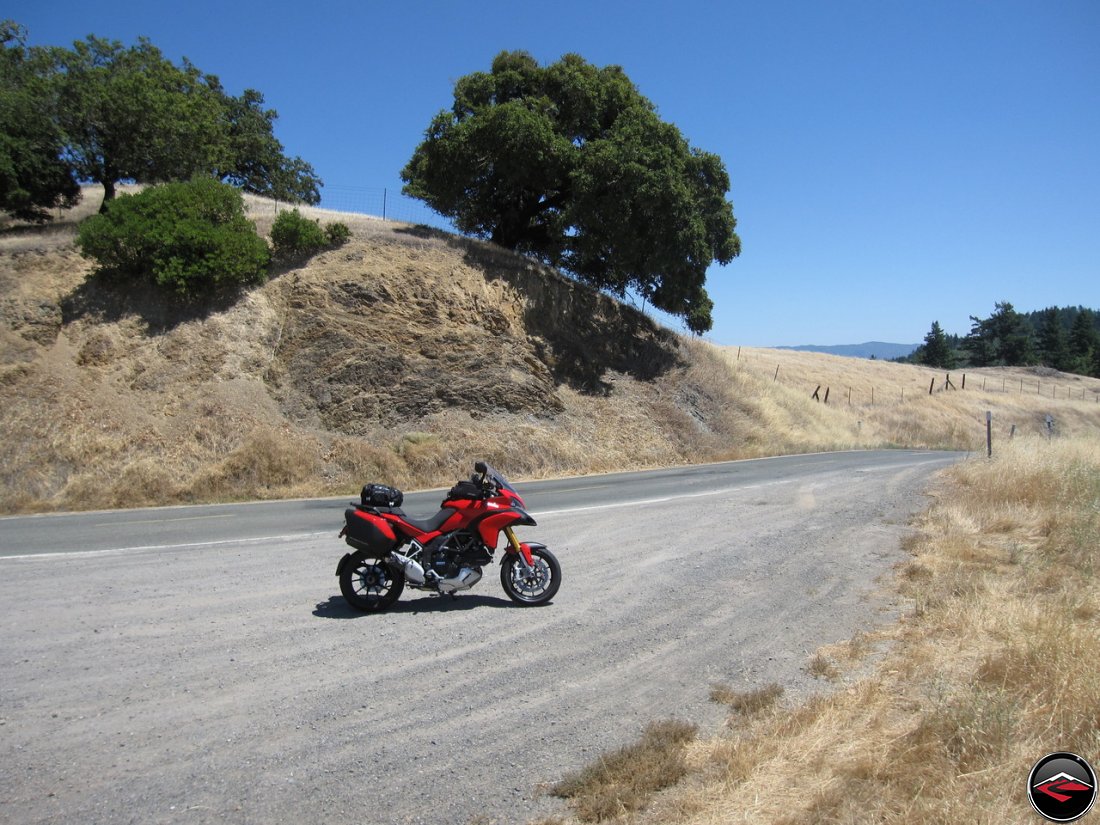 First thing, we grabbed breakfast and grabbed some oil to top off dads Buell before heading back towards the coast on Boonville/Ukiah Road (CA-253).
Boonville Road turned into Mountain View Road and we were back onto the coast. It's incredible how the world turns from cured grasses and sparse vegetation to lush greens and cool temperatures over just a few miles of riding.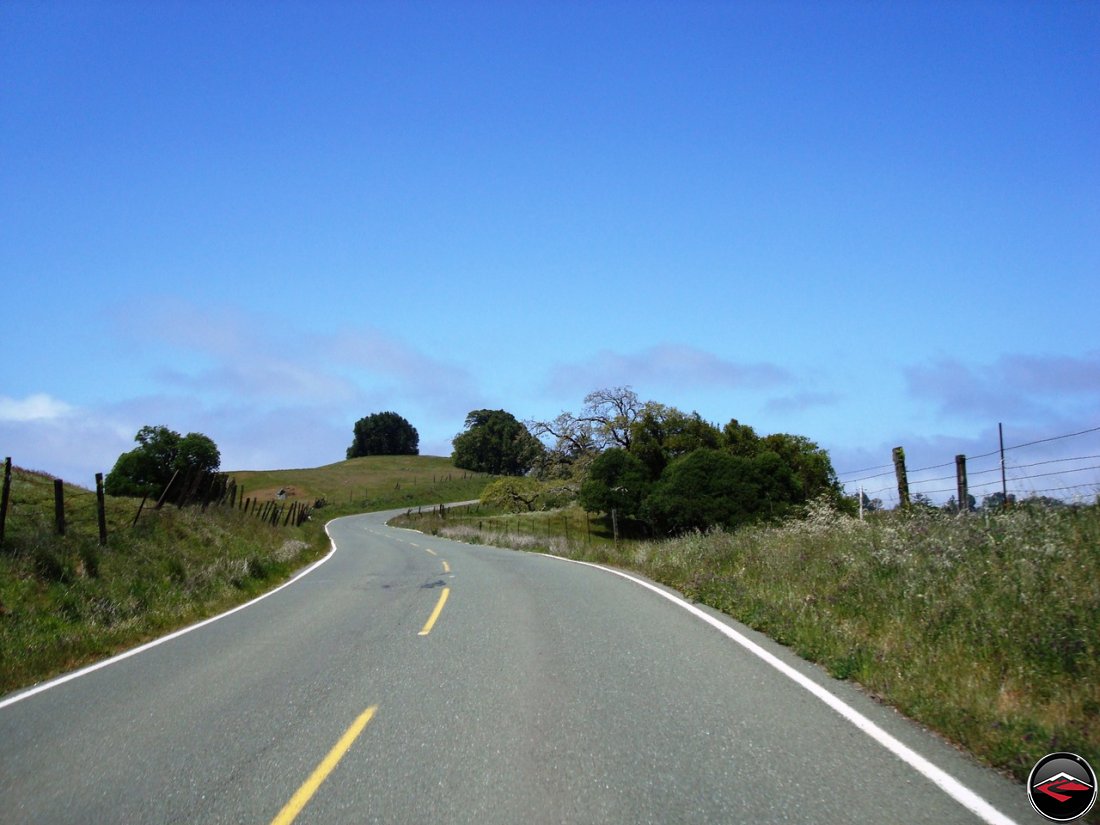 Droping back towards the ocean, the temperature drops dramatically into the 60's. We turned north and ran up the coast for just a short ways before turning back inland on CA-128 and towards Navarro River Redwoods State Park.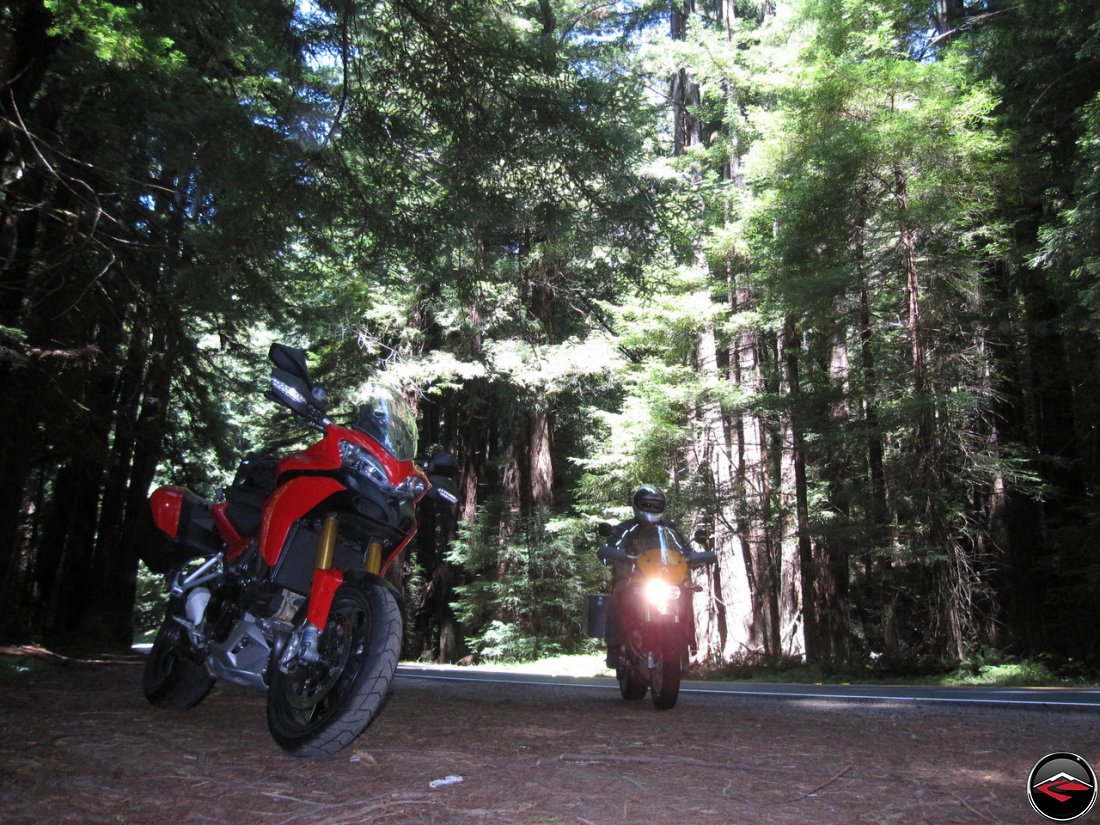 Navarro River Redwoods State Park was impressive and we needed to stop and take it all in.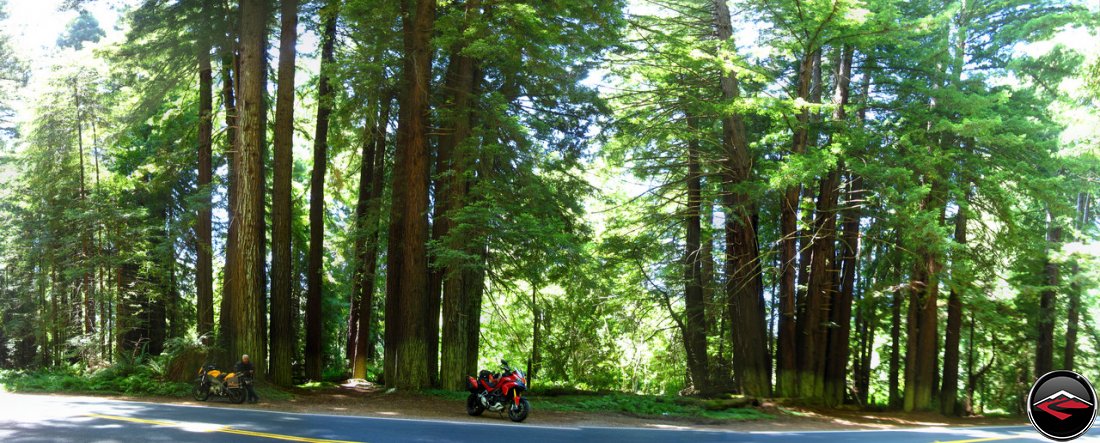 Its really hard to try and capture the enormity of it all.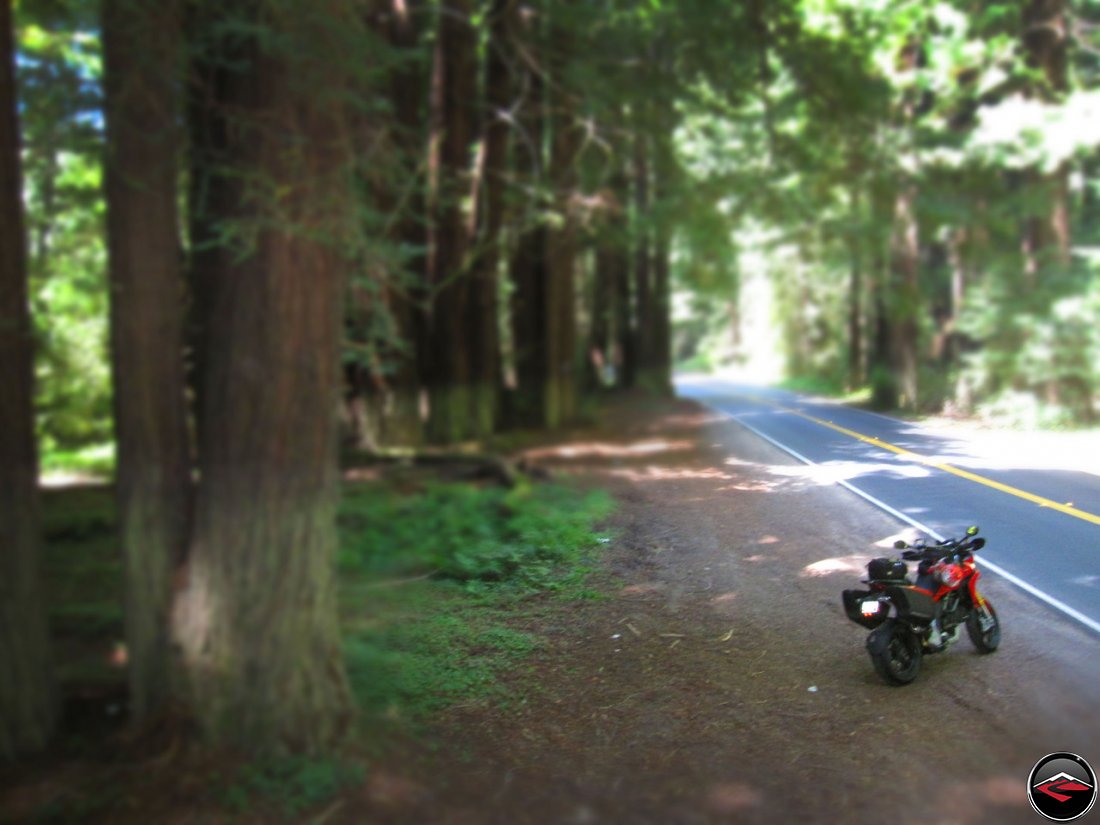 The age and the size of these tree's kinda' makes one feel small and insignificant. A little bit of perspective… Most Redwoods live between 500 and 700 years. That means the average Redwood began life in the 14th Century. That's when the Ottoman Empire began its expansion, the 100-Years war began and the Black-Plague ravished Europe. Many Redwoods live to be well over 2,000. That's the time when the Roman Empire reached their largest size, the Colosseum was constructed, the death of Jesus on the cross and the beginning of Christianity.
Horrifically, 96-percent of the Giant Redwoods have been logged.
Back inland, we returned to the cured grasses and sky-high temperatures.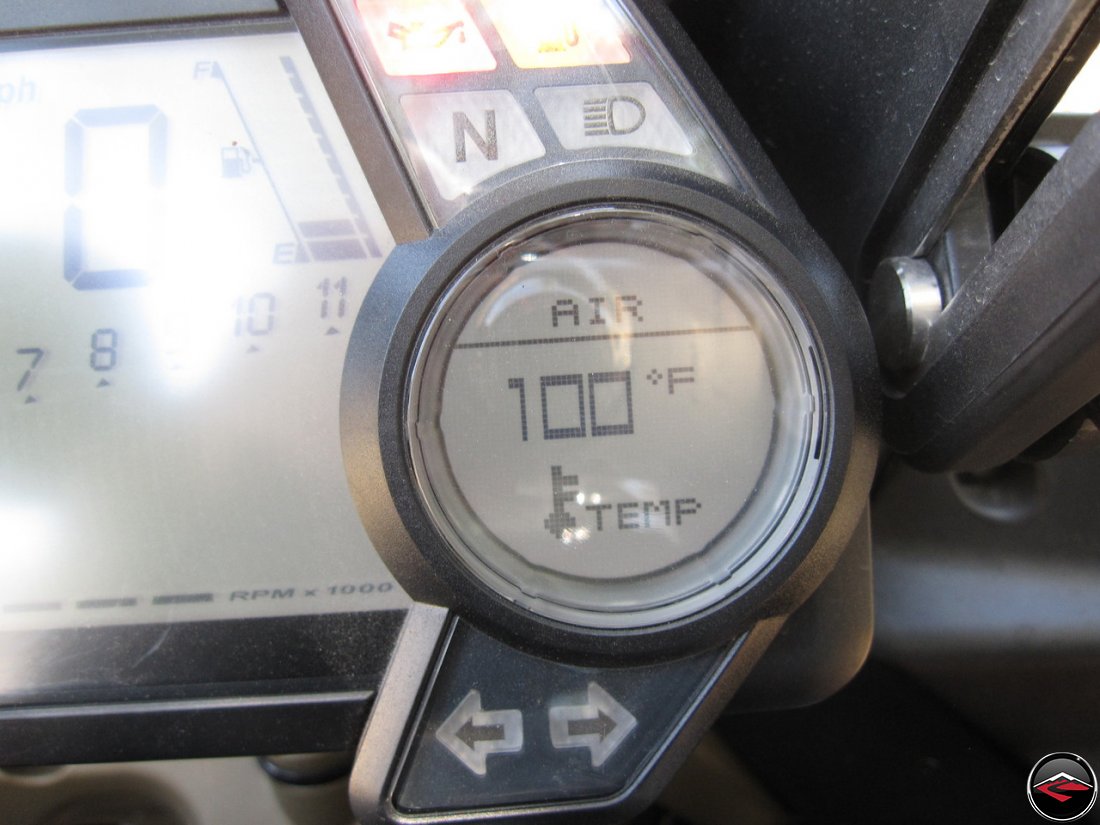 The temperatures are in the low to mid-60's along the coast and into the low 100's inland. This is not the highest temperature we saw. We rode north to Willits and turned coast-ward again along CA-20.
Hindsight being what it is, we should have skipped CA-20. It's the main route to Fort Bragg, and as such it's heavily traveled. We should have taken one pass south, Orr Springs Road/Comptche Ukian Road or one pass north, Branscomb Road. Next time.
We stopped briefly in Fort Bragg where I continued a long-standing tradition of picking up some stuffed toys for the dogs. The toys ride along outside the bikes where the pick up the scents of all the places we travel.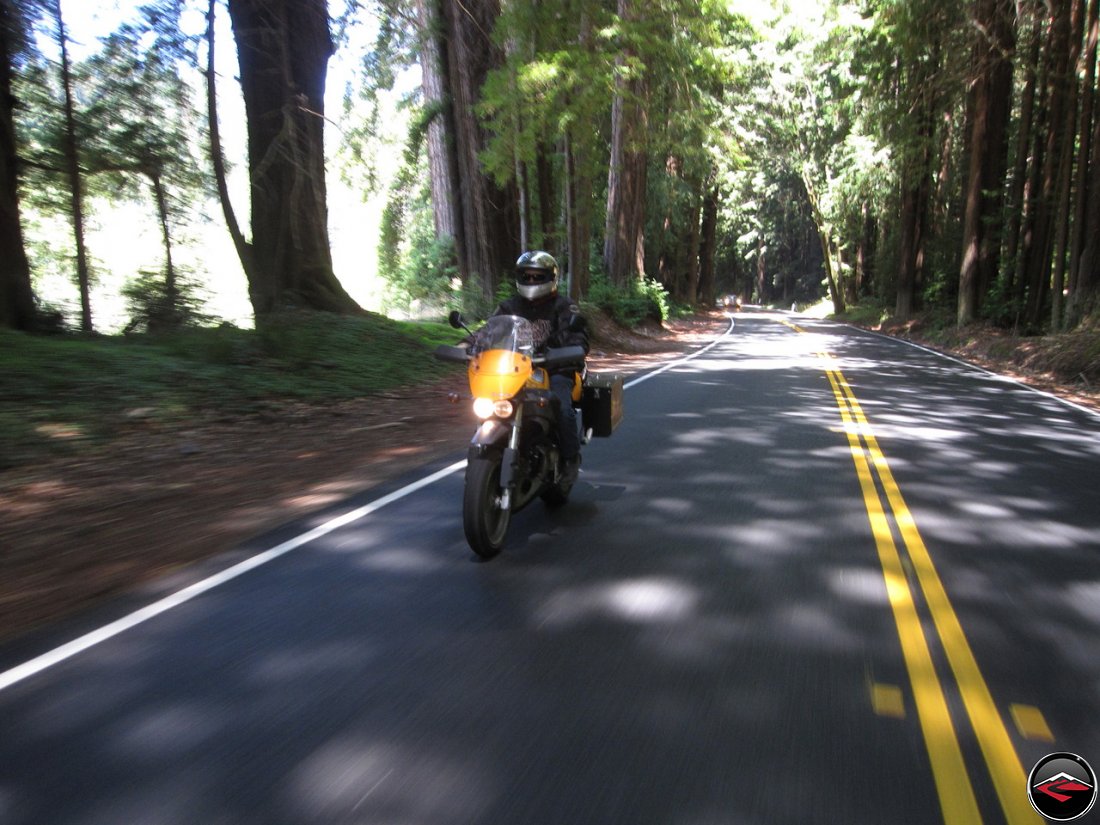 From Fort Bragg we rode north into the waning daylight. Highway 1 turns inland towards Leggett and once again enters the dense trees.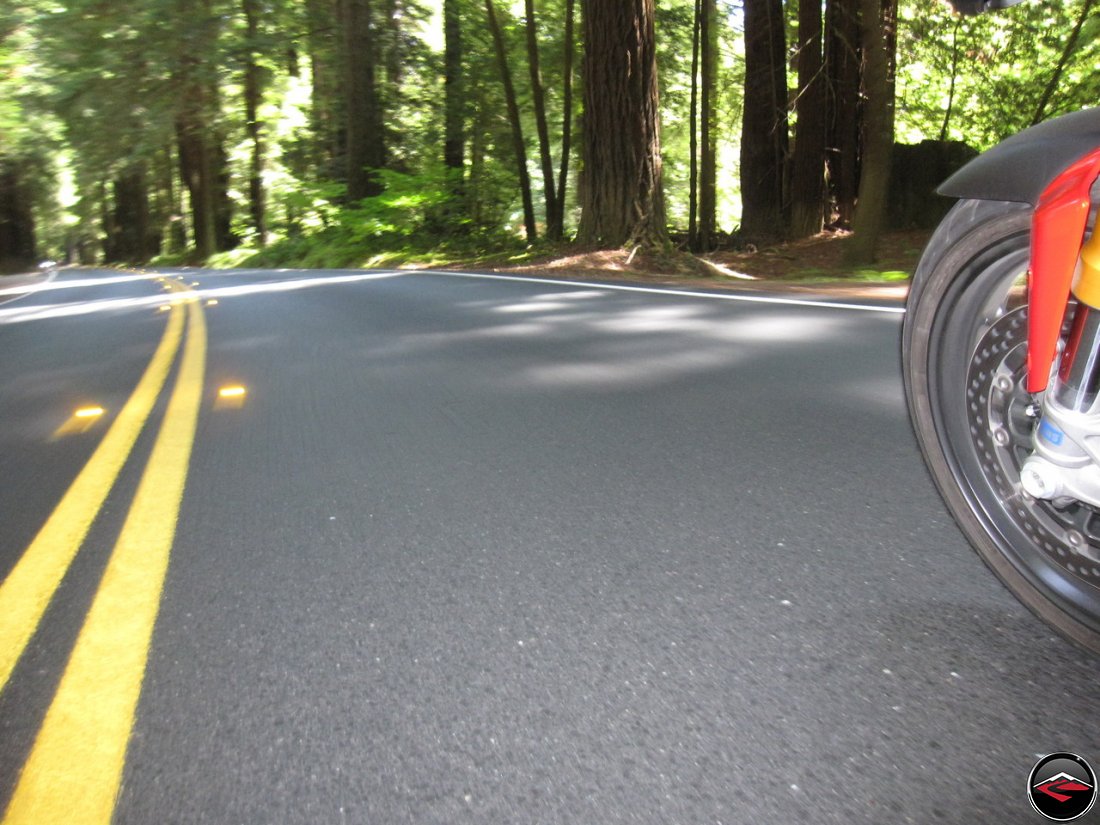 The rideing is remarkable and breathtaking. I don't think I would ever grow tired of this.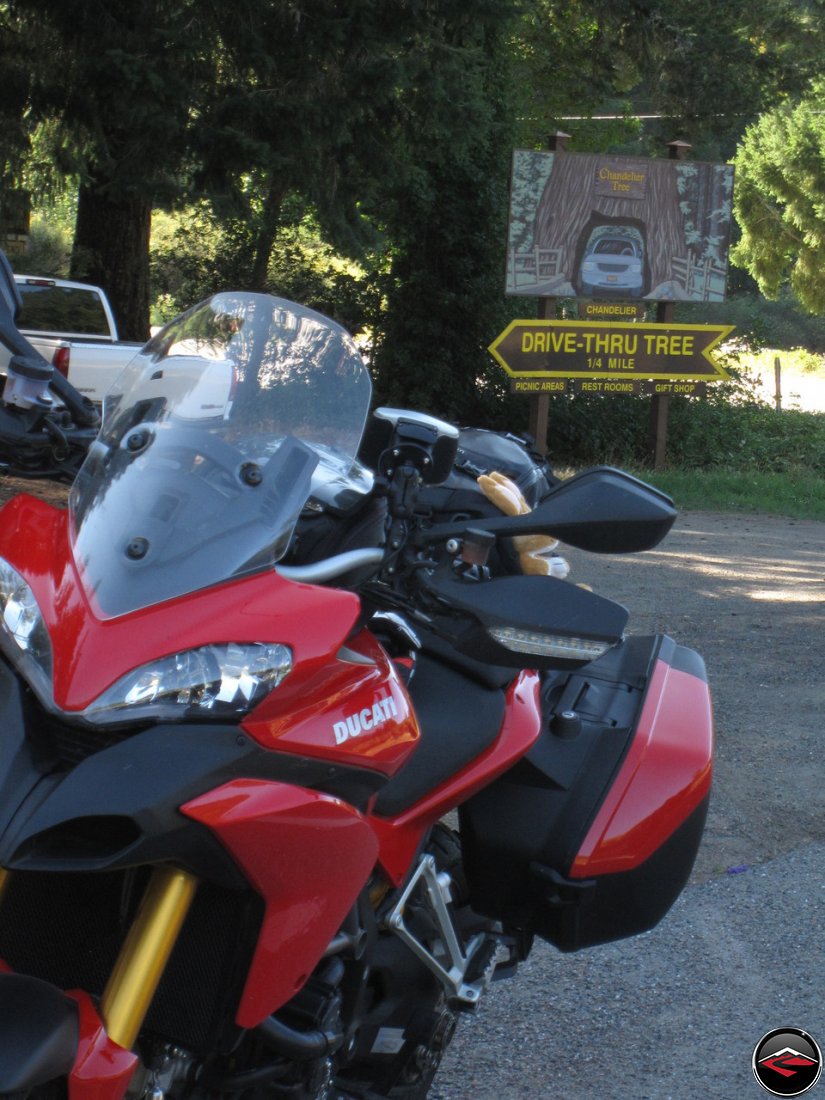 Of course we had to stop at the Drive Thru Tree! When Mike and Lindsey came this way we inisited they stop. We almost revoked their CanyonChaser status when they reported back that they thought the drive thru tree was campy. We were aghast! What did they expect? Of course it's campy! It's a road-side attraction, and we love 'em for being campy.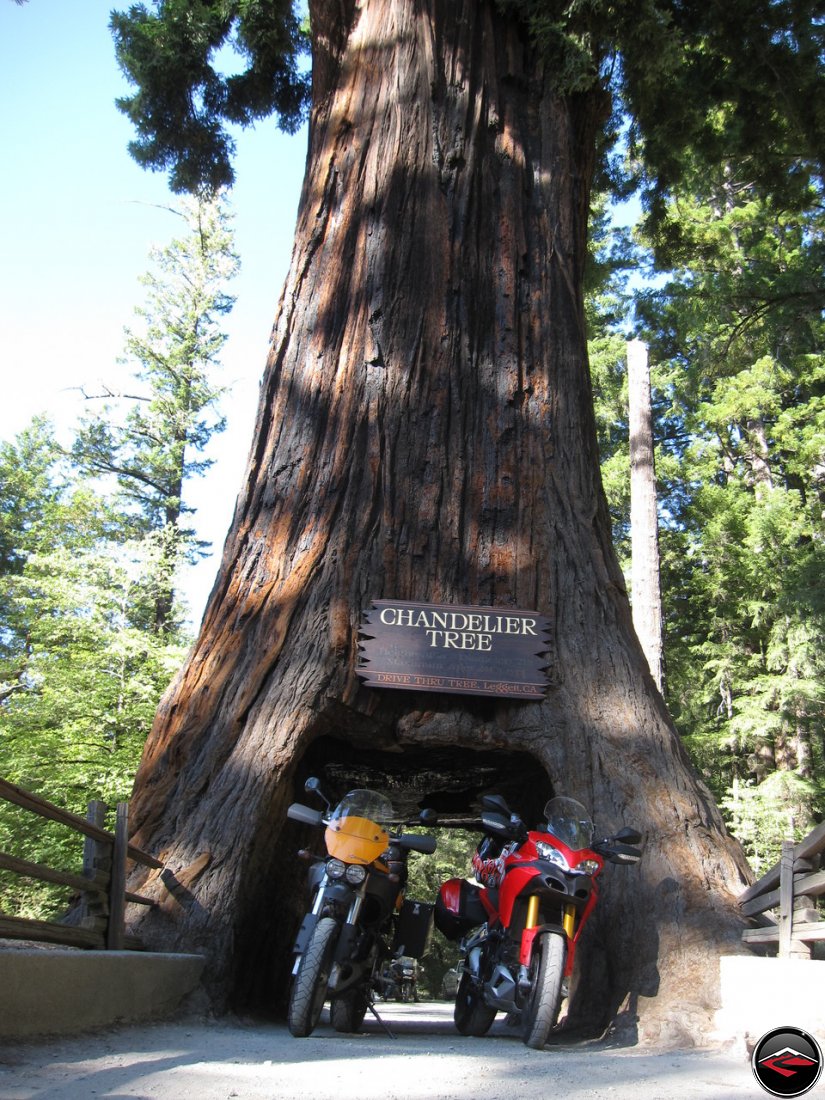 The Chandelier Tree in Drive Thru Tree Park is a 315 foot tall coast redwood tree in Leggett, California with a six foot wide by six foot high hole cut through its base to allow a car to drive through. The hole was carved in the 1930s. A vintage postcard of the Chandelier Tree was shown during the opening credits of National Lampoon's Vacation.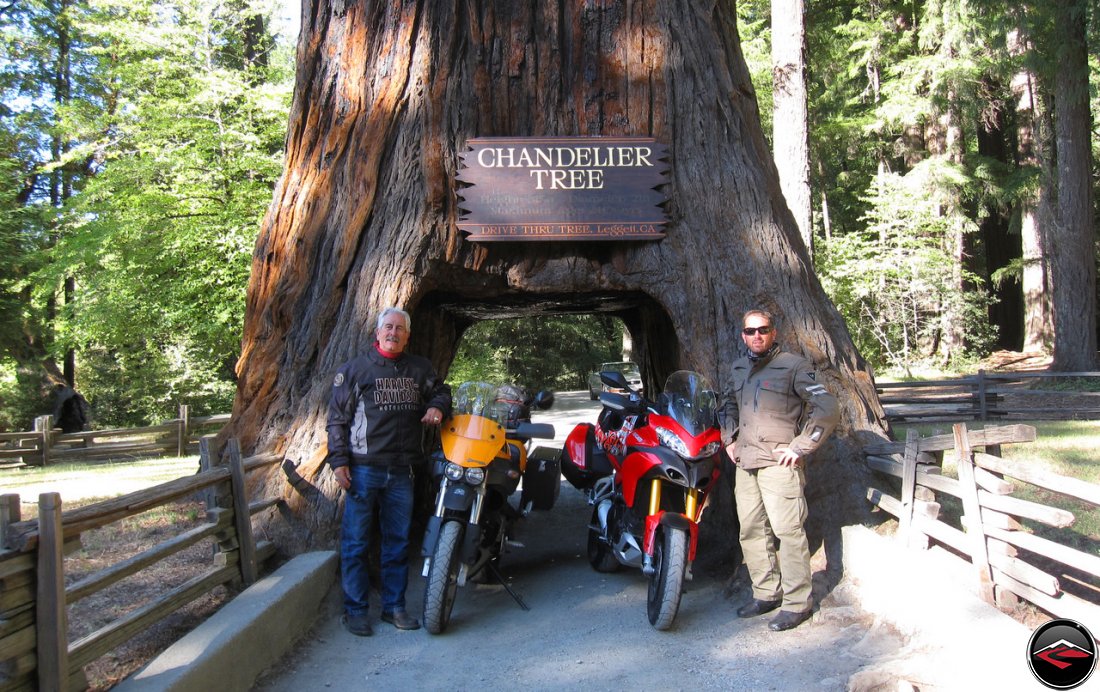 This will be photo we'll use to remember this trip.
The Lost Coast; We Found it!
---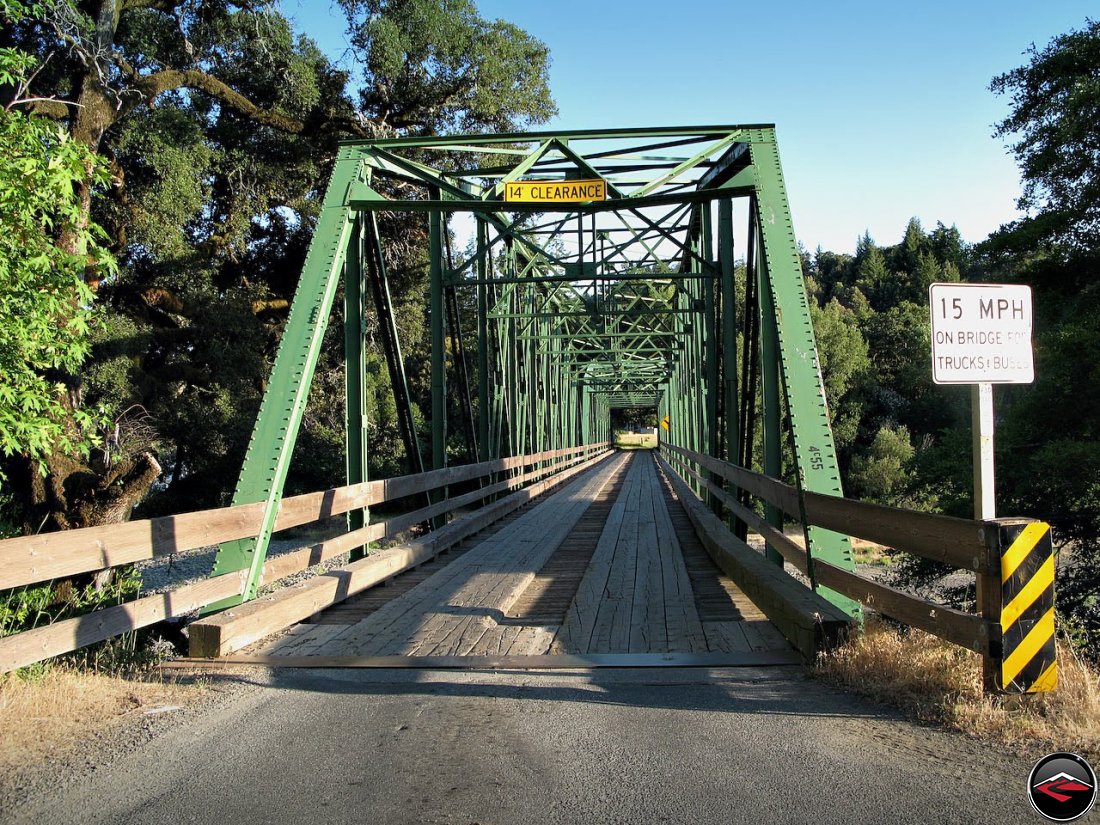 We spent the night in Garberville and headed out first thing to find the Lost Coast. For years I've read about this road, but have never been able to make the time to head into the Kings Mountain Range. We started out by heading west along Brice/Thorn Road.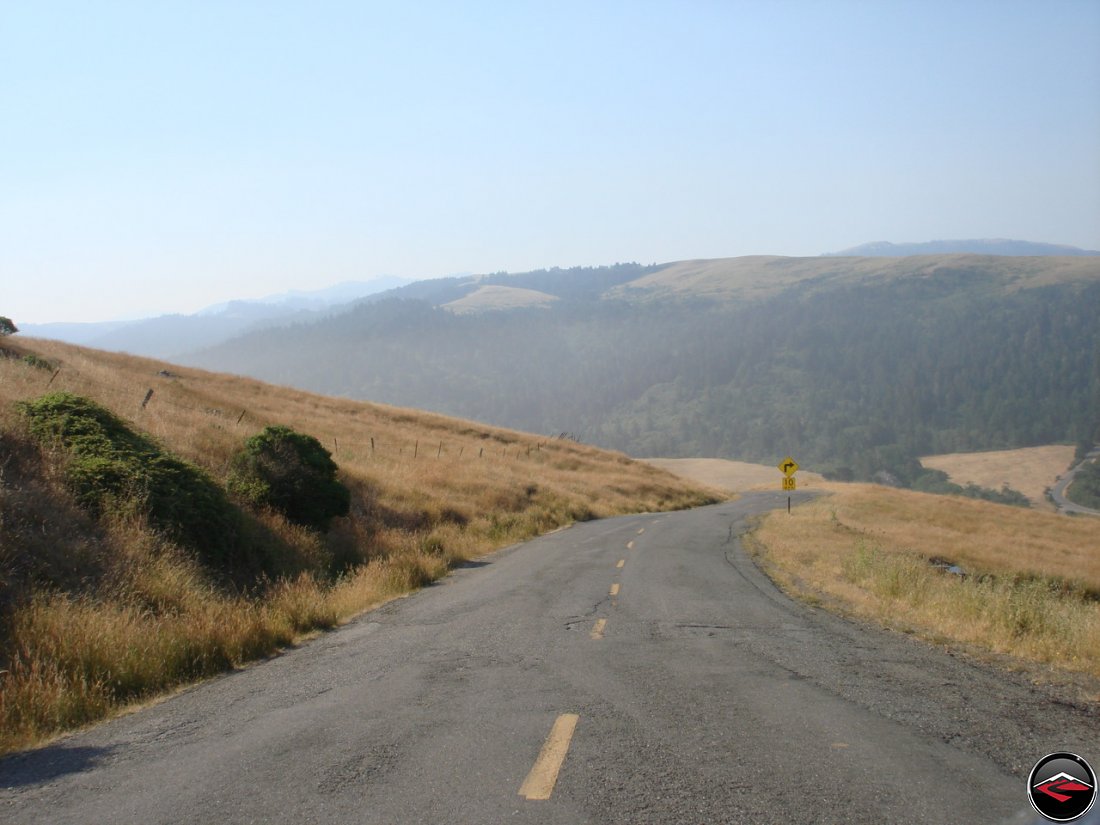 We turned north onto Ettersburg Road (and then Mattole Road) and even though the temperatures were cool, the grasses were cured and brown.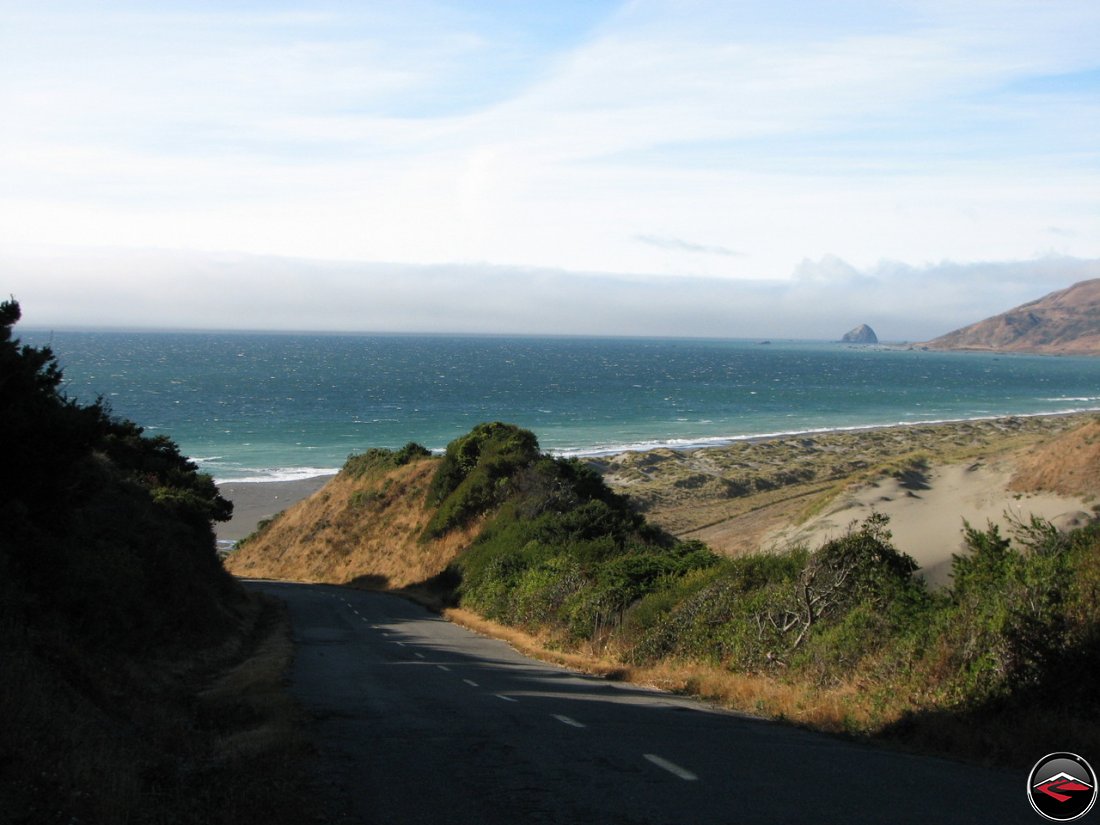 And just about the time that I'd thought I'd taken a wrong turn we came over a rise to this view. We'd found the Lost Coast.
It was named the "Lost Coast" after the area experienced depopulation in the 1930s. In addition, the steepness and related geo-technical challenges of the coastal mountains made this stretch of coastline too costly for state highway or county road builders to establish routes through the area leaving it the most undeveloped and remote portion of the California coast.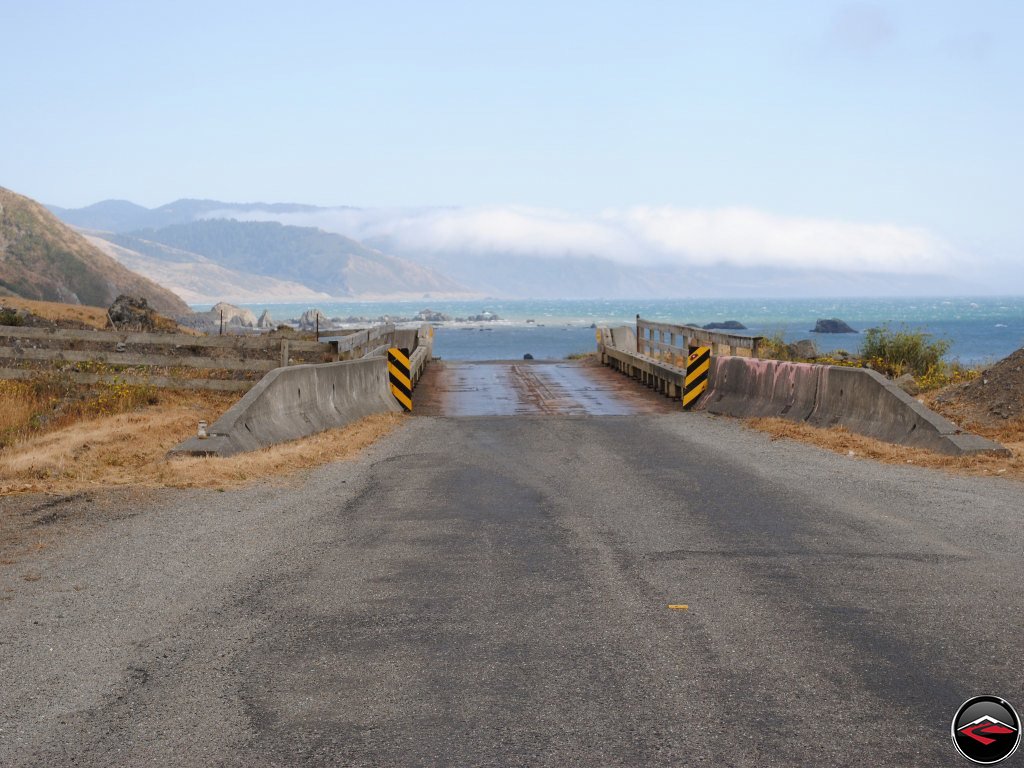 There was virtually no traffic and what road construction there was looked to have seen better days.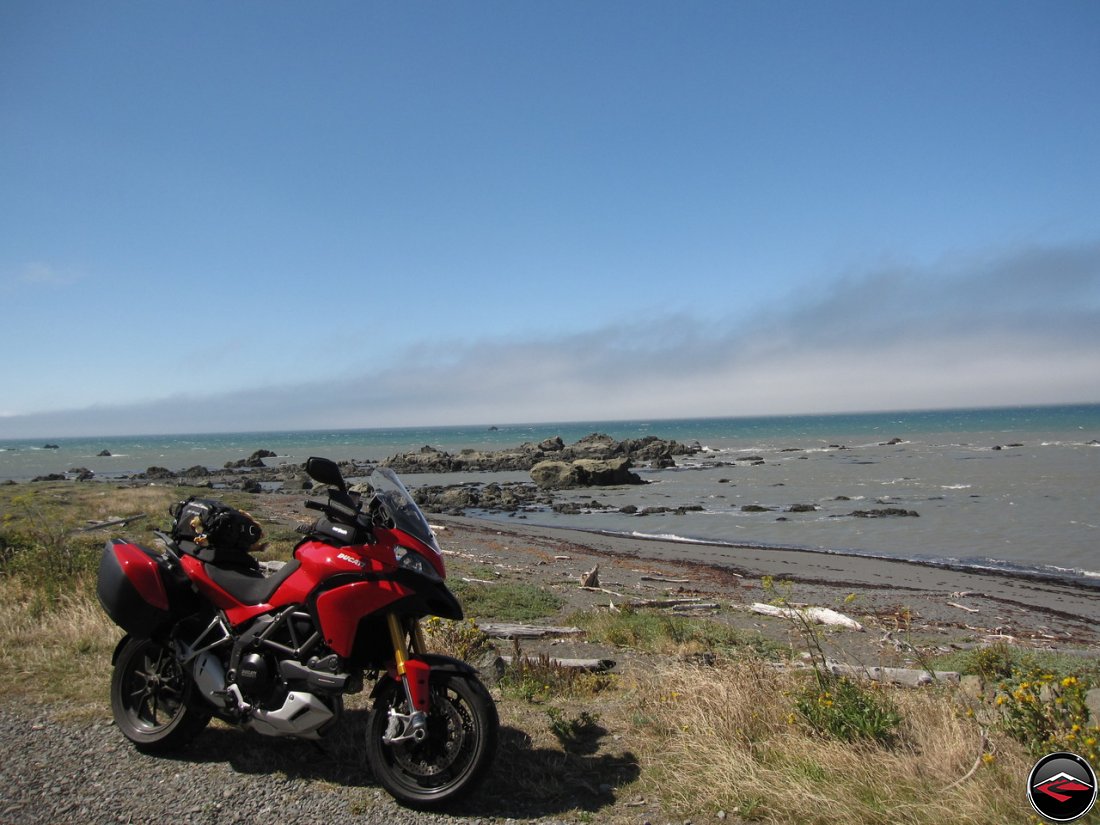 We stopped to take a gander. The wind was howling and the temperatures were in the high-50s. It was quite cold.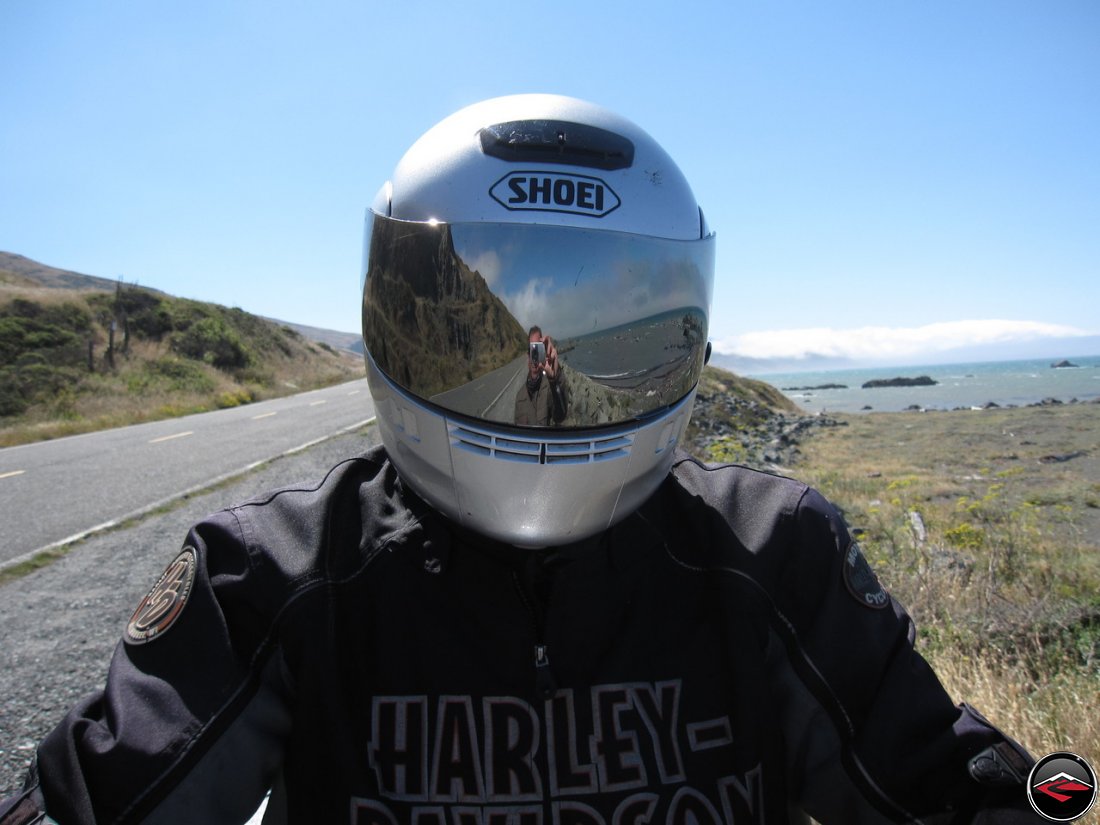 I simply thought this was a cool photo.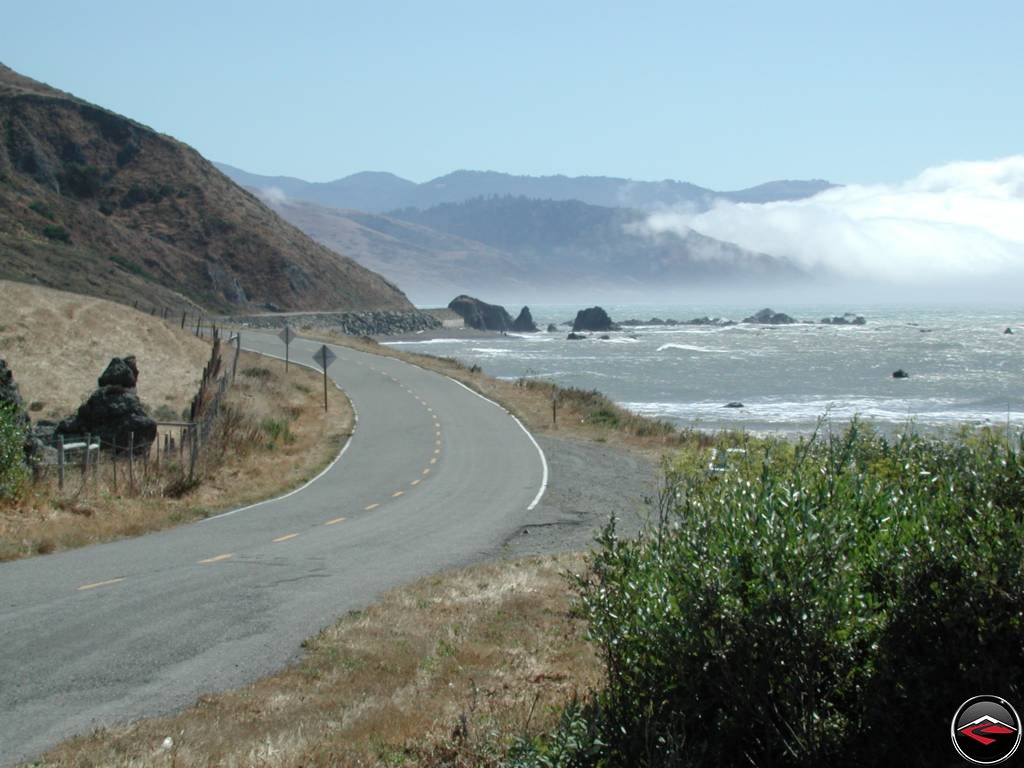 Looking south, the road only follows the shore for a very brief time before it turns inland and back on itself. This is the steepest section of pavement I have ever seen or ridden. I have no idea how they were able to pave it.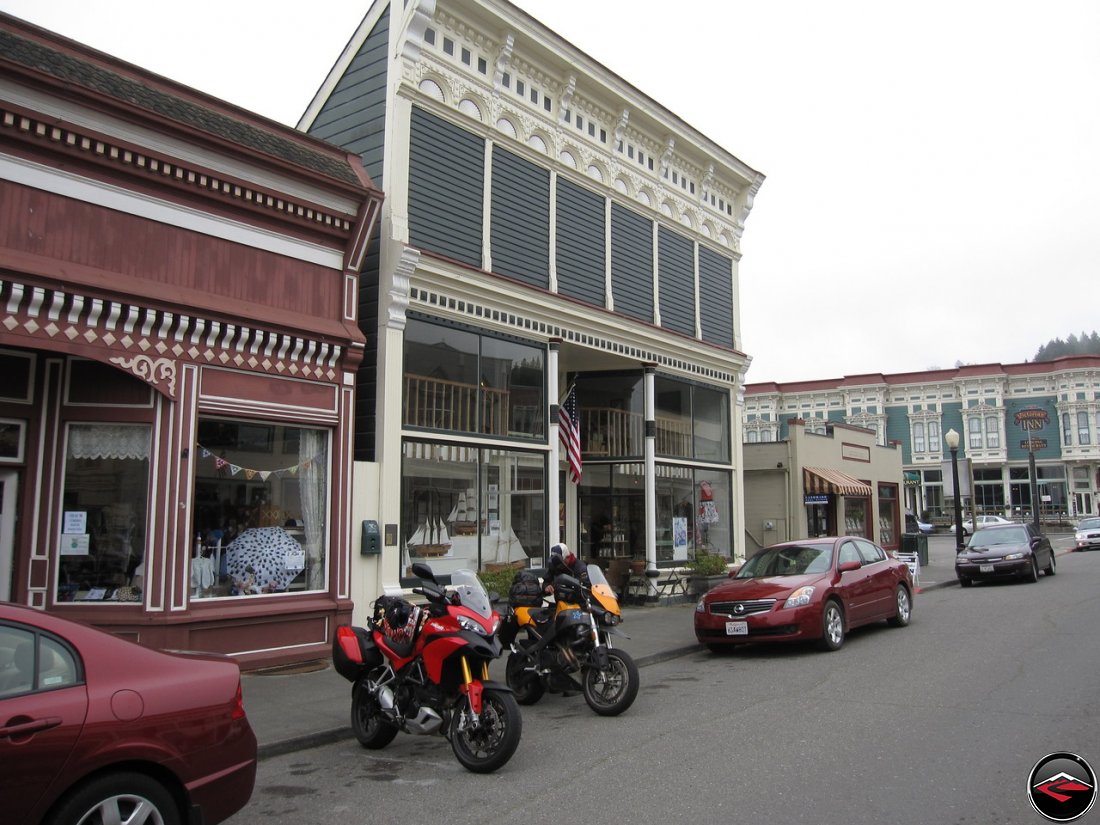 The road meanders through ranches and farmland, through dense trees before it terminates in Ferndale – a town that appears to have been lost in time. The town is so quaint, but I was having a hard time capturing the look and feel of the town.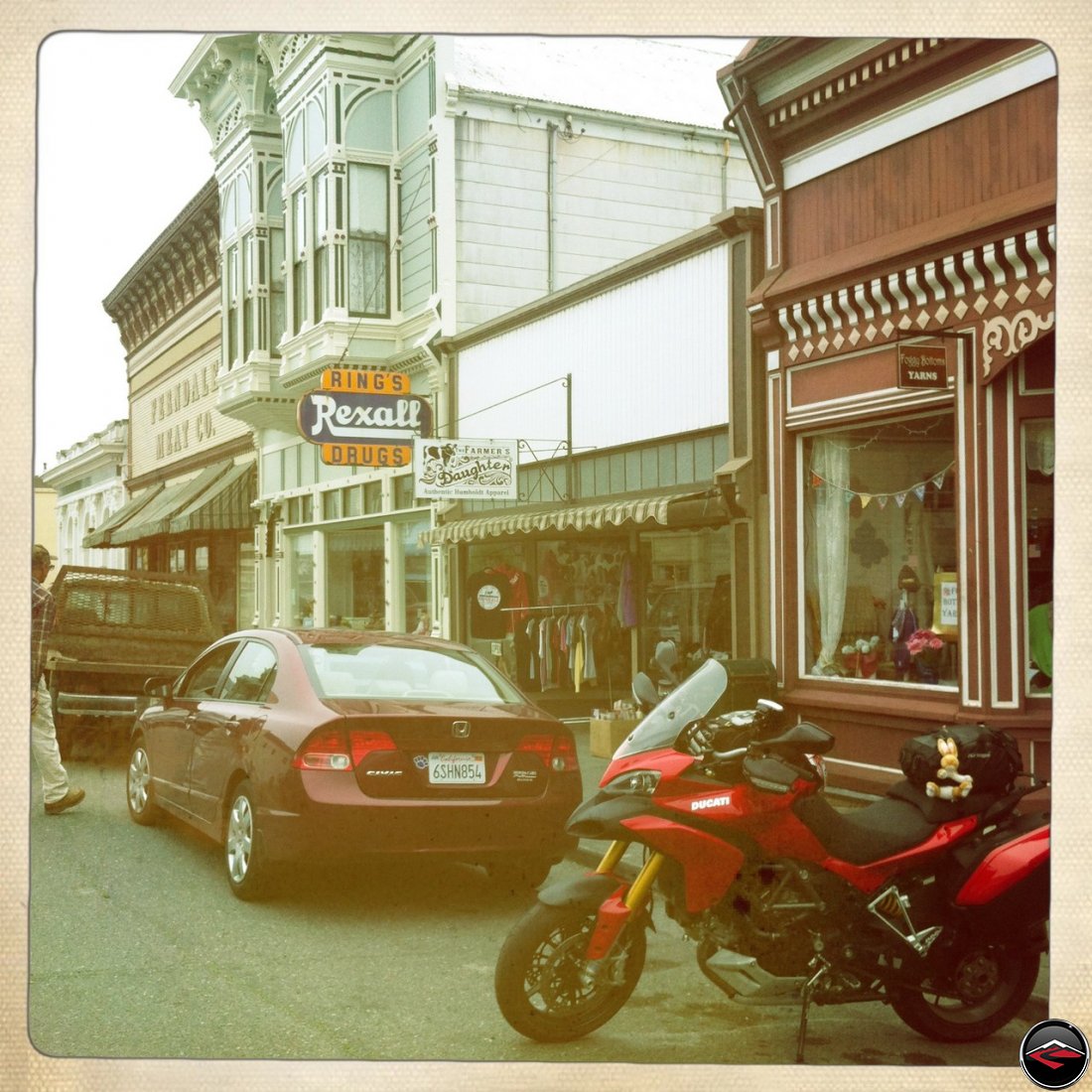 Instagram to the rescue!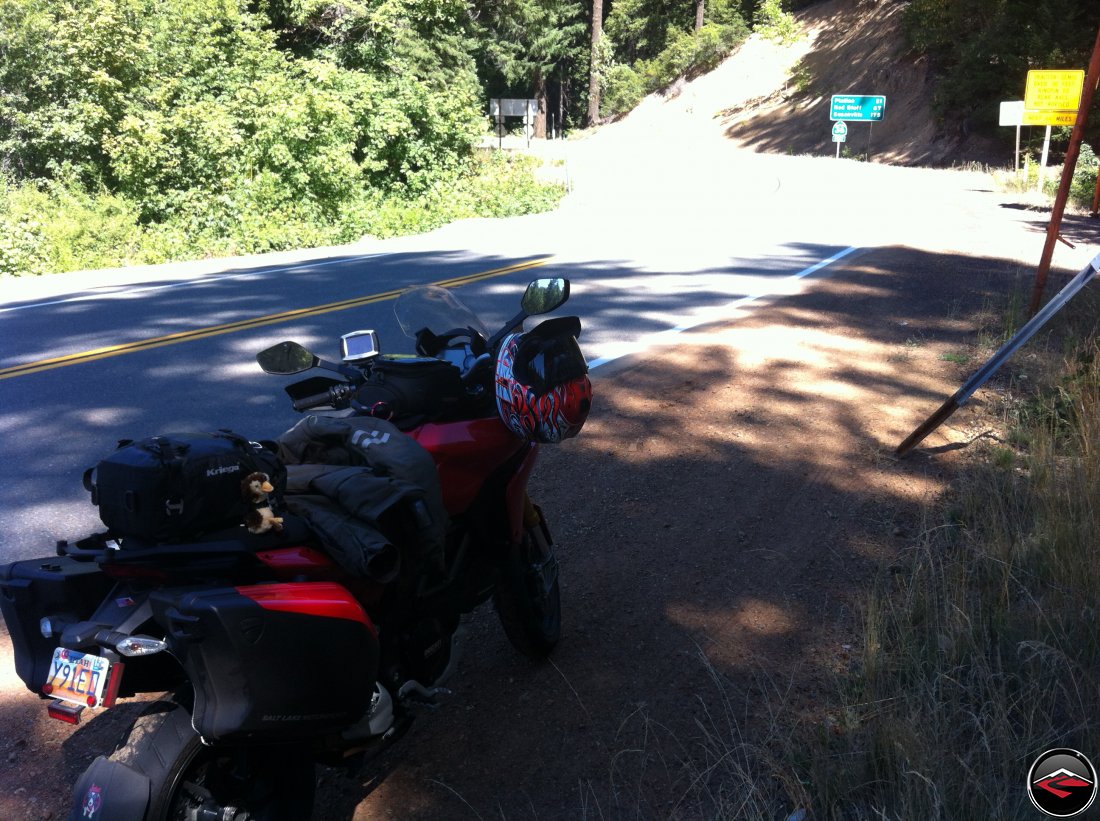 Now it was time to get dad home in time for his anniversary. So we turned East on CA-36 and aimed towards Reno. CA-36 proved to be much more fun than I would have expected offering everything from one-lane tight and twisty corners to fast sweepers with vast vistas.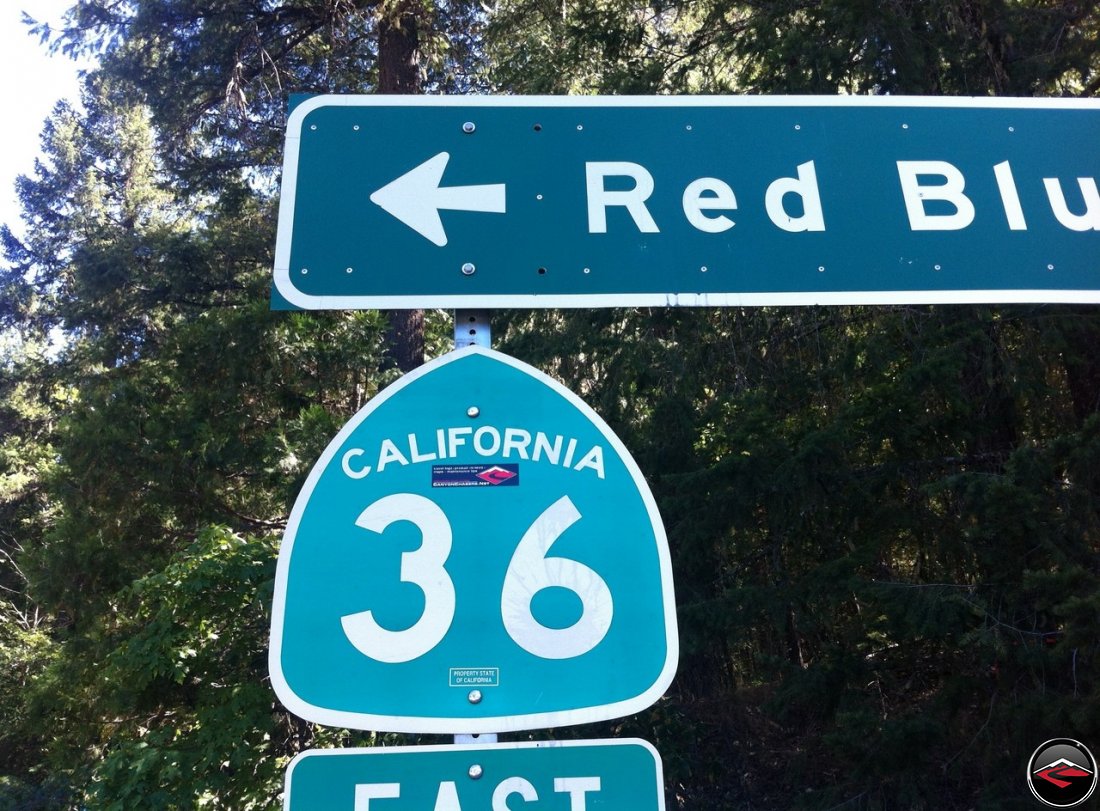 It is CanyonChaser approved – at least until CalTrans removes my blatant vandalism.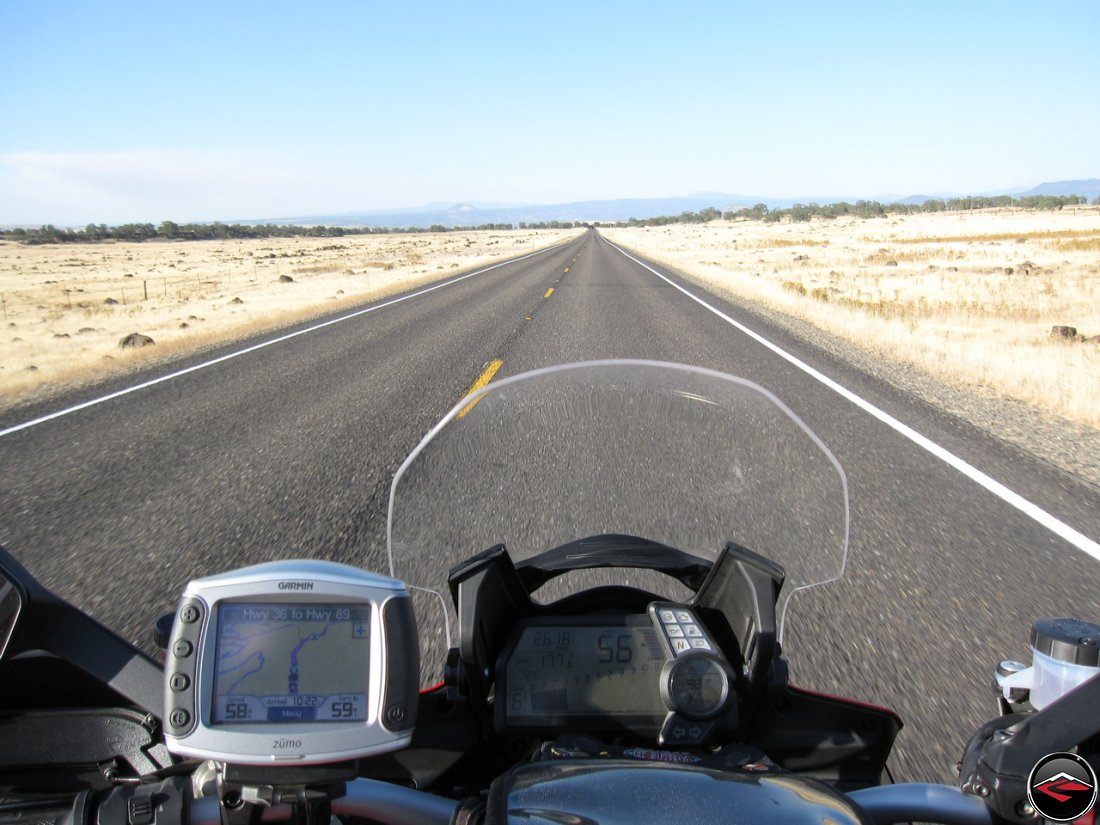 We stopped in Red Bluff for gas then made our way towards Quincy. The majority of great cornering opportunities were now behind us; so sad.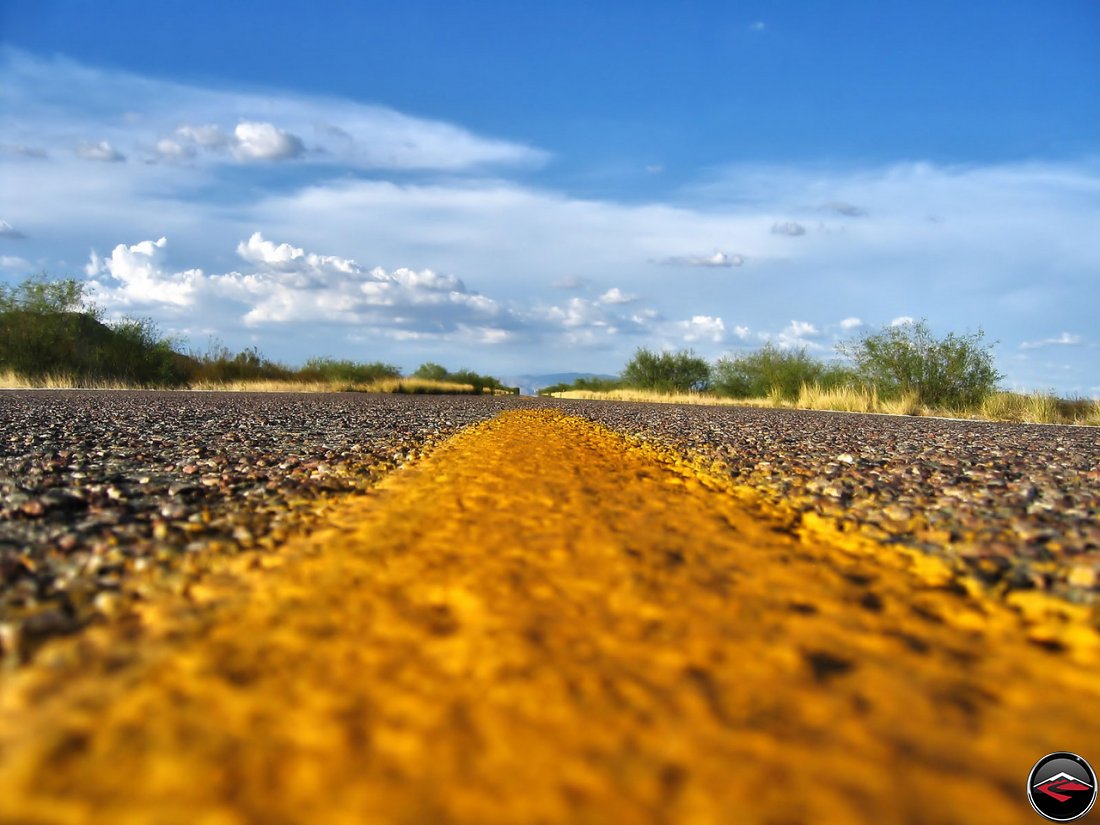 Long, straight, lonesome highways. California is such a diverse place.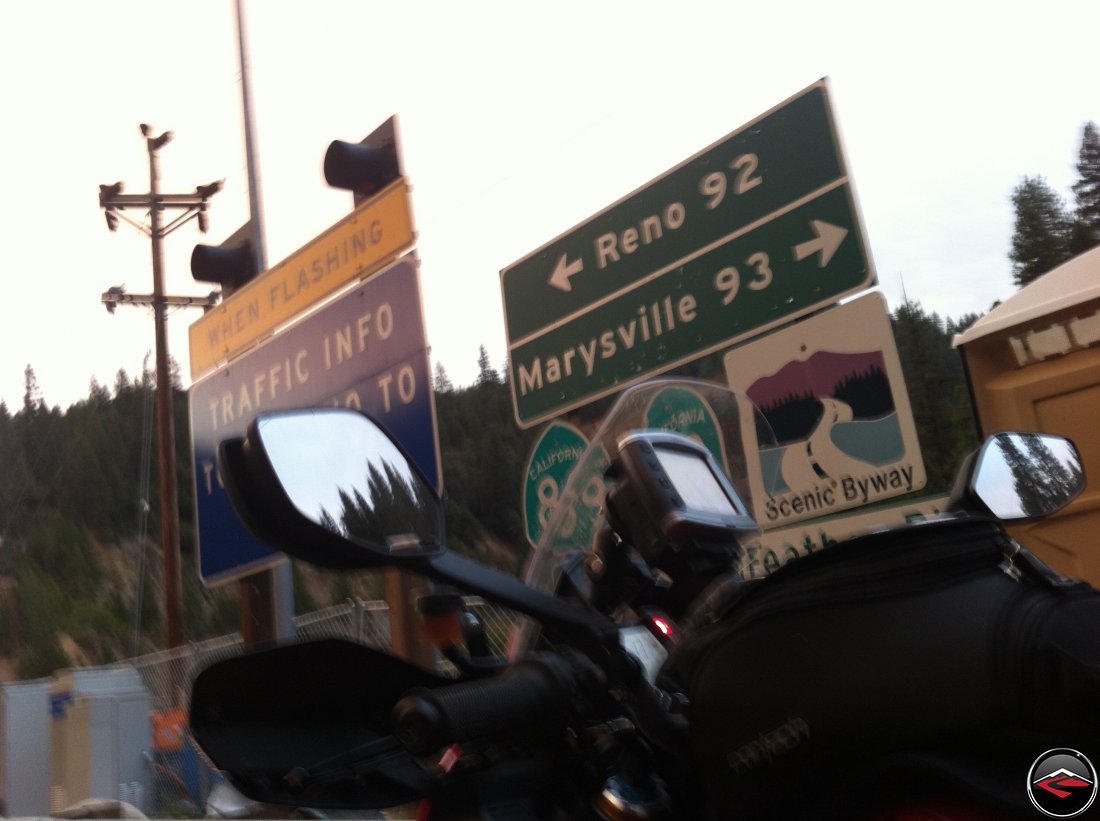 Just as the sun was dropping below the horizon, we made it to Quincy. But this sign makes it look like Quincy is about a half a mile from the middle of nowhere.
To Cross a Desert – Again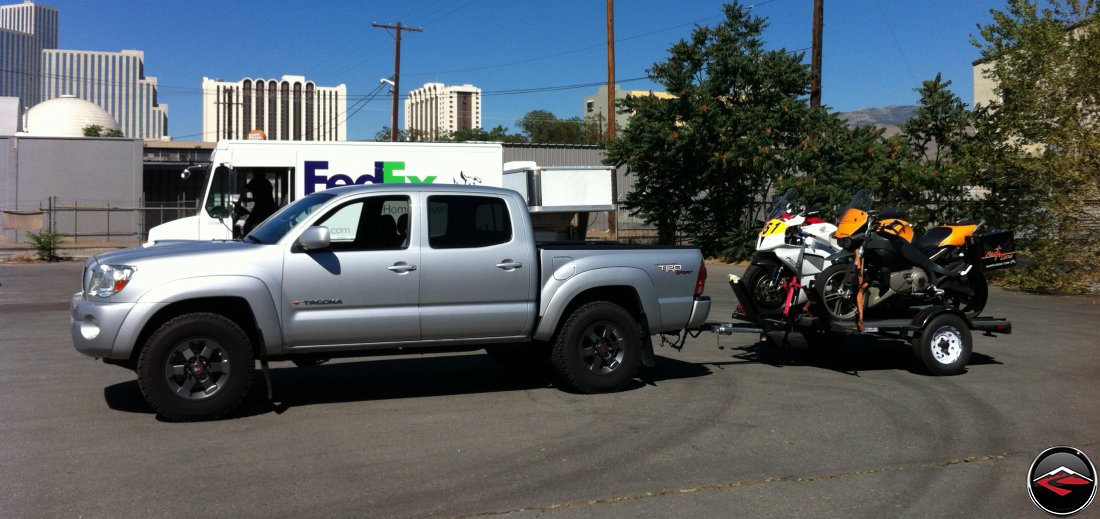 Alas, the trip was now over. Quincy was less than an hour from Reno. We went to my buddies shop, picked up the pickup and loaded up the bikes as well as a special delivery bike that would be returning to Salt Lake.
Final Thoughts
This was a "trip of a lifetime" for more than one reason. As I imagine it is with most fathers and sons, there have been times of great conflict and while my father and I have always had a good relationship, there were a handful of issues lying just below the surface.
Not only did this trip allow my father and I to reconnect over the one thing in life we have most in common, that common ground allowed us to adress some of those underlying issues that had been creating friction in our friendship for many years. Not only am I grateful for the time I got to spend with my father, but we are also now closer than we have been in years. For this, I am intensely grateful..