We were so impressed with the Ventura Rack the first time, that we picked up more than one set for our own bikes. On the Ducati, the mounting system is significantly easier than on the Triumph, but the installation could vary significantly based on the type of motorcycle you are attaching it to. Plus Ventura makes racks for just about every motorcycle out there, so if you've struggled to find a luggage system for your bike, you really should check out what Ventura has to offer.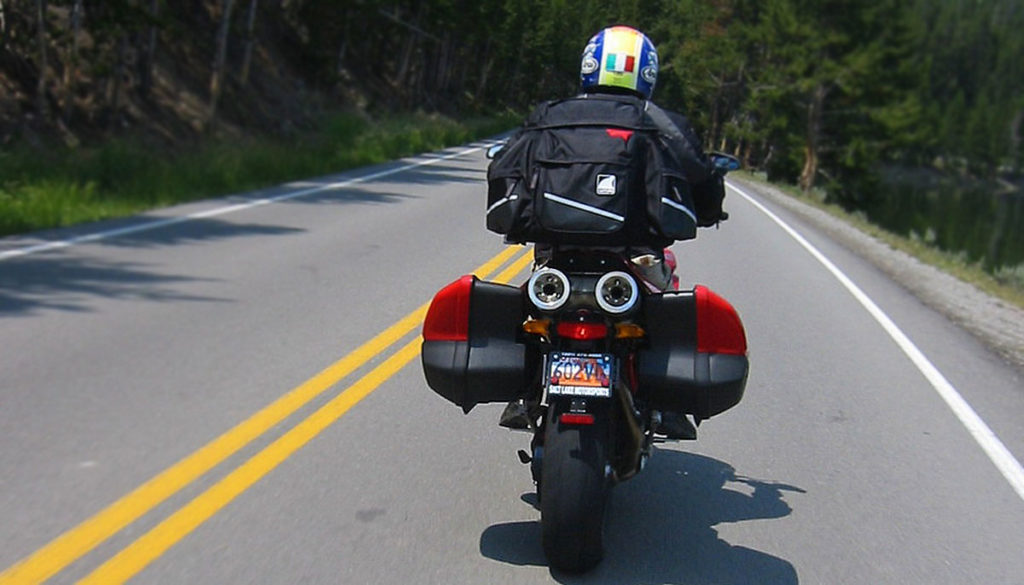 On the Ducati, the rack replaces the OEM grab rail, so four bolts and about 9 minutes in the garage are all that's required to install the system. Ventura also says the bag should be run facing forward unless you have a passenger – we got the 51 Liter Aero-Spada VII and if faced forward it was too large and didn't leave enough room for the rider. So we ran ours facing backward which does put a bit more weight farther back than we would like – but what do you do. At least the system is flexible enough to work either way. But the arrangement did give the bike a bit too much rear weight bias making wheelie's come a little too easy. However, when faced backward, there is ample space for a passenger and our passengers all commented on liking the extra security of having "something" behind them to keep them from falling off the back of the bike. But it must be stressed that the Ventura rack is not capable of having a passenger lean back on it, but one of our testers loved the idea because his 11-year old daughter loves to go for rides with him and he loved having the added security.
Once installed its rock stable, even though Ventura warns that it should not be used as a backrest – we'd agree. The four 6mm bolts would not be up to the task of somebody leaning back on it – at least not for very long. We're not too keen on top-cases, but a top-bag is much more acceptable, and nine more minutes with an 8mm socket will have you back to looking OEM.
At 51-liters, the Aero-Spada VII is enormous. We had to be careful not to over pack and overload the systems weight limits, which would be very easy to do with a bag this big. But having a little extra space was nice when on the road because we could toss in a bottle of wine or pull off layered gear and get it stowed without much fuss.
If you don't want or cant run saddlebags at all, Venture has a two-bag system that zips together for double the space – we advise getting the smaller Aero-Delta VII Expandable, or Aero-Delta VI for the second bag to make sure you're not crowded out of the front seat.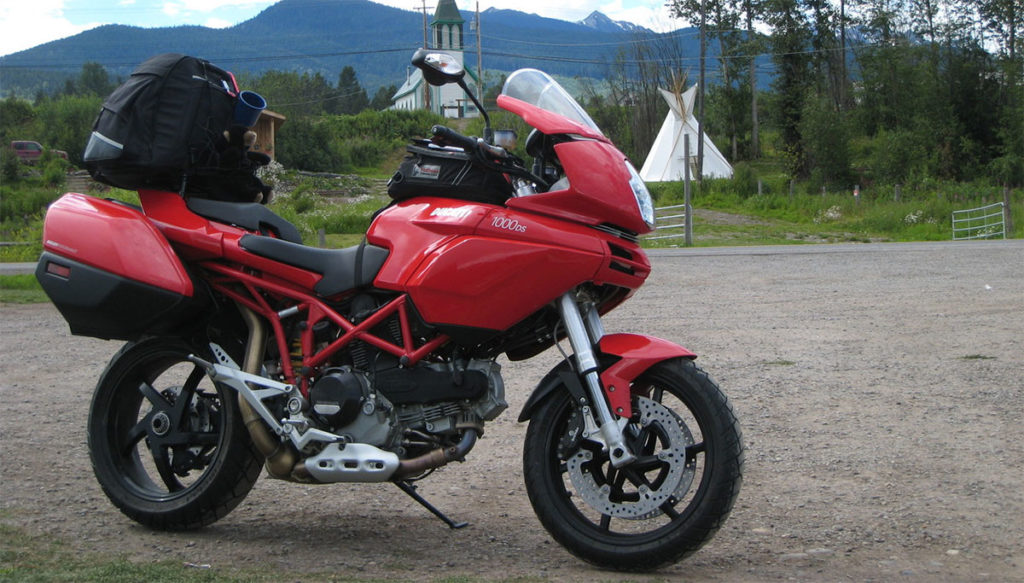 Removing and re-installing the bag couldn't be easier. If you are used to saddlebags where it's a bit of ordeal every morning, you'll love the simplicity of the top bag. It slides over the rack like a T-bag. Two clips hold things in place, but we suspect the bag wouldn't have budged even if there were no straps to secure things down. Even during high-speed runs in windy conditions the bag stayed put, leaving all paint and delicate surfaces completely untouched. After a short while, we quit fussing about it altogether.
Construction was exceptional, thick Cordura nylon will likely never wear out and well placed retro-reflective stripes improve visibility in wet conditions. Speaking of wet conditions, even after several hours of riding in the rain, the contents of our bag was a dry as Aunt Alice's overcooked turkey on Thanksgiving day.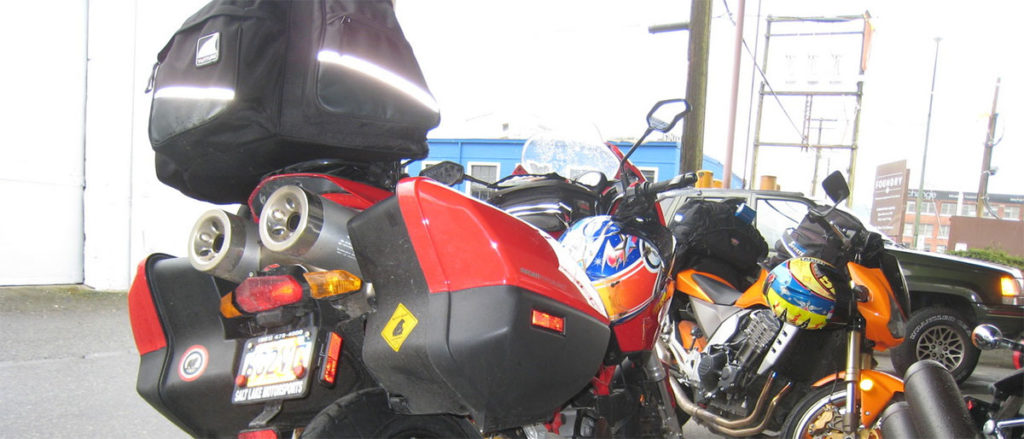 If you don't need the full-size top bag for shorter trips, our kit came with a smaller rear rack that would be ideal for strapping a sleeping bag or small soft-bag onto the back seat. Ventura even offers smaller "bum-bags" that mounts to the smaller racks.
We can't give enough praise to Ventura. Its one of the best sport touring systems available on the market, and the quality of the product makes it worth the slightly higher price than a traditional saddlebag system – but with hard-luggage systems costing upwards of $1000, a Ventura system suddenly becomes an extremely good value. And if you can't run saddlebags at all, this is a fantastic option. The system is exceptionally flexible, able to meet the needs of most any traveler and the quality is good enough that one set of bags will likely last a lifetime. The only downside is you'll have to purchase new metal racks specific to any new motorcycles that find their way into your garage.
Installation
The install of the Ventura rack was quite simple. Each Ventura rack bracket is made specifically for a subframe for optimal fitment. This means removing the rear plastics in my case, but that's a small price to pay for more storage space.
My instructions told me to "simply insert the brackets into the rear opening in the subframe and cut the undertray to allow the bracket to stick out of the bottom of the undertray". When I fit my particular brackets, it appeared as if no cutting was necessary (bonus!). Once the brackets were installed, it was time to put the tail of my bike back on.
The brackets are hardly noticeable when the bike is together, meaning I wouldn't need to remove the plastics to install or remove the arms every time I wanted to refit the rack to the bike. If you were truly picky you could pull the brackets when not in use, but I wouldn't ever bother. The arms of the rack seem more universal and fit to the rear of the passenger foot pegs and the newly installed brackets. Also included was a washer to use as a spacer for the other foot peg bolt, assuring that they are both shimmed to the same width to avoid twisting. Very smart!

After installing the brackets and arms, you have simply to choose the rack you wish to use. The grab rail simply bends between the arms to give a finished look and allow a place for a pillion to brace themselves. The "small" rack holds a bag that resembles a fanny pack: great for day trips or running around town. The large bag is what I was really interested in. At 52 liters of displacement, it was spacious enough for sport touring. In Sydney, it held my laptop, a change of clothes, extra snacks and room to spare. Stateside, I planned on storing a sleeping bag and perhaps my air mattress in it.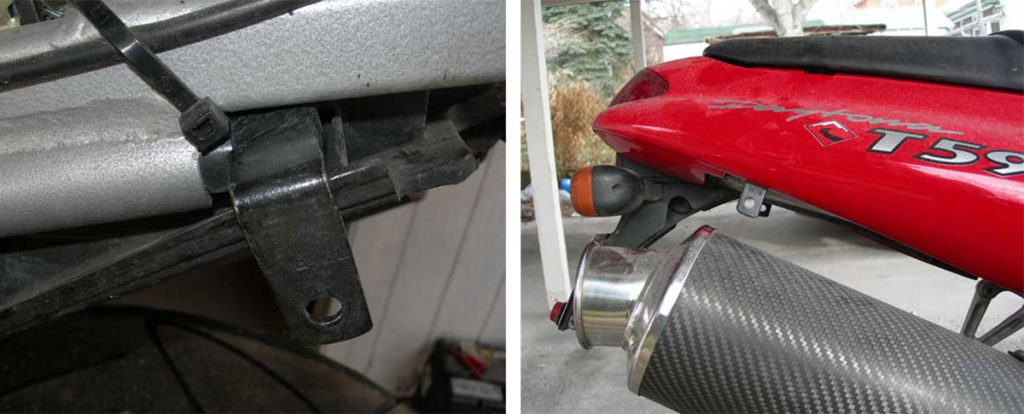 When I finally got around to packing the large bag, I was amazed. While it doesn't look like much storage, it engulfed 2 full sized sleeping bags in compression sacks as well as my mattress and would have held my tent had the polls been a bit shorter. (I later found out that outdoor shops can make you new, shorter polls upon request). Once the main compartment was full, it still left a bit of room left in the three exterior pockets… perfect for things like bungee cords, duct tape, plexus and a rag for your faceshield.
All of this fits neatly on the rear rack while still allowing a pillion and a pair of panniers! If you don't ride with a pillion, the bag can be turned around to locate the weight of the bag over the rear seat instead or farther back on the rack behind the rear wheel. It is also possible to purchase a second, matching bag and zip them together. One rests on the seat while the other rests on the rack. This effectively eliminates the need for panniers, keeping your paint safe and making loading and unloading a breeze.
Loading the bags on the bike is as simple as placing the vertical part of the rack into the specially designed "pocket" in the bag. Two clips hold the bottom of the bag to the rack, and the pocket ensures the bag does not rotate. I found this to be quite a lot easier than loading up Crystal 's panniers every morning. The entire system works very well.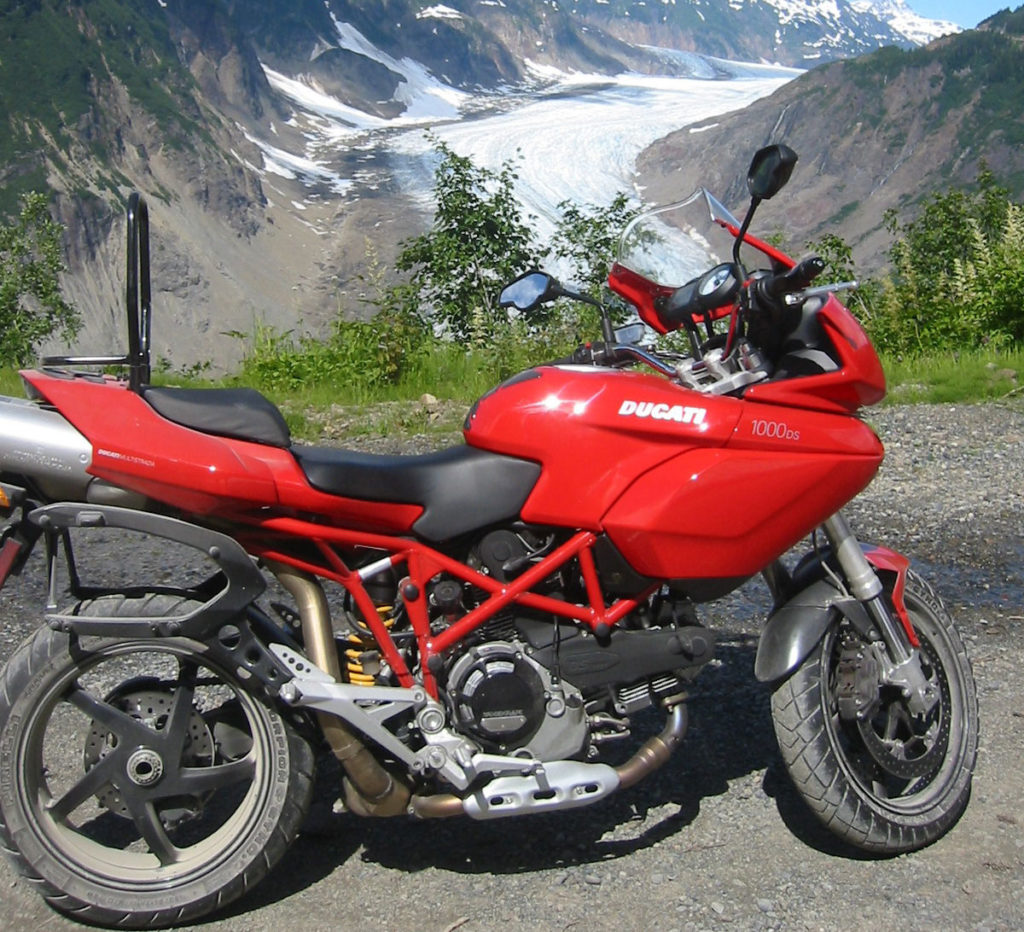 I tested these bags on our annual Memorial Day Ride to Southern Utah. Originally they were purchased to supplement my 2-up riding with Crystal, but Crystal has recently started riding her own bike. So for the first time in almost two years, I needed to only carry myself and my gear. No pillion and no extra luggage. I used this opportunity to leave my panniers at home and test the Ventura rack solo. I fit all of my clothes for a three day trip in cold weather as well as all my toiletries and my sleeping bag. I also stuffed the mattress in there, and all sorts of accessories into the side pockets. I didn't find out about the tent pole service until the last minute, so I simply bungee the tent to the rear of the bag.
All weekend it loaded and unloaded quite easily. I even removed the entire upper rack with the luggage still attached while looking for my registration to show an interested Sheriff. It came off in less than 30 seconds and went back on just as smoothly. Taking the bag off and leaving the rack on was just as simple.
We rode through a bit of heavy wind, some rain and even a bit of snow. Everything in my bag stayed dry, but it wasn't really torrential downpour. For cases of monsoon, the Ventura system did come with a rain cover that should do the job just fine. It held together and the only complaint I had at all was the outer side pockets. All of the zippers ran through the middle of the pocket instead of over the top. It made loading them up to the brim a bit more difficult since you had to stuff things "up" into the pocket, but upon discussion, we concluded it must make the pockets more weatherproof. It didn't really prove to be any problem, but if I wanted to change it I bet a seamstress could fix it for the cost of a new set of zippers and some thread.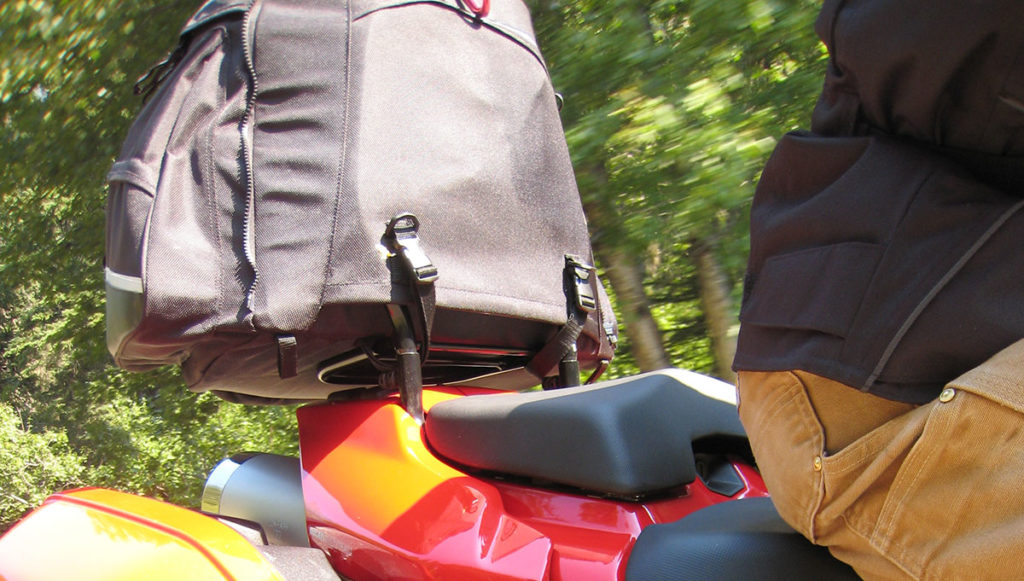 All in all Ventura makes a wonderful system that allows me to run two-up with more storage, or run solo without the need for panniers at all. It also makes carrying things around town much easier. I can pop down to a local shop and have room to carry things home. Since I received my Ventura rack it hasn't come off the bike once. I leave it on all the time, and it usually has the "sport" bag on it for local riding. If I wanted to, it would only take five minutes to pull it off, but it's so handy I just leave it be.
So if you're in the market for luggage, or need more carrying capacity, look up Ventura racks. I bet they make a fitment for your motorcycle. They make great luggage, a wonderful multifunctional rack, and a conversation piece… since nobody in America seems to be clued into how great these bags are (yet).
For more information or to see if Ventura makes a rack for your motorcycle, swing on over to the official Ventura MCA website.
---