ID-NF-456 | Dobson Pass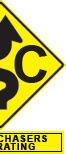 Distance: 16.0 Miles (25.75 km)
Rating: 5-C, Technical, tight, narrow shortcut between I-90 and Coeur d'Alene River Road. Ratings Explained »
Travel: Either direction for best results
Start: Wallace, ID
End: Junction with Coeur d'Alene River Road
Fuel: Wallace, ID
Along the Way: The area earned some notoriety in 2009 when three men wanted to go on a road trip and murdered a couple for their car. The crime was covered in the local news as the Dobson Pass Murders.
Highlights: The whole point of this road is the glorious little run over Dobson Pass
Advisories: Small mountain pass, remote and rugged. Use caution. The area can see a lot of traffic during summer months from people floating the river.
Summary
Leaving the interstate behind, you head almost due north on Forest Road 456, which is 6th Street in Wallace. This rarely used road is maintained but doesn't see much traffic except during summer months when the area is popular with tubers floating the North Fork of the Coeur d'Alene River.
As you follow Ninemile Creek to the east. Be mindful of a slight right onto Dobson Pass where the fun begins. Several tight switchbacks and even tighter corners will run you up and over Dobson Pass, an eight to 12 percent grade over six miles and over 32 corners and you'll arrive at the summit wondering why someone would build such a great road in such a remote area. Well, there is an active mine where zinc, silver and lead is extracted.
Once you drop back down the backside of the pass, the road will find it's calm and gently lead you north, following the Beaver Creek, until it eventually terminates at Coeur d'Alene River Road
---
Road Rating System
The first part of our rating describes how technical we feel that road is. Numbers one through five with five being the most technical and one being a more mellow road with few challenging corners. The second half of the rating is a letter grade. A rating of "A" would be a road that is in great condition and a grade-F would be a crumbly, slippery or degraded surface.
---
More Idaho Roads