ID-P1 | Old Idaho Highway 7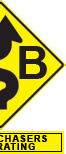 Distance: 28.0 Miles (45.06 km)
Rating: 5-B, Short but wondrously technical with tight corners on a steep grade. Ratings Explained »
Travel: North to South for best results
Start: Kendrick, Idaho
End: Orofino, Idaho
Fuel: Gas is available at either end, but the road is less than 30 miles long.
Along the Way: Incredible, vast open views overlooking the Clearwater River. Dworshak State Park and Dworshak Reservoir are not too far out of the way.
Highlights: When you come over the hill and begin dropping down towards the river, particularly during the golden hour, it's a sight to behold.
Advisories: The road navigates a couple unincorporated farming communities, so expect agricultural traffic. The best parts of the road climb up (and down) a very steep grade with some pretty exposed corners.
Summary
This is one of our all-time favorite roads in all of Idaho. It's less than 30 miles long, but when hit at the right time, it is a pure delight. Running it north to south is our favorite direction, because when you hit the top of the hill, the views are utterly spectacular, but if you are uncomfortable with downhill corners, you will likely find that the less scenic, but mostly uphill south to north route will be more to your liking.
Starting at the intersection with ID-3 and P1, Wauncher Gulch Road, just north of Kendrick, Idaho, you begin by riding East through gently rolling hills sprinkled with a non-stop series of consistently sweeping corners. It's lovely riding, but when the road makes a 90-degree turn to the south and begins heading downhill towards the Clearwater River and the famous ID-12, the road becomes a pure delight! You'll be riding through the unincorporated farming community of Cavendish. And for our Vermont readers who always seem to say "this place reminds me of Vermont", it is said that Cavendish was named after Cavendish, Vermont because a traveler, you guessed it, said it reminded him of Vermont.
As you get to the bottom of the gulch, you'll be on the north side of the Clearwater River until you come into Ahsahka, Idaho which seems to serve only as the community that serves only the Dworshak Dam. Beyond that very little is known about Ahsahka, Idaho. Even it's Wikipedia page is pretty much devoid of any details.
Once you put Ahsahka in your rear view mirror, you are just outside Orofino which is a fantastic little town filled with restaurants and hotels and fuel and a great place to stop for lunch or for the evening.
---
Road Rating System
The first part of our rating describes how technical we feel that road is. Numbers one through five with five being the most technical and one being a more mellow road with few challenging corners. The second half of the rating is a letter grade. A rating of "A" would be a road that is in great condition and a grade-F would be a crumbly, slippery or degraded surface.
---
More Idaho Roads