OR-NF-3240 | West Evans Creek Road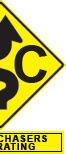 Distance: 24.4 Miles (39.27 km)
Rating: 5-C, A lot like East Evans Creek Road, only a little longer with a bit more scenery Ratings Explained »
Travel: Either direction for best results
Start: East Evans Creek Road
End: Upper Cow Creek Road
Fuel: None Along the Way
Along the Way: Lots of cornering opportunities with little traffic
Highlights: Densely vegetated and secluded twisty mountain road that nobody seems to even know exists.
Advisories: Narrow, Oregon roads like this see very little traffic, so expect anything in the way of road degradation and virtually zero traffic – and what little traffic there is isn't expecting to see you.
Summary
Riding from south to north, connect with West Evans Creek Road from East Evans Creek road by turning north. The road will immediately become even narrower and the asphalt with not be in quite as good condition. There will be several rollers as you make your way over the top of a small(ish) mountain range. Near the top the road will open into a small meadow where you can stop and take in the views.
similar to East Evans Creek Road, this is yet another fantastic B-Road that leads you through one of the lesser known areas of Oregon, the Rogue Valley. An area known for its farming and timber production. Featuring a relatively mild climate that allows for a long growing season favorable for many fruits and nuts. In recent years, wine production has become more popular. Additionally, the mild climate and seclusion of the Rogue Valley has made it increasingly popular as a retirement destination, something to be mindful when dealing with drivers in the area.
When you tie back into Upper Cow Creek Road, the road widens, becomes much smoother and you can make your way east to connect with I-5.
---
Road Rating System
The first part of our rating describes how technical we feel that road is. Numbers one through five with five being the most technical and one being a more mellow road with few challenging corners. The second half of the rating is a letter grade. A rating of "A" would be a road that is in great condition and a grade-F would be a crumbly, slippery or degraded surface.
---
More Oregon Roads