OR-32-30F | East Evans Creek Road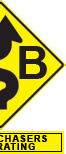 Distance: 44.1 Miles (70.97 km)
Rating: 5-B, Paved single lane through massive Oregon Tree Stands Ratings Explained »
Travel: Either direction for best results
Start: Rogue River, Oregon
End: Intersection Forest Road 3232
Fuel: Rogue River, Oregon
Along the Way: A few overlooks give you a glimpse into the densely vegetated terrain.
Highlights: A series of repetitive corners that allow for a seemingly endless left-right-left-right-left series of turns
Advisories: Narrow, Oregon roads like this see very little traffic, so expect anything in the way of road degradation and virtually zero traffic – and what little traffic there is isn't expecting to see you.
Summary
A fantastic B-Road that leads you through one of the lesser known areas of Oregon, the Rogue Valley. An area known for its farming and timber production. Featuring a relatively mild climate that allows for a long growing season favorable for many fruits and nuts. In recent years, wine production has become more popular. Additionally, the mild climate and seclusion of the Rogue Valley has made it increasingly popular as a retirement destination, something to be mindful when dealing with drivers in the area.
Riding the road from south to north(ish), the pavement meanders through dense tree's and winds its way alongside small creeks and streams as it makes its way up onto the smallish mountainsides. Because of the amount of rainfall that lands on this part of the world, expect debris to be washed onto the road around every corner. Additionally, the road may veer at any time to cross small bridges that are even narrower than the road itself. Light traffic allows for relaxed riding as you take in the scenic beauty of this spectacular region of Oregon. For this kind of road in this state, the road is in remarkably good shape.
For a similar route with less traffic try West Evans Creek Road. It's longer, more secluded and even a bit more scenic.
---
Road Rating System
The first part of our rating describes how technical we feel that road is. Numbers one through five with five being the most technical and one being a more mellow road with few challenging corners. The second half of the rating is a letter grade. A rating of "A" would be a road that is in great condition and a grade-F would be a crumbly, slippery or degraded surface.
---
More Oregon Roads