CA-1NW | The Lost Coast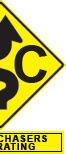 Distance: 76.0 Miles (122.31 km)
Rating: 5-C, Californias lost coast may be hard to find, not pristine pavement, but extremely rewarding Ratings Explained »
Travel: South to North for best results
Start: Garberville, CA
End: Ferndale, CA
Fuel: Available at either end. Not much available in the middle.
Along the Way: Its hard to imagine this kind of coastal real estate hasn't been snatched up, and we are so grateful that it hasn't.
Highlights: The coastal section is spectacular but the town of Ferndale makes it worth it all by itself.
Advisories: Very sporadic asphalt conditions, including one short section of dirt (about 100 meters long) and a single-lane steel deck bridge can be extremely slippery in the wet.
Summary
For years we had heard about this route, read articles about it, but always struggled to actually find it. But thanks to the Google maps, modern GPS systems and a little bit of local knowledge we were finally able to find The Lost Coast.
Now, for a fair warning; the road could not be called pristine by any stretch of the word. It's crumbly, bumpy and even has a short section of dirt in the middle. So if you and your bike cannot handle such conditions best look elsewhere. However if the sense of Adventure and finding the road less traveled is your thing, this is the road for you. This is another one of our favorites, despite the less than optimal road conditions.
We prefer running from south to north because then the journey ends in Ferndale, which is the perfect way to end this road. Also, there are no real highway numbers here, all the roads are named.
Leaving Garberville, head west on Briceland Thorn Lane. A great road that will take you all the way to the coastal town of Shelter Cove about 25 miles away, a great ride in and of itself with a smoother road offering lots and lots of fantastic corners. However, about 12 miles down Bricleand Thorn Lane you need to turn north onto Ettersburg/Honeydew Road. This road is much smaller and has many more bumps. Stick to the pavement and eventually the road will become Wilder Ridge Road where you will be dancing between dense groves of trees and humble, small farms. This is where the short section of dirt is, but be advised it's fairly steep with a couple of tight switchbacks. But it's only about 100-meters long, so don't give up.
After the dirt section you will come to a Y-intersection at Honeydew Country Store and the local Post Office, Turn left (west) onto Mattole Road (do not cross the bridge). Mattole Road will follow the meanderings of Mattole Creek to your right and wander past many more small farms. When you eventually cross the creek be sure to turn left (west) and continue on your way.
When you come to the very small town of Petrolia, turn left (west) you are almost there. The road will climb up one last ridge and as you come down the other side you will be greeted with the Pacific Ocean. The road will turn north and follow the narrow beach and over one single-lane, metal deck bridge.
When you pass a small homestead on your right (imagine what it's like to live there) the road will turn back on itself and climb straight up the sheer face of a mountain. This is probably the steepest grade road we have ever seen. The road will now take you inland through more amazing corners that twist through dense trees and over more undulating terrain. Just when you start to wonder if the magic will ever end, the road drops sharply and deposits you in the incredible town of Ferndale.
We suggest you plan on spending a little time in Ferndale. The town looks like it hasn't changed since the 1930s, complete with vintage signs and Victorian style homes. Even the local service station looks like it came right out of Radiator Springs.
---
Road Rating System
The first part of our rating describes how technical we feel that road is. Numbers one through five with five being the most technical and one being a more mellow road with few challenging corners. The second half of the rating is a letter grade. A rating of "A" would be a road that is in great condition and a grade-F would be a crumbly, slippery or degraded surface.
---
More California Roads