CA-1A | Conzelman and Bunker Road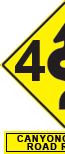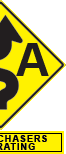 Distance: 8.7 Miles (14 km)
Rating: 4-A, A few great corners and classic view of a bright orange bridge Ratings Explained »
Travel: Either direction for best results
Start: CA-1 Exit 442
End: CA-1 Exit 442
Fuel: Its only eight miles long
Along the Way:
Highlights: The pullouts and views of the Golden Gate Bridge are the reason why you are on this road.
Advisories: This is the bay area so it could rain and don't be surprised by fog. Oh, and it will probably be cold.
View Larger Map
Summary
This is a really short loop its a tragedy that so many people just whiz past without taking the time to enjoy this cool little road.
If you are heading north out of San Francisco, take the exit right after the parking lot, exit 442, its easy to miss, then swing through the crazy exit to head up the hill.
There are several little pullouts, but hold out for the ones that are farther up the hill because they will offer better views of the bridge. Hop out, take some photos. If its foggy, its not all lost, be quite and listen for the molodic tones of fog horns.
You have an option of turning it into a loop, or you can go back down the way you came. In any case, these short little eight miles are jam packed with riding bliss.
---
Road Rating System
The first part of our rating describes how technical we feel that road is. Numbers one through five with five being the most technical and one being a more mellow road with few challenging corners. The second half of the rating is a letter grade. A rating of "A" would be a road that is in great condition and a grade-F would be a crumbly, slippery or degraded surface.
---
More California Roads