SD-14/85 | Spearfish Canyon Road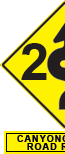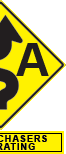 Distance: 34.7 Miles (55.84 km)
Rating: 2-A, Fantastic, endless sweeping corners, technicality increases with forward velocity. Road surface is in spectacular condition. Ratings Explained »
Travel: Either direction for best results
Start: Spearfish, SD
End: Cheyenne Crossing, SD or Wyoming State Line
Fuel: Spearfish has fuel, and then a few miles past Cheyenne Crossing in Lead, SD there is fuel.
Along the Way: Lots of camping opportunities and lots of great scenery
Highlights: The road is the highlight. Its one of the wonderfully repetitive, predictable and sweeping canyon that's just fun from tip to tail. Turn west on SD-85 for a 10-mile out and back of more great cornering.
Advisories: Because of its proximity to Sturgis (and the subsequent Black Hills Rally) it's best to avoid this area during the week of the rally; typically the first week of August. Slow down at Savoy because the path of travel gets really confusing; its best to slow down to make sure you stay in your lane.
Summary
No matter which way you went to get to Spearfish, odds are you've just left behind desolation and flat emptiness. Spearfish puts all that behind by throwing you into a narrow canyon that follows the meanderings of Iron Creek. This is a wonderfully pretty setting with 100-foot cliffs following the edges of the canyon providing a sense of isolation and shade from daytime heat.
Leaving Spearfish, the road starts of gently, then begins in earnest with four sweeping corners followed by a brief straight that allows for any needed passing. A handful more sweeping corners and you'll pass one of the many Bridalveil Falls in the world on the east side of the road. Grab a quick glance because some of the best sweeping corners west of Mississippi soon follow and you'll be giggling to yourself in your helmet.
When you approach the Savoy, slow down so you don't get surprised by the really weird path of travel. Soon past the road narrows, gets a bit bumpy and crumbly with fewer sweeping corners and more quick kickers placed between short straights that, again, can be used for precise overtaking. The best part of the road ends when you arrive at the junction with county road, SD-85, turn west and the road will improve and turn back into a fast, sweeping road, although the asphalt isn't in as good of condition, however, traffic should be virtually non-existent as there is nothing on the other end of SD-85, so you can enjoy more great cornering. At this point, you are out of the black hills and onto the high deserts of eastern Wyoming and there's not much else in the way of good riding until you reach Dayton, Wyoming 227 miles away.
---
Road Rating System
The first part of our rating describes how technical we feel that road is. Numbers one through five with five being the most technical and one being a more mellow road with few challenging corners. The second half of the rating is a letter grade. A rating of "A" would be a road that is in great condition and a grade-F would be a crumbly, slippery or degraded surface.
---
More South Dakota Roads