SD-16/87 | Norbeck Scenic Byway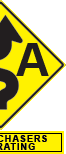 Distance: 103.0 Miles (165.76 km)
Rating: 5-A, Quite possibly the crown jewel of technical motorcycle roads, its hard to imagine roads more technical, more challenging and in better condition. Ratings Explained »
Travel: Either direction for best results
Start: Anywhere
End: It doesn't matter
Fuel: Any of the small towns in the vicinity
Along the Way: There's a lot to see and do here, from Crazy Horse Monument, Custer State Park to Mt. Rushmore (although we'd suggest skipping Mt. Rushmore).
Highlights: SD-16A, Iron Mountain Road, famous for its "pig-tail" turns cannot be skipped.
Advisories: Supremely technical roads are not for the weak or new rider. Avoid the week of Sturgis, but the week before and particularly, the week immediately following is great because everyone has either been scared away or has left. If you happen to be unlucky enough to find yourself here during the Sturgis Motorcycle Rally, you'll spend all your time going very, very slow behind massive herds of Harleys.
View Larger Map
Summary
Plan a minimum of two days to play in the Black Hills, mostly because of this complex of spectacular roads, narrower, tighter, twistier and turnier than anything you've ever seen before. The infamous downhill-corkscrew corner described by Hunter S. Thompson is most certainly here somewhere.
There is no real starting point or end point, and even this map doesn't contain the plethora of paved county roads in the area that can be used to meander this area until your stamina gives out or your tires are destroyed (whichever comes first). But the highlights are the pigtails of Iron Mountain Road, where the road circles around itself, over itself and even through hand-carved tunnels, be sure and stop at the popular "begging burro's" – a small band of Donkeys who hang out on the yellow line begging for morsels of food. And if that's not enough for you, then work your way over to 87 and Palmer Creek Road where you'll get even more pig-tails and tunnels while riding at the foot of towering rock needles.
Most of all, this is a highly skilled motorcyclist best-road dream wrapped into 100 miles of cornering greatness, where you'll delight in having to back-track and circle back around on your own loop over and over again.
As far as sights to see; we'd suggest skipping Mt. Rushmore and the privately owned parking garage that you need to pay to enter before you can visit the free-access monument. Stupidly high prices for a parking stall and rude staff will keep us viewing Mt. Rushmore from the plethora of other viewing areas scattered throughout the area, including our personal favorite, a south to north run over 16-A where you'll get views of the four presidents that are infinitely better simply because you'll be viewing them from the saddle. However, be sure to set aside some time for the much more sincere Crazy Horse Monument where you can take a bus all the way to the actual site.
All in all, this needs to be on the "must go" list of every self-respecting rider, and if you've already been, you are probably already thinking of when you can make it back.
---
Road Rating System
The first part of our rating describes how technical we feel that road is. Numbers one through five with five being the most technical and one being a more mellow road with few challenging corners. The second half of the rating is a letter grade. A rating of "A" would be a road that is in great condition and a grade-F would be a crumbly, slippery or degraded surface.
---
More South Dakota Roads