MT-49/89 | Looking Glass Hill Road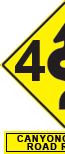 Distance: 30.7 Miles (49.41 km)
Rating: 4-D, Fairly technical, the road isn't in such good shape because of the harsh winters in the area Ratings Explained »
Travel: South to North for best results
Start: East Glacier Park, MT
End: St Mary, MT
Fuel: Available on both ends
Along the Way: Stunning views overlooking the Upper and Lower Medicine Lakes offer some of the most amazing views of Glacier National Park we've yet to find.
Highlights: Highly technical and surrounded by some of the best scenery in the state of Montana
Advisories: Expect LEO presence in East Glacier Park, campers and RV's become increasingly prevalent the closer you get to the entrance gate.
View Larger Map
Summary
Some of the most famous views of Glacier National Park are taken from some very humble pullouts along this route. Looking Glass Hill Road is only 11 miles, but if connected with MT-89 all the way to St. Mary it's extended to a worthwhile 30 miles, but its those first 11 miles that makes this road worthy of our list. Leaving East Glacier Park, MT the road immediately narrows and begins climbing through tight, blind corners that narrowly miss thick stands of Aspens on both sides of the road. Pullouts overlooking the Medicine Lakes must be stopped at. After the pullouts the road really gets challenging. Heavy snow loads, harsh winters and lots of water have created enormous frost swells that will have your suspension working overtime. Lots of quick kicking corners skirt along crumbling slopes so expect gravel and plan for the road to narrow to one-lane in several places. The road will turn to the east and the aspen trees will be replaced by endless expanses of grasses. The road drops and climbs again as it meets up with MT-89. Turn north for more great riding, although far less technical. MT-89 will climb along a long empty glacial valley then start gyrating through burned out stands of trees. Watch for RV's and campers heading toward the park. When the road zeniths and starts dropping again, the best cornering is behind you. When you reach St Mary's, skip the big gas station on the corner and go a block farther north for a much friendlier and less busy fillin' station.
---
Road Rating System
The first part of our rating describes how technical we feel that road is. Numbers one through five with five being the most technical and one being a more mellow road with few challenging corners. The second half of the rating is a letter grade. A rating of "A" would be a road that is in great condition and a grade-F would be a crumbly, slippery or degraded surface.
---
More Montana Roads