ID-93 | Salmon River Scenic Byway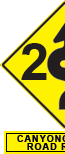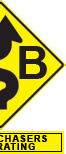 Distance: 59.2 Miles (95.27 km)
Rating: 2-B, Nothing too tricky here, but lots of quick kickers keep you constantly pressing on the bars Ratings Explained »
Travel: Either direction for best results
Start: Salmon, ID
End: Challis, ID
Fuel: Available in either Salmon or Challis
Along the Way: The road intimately follows the Salmon River.
Highlights: Most of the surrounding area is bland and boring. This little road is an unexpected gem in and of itself.
Advisories: Proximity to water in the arid climate means wildlife is highly likely.
View Larger Map
Summary
Salmon, Idaho is known mostly for its white water rafting opportunities, but Challis is known mostly for being one of the bleakest places most people have ever visited, featuring the same kind of appeal as Butte, Montana and Battle Mountain, Nevada. Nevertheless, if you find yourself in this part of the world, finding a good stretch of motorcycle road is invaluable. Leaving Salmon, Idaho the road doesn't seem like much, but before long you'll be on a narrow, sometimes barely wide enough for the road itself, section of flat dirt between towering splintered rock walls and steep banks dropping into the Salmon River. As a result, the road has few options and is forced to contort itself into wherever it can, making this a highly entertaining route with lots of quick corners and plenty of subtle elevation changes that will tickle your tummy when the proper amount of forward velocity is included. Whenever we've ridden this road, there's been millions of birds lining the white line who'll take flight as we approach. Pay them some heed as we've nailed a couple of the less-smart ones who flew toward the noise instead of away from it. As soon as you arrive in Challis, the fun riding ends if you stay on ID-93, but if you turn west onto ID-75 there is plenty of fun to be had on your way to Stanley, ID.
---
Road Rating System
The first part of our rating describes how technical we feel that road is. Numbers one through five with five being the most technical and one being a more mellow road with few challenging corners. The second half of the rating is a letter grade. A rating of "A" would be a road that is in great condition and a grade-F would be a crumbly, slippery or degraded surface.
---
More Idaho Roads