ID-36 | Mink Creek Canyon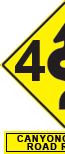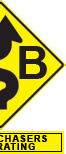 Distance: 34.6 Miles (55.68 km)
Rating: 4-B, Overall, probably a rating 2. It's mostly predictable, but a few technical corners are thrown in at the most unexpected places earning it a 4. Ratings Explained »
Travel: West to East for best results
Start: Riverdale, Idaho
End: Ovid, Idaho
Fuel: Available in Preston, Idaho or Montpielier, Idaho
Along the Way: The massive Bear Lake isn't far from Ovid, Idaho and there is a water park in Riverdale, Idaho
Highlights: We love this road for its delightful undulating elevation changes.
Advisories: On the western side be on the lookout for farmers, tractors, manure spreaders, cattle and dogs. This is a very active agricultural area.
View Larger Map
Summary
Leaving Riverdale, Idaho the road wanders along a river bottom and past small farming homes. Frequent spring runoff has kept this road out of the bottoms themselves and up on higher country instead.
The road meanders along rumpled foothills which makes for some wonderful elevation ups and down and round and rounds. Be on the lookout for all things associated with farming and ranching as they can access the road at any second.
Soon enough the road will narrow and begin climbing through a narrow pass that goes between Midnight Mountain and Sherman Peak. The road becomes more technical here, but the asphalt tends to stay in good condition, mostly because of lack of use. The road passes closely between overgrown oak tree's, transitioning to aspen as elevation increases. This also makes the road great for autumn fall-color rides.
When you reach the summit and the road starts it's flowing downhill journey, watch out for some corners that are far tighter than you would think, and much longer than you would think. Also, there are several Forest Service campgrounds on the eastern slope to be mindful of. Not far after the campgrounds the road comes out of the trees and is once again in a vast, open farming landscape for a few more miles before ending in Ovid, Idaho. We prefer the flow of this road when ridden from West to East, but either direction works well.
---
Road Rating System
The first part of our rating describes how technical we feel that road is. Numbers one through five with five being the most technical and one being a more mellow road with few challenging corners. The second half of the rating is a letter grade. A rating of "A" would be a road that is in great condition and a grade-F would be a crumbly, slippery or degraded surface.
---
More Idaho Roads