WA-112/113 | Bunt Mountain Road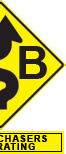 Distance: 112.0 Miles (180.25 km)
Rating: 5-B, Supremely technical and in great condition. What's not to love? Ratings Explained »
Travel: Either direction for best results
Start: Beaver, Washington
End: Snug Harbor, Washington
Fuel: Available in most of the towns along WA-101
Along the Way: Epic views of the Strait of Juan De Fuca. On a clear day you can see all the way into Canada.
Highlights: Some of the most exciting and exhilarating sections of road in the way that only the Pacific Northwest can provide. The views from Cape Flattery are epic.
Advisories: Super technical, lots of blind corners and hazards immediately off the edge of the road. Ride within your limits.
View Larger Map
Summary
It was getting late with the sun was quickly receding into the ocean, and yet the lure of this wiggly line on the map was beckoning. We almost continued on the 101 to Port Angeles, but at the last minute we decided to chance it – and we're so glad we did. This road is definitely in the CanyonChasers top ten of favorite roads and stories of our negotiation of this road have been told over many a Tuesday Bike-Night table.
Leaving the 101 behind, the road starts off gently through a shallow canyon then becomes a technical, gyrating, serpentine road of pure ecstasy. Obviously a former logging road that was eventually paved, 112/113 must be taken west all the to the northern most tip of Washington, and some spectacular corners and scenery.
Go slow through Neah Bay as there are lots of kids and dogs running about, and you'll need to be paying lots of attention to find the Cape Loop Road. Follow Cape Loop Road until you get to a small parking area, get out and take a five minute walk to the coast before you head back the way you came.
Work your way eastward through even more epic corners and magnificent scenery, as you fund your way back towards Port Angeles.
We advise great caution as blind corners can turn unexpectedly to move around obstacles, including enormous trees. Too much excitement can result in getting too personal with nature and its remoteness can mean a long time before help can arrive. But when ridden at a reasonable pace its a stunning series of great corners surrounded by classic Pacific Northwest scenery.
This is a road deserving of a special trip to the area and we love it dearly because of the great Pacific Northwest scenery makes it a great novelty (for us anyway) as well as a delightful technical challenge to keep even the most seasoned riders fully entertained.
---
Road Rating System
The first part of our rating describes how technical we feel that road is. Numbers one through five with five being the most technical and one being a more mellow road with few challenging corners. The second half of the rating is a letter grade. A rating of "A" would be a road that is in great condition and a grade-F would be a crumbly, slippery or degraded surface.
---
More Washington Roads