UT-72 | Whipup Road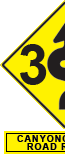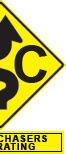 Distance: 34.4 Miles (55.36 km)
Rating: 3-C, Moderately technical, only because of a handful of tricky corners. Asphalt downgraded to a C because of the recent addition "gummy worms" or "tar-snakes". Ratings Explained »
Travel: Either direction for best results
Start: UT-72 and I-70 Exit 91
End: Loa, Utah
Fuel: Either gas up in Ferron, Utah or have enough gas to make it to Loa, Utah
Along the Way: Overall the views aren't that great, but near the top there are a couple of pullouts that offer a spectacular view of the distant Canyonlands and Arches National Parks.
Highlights: The desolation is glorious. If ridden midweek its not unusual to not see another human being or evidence of their presence for the entire duration of the ride.
Advisories: This is open range and cows can be around any corner. The newly laid "gummy-worms" are distracting.
View Larger Map
Summary
This brilliant stretch of tarmac was paved in the early 90's and still, nobody seems to know about it. Many local riders will head down for the weekend just to ride this road along with
Fishlake Loop
and
"The Backbone"
. The speed limit is a conservative 45mph, but we rarely see more than five cars during the 30-some mile stretch, allowing for stress-free riding bliss.
Going north to south, the road starts out with a series of medium speed corners with a few sneaky decreasing radius corners that can be challenging if ridden too quickly. Later on the road opens up and becomes a more predictable series of fast sweepers. The terrain is rolling hills with not much in the way for vegetation. Scattered sage-brush and cedar's make up the majority of the scenery.
The highlight of the road is a huge valley that offers an unobstructed view of five miles of sweeping corners stretching to the horizon. Every year, Utah has been adding more and more rolling tar-joints (aka Gummy Worms or Tar-Snakes). This is a great road to get to and from Torrey, Utah. If you have the time be sure to take the Fishlake Loop.
---
Road Rating System
The first part of our rating describes how technical we feel that road is. Numbers one through five with five being the most technical and one being a more mellow road with few challenging corners. The second half of the rating is a letter grade. A rating of "A" would be a road that is in great condition and a grade-F would be a crumbly, slippery or degraded surface.
---
More Utah Roads